10 Best Places to Visit in October 2021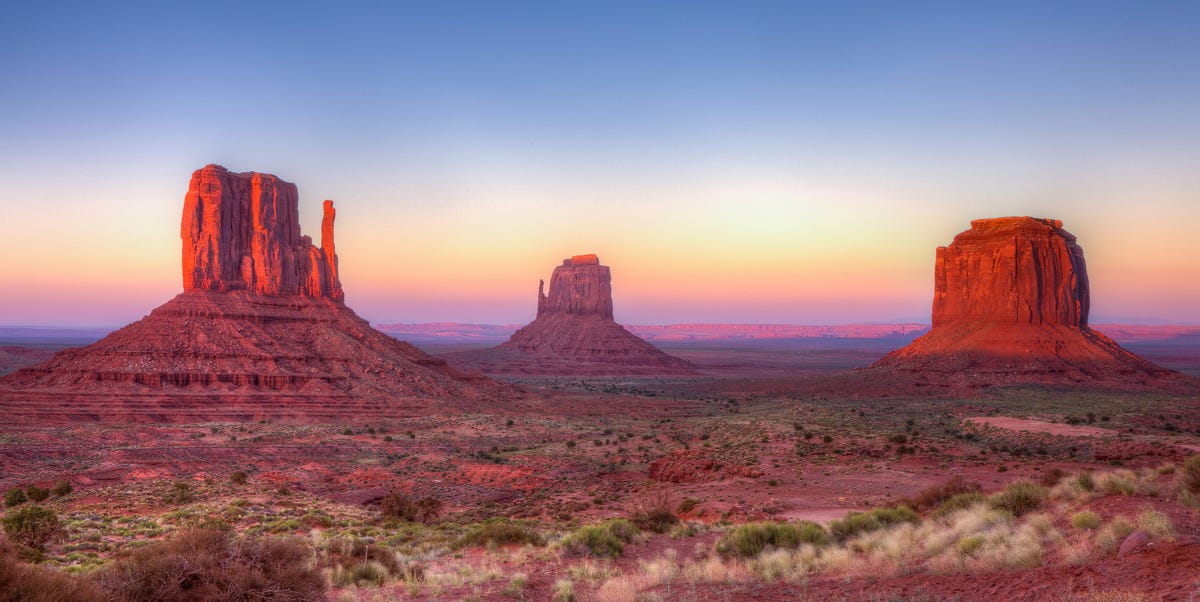 The fall season is fast approaching and with that comes the anticipated chill. While October still graces us with pleasant days and mild, brisk weather, it's also one of the last months of the year we have left to take advantage of the outdoors. That means now is the time to visit that national park (where summer crowds will have thinned out), or to take that trip through wine country (for harvest season). And, of course, the biggest appeal of travel in October: the foliage! From the stunning buttes of Monument Valley to the ancient wonders of Athens, here are our top ten destinations for a perfect alfresco getaway.
Tuscany, Italy
With peak tourist season (and stifling temperatures) finally over, Tuscany truly shines in the fall. There is fantastic wine, golden foliage, better weather, and, perhaps most enticing of all, truffles—late September to December is when the highly coveted white truffles are found. Festivals dedicated to these expensive tubers abound, especially in the towns of San Miniato, Volterra, and Palaia. But the real treat, of course, is to hunt for them yourself. Stay at the Belmond Castello di Casole, a 10th-century estate situated on a sprawling 4,200-acre property where you can join its resident truffle expert Mauro Nesi and his Lagotto Romagnolo dogs on a foraging excursion. Once the delicacies have been unearthed, the hotel's chef will use them in a tasting menu for what will be a most extravagant way to enjoy the fruits of your labor.
Read Reviews Belmond Castello di Casole
Monument Valley, Arizona
Everyone is already familiar with Monument Valley—it has made several cameos in films, from John Ford's Westerns to Forrest Gump—and it was probably your desktop screensaver at one point. But there is really no way to describe the magnitude of this Navajo Nation Tribal Park when seen in real life. It may be a journey to get there—five hours by car from Phoenix, six and a half from either Las Vegas or Salt Lake City—but it is located within the Grand Circle, home of the highest concentration of national parks (Grand Canyon, Zion, Bryce, Arches, Canyonlands, Antelope Canyon, Lake Powell). The point is, don't skip it on your southwestern road trip—tack it on to a Moab visit (see below) or add it to your Grand Canyon itinerary. The Navajo-owned View Hotel is right inside the park, and every room has a balcony with panoramic views of those soaring buttes. Make sure to wake up early to watch the sun rise over the valley—an unforgettable sight—and stay up late enough to stargaze from your terrace—also unreal. Opt for a Starview room, which is farthest from the lobby, for maximum stargazing potential.
Read Reviews The View Hotel
Moab, Utah
The cinematic landscapes of this southeastern Utah town have made it a Hollywood favorite. You'll recognize scenes from HBO's Westworld at Dead Horse Point State Park, which is also where the ending of Thelma & Louise takes place, as well as the opening sequence of Mission: Impossible II. The real life events of 127 Hours happened inside Canyonlands National Park, while Arches National Park is seen in 1989's Indiana Jones and the Last Crusade. But Moab is hardly all style and no substance. Its abundance of national and state parks, diverse topographies, and incredible vistas provide a wealth of things to do and see. Get to Arches' Delicate Arch in the afternoon to watch as the sunset turns it fiery red; elsewhere in the park, you'll come across ancient petroglyphs left by the Ute tribe, who have lived in the area since the year 1,000. Take your pick of hundreds of miles of hiking trails at Canyonlands. Whitewater raft and kayak down the Colorado River. See dinosaur tracks at Bull Canyon Overlook and Copper Ridge. Go mountain biking, do an ATV tour, the options are endless. Make home base the Sorrel River Ranch, a 160-acre resort that hugs the Colorado River and affords panoramic views of Moab's sandstone buttes and mesas, and where the hot tub and spa will be a blissful treat after a long day of adventure.
Read Reviews Sorrel River Ranch
Sea Island, Georgia
The private resort, located right in between Jacksonville and Savannah, is one of the prettiest and most polished of Georgia's barrier islands. It's only open to residents of the gated community or guests of its three hotels, and even though Sea Island is just five miles long, there is plenty to do. The grande dame hotel is undoubtedly the Cloister, a 1920s Mediterranean-style gem where President George H.W. Bush and his wife Barbara spent their honeymoon and where their son, President George W. Bush, hosted the G8 summit in 2008. Here you'll find a 65,000-square-foot spa, a stellar restaurant, three pools, and a private beach. Those who prefer golf over swimming should book a room at the Lodge, which has three golf courses and a state-of-the-art golf performance center frequented by PGA pros. In between there are endless activities to fill your days, including falconry, boating, horseback riding, and clay shooting.
Read Reviews The Cloister at Sea Island
Read Reviews The Lodge at Sea Island
More: The Complete Guide to Sea Island, Georgia
North Adams, Massachusetts
While the Berkshires offer plenty to see, do, and experience in the summer, the region also shines just as brightly in the fall. October brings peak "leaf peeping" season and the best way to take in the foliage is by renting a car for a 63-mile drive along the Mohawk Trail that culminates in North Adams. So is hiking to the summit of Mount Greylock, which, at 3,489 feet, is Massachusetts's highest point. Though it lays claim to the title of "smallest city in the state," North Adams has plenty to offer. For starters, there's the largest contemporary art museum in the country—the Massachusetts Museum of Contemporary Art (better known as MASS MoCA)—and a plethora of bookshops, cafes, and galleries. Book a room at The Porches Inn, a B&B that's a stone's throw from the museum. Or for a luxurious throwback, stay farther south at the Blantyre in Lenox, a grand Tudor-style mansion-turned-hotel that has been around since 1902.
Read Reviews Porches Inn
Read Reviews Blantyre
Athens, Greece
The energy of Athens in the summer is undeniable, but so is the fact that it is very hot during that time of year. Which is why October makes for an ideal month to visit the Greek capital. With temperatures in the 70s, the weather is just sublime and sunny, and there will be far fewer crowds to contend with at the legendary 2,470-year-old Acropolis (which you can visit during the day, whereas in the summer heat you would have to go super early or at dusk). Stay in the center of all the action at the stately and majestic Hotel Grande Bretagne, which has one of the best rooftop views of the Parthenon. It's also walking distance to the city's top attractions, from the restaurants and bars (Papadakis, Seychelles, the Clumsies, all not to be missed) to the shopping (upscale Kolonaki, the Monastiraki flea market) to the museums (Benaki and the National Gallery).
Read Reviews Hotel Grande Bretagne
Napa Valley, California
October is a prime time to visit the country's most famous wine region—it's harvest season, the temperature, in the mid-70s, is much more pleasant, and the leaves and vines have turned beautifully golden. The wineries (some of the highlights: Silver Oak, Opus One, Ovid, and Robert Mondavi, which recently launched a custom tasting experience featuring reserve wines from its highly prized To Kalon vineyard) are obviously a hit but interestingly, vineyards make up only about 9% of Napa Valley. Much of the rest is protected by the Land Trust, providing plenty of outdoor recreation such as hiking and mountain biking. The Francis House in Calistoga is one of the area's most unique stays. Originally a landmark 19th-century French Second Empire-style mansion listed on the National Register of Historic Places, it has been meticulously restored and transformed into a five-key luxury inn. Or, book one of the 11 rooms at the Milliken Creek Inn, in Napa, which just underwent a complete redesign and has a prime perch on the banks of the Napa River.
Read Reviews The Francis House
Read Reviews Milliken Creek Inn
More: T&C Travel Guide: Napa Valley and Sonoma County
Great Smoky Mountains, Tennessee
Straddling the border of Tennessee and North Carolina, Great Smoky Mountains National Park is the most visited national park in the U.S. (it recorded 12.9 million visitors in 2019). In the shadow of its mountains, forests, hiking trails, and waterfalls is Blackberry Farm, the much beloved Relais & Châteaux resort in Walland, Tennessee, that has amassed a cult following for its focus on Southern hospitality, artisanal back-to-the-roots programming, and gastronomic brilliance. In 2019, proprietor Mary Celeste Beall opened a sister property, Blackberry Mountain, located 20 minutes away on 5,200 acres (Blackberry Farm has 4,200) and with more of a focus on outdoor activities and adventure. Prefer to glamp? Head to Under Canvas, a brand known for luxe campgrounds near national parks. This one is just minutes from the Great Smoky Mountains park entrance and has amenities like daily housekeeping, a fire pit for s'mores, and organic bath products.
Read Reviews Blackberry Farm
Read Reviews Blackberry Mountain
Read Reviews Under Canvas Great Smoky Mountains
More: Introducing Blackberry Mountain, the Idyllic New Resort from Blackberry Farm
Asheville, North Carolina
At the height of the Gilded Age, while members of the Vanderbilt dynasty were building spectacular residences in Newport, Manhattan, and upstate New York, George Washington Vanderbilt II, a grandson of Commodore Cornelius, instead decided to build his country home in North Carolina after falling in love with Asheville's scenery on visits there with his mother. The result, of course, is the Biltmore, an opulent French Renaissance-style chateau with 250 rooms, 4 acres of floor space, and 125,000 acres of land (today, the estate occupies a modest 8,000). As it is still owned by George's descendants, Biltmore is the largest private residence in America. The house and grounds are open for tours and exhibits, and can be rented out for weddings. There are also three hotels on the estate for overnight stays. Its most famous attraction aside, Asheville has a lot to offer on its own. The city has a thriving arts and music scene and lots of restaurants and breweries. There is plenty of nature, too: the Blue Ridge Mountains are next door to the east, Great Smoky Mountains National Park is to the west, and the incredibly scenic Blue Ridge Parkway (a beauty in the fall), which runs from Virginia down to Cherokee, North Carolina, cuts right through the city.
Read Reviews The Inn on Biltmore Estate
Read Reviews Village Hotel on Biltmore Estate
Barnard, Vermont
We don't need to state the obvious: Vermont is gorgeous in the fall. Twin Farms, quite possibly the state's most idyllic and bucolic hideaway, used to be the home of novelist Sinclair Lewis. He bought the 18th-century farmhouse, and its 300 acres of land, with his wife Dorothy in 1928, and she continued to live there after their divorce until the '50s. Today, the 20-room retreat works hard to maintain the intimacy of a home. You might start your day with a round of tennis or outdoor yoga, then take a chef-made box lunch for a bike ride to nearby Woodstock or for a picnic in the woods. In the afternoon, curl up with a book and a glass of wine by the fire pit, taking frequent breaks to enjoy the foliage all around you. Then take a canoe out on Copper Pond for a serene paddle. After dinner, play a game of chess in a corner by the fireplace before retreating to your room for a nice soak in the clawfoot tub before bed.
Read Reviews Twin Farms
More: Incredible Spots to See Fall Foliage in New England
This content is created and maintained by a third party, and imported onto this page to help users provide their email addresses. You may be able to find more information about this and similar content at piano.io