11 Best Scotch Brands 2022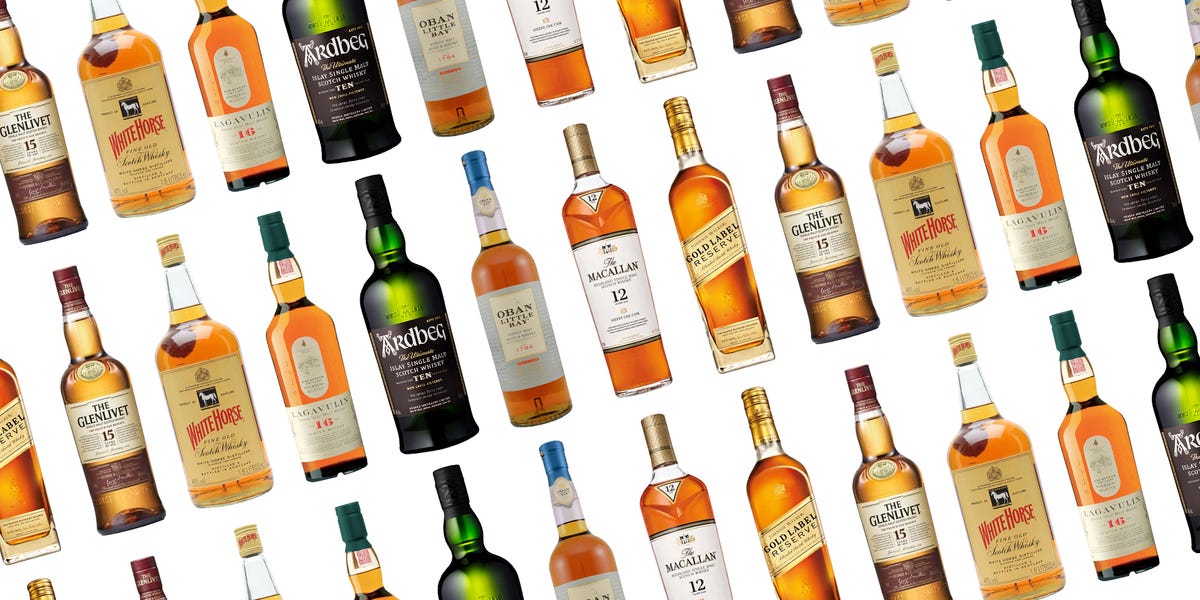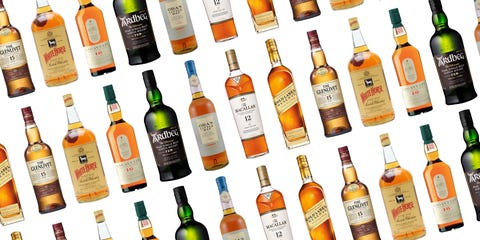 Michael Stillwell
From the Highlands to the Islay, Scotland is, of course, known for its production of Scotch whisky. Although Scotch is a type of whisky, it varies from its brethren in Ireland, Japan, Canada, and the U.S. with certain unique attributes. Similar to champagne, Scotch can only be classified as such when the whisky is distilled within the Scottish region and it must meet certain specific requirements, including being aged oak casks for at least three years (though most are aged much longer) and bottled at a minimum of 40% ABV.
With hundreds of distilleries across its regions, the diverse landscape of Scotland offers an array of flavors and has created some of the premier whisky brands in the world.
Whether you consider yourself a scotch expert or have just begun to enjoy the infamous tipple—here are some of the best bottles to fill up your glass with.
Advertisement – Continue Reading Below
Ardbeg 10 Year Old
Regularly voted "World Whisky of the Year" Ardbeg's distillery has remained on the small remote island of Islay for more than 200 years. The combination of the island's soft water, lush soil, and large supply of peat—the soil byproduct which is burned in the distilling process, leaving the Scotch with its smokey flavor– has made it a favorite among single malt connoisseurs. Rich and with a smokey body, the 10 year aged single malt scotch whisky will leave you with the taste of licorice, coffee, and tobacco. 
Johnnie Walker Gold Label Reserve
Celebrated by Scotch-lovers for its long and lingering finish,  Johnnie Walker Gold Label is made from a blend of whiskies from the Speyside and Highland regions. The blend comes together as a smooth whisky full of vanilla and dark fruit. 
Oban 14 Years
Originating as a small distillery in the Scottish Highlands, Oban has been crafting scotch whisky for more than 200 years. The 14 year aged bottle is distilled in small copper stills then aged in oak barrels for a whiff of smoke and rich spiciness. 
The Macallan Sherry Oak 12 Years
Aged in sherry seasoned oak casks atop a plateau in Northeast Scotland, The Macallan Sherry Oak 12 Years Old pours with a mature and rich body that blooms into an aroma of full of wood spice and dried fruits. 
Laphroaig 10 Year Old Islay Single Malt Scotch Whisky
This Islay scotch has, in the brand's own words, "been dividing opinions" since 1815 with its pronounced peaty flavor. The bottle is aged for 10 years in ex-bourbon barrels for a hint of vanilla to highlight its rich smokiness. While it might not be for every palate, those who enjoy the lush flavor of peat will find it completely irresistible. 
Arran Robert Burns Single Malt Scotch Whisky
Honoring Scotland's national poet, Robert Burns, Arran released a scotch whisky in his name. Distilled on the small island of Arran and made with water from the Loch na Davie, the pure and aromatic liquor will strike you with notes of honey, fruits, and toffee-glazed pecans. Made for easy drinking, the single malt can be enjoyed either on the rocks or neat. 
Ballantine's Finest Blended Scotch Whisky
Ballantine's Finest was created in 1910 and is blended with both single malt, grain, and highly matured whiskies to give you a slightly vanilla flavor. Fun fact: the Ballantine's square bottle originated during prohibition so Americans could conceal the bottles in their briefcases. 
Monkey Shoulder Blended Scotch
Like its whiskey brethren, scotch makes an excellent cocktail, but many home bartenders get nervous about mixing up a tipple with their Scottish bottles. This blended Speyside scotch alleviates those worries with a mixing-friendly flavor profile of citrus and vanilla and an unintimidating price tag. 
Glenlivet 12 Year Single Malt Scotch Whisky
When the British government began taxing Scottish distilleries, many of them began producing whisky underground. Glenlivet was one of the premier illicit distilleries, so much so that when King George IV visited Scotland on a state visit he demanded to try an illegal dram of the Scotch. The iconic brand has never ceased producing top quality single malt, so you too can drink like a king. 
Chivas Regal Chivas 12
Founder James Chivas believed in blending quality aged whiskies with local Speyside malts—a principle that is still adhered to today by the distillery. Prepare for a symphony of notes that include honey, vanilla, and ripe apple in 12 year aged bottle. 
Lagavulin 16 Year-Old Single Malt Scotch Whisky
Situated on the southern island of Islay, Lagavulin delivers a deep-smokey taste in it's masculine single malt that can only be achieved by the distillery's peat-rich environment. 
This content is created and maintained by a third party, and imported onto this page to help users provide their email addresses. You may be able to find more information about this and similar content at piano.io
Advertisement – Continue Reading Below