12 Best Non Alcoholic Wines 2022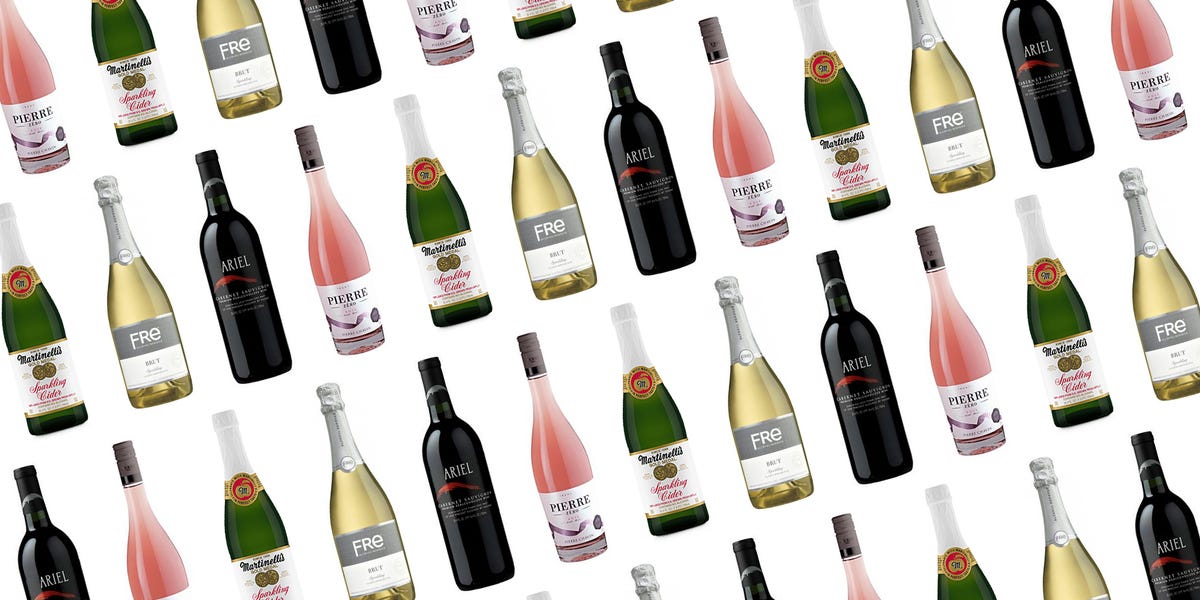 Once upon a time, those choosing not to imbibe were forced to make due with plain old juice and soft drinks, but with the rise of the "sober curious" movement and conscious consumption has also come a swath of alcohol-free wines, spirits, and beer that take out the booze (through a process known as dealcoholization) but don't lose the flavor.
Still, when it comes to dealcoholized wine, it's hard to know what to look for. From a bubbly champagne to a full-bodied cabernet, we have rounded up the best brands of your favorite varietals, so that you can teetotal or simply be better able to accommodate the needs of all the guests at your next party. Here, the best non-alcoholic wines so that there's no one missing out on the celebration.
Ariel Cabernet Sauvignon Dealcoholized
Care for a Napa cab sans alcohol? This wine is made in a sustainable winery in Paso Robles, California. After fermenting in stainless steel it's aged in oak barrels, and just before bottling, the alcohol is "gently removed by cold filtration." 
Noughty Alcohol-Free Sparkling Chardonnay
Teetotalers can still enjoy bubbles. This organic, vegan bottle is a bright and refreshing choice (it's got about half as much sugar as most NA sparklers) when the situation calls for sparkling wine but not alcohol.
More: The Best Non-Alcoholic Sparkling Wine 
St. Regis Chardonnay De-Alcoholized Wine
This Chardonnay delivers a light palate of pear and apple balanced with a hint of oak. It's medium finish allows it to pair well with pasta and seafood, just like its boozy counterpart. 
TÖST Non-Alcoholic Sparkling Beverage (12-Pack)
Töst looks like champagne, but is instead a dry blend of white tea, white cranberry, and ginger. Imbibe during cocktail hour or effortlessly pair it with almost any meal. 
More: The Best Non-Alcoholic Beer
Pierre Zēro Rosé
Choosing not to imbibe shouldn't mean missing out on rosé all day. This zero-proof French bottle brings all of those berry and stonefruit flavors we love from rosé, without the buzz. 
Hill Street Vin (Zero) Cabernet Sauvignon
There's nothing sugary or flat about this alcohol-free cabernet sauvignon, which offers the big, punchy, robust flavors of a classic cab, minus the ABV. 
Sutter Home Fre Alcohol-Removed Chardonnay
If you fancy a fresh and fruity Chardonnay with a full body, crisp hints of apple and citrus, and a tart aftertaste, Fre offers a great option. It pairs well with fish, veal, pork, white sauce pastas, and mild cheeses. 
Belvoir Fruit Farms Elderflower and Rose Lemonade
If you're looking for less of a wine and more of a sparkling refresher, this elderflower and rose bubbly concoction is sure to please. 
Luminara Non-Alcoholic Chardonnay 2018
Aged in both American and French oak, this fruit-forward, slightly creamy Napa Valley chardonnay takes its wine cred seriously—it even includes its vintage (2018, in this case) because aging isn't just for alcohol. 
Wine Proxies
Rather than removing the alcohol from traditional wine, Acid League's "proxies" evoke the idea of wine using juices, teas, spices, bitters, and more to create delicious sips that pair perfectly with food. 
Martinelli's Sparkling Apple Cider
Another sparkling alternative, Martinelli's effervescent cider is has been a favorite for alcohol-free toasts for more than 150 years. 
Seedlip Non-Alcoholic Cocktail Mix Trio
While not technically a wine, this bottle merits some attention—especially from cocktail lovers. Belinda Chang, who has worked as a sommelier for two decades at some of the best restaurants in the country and won a James Beard Foundation Award in 2011, says that these distilled non-alcoholic spirits "smell amazing—like my favorite Diptyque candles." Plus, she adds that they "make a great 'and soda' situation that is not just a club soda with lime."
More: The Best Non-Alcoholic Spirits
This content is created and maintained by a third party, and imported onto this page to help users provide their email addresses. You may be able to find more information about this and similar content at piano.io