12 Best Sparkling Wine Brands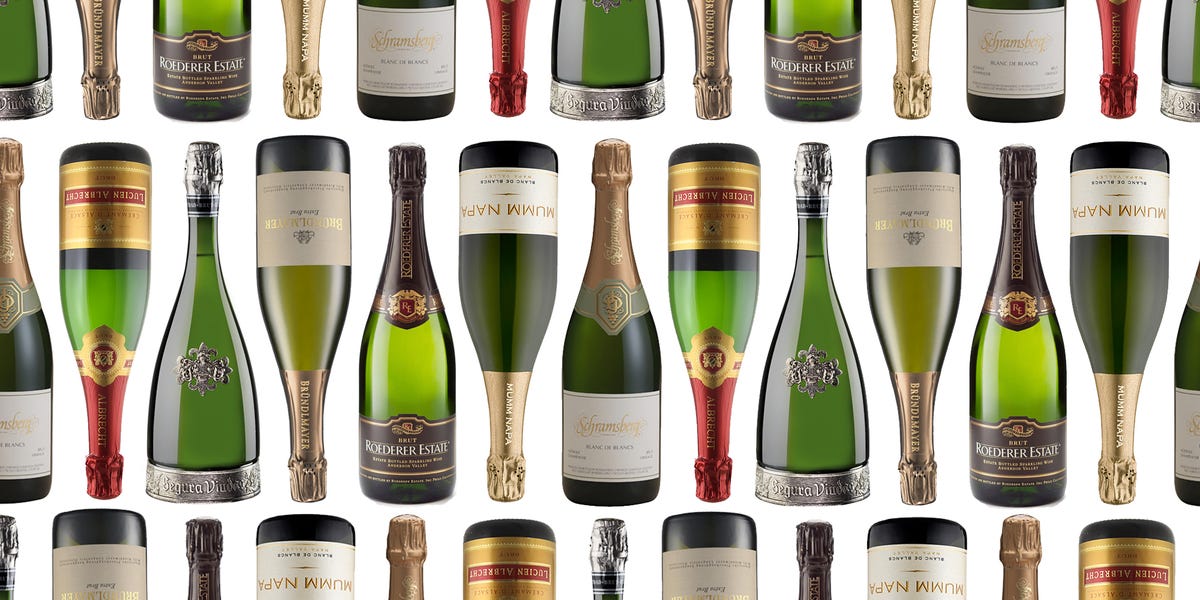 Schramsberg Blanc de Blancs
This California winery is one of the US's most historic and prolific sparkling wine producers: President Nixon famously served Schramsberg Blanc de Blancs at the "Toast to Peace" in Beijing in 1972. That might be because of the 100% chardonnay wine's flat-out deliciousness, with citrus and apricot flavors that give it a crisp, refreshing zip that pairs equally well with shellfish, cheese plates—even curry. 
Lucien Albrecht Cremant d'Alsace Brut
If you're already a champagne aficionado try your palette on a cremant d'Alsace—an Appellation Contrôlêe sparkling wine from the Alsace region. Made with 100% pinot blanc grapes in the champagne method, this award-winning bottle offers hints of lemon, apple, and fresh baked bread that will lure even the most devout champagne snobs. 
Roederer Estate Brut (Magnum)
Everyone loves a bottle of sparkling wine, but you know what they love even more? A magnum of it. In this case, it's a magnum filled with 1.5 liters of sparkling wine from California's Anderson Valley. The first American offshoot of the French champagne house Louis Roederer (best known for its Cristal bottling) this wine boasts well-balanced flavors of pear, apple, and toasted hazelnut. 
Schlossgut Diel Riesling Sekt Brut Nature 2008
While it may not have the same acclaim as its other European counterparts, sekt, a sparkling wine style from Austia and Germany, deserves a spot on your shopping list. A wave of dry brightness and plenty of bubbles make this riesling sparkler with hints of minerals and salt a bottle to know. 
Segura Viudas Brut Reserva
Cava is already one of your go-to sparkling wines for brunch mimosas but don't undersell this Spanish bubbly. In addition to making a delicious brunch cocktail, this bubbly, made in the same classic method used to craft champagne, has toastiness, pops of acid, and brisk minerality that can stand up to hearty pastas and meat dishes just as well as the fancy French stuff. 
Chandon Brut
If you're searching for a standby bubbly at a reasonable price to stock your shelves for every occasion—from New Years Eve, to date night, to your average Tuesday—look no further than this well-balanced California sparkler.
Lini 910 Labrusca Lambrusco Rosso
Sparkling wine doesn't begin and end with white. In fact, lambrusco, that bubbling '80s favorite, has made a return in recent years with a more refined flavor palate that goes far beyond the cloyingly sweet bottles you remember. This 2017 vintage has a fresh, fruit-forward palate of berries and stonefruit with plenty of acid to keep it nicely balanced for dedicated red drinkers. 
Mumm Napa Brut Prestige
A blend of chardonnay and pinot noir grapes, this Napa sparkling wine brings a zesty palate of citrus and sweet melon with decadent, creamy finish. It pairs perfectly with first courses and light party fare. 
Ca' del Bosco Franciacorta Cuvee Prestige Rose
If the first word that pops into your head when you think of Italian sparkling wine is "prosecco" it's time to expand your horizons. Franciacorta, a sparkling style made exclusively in Italy's Lombardy region, is the Italian answer to champagne—made in the same methode champenoise and with a  similar flavor palate of punchy acidity and toasty yeast, this is one bottle that's sure to impress sparkling connoisseurs. 
More: Franciacorta is the Real Champagne of Italy
J.J. Vincent Cremant de Bourgogne
There's more to French sparkling wine than champagne: just take this bottle for Burgundy for example. Made with chardonnay grapes, the wine derives a punchy apple and pear flavor with hints of citrus and spice that pair beautifully with crudo or anything on toast. 
Domaine Chandon Etoile Brut
A mix of the classic champagne trio—chardonnay, pinot noir and pinot meunier—this California sparkling wine has a round, toasty flavor filled with baked pastry, roasted nuts, and white fruits; just the thing for cold winter sipping. 
Quartz Reef Methode Traditionnelle Brut Rose
New Zealand has a well-deserved reputation for its white wines, but few of it's sparklers are well known in the US. This rosé bottle from the South Island is made in the traditional champagne style, offers a dry, bright palate full of red fruit and berries with a mineral finish that all but begs to be paired with fresh, briny oysters and a poolside view. 
More: Essential Rosés to Try This Season
This content is created and maintained by a third party, and imported onto this page to help users provide their email addresses. You may be able to find more information about this and similar content at piano.io