15-Minute 3D Butterfly Wall Art with Cricut Explore 3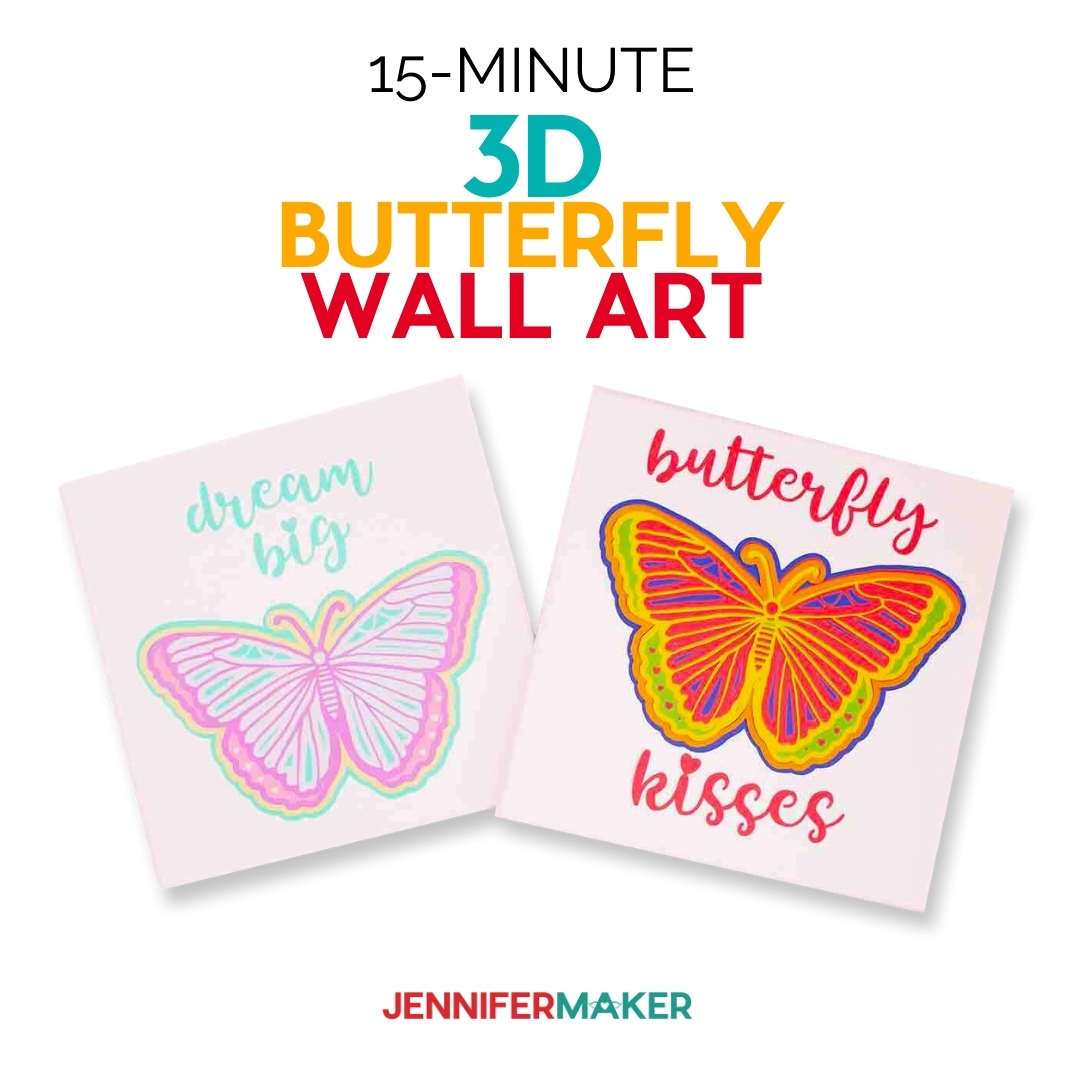 Instructions
STEP 1: GET MY FREE 3D BUTTERFLY WALL ART DESIGN
Are you looking for a Cricut project that's super quick and easy to put together? A project that you can cut and assemble in about 10 minutes? Sound too good to be true? Well this time it isn't. Thanks to the new Cricut Explore 3 and its lightning fast cutting speed, we have come up with a pretty project that will take you no time at all!
If you've spent any time on my blog or in my Facebook groups you know I absolutely LOVE butterflies. Some of my most popular are my Butterfly Heart Canvas, my Giant Butterflies and of course my Butterfly Pop-Up Card.
It's my love of these beautiful creatures that inspired this project. My 3D Butterfly Wall Art. It's actually a layered butterfly mandala and it's made with the new Cricut Smart Paper Sticker Cardstock, which is what makes this project so easy!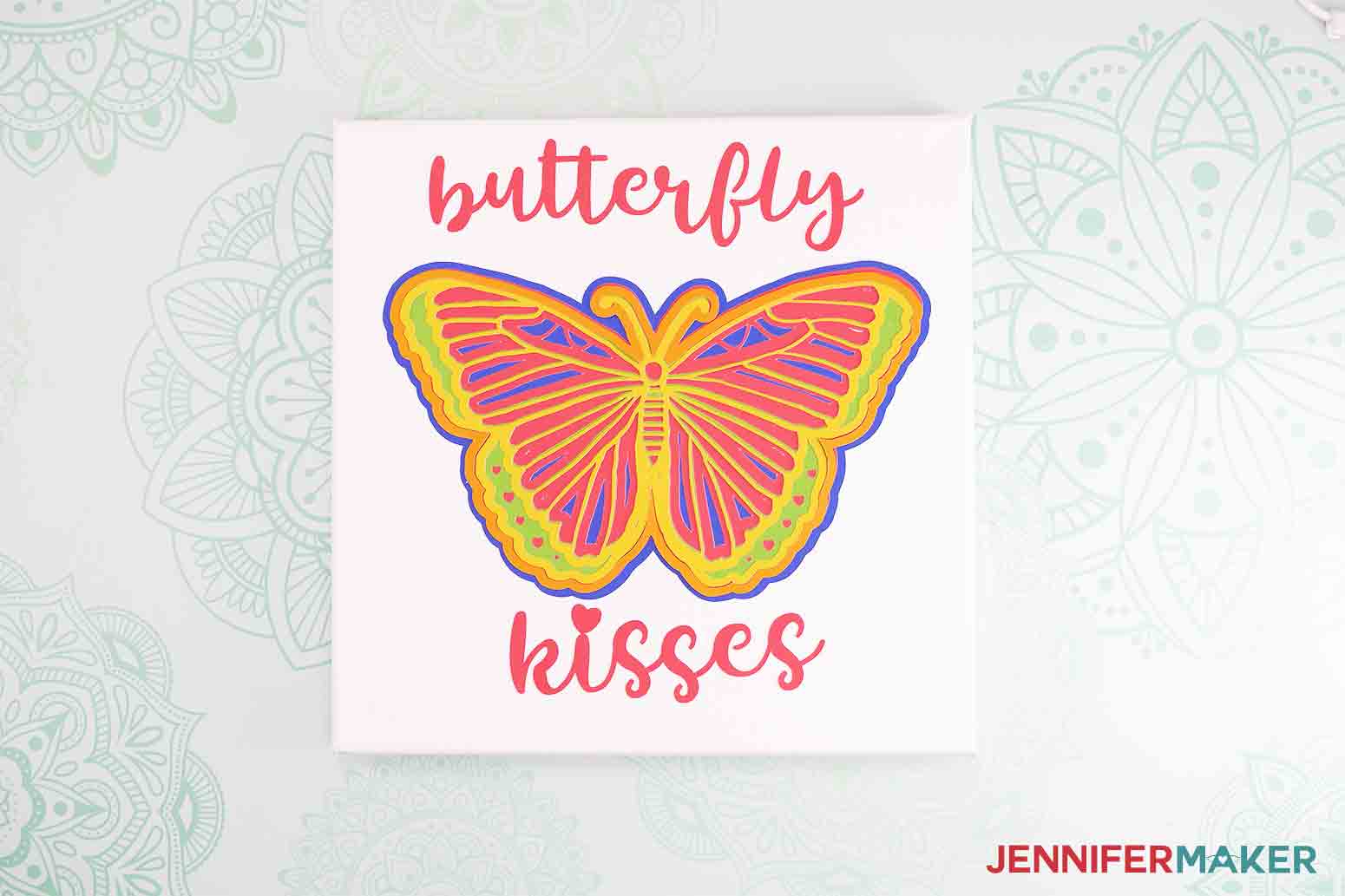 You can get the SVG to make this beautiful 3D Butterfly Wall Art in my free resource library — it's design #309.
This is what my 3D Butterfly Wall Art design SVG file looks like in Cricut Design Space.
TIP: If you are not sure how to upload an SVG cut file to Cricut Design Space, watch this helpful video training series I made. If you are on an iPad or iPhone, here is how to download and upload SVG files to the Cricut Design Space app.
You can cut it just like this or you can change the text to anything you like. Simply hide or delete the words "butterfly and kisses" in the layers panel on the right and add your own.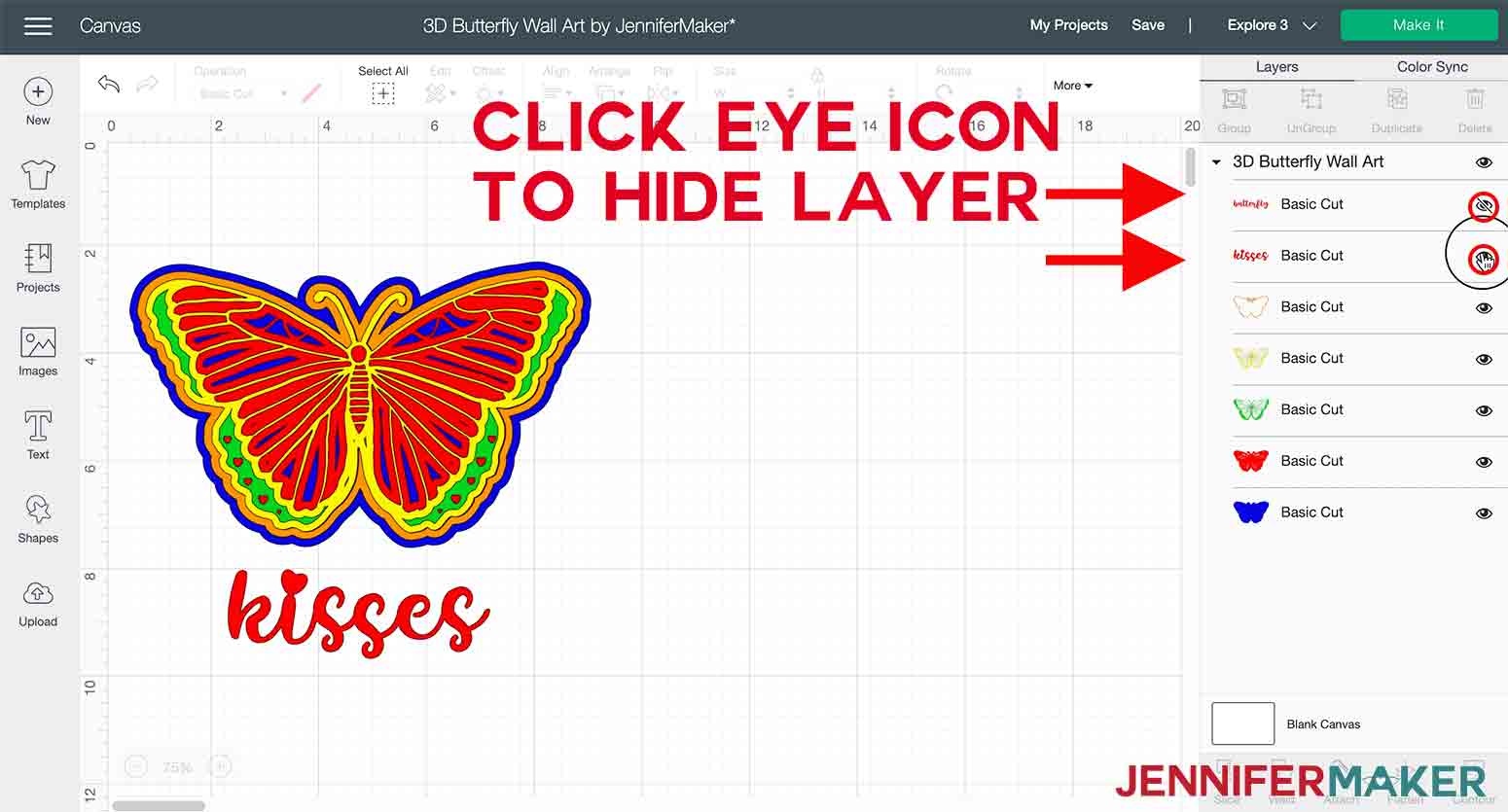 Click "Text" in the left hand column.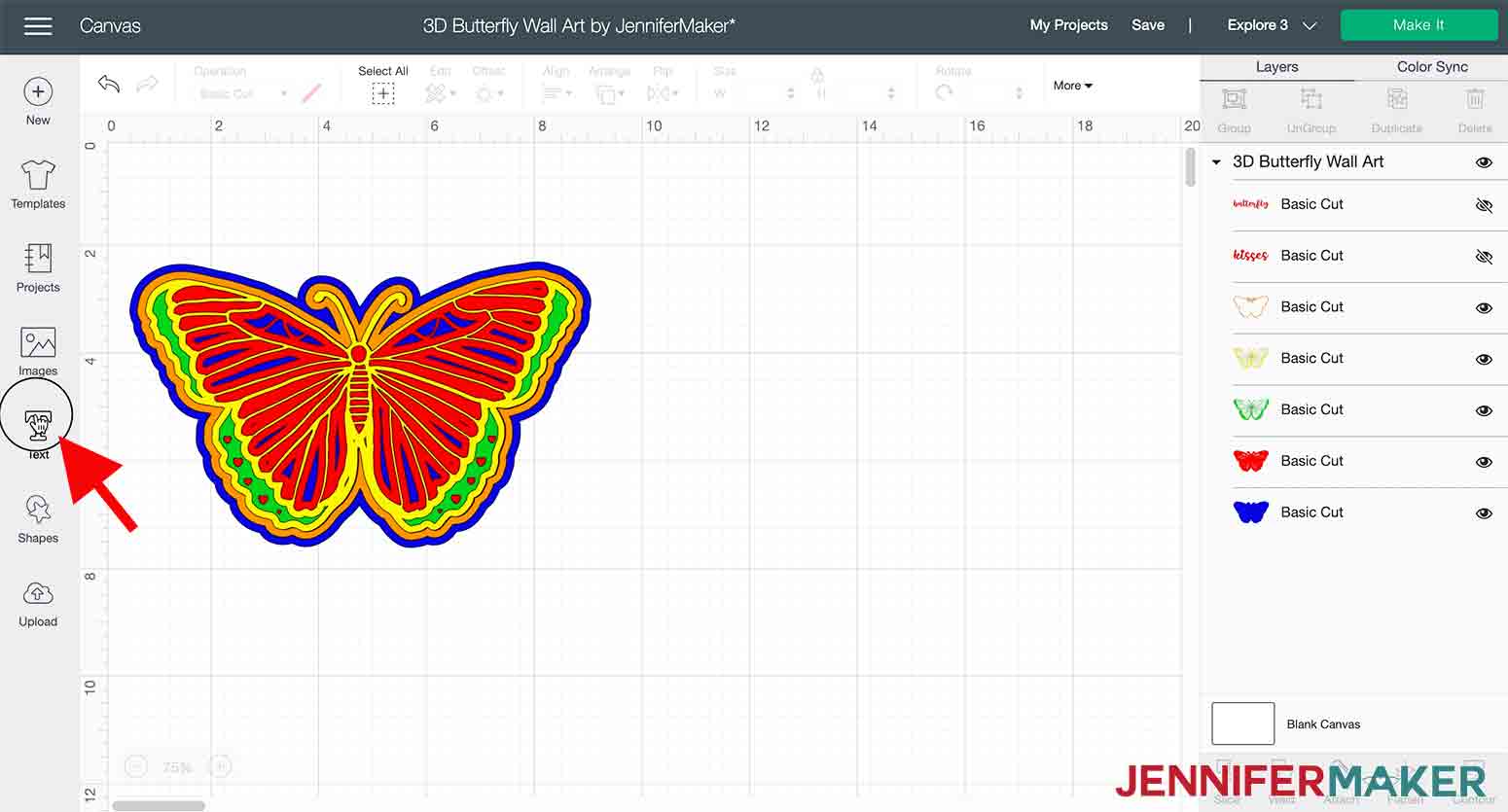 Now choose your font from the dropdown menu at the top.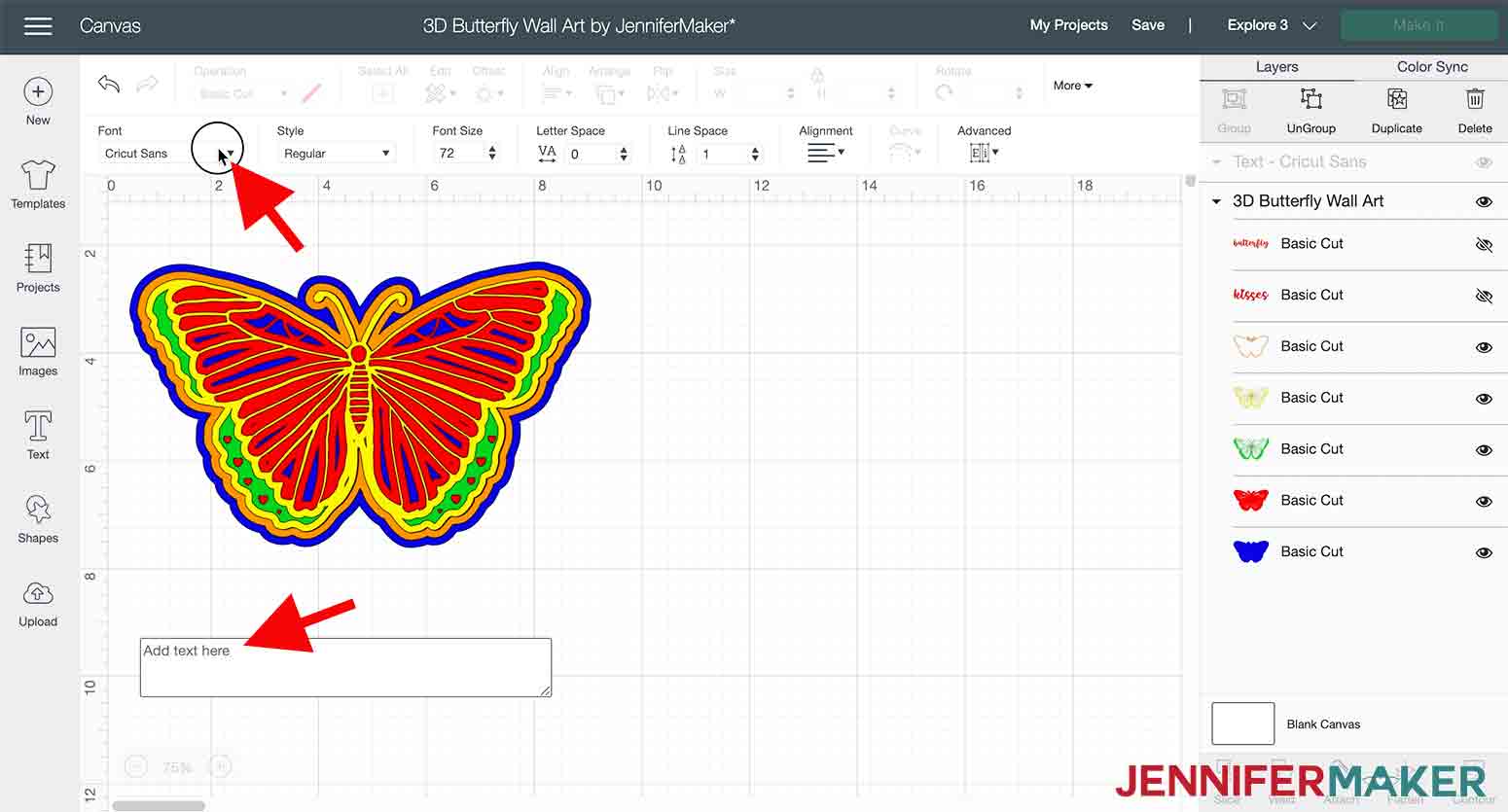 I'm using Tingler Script. Now type anything you'd like…maybe "dream big" or "spread your wings"…or even "Happy Birthday," it's totally up to you!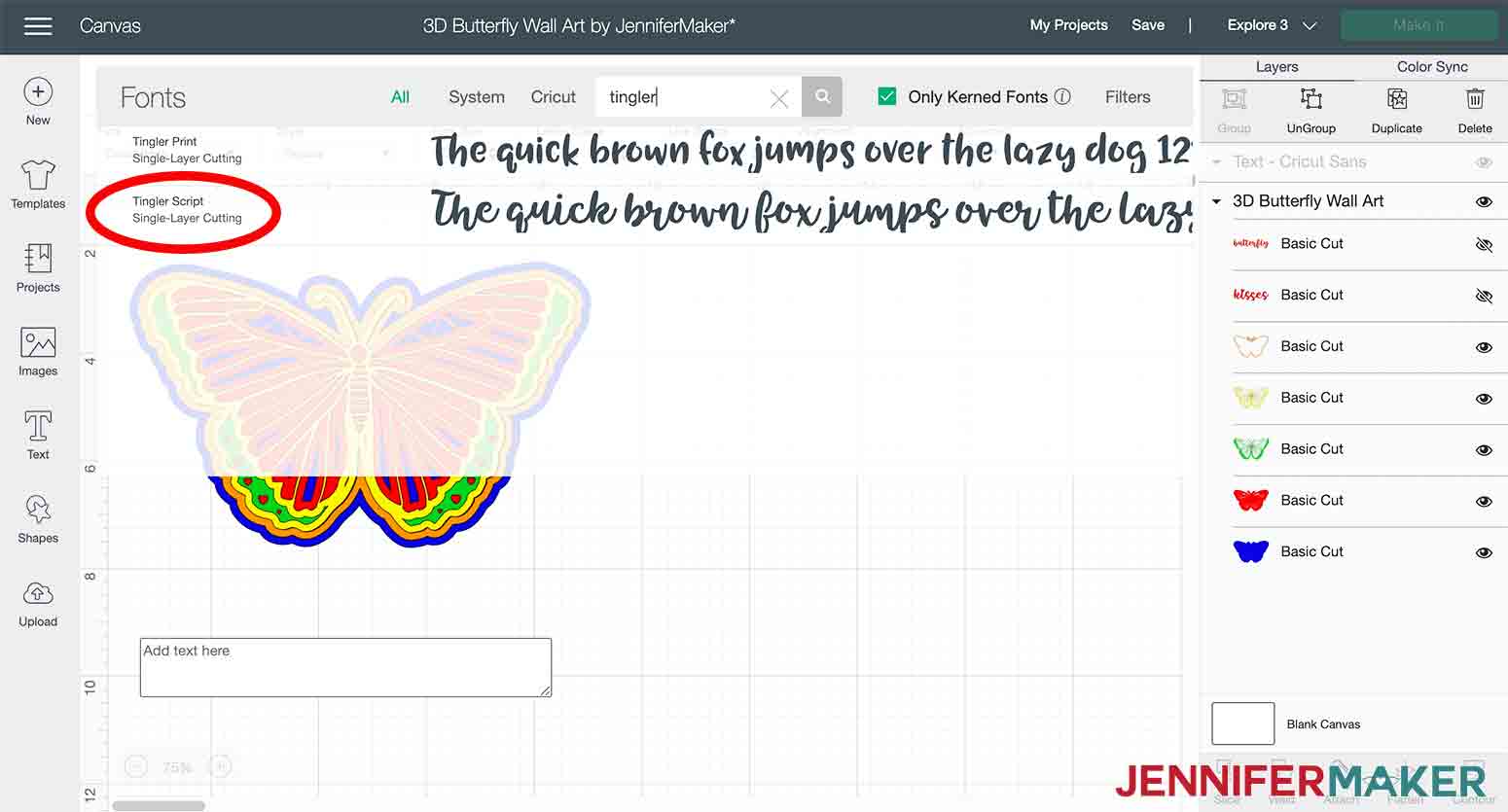 To change the text color, click in the color picker box and click on any color.
And here's a fun tip in case you didn't know, the top row of colors are all of the colors included in your project, this way your colors will be a perfect match!
Now click "Make It."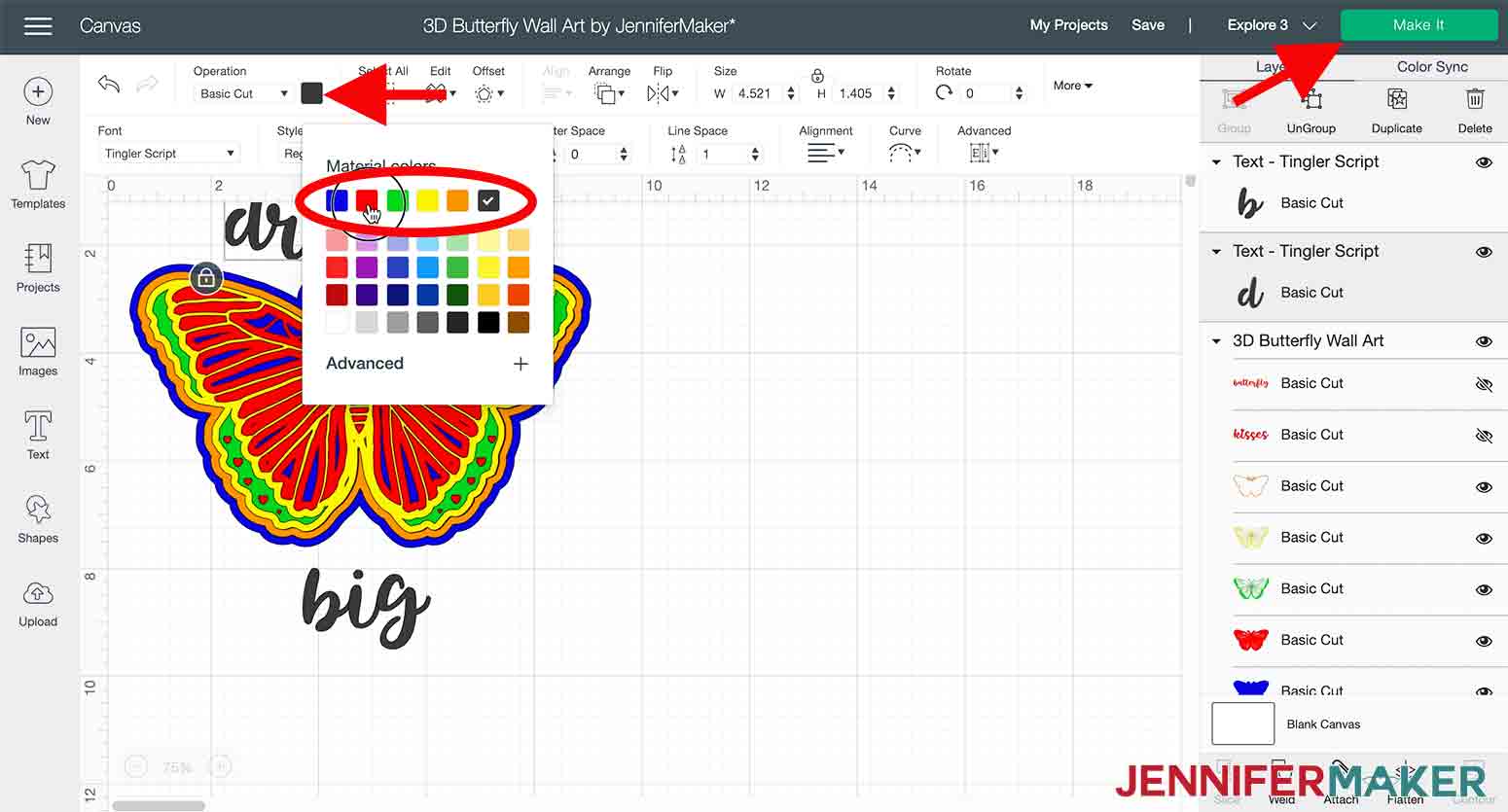 Since we are using Cricut's Smart Paper Sticker Cardstock we don't need a mat, how cool is that? So choose "Without Mat", then click "Done" and "Continue."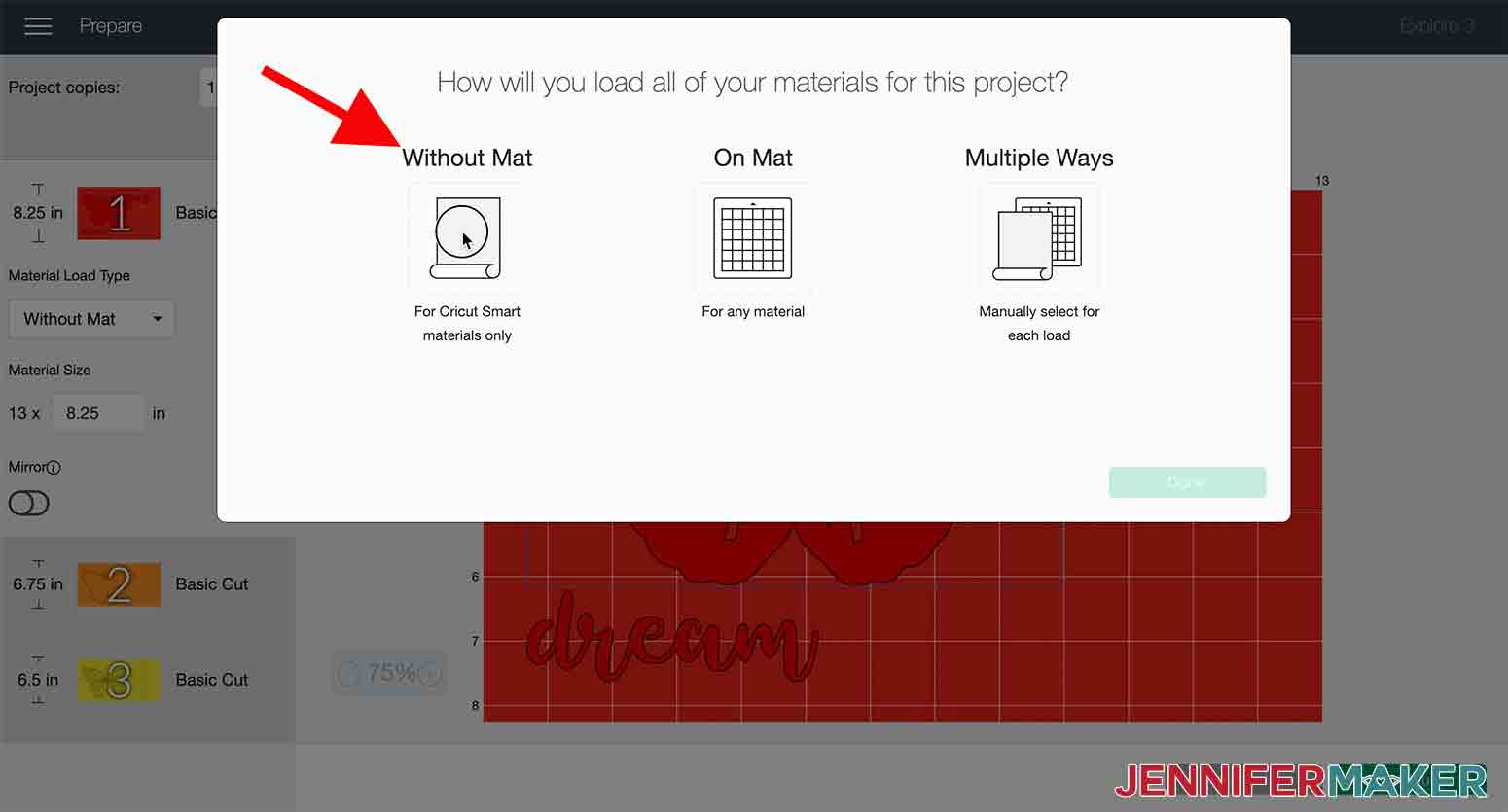 Next, choose "Smart Paper Sticker Cardstock and click "Done."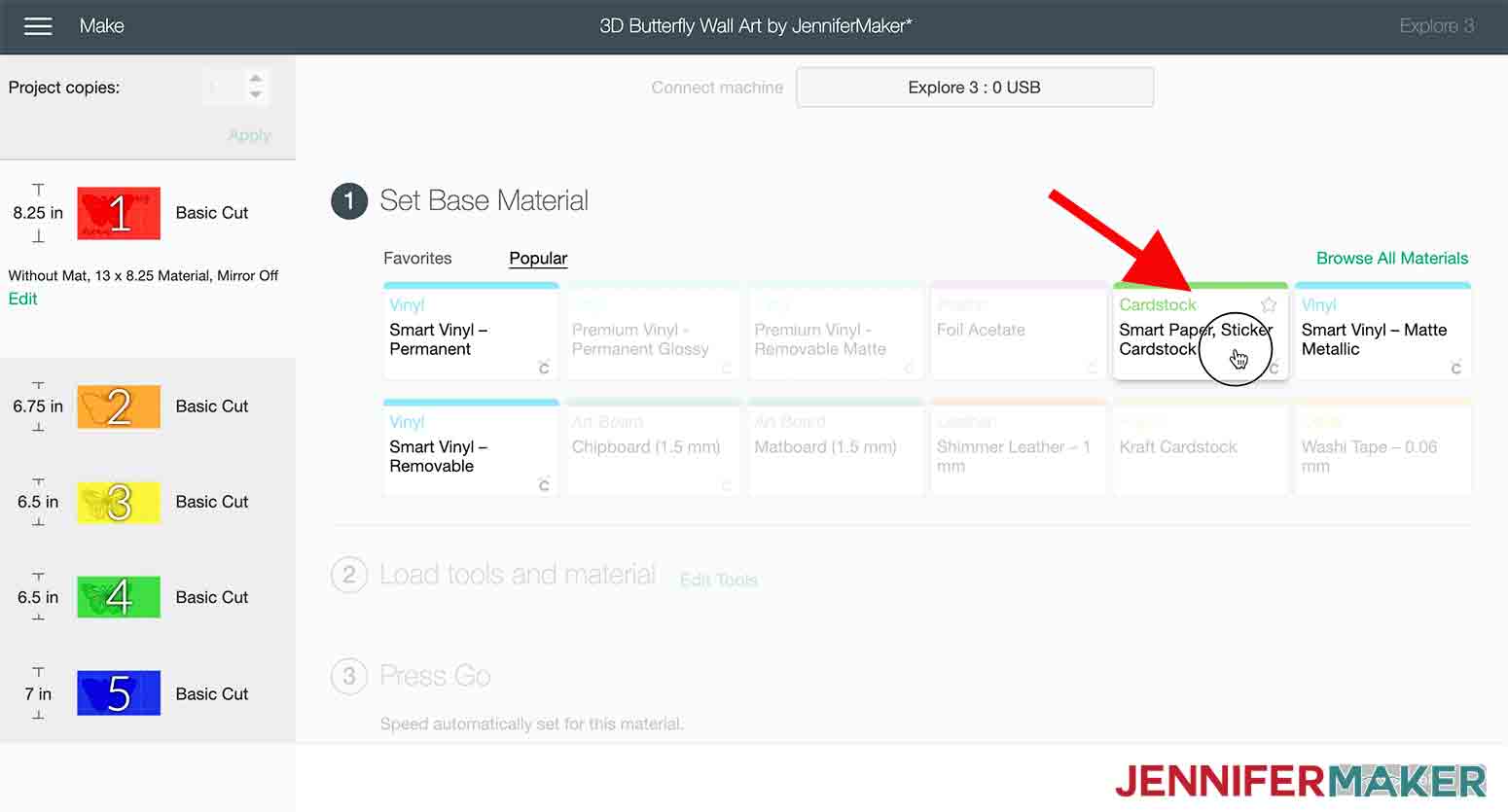 IMPORTANT: On the next screen you will see a box under Pressure and Default that says: "Remember Material Settings," click that box. That tells the Cricut Explore 3 to use the same cut pressure and materials for all of the cuts without a mat or with the Smart Material.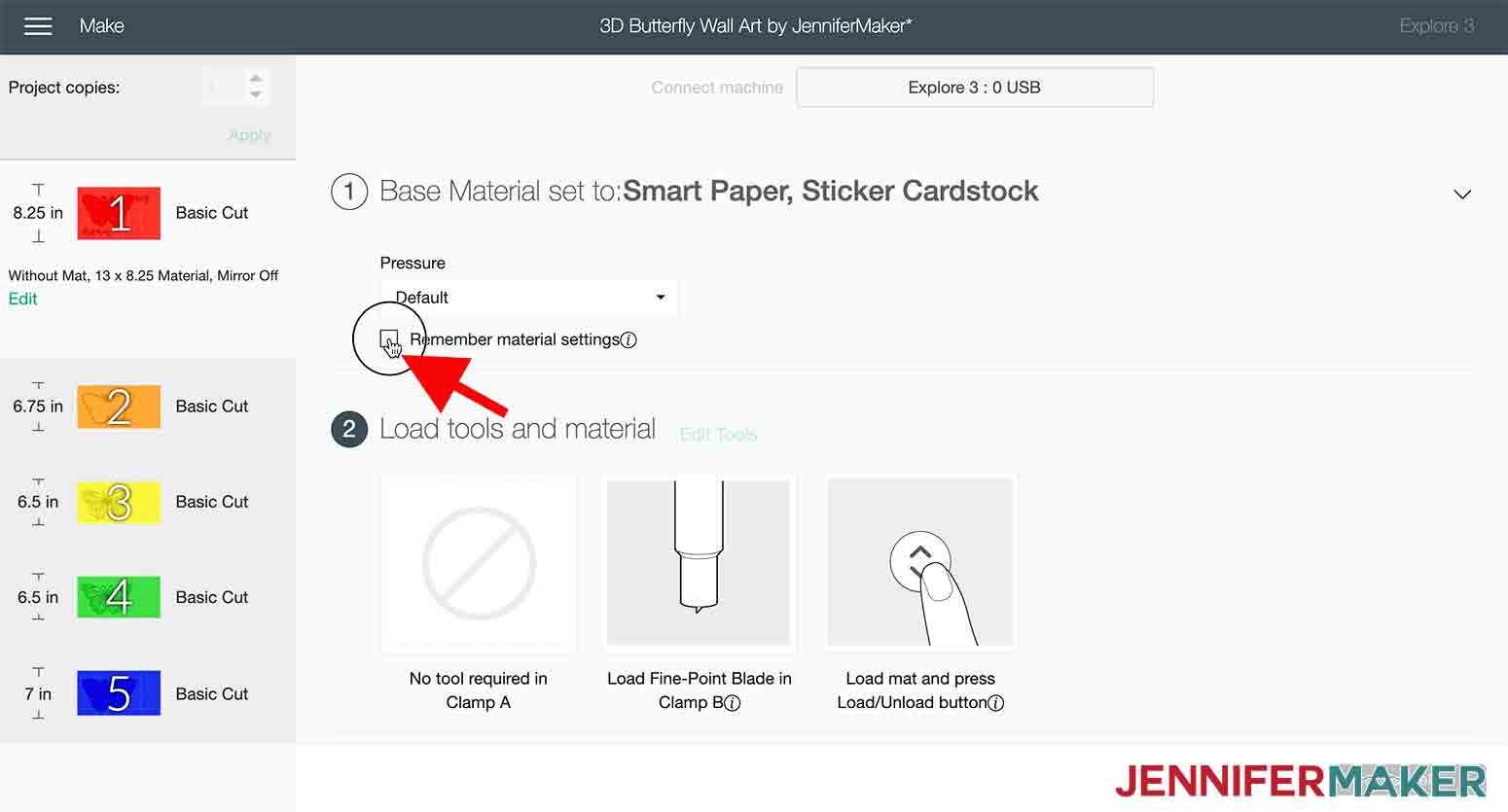 STEP 2: CUT YOUR 3D BUTTERFLY WALL ART
Now you are ready to cut!
There are 5 layers to this 3D Butterfly Wall Art project and I'm using rainbow colors for mine, but again, this is your creation, so you can use whatever color combination you like!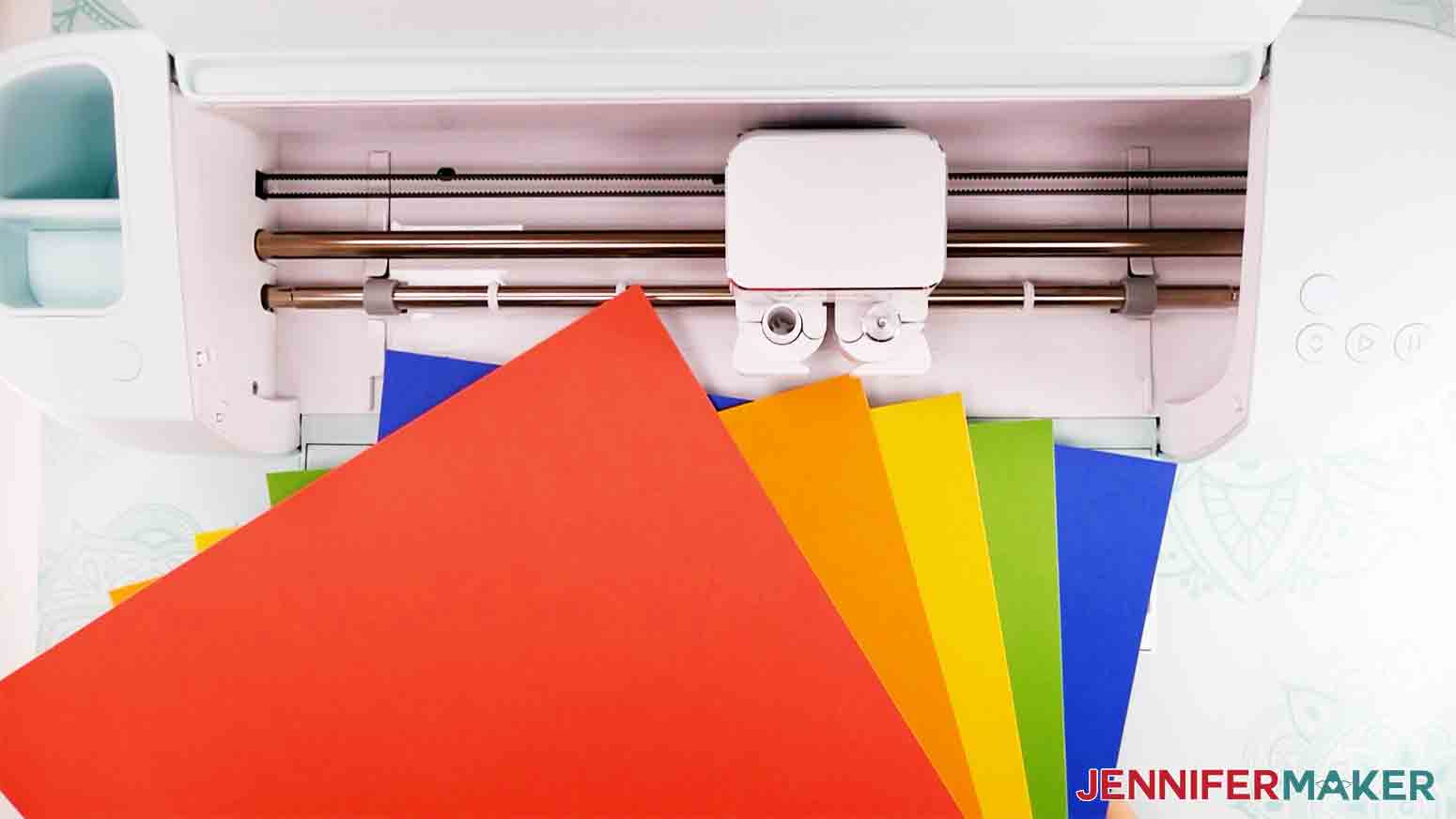 Insert your first piece of Smart Paper Sticker Cardstock and press load and then the flashing button that looks like a "Play" button to start your cut.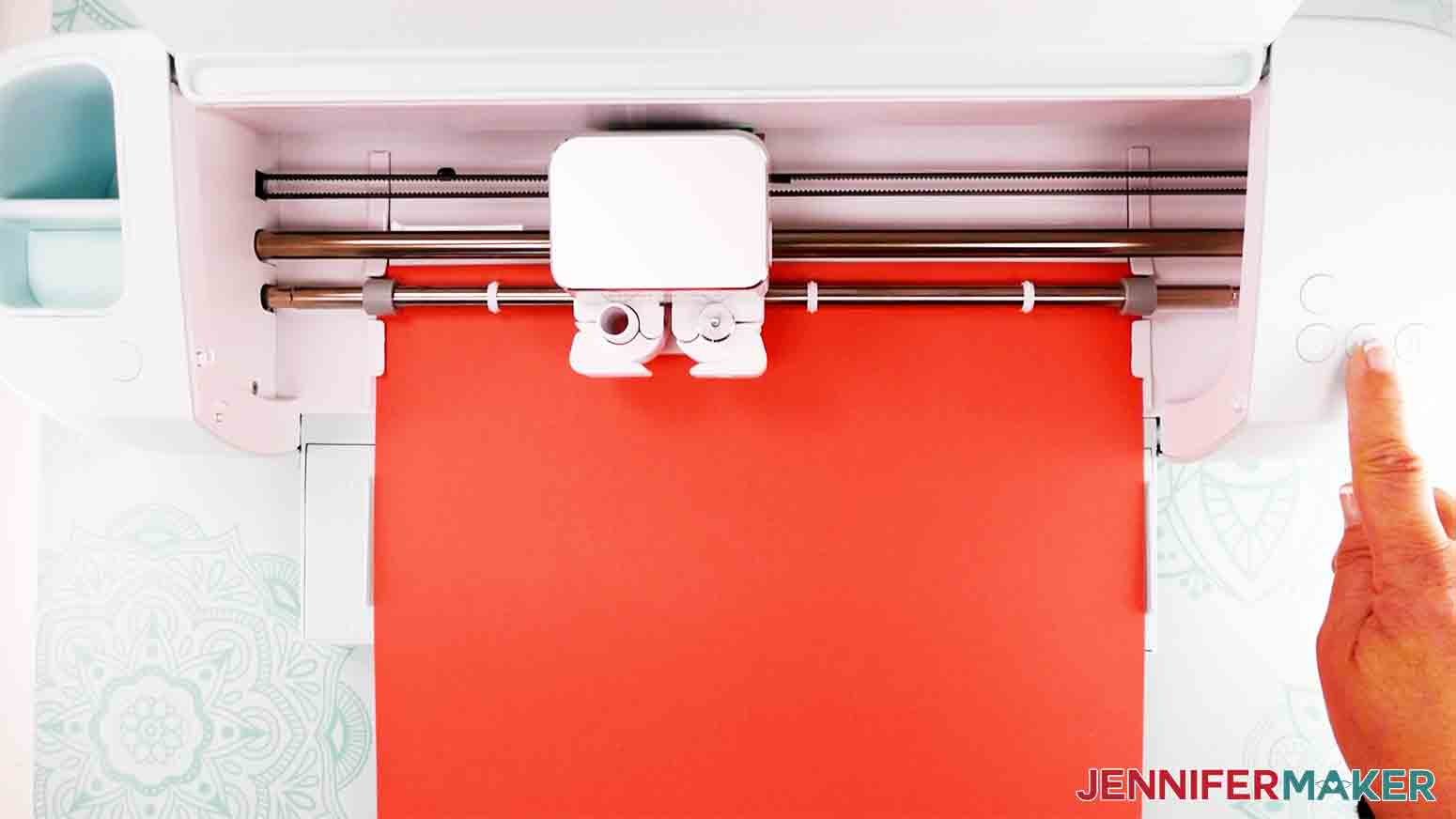 TIP: If you are using the same colors as me and forget what color comes next when you are cutting you can refer back to your device and look on the left to see what color comes next. If you are using different colors and designated those when you were getting everything set in Design Space follow that order OR better yet, just stack your paper in the order you plan to cut.
Remember how I said this is a quick project…just watch how fast the new Cricut Explore 3 cuts! It's crazy fast.
I actually set a stop watch and I was able to cut and assemble the whole project in around 10 minutes!
STEP 3: ASSEMBLE YOUR BUTTERFLY CANVAS
Once all of your cuts are complete it's time to assemble your work of art!
First, grab your 10″ x 10″ canvas.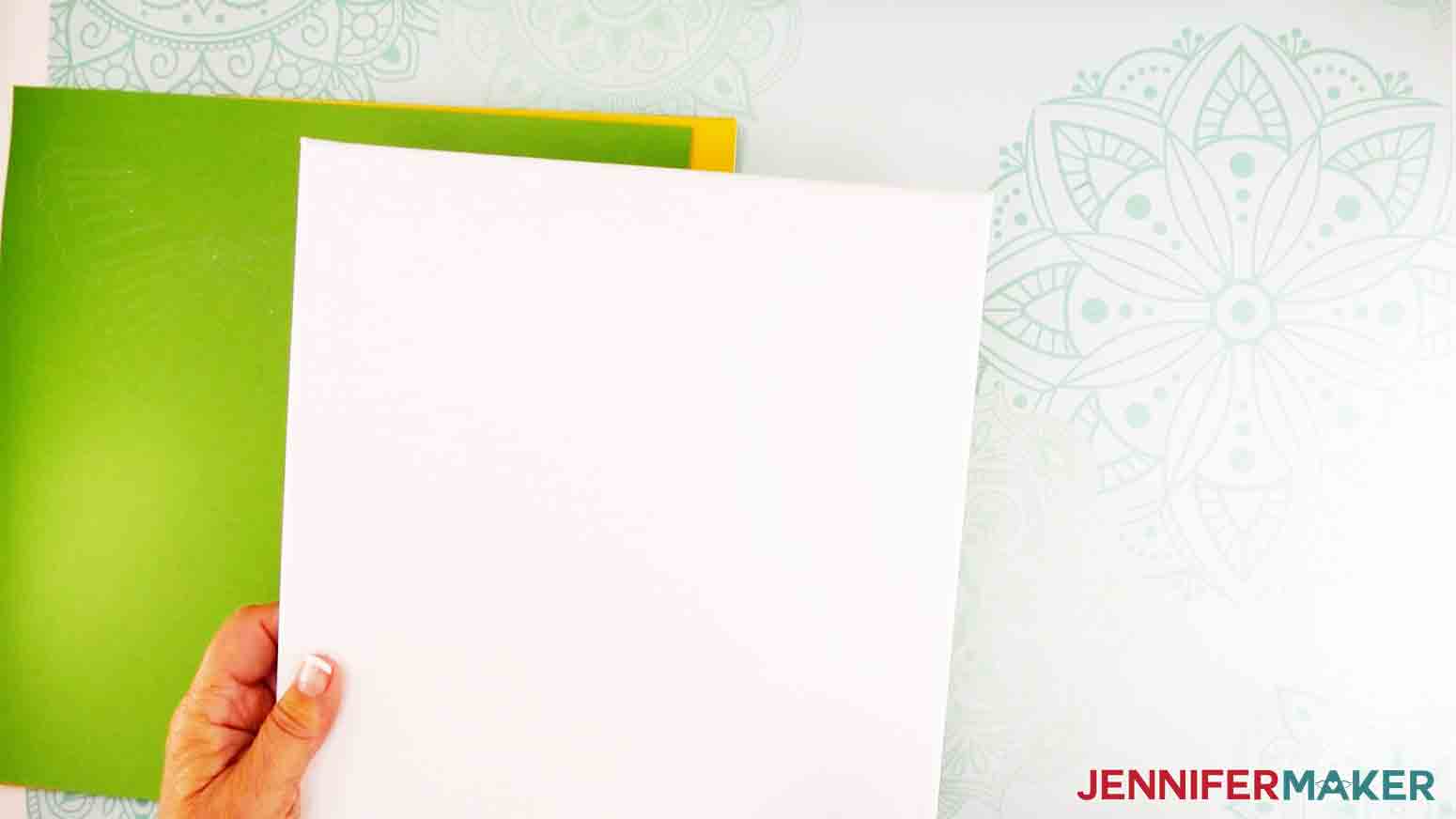 Now, one by one flip over the Cricut Smart Paper Sticker Cardstock and gently fold it back to release the sticker paper. Start with the bottom layer.
If you are using the same colors as me your layers should match these:
Bottom/Layer 1: Blue, Layer 2: Red, Layer 3: Green, Layer 4: Yellow, Top/Layer 5: Orange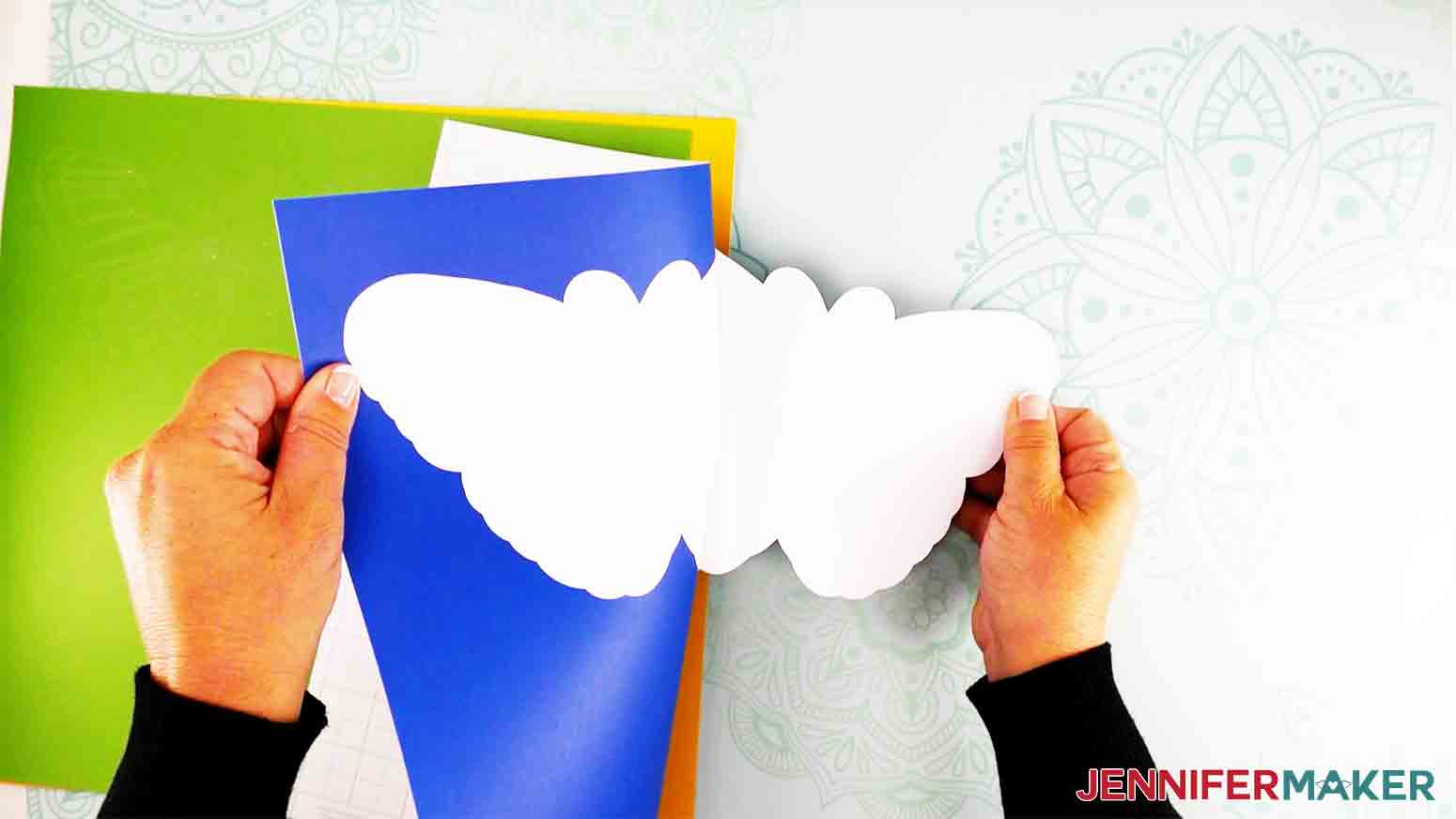 Place the bottom layer in the center of your canvas and press gently to help it stick.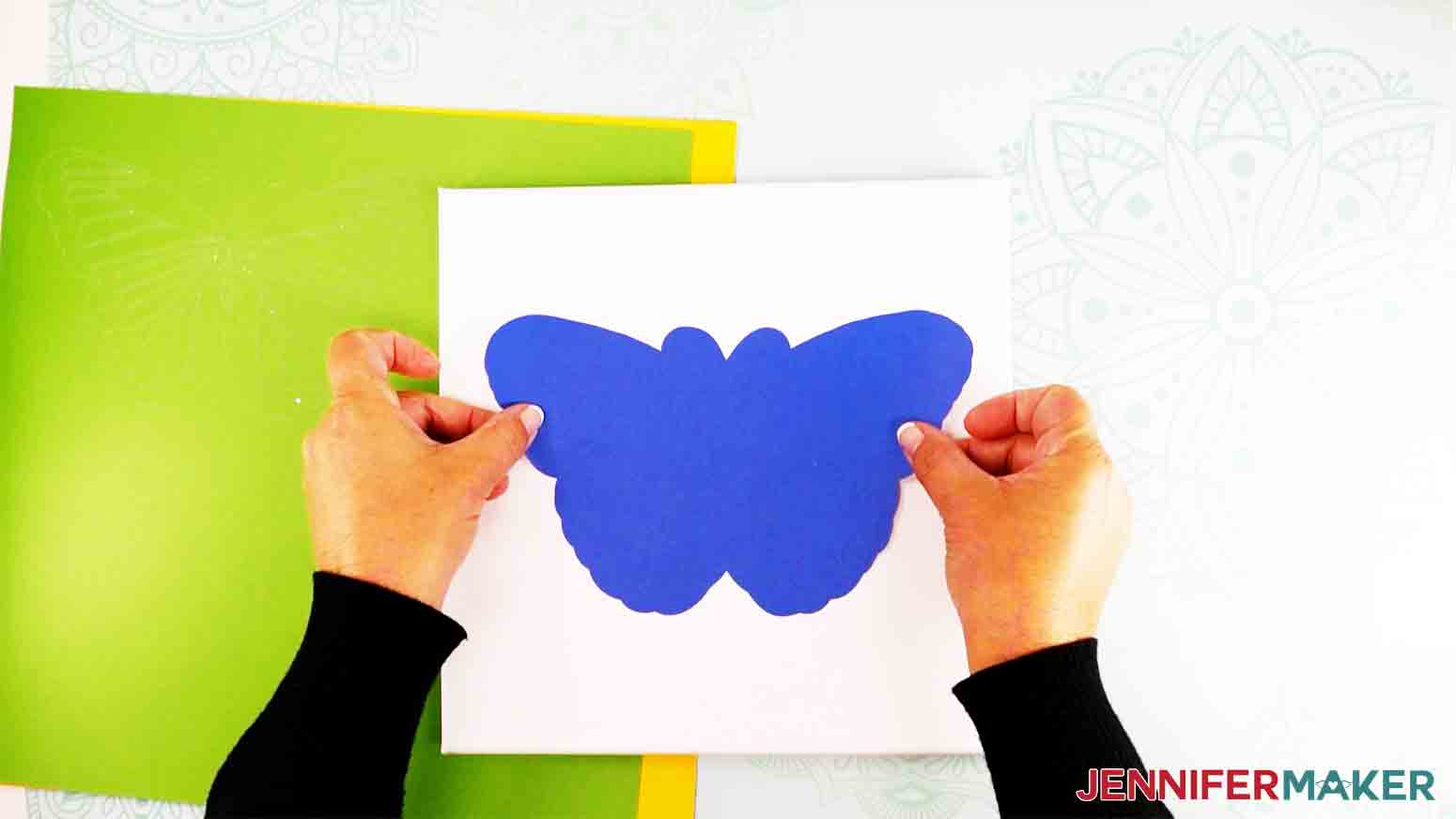 Continue doing this with the remaining four sheets of Cricut Smart Paper Sticker Cardstock.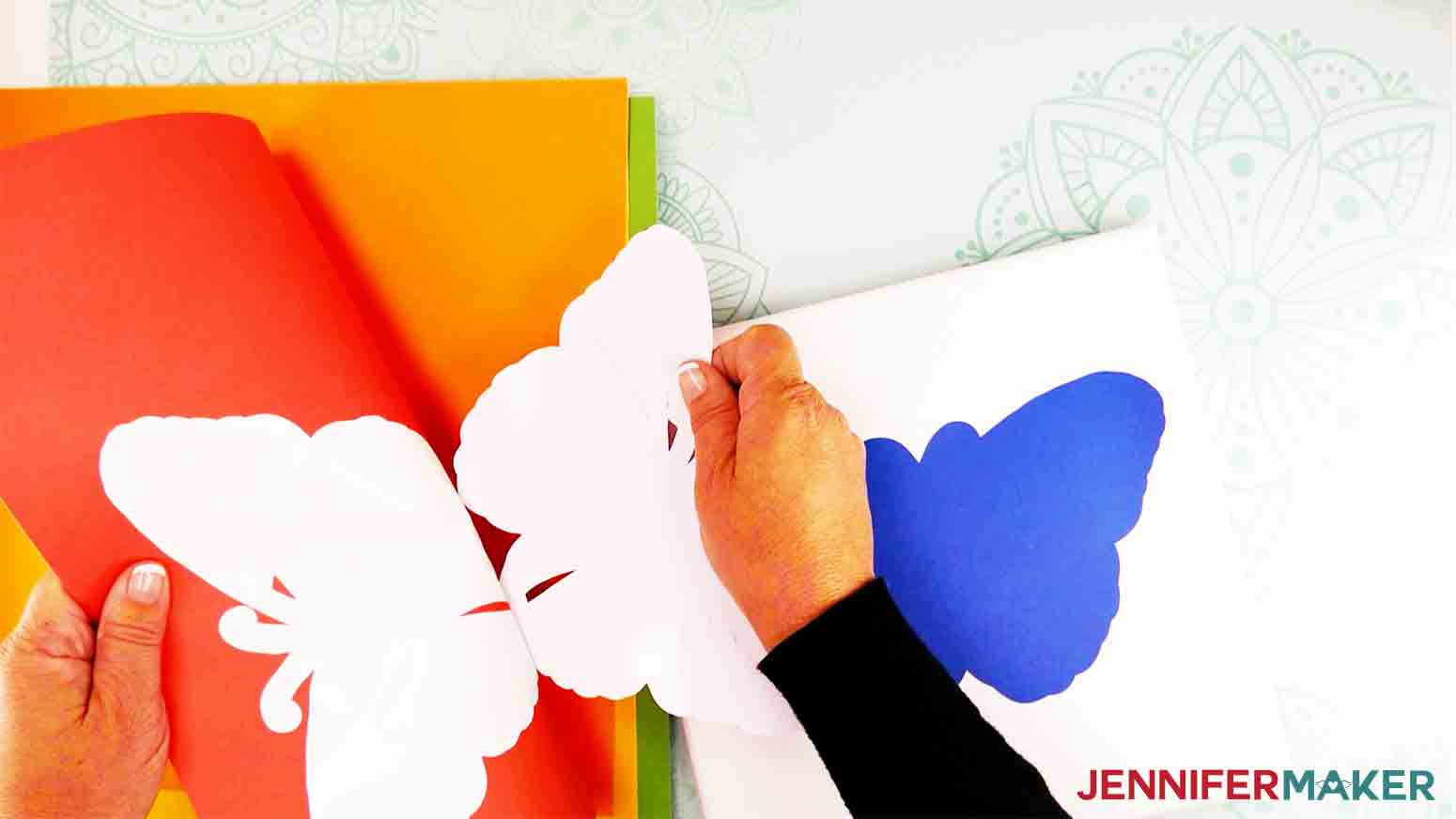 TIP: Some pesky pieces might not pop out on their own. If not, you can use a weeding tool to pop them out or just use your fingers and push them through to pop them out.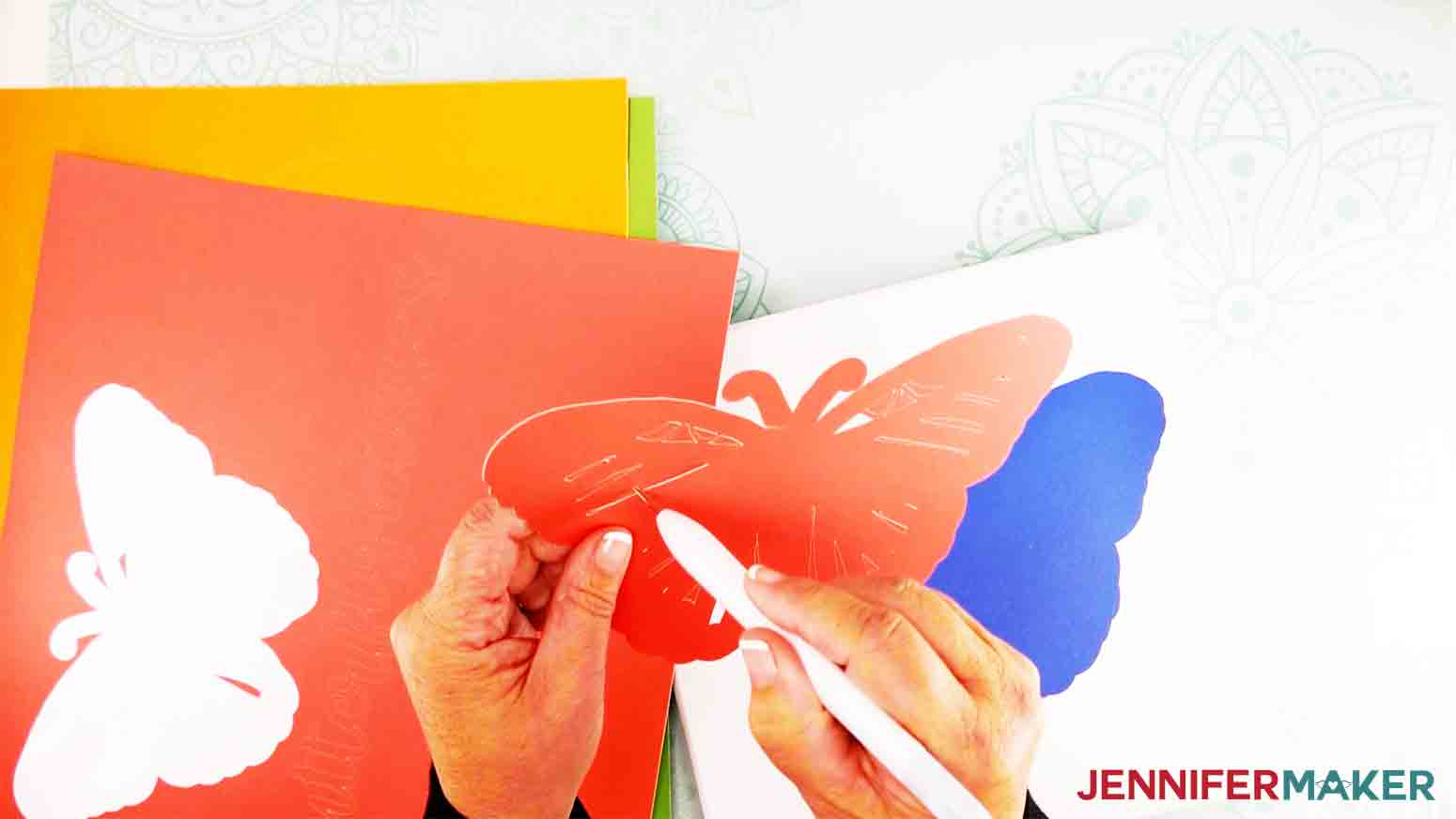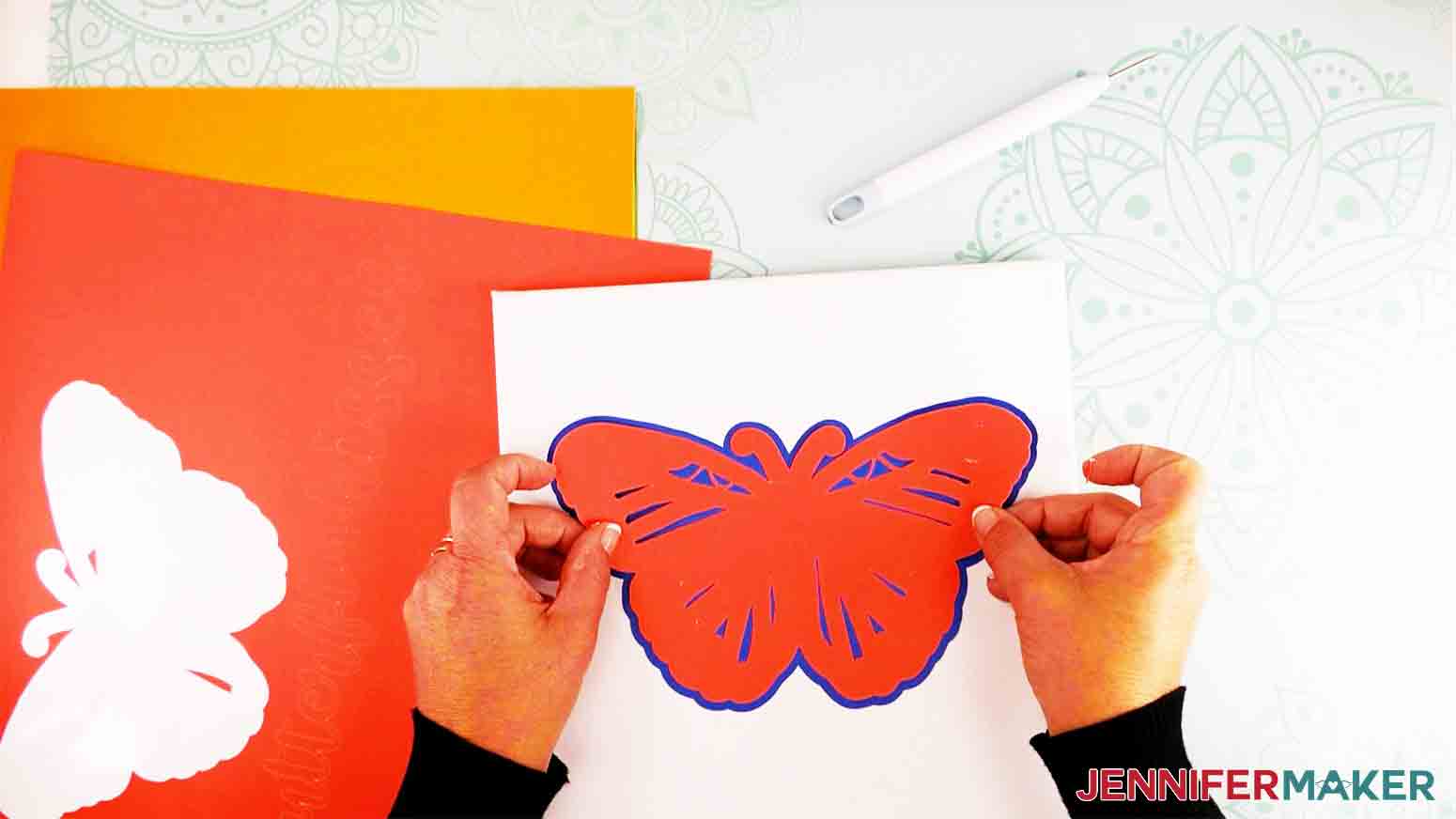 If you are using words that are red like mine those will cut with the red layer and you can add those on the canvas wherever you like.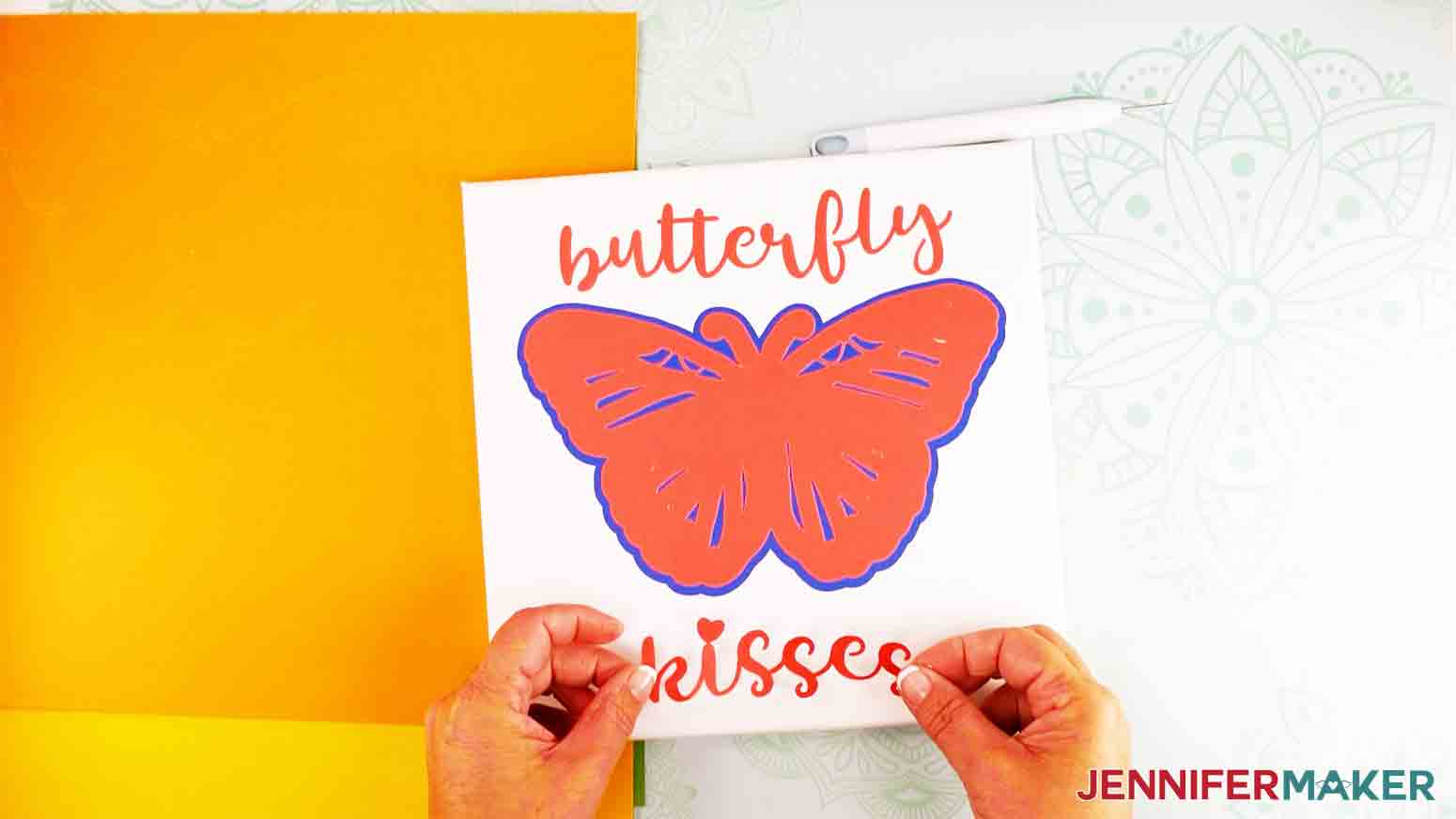 As you peel off each layer stack them on top of each other.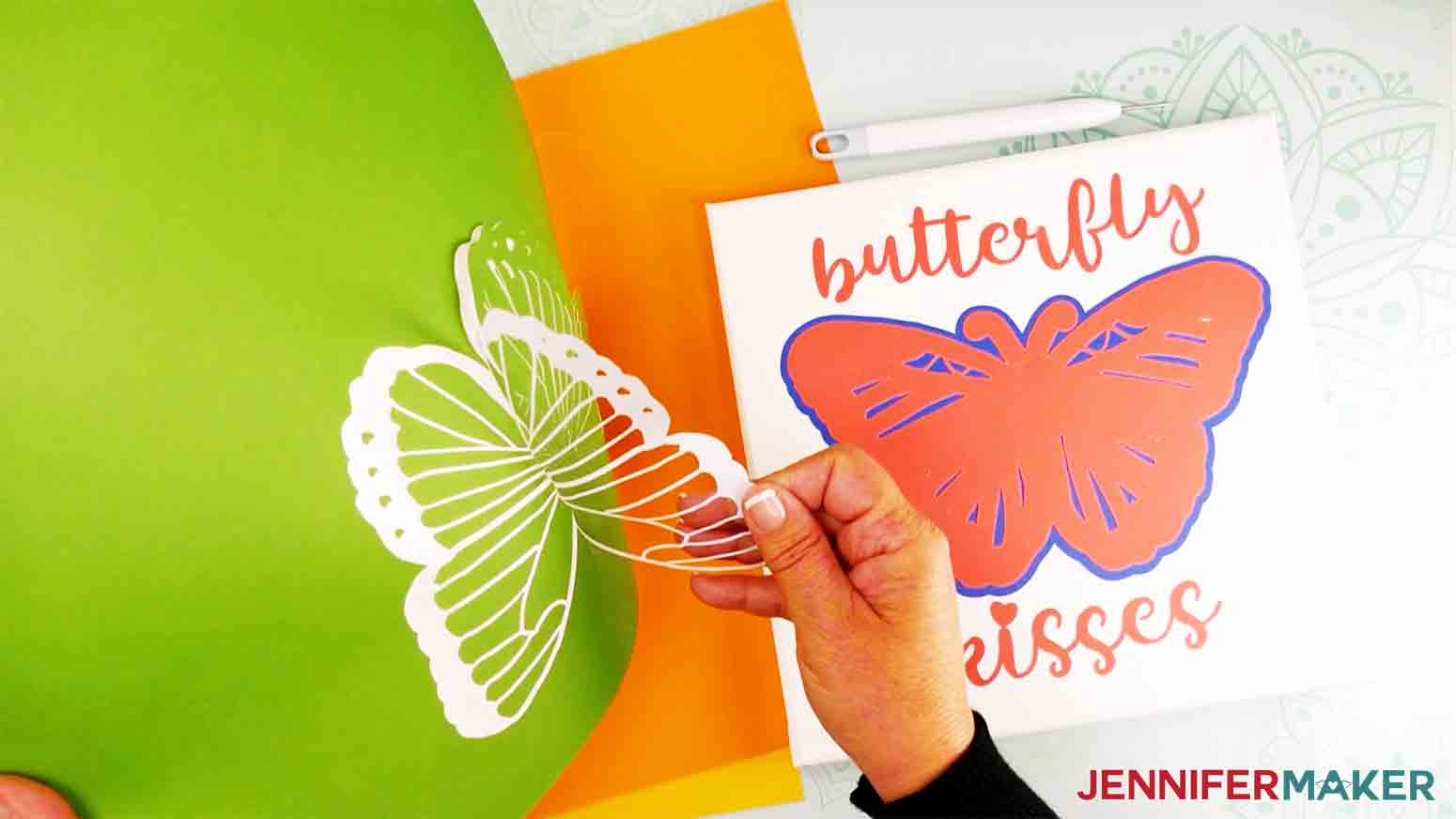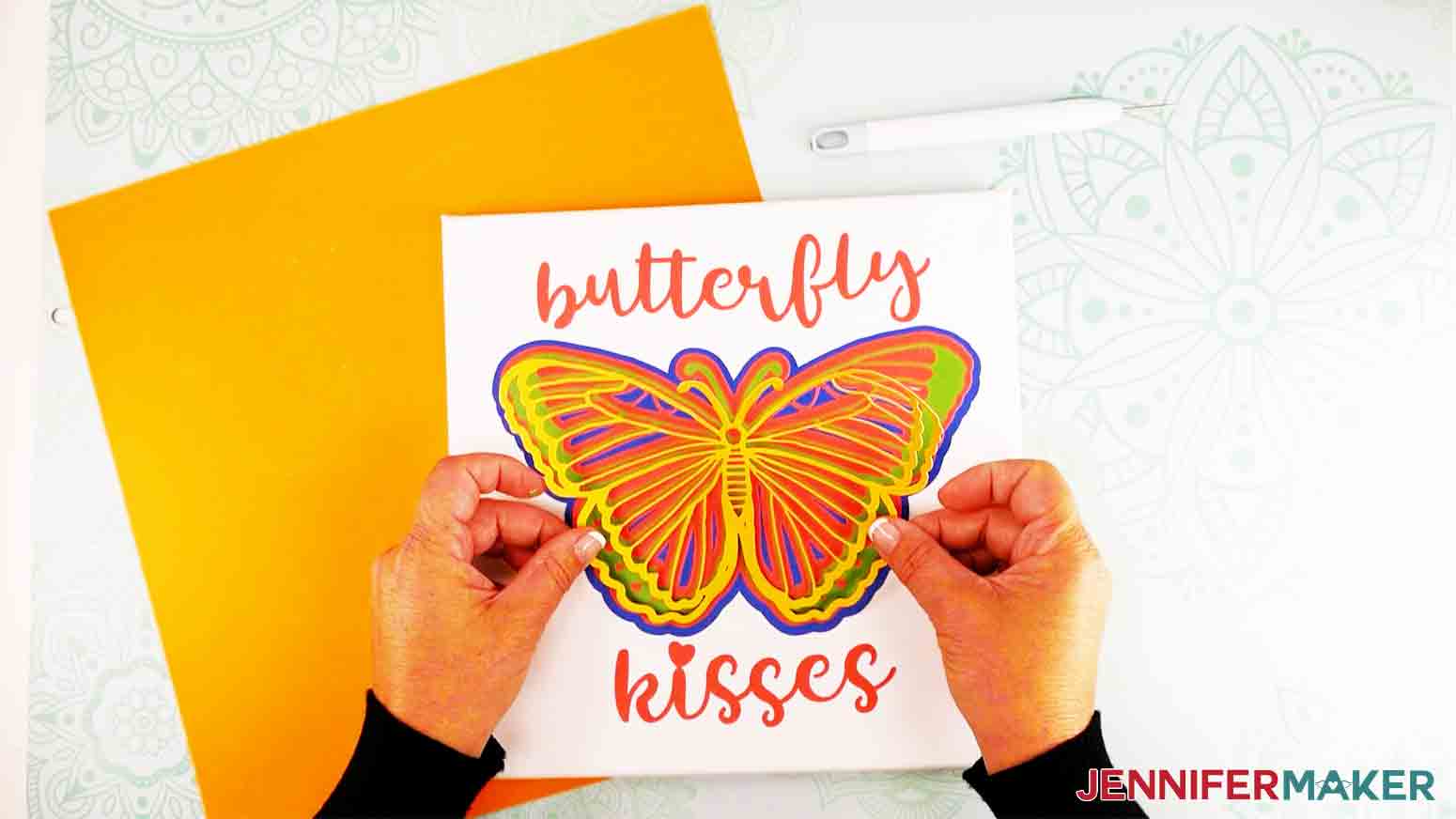 Make sure to keep all the pieces aligned. But remember, it doesn't need to be perfect to be beautiful.
STEP 4: SHOW IT OFF!
And that's it! You're done! Now you can show it off!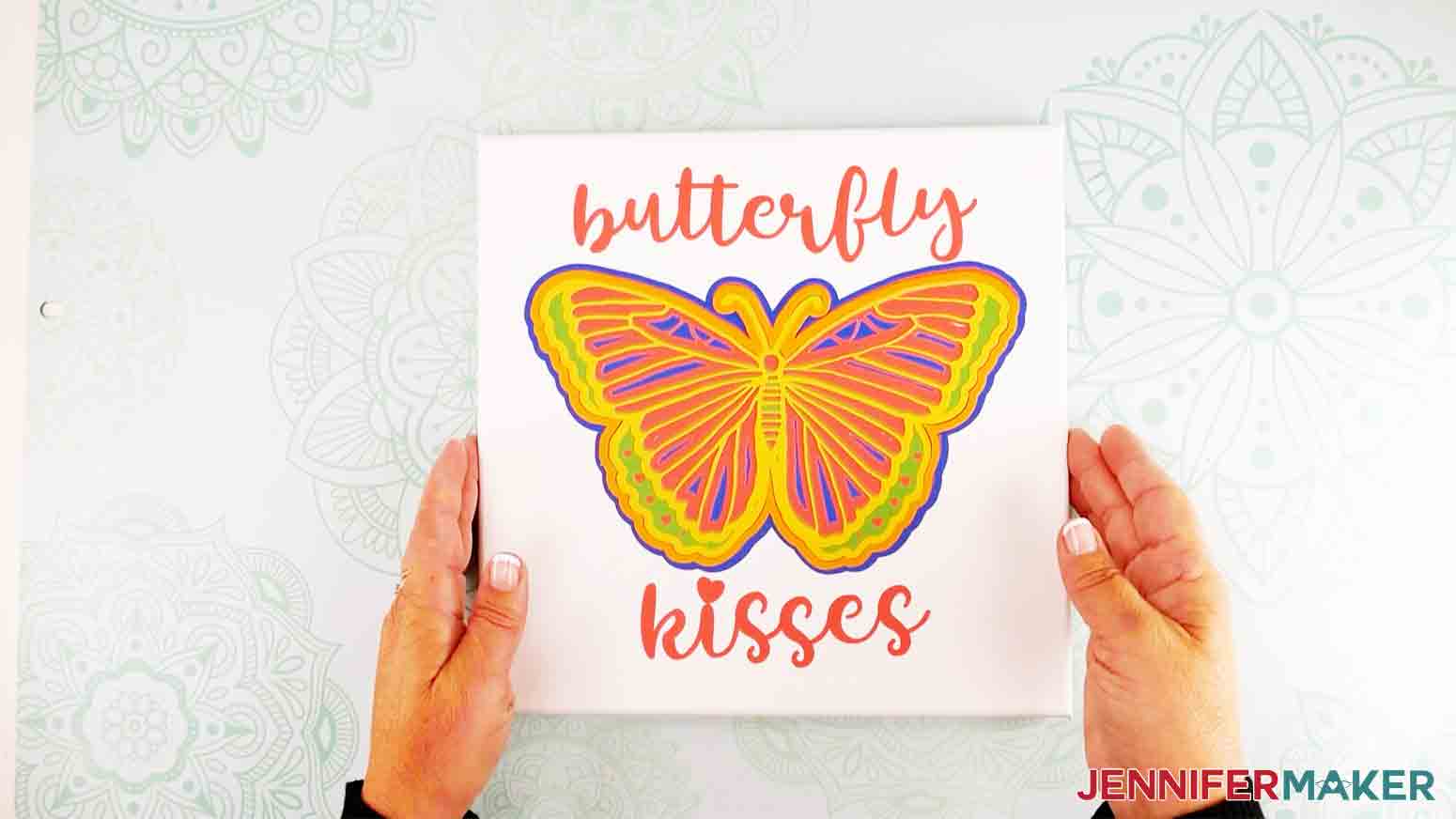 Wasn't that quick and easy to assemble? It's honestly one of the easiest layered mandalas I've ever made and I've made a lot: a Heart Mandala, some cute Easter mandalas and a fun XO mandala…just to name a few. All of those were put together with glue, tape or foam dots, which takes time. The beauty of this Cricut Smart Paper Sticker Cardstock is that the paper is already sticky so you can skip that step altogether…a huge time-saver!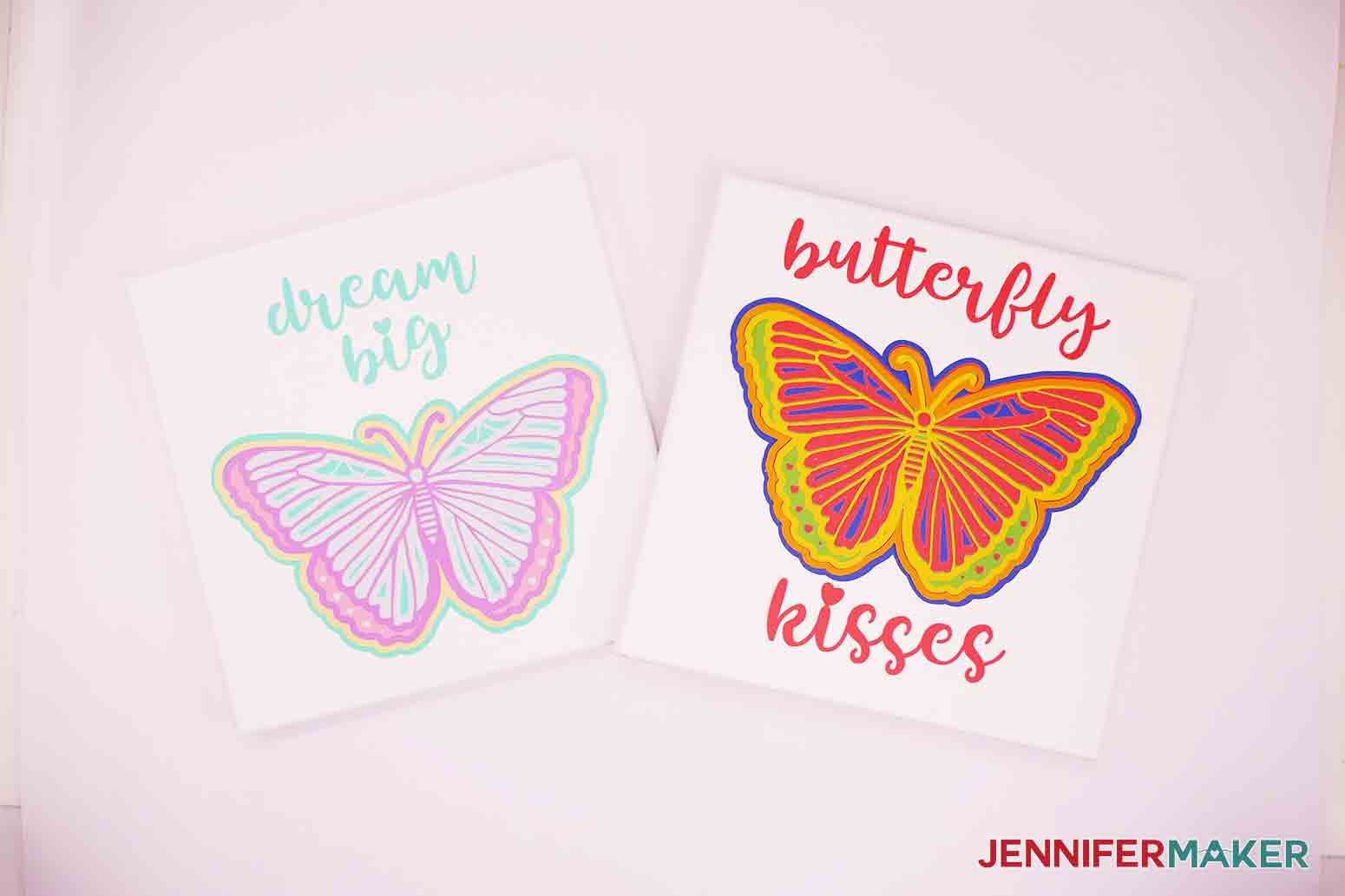 Of course if you don't have any Cricut Smart Materials on hand you can also make this 3D Butterfly Wall Art with cardstock as well on any of your Cricut cutting machines, but remember you will also need foam dots, tape or glue to hold it together.
One last tip, if you want to make your canvas a little more sticky before applying your sticker cardstock, spray it with tacky spray and let it dry before you start your project.