18 Best Designer Jewelry Brands 2022 — Best Fine Jewelry You Can Buy Online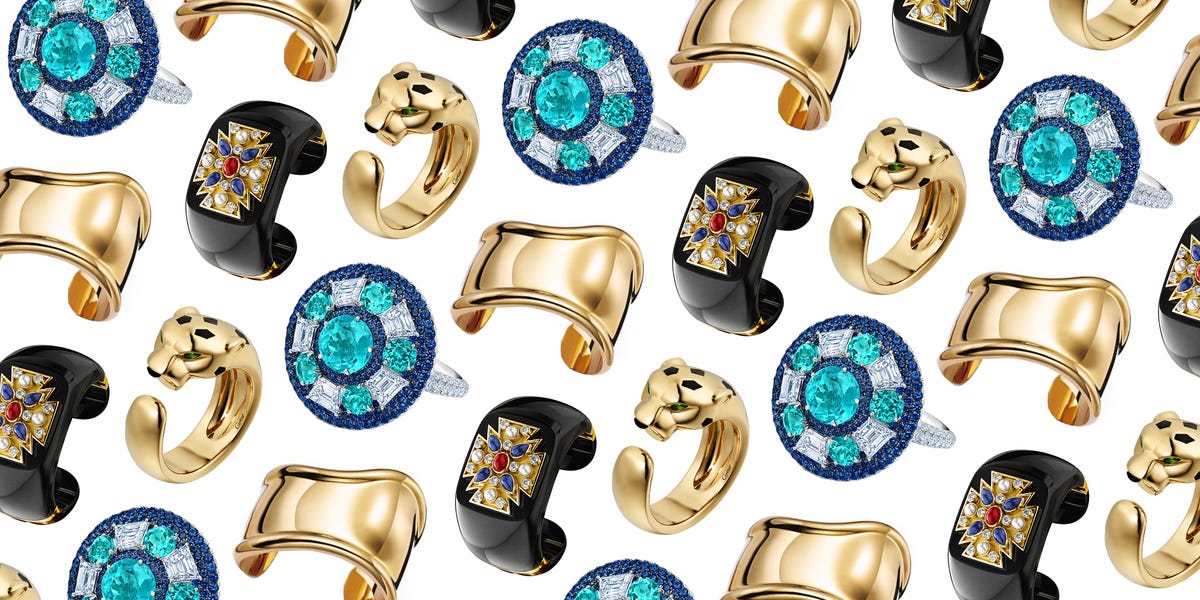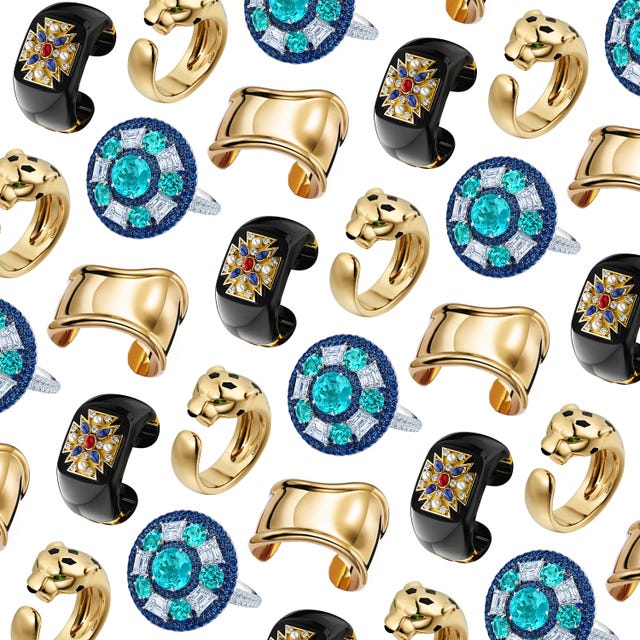 Many of life's biggest celebrations—engagements, weddings, coronations—are marked with a jewel. And bracelets and earrings and necklaces and rings frequently make appearances at other party times of life too—graduations, birthdays, job promotions, retirements. Then, of course, there are the moments when someone decides to toast to themselves. Why is jewelry such a great way to celebrate? Its beauty is, of course, a natural way to commemorate special moments, but the undeniable fact of its endurance (see perfectly intact gold and rock crystal bracelets circa 330 B.C in the Greek and Roman Galleries of the Metropolitan Museum of Art for evidence) makes jewelry a fitting tribute to moments we want to remember forever. And the iconic pieces of legendary jewelry houses succeed extraordinarily well in that mission. Here, a list of jewels we know are always primed for a celebration, and always welcome at one too.
Advertisement – Continue Reading Below
Bulgari
Best for Big Moments
There is saying that goes something like: "Go Bulgari or Go Home," and the designs of this century-old Italian house inspire that kind of bravado. They are made for grand celebrations—asks fans like Liz Taylor and Monica Vitti and Isabella Rosselini and Cher. Major moments should be marked with iconic pieces like the legendary Bulgari enamel Serpenti or the ancient coin pieces that harken back to the company roots in Greece and Rome, but the more gently priced B Zero line is a great place to start celebrating Italian style.
Shop now
Verdura
Best for Collectors
Fulco di Verdura was famously friends with celebration-loving people like Coco Chanel and Cole and Linda Porter. The house's legendary Maltese Cross cuffs are said to have been inspired by Chanel and by a trip she and Fulco took to visit a mosaic of the Empress Theodora in Italy. A pair of matching Verdura Maltese Cross cuffs is a reason enough for anyone to celebrate, but there are simpler places to start. The equally famous Verdura Curb Link bracelet, which made news when Greta Garbo was spotted wearing one in her garden, can be bought link by link, year by year. Once someone has 13 of the separate links they can go to Verdura and have them made into a bracelet.
Shop now
Harry Winston
Best Investment Diamonds
Well, they don't call him the King of Diamonds for nothing. Mr. Winston once toured a series of historic stones, including the Hope Diamond, around the country in a public exhibition called The Court of Jewels. A visit to any Winston store around the world can still feel this way, like a secret visit inside a vault of legends. But don't let that intimidate you. Think of it instead as an invitation to trust, especially for celebratory pieces that are also investments in the future.
Shop now
Tiffany
Best Engagement Rings
There have been entire movie scenes dedicated to getting an engagement ring at Tiffany. And they still do weddings—from rings to bands to table settings—very, very, very well. But more of life's big moments can be celebrated here too: Elsa Peretti bean pendant or Bone cuff, a simple T bangle, the iconic Please Return to Tiffany silver heart charm, a Tiffany key. And if you think anyone can resist the power of that blue box, well, try it and let us know how it goes.
Shop now
Cartier
Best for Anniversaries
Millions of "Love bracelet"-wearing people can't be wrong. The French house's iconic screwdriver patterned design has been a coveted gift item since its debut in the 1970s and the collection has grown—there are rings and bangles and earrings now too. The nail-inspired Juste Un Clou pieces are also incredibly popular and offer the same diverse range. And there is nothing to mark a really big moment quite like a Cartier Panthere, a design introduced to the house through one of its most notorious and devoted clients, the Duchess of Windsor.
Shop now
Pomellato
Best for Everyday
This Italian house was founded on the idea that jewelry should not be kept in a vault, but rather, worn daily in a celebration of craftsmanship and beauty and style. That tradition is clear in their iconic Nudo rings, a semi-precious stone set on a simple band of gold. They are meant to be worn stacked but you can always begin with a gift of one and a promise for the future.
Shop now
Chopard
This is a brand that created the idea of Happy Diamonds—stones floating happily, dreamily even, under glass—which makes it an ideal place to go shopping for Happy Times. Chopard's dominance on the red carpet might make it seem intimidating, but there has been a real effort in recent years to add simpler bangles and earrings to its offerings. And one can always work up to those earrings Cate Blanchett wore.
Shop now
Van Cleef & Arpels
Best for Good Luck
The Alhambra, Van Cleef's lucky clover, has become almost a rite of celebratory passage. And the house consistently expands the palette of this lucky charm—there is mother of pearl and malachite and turquoise and coral and carnelian, and that's just the beginnin—which makes it an ideal jewel to collect over time, charting a jewelry memory lane of celebratory moments. If there is a dancer in the family, then one of the Van Cleef jeweled ballerina brooches would cap off an epic celebration. Or for Jackie Onassis fans, the hammered gold Manchette cuffs are something of a party in themselves.
Shop now
Graff
This is very serious stuff, auction record breaking level stones—the record for a fancy intense pink diamond was set in 2010 with the 24.78-carat Graff Pink diamond, which sold for $46 million. But when you are looking for a rare blue diamond or the stud earrings you will have for life, or an engagement ring that will guarantee a "YES!", start here.
Shop now
David Yurman
The Yurman cable bracelet is an icon of contemporary jewelry design and now more than two decades after it was first created it is offered in a wide range of materials, from stone studded gold to silver to brightly colored titanium. That would be the first place to start when buying someone a gift from Yurman, but the real secret here are the stones of exceptional quality and unusual cuts. Yurman and his son Evan are mainstays at the annual jewelry show in Tucson Arizona and their relationships with the global network of stone dealers runs deep. The Artist Series includes pieces like a rough cut turquoise necklace lined in ruby and a labradorite and color change garnet collar.
Shop now
Monica Rich Kosann
Best Personalized Gift
Kosann is a celebrated portrait photographer so it's only natural that lockets have become her signature. But these are not the overly sentimental tokens of yore. Kosann has through her clean designs and thoroughly modern approach to layering made the locket cool again. She even created a technology to print out pictures small enough to fit into them. Her collection is filled with pieces of meaning, from a fish pendant symbolizing perseverance to a charm with that empowering message from the Good Witch herself: "The power was with you all along."
Shop now
David Webb
Webb is known for boldy oversized cocktail rings and animal cuffs and pendant necklaces, and for his fearless use of stones like malachite and coral and lapis and rock crystal, but his brushed gold pieces are also a signature. Webb was a student of ancient jewels and his research is evident in the wide collars and torques he first created in the early 1970s. A little secret: before Aldo Cipullo went to work for Cartier—where he designed the Love bracelet and the Juste En Clou—he was employed in the workroom at Webb. And there is a nail series here too.
Shop now
Messika
You want to give a major diamond but you want it to have a cool downtown vibe. The legacy of this French house is historic—a diamond dealer dynasty is behind it—but it's led by Valerie Messika, who grew up around important stones but has infused her own chic French girl sensibility. Her pieces make ideal celebratory gifts, but are equally powerful when celebrating oneself. The variety of pieces from personal pendants to important diamond showpieces is also helpful when shopping for a gift.
Shop now
Roberto Coin
Best Classic Jewelry to Give
When looking for Italian classics like the perfect gold hoops, the ideal gold link bracelet, the gold domed cocktail rings, all roads lead to Roberto Coin. There are also unusual stone pieces—Coin is especially expert at malachite—and his diamond collection has all the Dolce Vita glamour you might expect. We also love the small ruby hidden in the back of every pieces.
Shop now
Irene Neuwirth
There is an air of celebration in all of Neuwirth's creations. It's her color sense surely—bright pink stones paired with fiery orange ones, clear blues mixed with vibrant greens. Her opals too, especially the ones she carves into her signature heart pendants, radiate happiness. And don't anyone let you believe the myth about opals and bad luck: it can all be explained by a misreading of a 19th century novel. In fact, opals are a very good thing
Shop now
Martin Katz
Best Rare Jewelry to Give
Remember the long earrings Nicole Kidman wore when she wore that chartreuse Galliano to the Oscars? She got them from Martin Katz who was then L.A's premiere vintage jewelry dealer. He has since taken his knowledge of historic settings and stones to create new designs of his own. They are still red carpet-worthy. And his pieces, especially his rare Paraiba tourmaline pieces, can make every woman feel like a star.
Shop now
Lugano
For those who prefer the experience to be discreet even if the jewelry is major, these California-based stone connoisseurs are who you turn to for a serious celebration. The jewels themselves have serious history but the designs allow it to be worn lightly. That old "diamonds you can wear with a white shirt or a ballgown line" actually proves true here.
Shop now
Buccellati
Best Gold Jewelry to Give
A foolproof test to identify truly great jewelry design is: "If you put a piece unidentified on a tray, would someone be able to say whose it was by the distinct signatures?" Well there is no mistaking a piece of Buccellati. Sometimes it's the brushed gold rigato technique, sometimes its those cabochon stones in a gold honeycomb cuff. Begin with a pair of Hawaii earrings and work your way up to a gorgeous ruby cocktail ring.
Shop now
This content is created and maintained by a third party, and imported onto this page to help users provide their email addresses. You may be able to find more information about this and similar content at piano.io
Advertisement – Continue Reading Below