18 Best Retinol Creams & Serums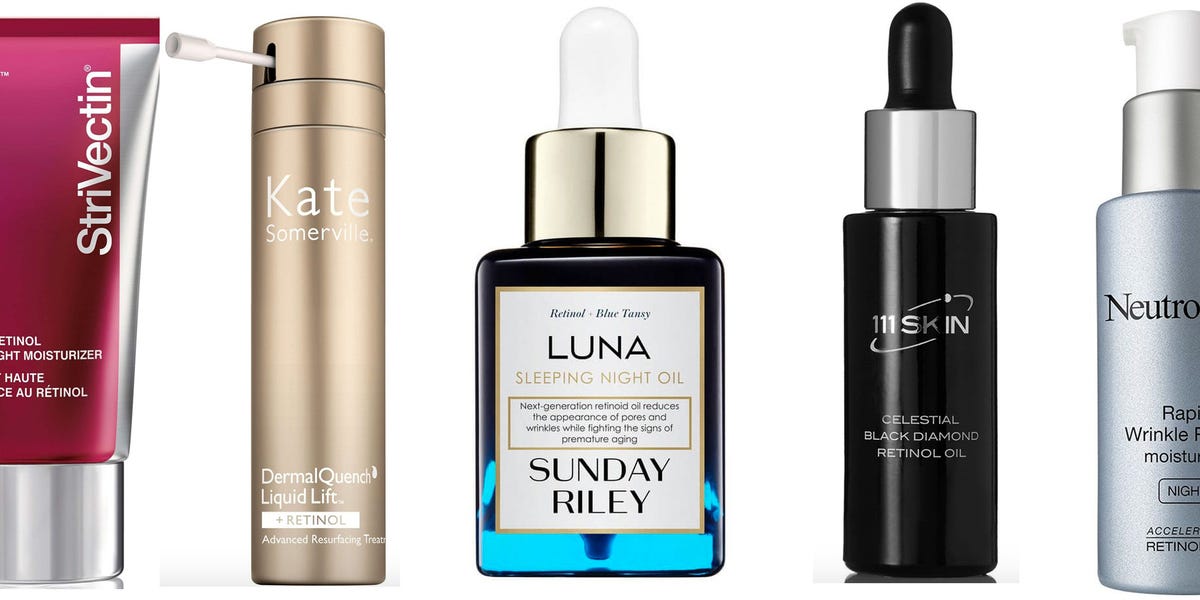 As far as ingredients and actives that are consistently recommended—and receive top marks from dermatologists—vitamin A (aka retinols and their more powerful cousins, retinoids) is tough to beat. Beloved for its ability to encourage cell-turnover, the process that replaces your tired-out skin cells with fresh new ones, a retinol product can boost skin's natural collagen levels, smooth wrinkles, fade dark spots, and even help clear away acne. But with so many retinol and retinoid products on the market, choosing one can be overwhelming. And of course, there's always the distinction between Retin-A (a prescription, high concentration retinoid) opposed to a retinol (a subset of retinoids that errs on the more gentle side), which you can snap up without a doctor's rec. It all comes down to how intense you want the product to be. Worry not—we've put together a list of our favorite retinol and retinoid creams, serums, and treatments for every skin type and need.
Chantecaille Retinol Intense+
Looking to get rid of the signs of skin sins past? Niacinamide, vitamin C, and green coffee extract in this cream work together with a high dose of retinol to make dark spots and hyperpigmentation disappear.
StriVectin-AR Advanced Retinol Intensive Night Moisturizer
Contrary to popular belief, wearing retinol products in the sunlight won't cause your skincare to burn you, but retinol does degrade in daylight, making nighttime the ideal time to get the biggest bang for your retinol buck. Choose a cream designed for nightly use, like this one which opts for both retinol and a retinoid as well as a patented hydrator so skin stays dewy and glowing.
Paula's Choice CLINICAL 1% Retinol Treatment Cream
Known for their potent, no-nonsense formulas, this skin-smoothing retinol cream from Paula's Choice packs in brightening vitamin C and anti-aging peptides while leaving out dyes and fragrances to decrease to risk of irritation.
Sunday Riley Luna Sleeping Night Oil
The German chamomile in this sapphire-blue oil tames blotch-prone complexions while the retinoid hydroxypinacolone retinoate encourages skin's natural exfoliating process to leave your face glowing.
Verso Hand Serum
Exposed to harsh sun and regular washings, hands are one of the first places that can begin to show signs of aging. A hydrating cream with retinol, like this shea butter-enriched version, keeps skin plumped and fights back against dark spots and crinkling.
Kate Somerville DermalQuench Liquid Lift + Retinol Advanced Resurfacing Treatment
Not only does retinol combat wrinkles, but it can also work to correct other issues associated with skin sagging like enlarged pores. This aerated treatment helps deeply infuse skin with retinol, as well as hyaluronic acid and rice bran extract for an ethereally smooth complexion.
The Ordinary Granactive Retinoid 5% in Squalane
If pinkness and flaking have driven you away from retinols in the past, this high-dose retinoid will be your knight in shining dropper. Derived from vitamin A, just like retinol, retinoids have a different chemical structure that can make them gentler on skin while still reaping the wrinkle-fighting benefits.
First Aid Beauty FAB Skin Lab Retinol Serum
This low-octane retinol serum uses a .25% concentration of the wrinkle fighter, making it a perfect choice for first-time retinol users as well as people with sensitive skin.
Dermalogica Overnight Retinol Repair
To avoid peeling and sensitivity, ease into using a retinol by alternating it with a retinol-free moisturizer every other day, or opt for a version like this one that comes with a buffer cream to let you manually adjust your retinol dose.
100% Pure Retinol Restorative Neck Cream
If your regimen only extends as far as your chin, you're missing out on a stretch of delicate skin that can give away signs as age—the neck. Battle crepiness and sag below the jawline with a cream like this one, which teams collagen-boosting retinol with hydrators like olive squalane and hyaluronic acid to keep skin looking firm and plumped.
Natura Bisse Essential Shock Intense Retinol Fluid
The velvety texture of this retinol serum is light enough not to aggravate oily and acne-prone types but still hydrating enough to satisfy combination skin. For those with truly dry complexions, the sheer wear layers perfectly under a heavier cream.
The Straight A Serum, Advanced Gentle Retinol Treatment
Encapsulated retinol alongside botanical retinols, bakuchiol and moth bean extract, all work together with maya chia's shelf stable vitamin C and vitamin E  to lessen the look of fine lines, plump the epidermis and brighten the complexion. But thanks to the chia see and Buriti oil in the potion, skin isn't vulnerable to dryness. 
Neutrogena Rapid Wrinkle Repair Anti-Wrinkle Night
The retinol in this inexpensive favorite is mixed with hyaluronic acid and a glucose complex that's supposed to help it penetrate into the skin more quickly and get you those anti-wrinkle results you crave faster.
Jordan Samuel étOILe with Retinol Treatment Oil
A blend of retinol, cranberry seed, argan and marula oils ensures that you get all of the exfoliating benefits of a classic retinoid, but with less irritation. Better: it's gentle enough for daily use. 
RoC Deep Wrinkle Night Cream
This drugstore darling offers serious wrinkle-fighting power without a bank-breaking price tag, so you won't feel obliged to skimp on applying it to your neck, hands, and décolletage, where signs of aging are also common.
January Labs Triple Active Reclaiming Serum
The cult-favorite clean beauty brand has accomplished an impressive feat: a serum that hinges on three separate actives for a retinol that is friendly enough for skins that might not have gotten along with a retinol in the past. In the mix: niacinamide and vitamin c, a one-two-punch for pigmentation. And the Retistar retinol has a .5% concentration, giving you all of the performance of boosting collagen all while improving susceptibility to breakouts. Also involved in the equation: lactic acid to improve texture and boost hydration, aloe, and sodium PCA for moisture, and Gorgonian Extract which is clinically proved to help repair already sensitized skin. 
Shani Dardern Texture Reform Gentle Resurfacing Serum
All in all, Darden's Texture Reform is a fabulous starter treatment for someone just getting into the vitamin A game. Sure, it has a mild retinoid to gently fight wrinkles, but the lactic acid in the formulation provides an instantly smoothing and brightening effect.
Advanced Resurfacing Serum
Renee Rouleau's formulation is made for sensitive skin, and made with a stable .4% of time-released retinol, so it works over time while you sleep. This paired with matrixyl peptide and glucosamine HCL ensures that skin is brightened over time, but without any peeling or irritation. Consider it the easiest way to retexturize your skin without any serious downtime. 
This content is created and maintained by a third party, and imported onto this page to help users provide their email addresses. You may be able to find more information about this and similar content at piano.io