18 Best Sipping Rums 2022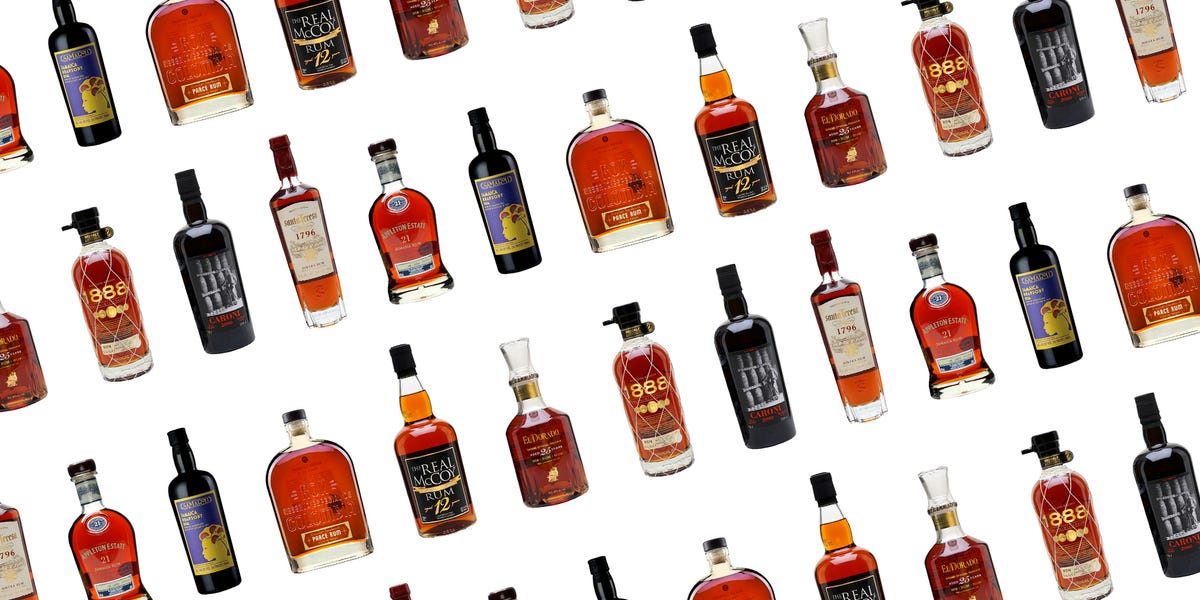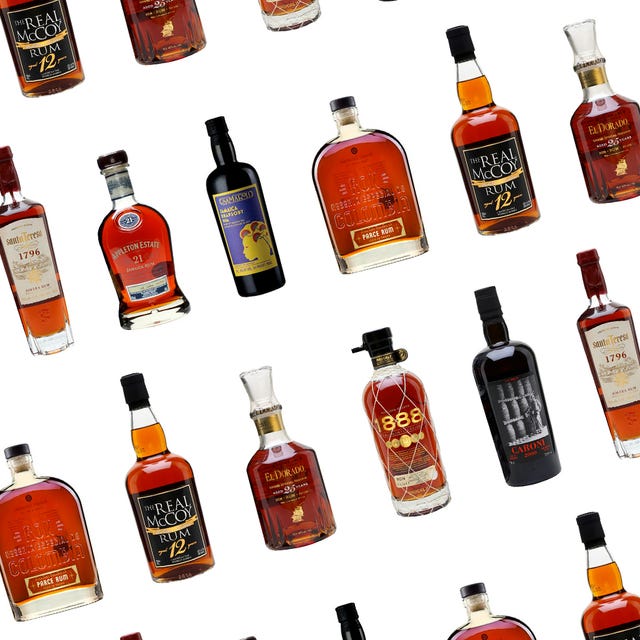 Courtesy
When you think of sipping a nightcap, your mind probably strays to a bottle of whiskey, brandy, or cognac, but the world of liquors made for slow savoring is far wider than that. One long-overlooked bottle that's been garnering spirit-lovers' attention in recent years: smooth, decadent aged rums and rhum agricoles.
According to the Distilled Spirits Council, rum accounted for $2.3 billion in sales in 2019, with the ultra-premium rum category growing more than 6% year over year. "[Rum is] going to be the next big spirit, following along the train of whiskey," says Kenneth McCoy of the Rum House in Manhattan (If you need evidence of whiskey's luxury dominance, look no further than the release of a 25-year-old Pappy Van Winkle bourbon.)
So grab a few of these bottles, and see for yourself why rum is poised to become the next liquor to appeal to sippers worldwide.
Advertisement – Continue Reading Below
Chairman's Reserve Finest St. Lucia Rum
When St. Lucia's last sugar plantation closed in the 1960's, the Island's rum industry was forced to consolidate into St. Lucia Distilleries. Now, sourcing molasses exclusively from the British Guyana, Chairman's Reserve has risen to prominence as a signature bar staple. Their hero blend captures flavors of stonefruit and dried fruits thanks to aging in ex-bourbon barrels. 
Diplomatico Rum Reserva Exclusiva
The Reserva Exclusiva from Diplomatico—distilled in copper pot stills and aged for 12 years— is considered among the best rums from Venezuela, a country which was, itself, way ahead of the US on the rum renaissance. Straight, its prominent flavors are caramelized banana and roasted tropical fruits but with ice McCoy says the rum "comes alive with subtle spice, dry vanilla, and smooth chocolate."
More: The Most Delicious Rum Cocktails to Make at Home
Clement VSOP Rhum
Unlike rum, which is made from molasses, Rhum Agricole is made using fresh sugarcane juice for a brighter, more botanical flavor that fans love for its distinctive terroir (the Brazilian spirit cachaça is also made from sugarcane juice, but the production methods differ.) They're known for being potent, but this VSOP hits notes of coconut, banana and dried spices and fruits for an elegant finish. 
Plantation Isle of Fiji
The Caribbean may produce some of the world's big name rums, but don't count the Pacific Islands out. Made from sugar cane grown in Fiji's rich volcanic soil, this pot and column distilled rum is double aged in Fiji and France for a wildly complex treat with notes tropical fruit, ginger, vanilla, and fascinating hint of funk that will have real rum aficionados coming back for more.   
Don Q Reserva 7
The latest bottling of this top-selling Puerto Rican rum is an elegant entry into the world of rums for dedicated whiskey drinkers. That's because the blended spirit is aged for a minimum of 7 years in American white oak barrels—the same type that gives bourbon its distinctive flavor. Expect similar notes of vanilla, deep caramel, and spice along with the grilled stonefruit and tropical fruit notes that keep rum fans coming back for more.
10 Year Old Rum
It's time to give your low-effort dessert routine a one-up. Beyond the usual geographic boundaries of rum, this aged option from the Philippines is aged in re-charred ex-bourbon barrels for a silky, intensely rich, vanilla-forward bourbon with pops of dried tropical fruit that practically beg to be poured over ice cream. 
Rhum J.M. V.S.O.P. Rum
Distilled in Martinique from sugarcane grown on the volcanic slopes of Mt. Pelée this rum offers a sweet start with notes of caramel and bananas foster and then turns grown-up with the bite of warm spice on the tip of your tongue and a smooth coffee and cocoa finish that's like a long, lazy tropical vacation in a glass. 
Ten to One 17 YO Single Cask Reserve Rum
Ten to One's backstory might sound more like a tech startup than your average rum brand, but don't let that fool you, it's got plenty of authentic cred. Sure, founder Marc Farrell got into MIT at 16, then went to Cambridge and Harvard and became Starbucks's youngest VP, but he was born and raised in Trinidad, and it was his passion for revamping rum's "spring break" reputation that led to the brand's creation. In 2020, they launched this bottle, their first reserve rum, aged in ex-bourbon barrels, for a mix of fragrant tropical fruit and floral notes. 
The Real McCoy 12 Year Single Blended Rum
"I couldn't leave my namesake out of it," McCoy says. The 12-year-old rum from Barbados is "exceptionally smooth and lush, and you can taste hints of bourbon, dried spice, and banana." With a cube of ice or a cigar, the hooch—inspired by Prohibition-era rum runner Bill McCoy—becomes even more of a pleasure to drink.
Flor de Caña 18 Year Rum
"Sugarcane Flower" as it's translated, Flor de Caña is extremely affordable, even in its older expressions. Sippers should prepare for what McCoy calls "a rich, lush rum with notes of banana, caramel, and sex. Add a cube and watch the world go by in hues of dried fruit, vanilla, and cinnamon." He describes this 18-year-old Nicaraguan rum as "truly outstanding."
Brugal 1888 Rum
In order to make what's been called one of the smoothest rums on the market, Brugal, in the Dominican Republic, double-distills and double-matures this liquid in American white oak ex-bourbon barrels and then first-fill Spanish sherry oak casks. The resulting blend of rums, from four to 14 years old, has candied apricot on the nose along with dried fruits and vanilla with a dry, slightly tannic finish that will appeal to red wine devotees.
Santa Teresa 1796 Rum
This Venezuelan rum is unique in that it's aged in the solera process made famous by sherry producers in Spain, in which the spirit is systematically rotated through a series of barrels, blending older and newer expressions for a nuanced and complex liquor. The rum is rich with hints of honey, tobacco, and dried fruits. 
Mount Gay XO Rum
Everyone knows Mount Gay—and its famous red hats—but this XO version is far from standard. It's a blend of rums from 8 to 15 years old, and McCoy recommends adding a cube of ice to bring out its "dry banana sweetness, light spice, and complexity." 
Facundo Paraiso
Looking to switch up your nightly snifter-of-brandy routine? This gold medal-winning blended dark rum from the Bacardi spirits family is made from four different rums (carefully chosen from 300 options) some aged as much as 23 years. The rums are mixed, carbon filtered, and then rested in French oak casks for a smooth rum that's redolent of vanilla and caramel with just a hint of spice. 
Zacapa XO
This blend of Guatemalan rums from 6 years to 25 years old is made with virgin sugar cane (instead of molasses, like most rums) to impart a smoother texture. It's then aged in French oak barrels that previously held cognac and is best served neat or over one ice cube.
Pusser's Rum Gunpowder Proof
If you want to really drink like a sailor, open a bottle of this high-proof rum from the British Virgin Islands, modeled on the precise recipe that the British Royal Navy used for its sailors daily rum ration (before the practice was discontinued in 1970.) At over 100-proof, it's a powerful sip (tone it down with an ice cube if you're not feeling naval) but balanced by notes of brown sugar, vanilla, and citrus rind. 
El Dorado Port Mourant Single Still Rum
This small batch rum is made in an original double wooden pot still that the brand says in the only one of its kind still in operation in the world. The still imparts unique aroma of toasty spices and tropical fruits to the rum, balanced out by notes of toffee.
Havana Club Añejo Clasico Rum
Using the original 1934 recipe created in Cardenas, Cuba (the rum is now distilled in Puerto Rico) the rum's toasted tropical fruit notes will give you a taste of old school Cuban glamour. 
This content is created and maintained by a third party, and imported onto this page to help users provide their email addresses. You may be able to find more information about this and similar content at piano.io
Advertisement – Continue Reading Below