19 Best IPA Beers – Top IPAs of 2022, According To Experts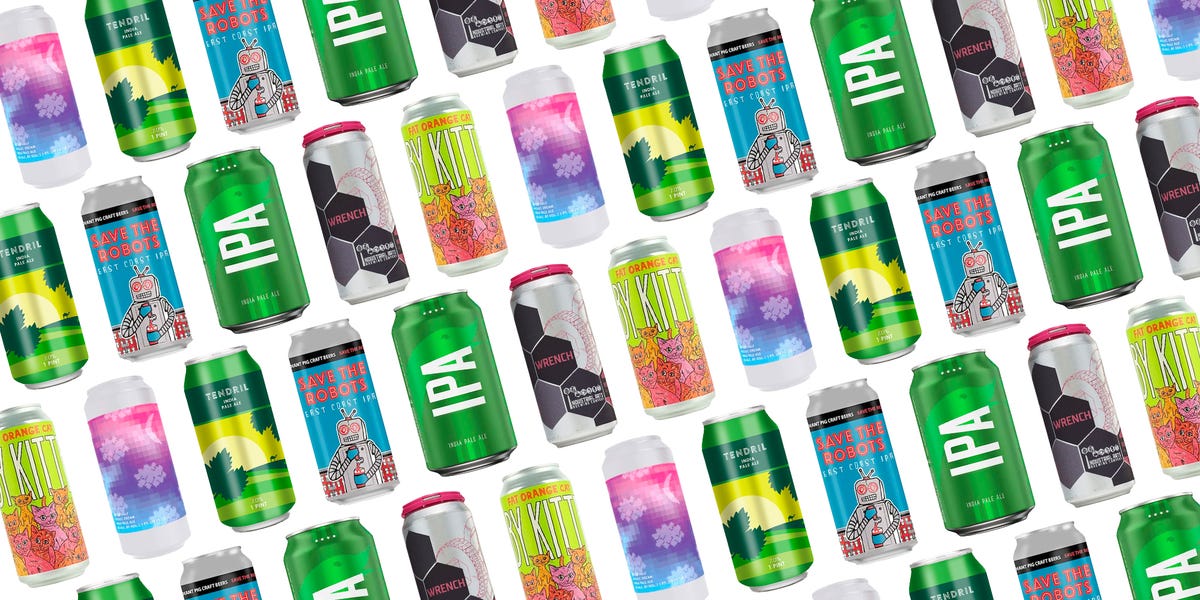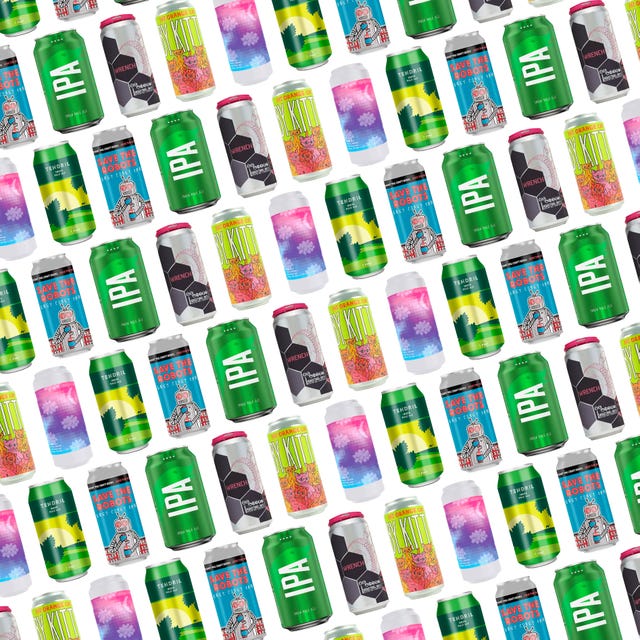 Of the top 25 beers on Beer Advocate's list of the best beers in the world, eleven are India Pale Ales. In tandem with the craft beer movement, IPAs have risen tremendously in popularity in recent years.
While IPAs come in a variety of styles, they're generally known for high hops content. Their flavors can range from citrusry to piney, and while they're not all bitter, IPAs are well-suited to those who appreciate some bitterness in their pints. Styles are categorized by both region—West Coast, British, and New England-style, for example—and hop level, like double or triple.
The "India Pale Ale" name harkens back to the 19th century, when the beer was created in England and exported to British troops stationed in India. The hops and alcohol content was increased from a standard pale ale, reportedly in order to preserve the booze during the months-long trip involving hot weather and no refrigeration. Another theory is that the pale ale carbonation and flavors simply were not robust enough to survive the journey, so extra alcohol and hops were added to keep the troops happy.
Whatever the case, IPAs are some of the most interesting, complex, and popular beers on the market today. Here are 20 of the best to try.
MORE: Top Canned Cocktails to Try This Summer
Advertisement – Continue Reading Below
1
Hitachino Nest Japanese Classic Ale
"I really enjoy drinking Hitachino Nest Beer, especially on a hot summer day. It pairs well with both sushi and classic Alsatian dishes like Tarte Flambée and sauerkraut."
—Jean-Georges Vongerichten, Chef and Proprietor, Jean-Georges
2
Port Brewing Wipeout IPA
"When it comes to IPAs, I am really not a huge fan of the new-school hazy IPAs in general. I grew up with clear crisp IPAs and those are still the ones I like to drink the most! This one goes way back for me and is one of the first American IPAs I remember tasting and thinking, wow, the Americans are up to something compared to what I was used to drinking from the UK! It's clean and crisp but still has those tropical dank notes."
—Jeppe Jarnit-Bjergsø, Founder of Evil Twin Brewing
3
Magnolia Brewing Co. Proving Ground IPA
"I discovered New Magnolia Brewing Company on a recent trip to Houston. They're a family-owned and operated neighborhood brewpub in historic Houston Heights, with 20 beers on tap and a number available in cans. We serve their beers at the two restaurants we operate in Houston: Cafe Leonelli MFAH and La Table.  All of their beers are great, but one of the standouts for me is the Redwood IPA. This West Coast-style IPA is bright, crisp, and absolutely delicious. It pairs incredibly well with classic Italian food."
—Jonathan Benno, Chef of Leonelli Restaurant and Bar (NYC), Leonelli Bakery (NYC), Benno (NYC), Café Leonelli and La Table (Houston, TX)
4
Interboro Premiere IPA
"Jesse Ferguson and his crew brew some of the freshest and cleanest beers I've ever tried at Interboro in the Bushwick/Williamsburg border in Brooklyn, and we're always sure to pour an IPA of theirs on tap at Red Hook Tavern. Premiere is a straightforward and classic East Coast-style IPA with a slightly hazy golden color and rich foamy head. There's an explosion of citrus and melon aromas and flavors thanks to the Citra, Mosaic, and Galaxy hops, plus a double dry hop of Mosaic. Premiere is dry and balanced, super refreshing, and clocks in at 6% ABV so you can drink more than one on the patio in the sun on a late afternoon."
—Rebecca Flynn, General Manager & Beverage Director at Red Hook Tavern, Brooklyn
5
Kern River Citra Double IPA
"Kern River Citra explodes with sweet citrus and reminds me of the first time I stuck my head in a bag of hops.  It reminds me a lot of the first double IPA I ever had, Pizza Port Frank, which sadly isn't made anymore."
—Patrick Rue, one of 19 Master Cicerones in the world and Winemaker in Training at Erosion Wine Co.
6
Maine Beer Company Lunch
beer
"Whenever I see Maine Beer Co. Lunch on a tap list, I order it.  The geniuses at Maine have figured out how to layer flavors and textures where each sip is a progression of flavor experiences.  First citrus, then pine, then crisp, toasty malt finishing in a crisp bitterness with a lasting finish of citrus.  It's an old-school, West Coast-style IPA made in the best of ways, yet with a rustic unfiltered haze that'll appeal to the new school IPA drinkers as well."
—Patrick Rue
7
Other Half Brewing Company Double Dry Hopped Green City
"Other Half Brewing opened in 2014 and immediately changed the greater NYC area's brewing landscape. While their canned IPA releases initially created massive hype and long lines that wrapped around Brooklyn blocks, their beers always delivered. A huge following of fans has remained loyal to their outrageous IPAs. Green City is a double dry hopped (DDH) IPA, also in that East Coast style; it is so hazy it pours opaque thanks to a load of oats in the malt bill. Those oats contribute a creamy body which offsets the bracingly bitter addition of Simcoe, Citra, and Centennial hops. This beer is another pint that proves Brooklyn is truly the Green City and home to the best IPAs in the country."
—Rebecca Flynn
8
Russian River Pliny The Elder
"A top IPA list isn't complete without Russian River Pliny The Elder.  It is the benchmark for the double IPA style that has stood the test of time—a perspective-shifting beer when I first experienced it in 2005, to today Pliny's, an old pal that still looks the same (perhaps even better) after all of these years!  The fresh aromatics of citrus blossoms and freshly cut pine trees with a firm bitterness and a dry finish always keeps me coming back."
—Patrick Rue
10
Industrial Arts Wrench IPA
"I've been called a 'spirits guide' more times than I can count. It's a play on words, but the message is that I'm a trusted resource when it comes to spiritus alcohol as I've got decades of experience tasting, judging, and selling all manner of high-proof juice. It's smart to seek out the opinions of an expert, whether choosing a new tipple, athletic shoe, or car. When I'm in the mood for a beer, there's no better resource for information in NYC than Cory Bonfiglio of Beer Street. He knows my tastes and steers me toward IPAs that I'll either like right away or that'll challenge my perception of the category. This modern classic has become a beer bar staple, and for good reason. It ticks all the boxes for a classic Hazy IPA: soft mouthfeel, overripe citrus, and tropical aromatics. It's a great choice for relaxing with friends."
—Sother Teague, Beverage Director, Amor y Amargo
11
Brooklyn Defender IPA
"As the sunshine starts to be a more regular occurrence, Defender—herbal and floral with bright notes of pithy grapefruit—makes its way into regular rotation as well. Keep 'em cold!"
—Sother Teague
12
Sierra Nevada Dankful IPA
"I've always loved Sierra Nevada Torpedo, their now longstanding foray into the IPA category, but Dankful feels like the official Sierra Nevada West Coast IPA we've all been waiting for. It masterfully blends seven varieties of new and old-school hops without pushing too much juicy fruit. This is classic American IPA hop character, with grapefruit and citrus vying with resin, pine, and earth for flavor impact. The resulting balance is remarkable, as is the caramel malt sweetness, which also takes a shot at balance before giving way to a clean, rich and resounding bitterness. Drinking Dankful just feels good, especially as it funds some of Sierra Nevada's many philanthropic pursuits."
—Greg Engert, Beverage Director & Partner, Neighborhood Restaurant Group
13
Proclamation Tendril IPA
"I love Proclamation Tendril IPA. I have been following Proc since their days at the old lumber yard in Kingston. Now they have now upgraded to a large-scale facility and are still able to put out the amazing quality from their roots. This New England IPA is, in my opinion, the best Rhode Island beer. Tendril has these wonderful grapefruit and melon notes that just make it a total crusher for any time of the year."
—Corey Hayes, Director of Food and Beverage at the Wayfinder Hotel and Nomi Park, Newport, RI
14
Radiant Pig Save The Robots East Coast IPA
"Radiant Pig Save the Robots is a dope microbrewery from Brooklyn now owned by our neighbors at Newport Craft. Save the Robots is a true New England-style IPA. I love this beer because of its artistic connection. It was named for East Village Club artists like Keith Haring and Basquiat. It's a great example of a juicy haze bomb, and the tropical notes are what makes it so damn drinkable."
 —Corey Hayes
15
Hazy IPA
"The Anchor Brewing Tropical Hazy IPA is really a great beer to be had any time of the year. It has a flavorful, crisp, and refreshing taste that pairs perfectly with any style of pizza."
—Oscar Venegas, Chef at Tony's Pizza Napoletana, San Francisco
16
Goose Island IPA
"Goose Island Brewery is a Chicago story and so am I. I have consumed many times my bodyweight of this IPA. Fruity, not over malted, and a brilliant warm weather pounder for when I am tired of pondering complicated wines."
—Belinda Chang
17
3 Floyds WarPigs Lazurite IPA
"When I head to my childhood home of Chicago, I always stop off at Big Star for tacos and their excellent list of brews. A Three Floyd's IPA is typically always on my order and instantly signals 'I'm home.'"
—Gavin Fine, JH Fine Dining Restaurant Group Owner and Roadhouse Brewery Co-Founder, Jackson Hole, WY
18
Fat Orange Cat Brew Baby Kittens NEIPA
"I'd suggest Fat Orange Cat Brewing Baby Kittens. It's not as overpowering in the hops department as some IPAs, and it's on the lighter side. It also finishes a little bitter, leaving you reaching for another sip. With notes of citrus and tropical fruit, it's easy to pair with all kinds of dishes. We've found it to be a real crowd-pleaser here at the restaurant."
—Mikayla Cansler, Beverage Director, The Shipwright's Daughter, Mystic, Connecticut
19
Other Half Mosaic Dream IPA
"Considering the incredibly diverse and growing range of beer styles available today, it's useful to focus on a particular beer style as a framework for trying out different breweries. IPAs are perfect because they really put the hops and a brew master's creativity in the spotlight. As a style that would have been traditionally brewed for foreign export, they are especially well suited as a source of local pride. I have been loving what's been coming out of New York City lately, with so many smaller operations producing fantastic brews. One of my very favorites is the Other Half Brewing Company out of Brooklyn, which is constantly coming out with new IPA variations in collaboration with cool brands and really having fun with their hops. A great place to try their newest IPA release and discover other local brews is at Eli's Night Shift on the Upper East Side (ask for Chris)."
—Nicholas Wirth, Director of Food, Beverage, and Events at the Greenwich Hotel
This content is created and maintained by a third party, and imported onto this page to help users provide their email addresses. You may be able to find more information about this and similar content at piano.io
Advertisement – Continue Reading Below