20+ Best 4th of July Movies in 2021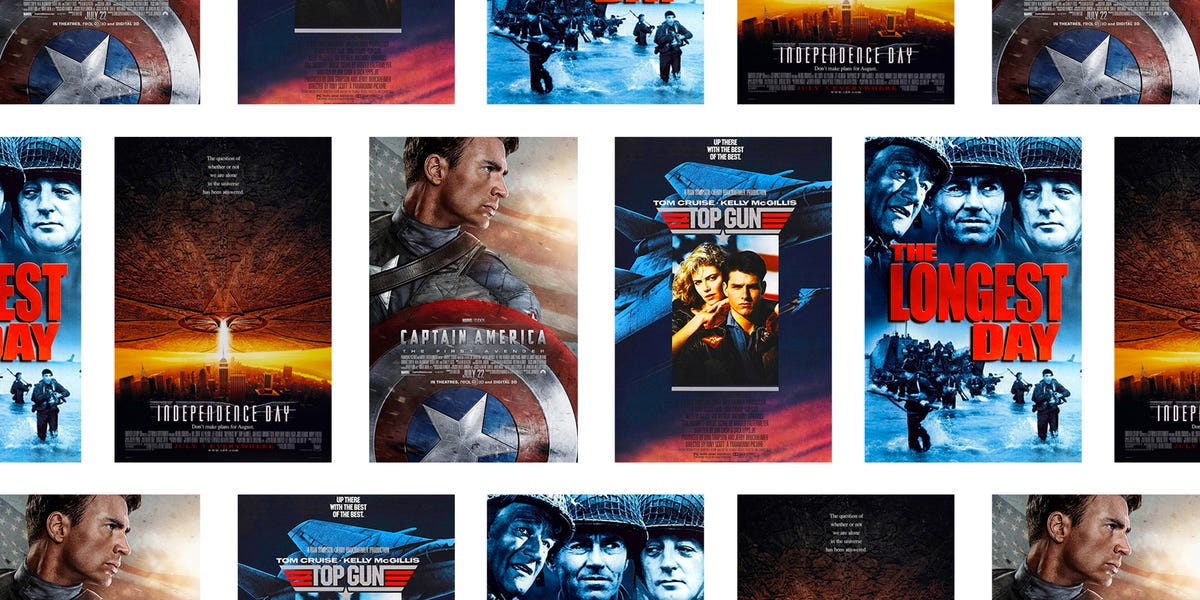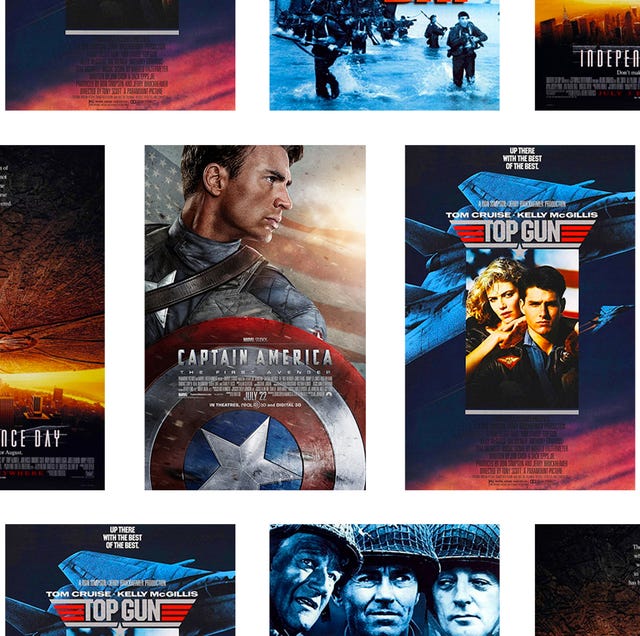 Although a patriotic flick would be a suitable option for any ordinary movie night, it's an especially perfect addition to your Fourth of July agenda. Especially if you aren't going to be watching the fireworks.
Some will inspire pride, or just plain inspire. Others offer you a front row seat to some of our nation's most historic moments. A few are just classic Americana. So, while polishing off the watermelon slices or waiting for the pyrotechnics to start, brush up on your history and get in the Yankee Doodle spirit with any of these movies.
Advertisement – Continue Reading Below
Hamilton
Watch Now
By now, everyone you know has streamed this film version of the original Broadway mega-hit, which stars the original cast. A recorded version of the Tony-winning musical about founding father Alexander Hamilton, this is a great option for July 4th. Despite an original release date in fall 2021 (we'd still be waiting!), creator Lin Manuel Miranda shocked fans last year when he announced the film would premiere early.
Top Gun
Watch Now
Flyboys in the Navy's Elite Fighter Weapons School compete for the top spot in the class (not to mention some shirtless volleyball). It's also not a bad idea to brush up on this classic since the long-awaited sequel is set to debut this December.
Hidden Figures
Watch Now
Taraji P. Henson, Octavia Spencer, and Janelle Monáe form an inspiring team of mathematicians working for NASA in this 2017 film. Set in the 1960s, Hidden Figures tells the intersectional tale of these three Black women and how they helped land the first man on the moon.
Mr. Smith Goes to Washington
Watch Now
This one's an excellent choice for those that love a bit of political drama. A young entrepreneur is suddenly appointed to the United States Senate and quickly learns how to stand up for himself and his strongly-held views. A classic about democracy in action and how it so crucially affects the lives of everyday Americans.
The Sandlot
Watch Now
Is there anything more American than baseball, barbecues, and backyard pool parties? This classic is perfect to watch any time during the summer but the annual Fourth of July baseball game this team participates in is about as All-American as it gets. Fireworks light up the sky and sparklers line the streets while "America the Beautiful" plays in the background.
More: 25 of the Best Summer Movies of All Time
Forrest Gump
Watch Now
Take a hilarious and heart-wrenching tour through the late 20th century along with Forrest Gump (Tom Hanks) as he traverses some of the most famous moments of a generation and meets some of modern history's most famous figures; from teaching Elvis to dance and sitting in an interview with John Lennon, to fighting in the Vietnam War and accidentally inventing the smiley face symbol.
Jaws
Watch Now
Considered by many to be the original summer blockbuster, Steven Spielberg's famous creature feature has just as much impact on a sunny July day now as it did when it debuted in 1975. We dare you to watch through this tale of the deadly shark prowling the waters of a New England island at the Fourth of July and not feel your heart race as the iconic soundtrack kicks in.
More: The Most Classic Films Ever Made
A League of Their Own
Watch Now
Who doesn't love a good baseball movie? With empowered women at the center of this story, it's one we can definitely stand behind. With most major leaguers off to fight in World War II, an all-female baseball league forms in the Midwest. With Tom Hanks as a down-on-his-luck coach and greats like Geena Davis and Madonna sweeping the bases, this is a fun one to watch with the important women in your life.
Harriet
While celebrating freedom and liberty on Independence Day, it's important to remember that those freedoms didn't apply to all. Harriet tells the incredible story of abolitionist Harriet Tubman's escape and how she led hundreds of enslaved people to freedom via the Underground Railroad. The film stars Cynthia Erivo, Janelle Monáe, Leslie Odom, Jr., and Joe Alwyn. Consider this required watching.
The American President
Watch Now
For those who can't decide between a rom-com and a political drama, this snappy 1995 charmer by director Rob Reiner and screenwriter Aaron Sorkin is an ideal compromise. In it, Michael Douglas's President Andrew Shepherd has to navigate both the romantic and political travails of falling in love with lobbyist Sidney Wade (Annette Bening) in the lead up to his bid for re-election.
Independence Day
Watch Now
The typically joyful festivities that take place on this national holiday take a turn for the worse when alien forces begin to seize major cities in the U.S. You get to watch the capitol building go up in flames and cheer as Will Smith punches an alien in the face. In other words, good clean, jingoistic fun.
More: Great Survival Movies to Watch Right Now
Lincoln
Watch Now
This 2012 film from Steven Spielberg is an obviously patriotic choice. Daniel Day-Lewis takes the role of President Abraham Lincoln and shares the screen with costars Sally Field, Joseph Gordon-Levitt, James Spader, and Tommy Lee Jones. Set during the Civil War, the plot follows Lincoln through the creation of the 13th Amendment.
An American Tail
Watch Now
In Steven Spielberg's first animated film, a family of rodents face some unforeseen challenges as they make their way to America. A young mouse gets separated from his parents and must make his way in an unfamiliar place. A sweet introduction to the immigrant story for children—and anyone who needs a refresher on how this country became great in the first place.
Captain America: The First Avenger
Watch Now
Captain America has become a staple of American cinema in recent years, but for maximum patriotic glory (and a hilariously star-spangled musical number) you have to travel back to Chris Evan's first turn as Steve Rogers, As the scrawny civilian transforms into a super soldier to fight in WWII, her serves as a reminder to us all that it's not strength that makes America powerful, but the strength of the American spirit.
Zero Dark Thirty
You probably remember when the news of Osama bin Laden's assassination broke, and now you can watch the film that pays tribute to how it all happened. Zero Dark Thirty depicts the U.S. intelligence officers and Navy SEALS on their decade-long quest to track down terrorist Osama bin Laden following the September 11th attacks. Jessica Chastain stars as "Maya," who plays a key role in the mission's eventual success.
The Music Man
Watch Now
If you're looking for something that's celebratory and nostalgic, then this is your pick. In this melodious throwback, a traveling con man who's in need of money persuades River City natives to purchase instruments and uniforms from him and start a band. Getting out of town proves to be more challenging than he thought when he starts to fall for one of the locals.
Gettysburg
Watch as one of the Civil War's most pivotal moments, the Battle of Gettysburg, unfolds. Martin Sheen plays Confederate General Robert E. Lee while Jeff Daniels plays Colonel Joshua Chamerlain. The two direct their men through this deadly three-day battle. The movie was actually filmed on the Gettysburg Battlefield, where the real life events occurred from July 1–3, 1863.
Air Force One
Watch Now
There aren't many actors who can play both the president and an action hero at the same time, but Harrison Ford is one of them. In this action classic, the President, who also happens to be an ex-solider, boards Air Force One with his family and staff just moments after giving a speech on terrorism. Naturally, terrorists then hijack the plane and the POTUS must save everyone on board.
American Graffiti
Watch Now
Before George Lucas became famous for franchises like Star Wars and Indiana Jones, the director turned his eye to Americana with this coming of age classic that follows a group of 1960s teens—including Ron Howard, Richard Dreyfuss, and Harrison Ford—on their last night dating, rabble rousing, and drag racing before heading off to college. If you'r a fan of Happy Days, Grease, or just good old fashioned American nostalgia, this is one to add to your watch list right away.
Glory
Watch Now
Packed full of history, this riveting account follows the Union army's first African-American regiment. Denzel Washington and Morgan Freeman star as ex-slaves hoping to prove themselves and ensure the freedom of enslaved Americans.
More: Must-Watch Movies Based on True Stories
Dances With Wolves
As we remember that not all Americans were liberated on July 4, it's also a good time to honor the country's roots and remember what existed long before the thirteen colonies. Kevin Costner's Academy Award-winning film, Dances With Wolves, has been credited for its portrayal of the Lakota nation as it tells the story of a Civil War soldier (Costner) who joins the Lakota way of life.
Lauren Hubbard
Writer
Lauren Hubbard is a freelance writer and Town & Country contributor who covers beauty, shopping, entertainment, travel, home decor, wine, and cocktails.
This content is created and maintained by a third party, and imported onto this page to help users provide their email addresses. You may be able to find more information about this and similar content at piano.io
Advertisement – Continue Reading Below