20 Best Gifts for Beer Lovers 2022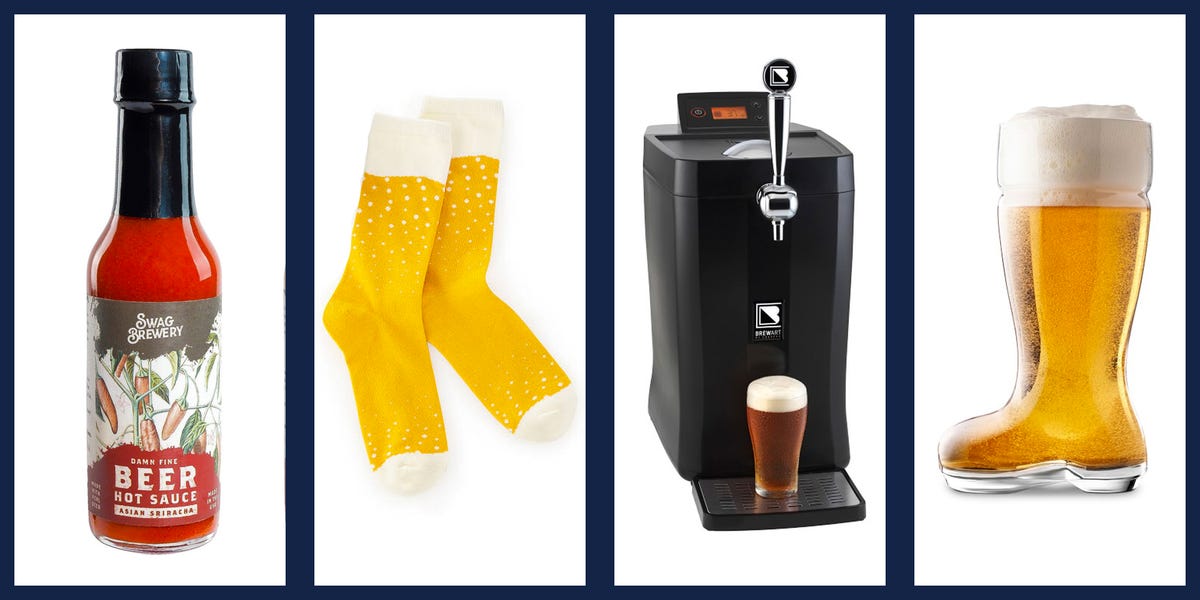 Wine may get all the hype for sophisticated drinking, but despite its more relaxed reputation, beer is no slouch, and when it comes to buying the perfect gift for the beer lover in your life, you shouldn't be either. To make it all easier, we've scoured the internet for the very best, most useful, and most sophisticated gifts for every kind for brew fan.
Beer Caddy with Bottle Opener
Picnicking, fishing, or tailgating, this beer caddy makes it easy to bring along your favorite craft beer. The removable bottle separator keeps everything safe and the attached bottle opener means you'll never have to turn back for a forgotten opener again. 
Shower Beer Holder
Think of this shower caddy as the brew lovers version of sipping wine in the tub. 
Vintage Guinness Poster Print
You can never go wrong with a classic, be it a properly poured Guinness or one of their vintage advertisements. 
Hopped Up Coffee, set of 2
Blended with beer ingredients like barley and hops for a Chocolate Stout and a Black IPA inspired flavor, this coffee helps you mix your two favorite brews. 
More: Buzzy Gifts for Coffee Lovers
Craft Beer Invigorating Shampoo
You may have heard that old chestnut about rinsing your hair with beer for shinier strands. Well it turns out there's something to it; the barley in beer is packed with B vitamins and proteins that can make hair smoother and shinier. And with this shampoo, you don't have to pour out a beer to get the benefits. 
Everyday IPA Beer Making Kit
Help them indulge their inner brewmaster with this kit that includes all of the essentials for fermenting up their own handcrafted IPA. 
Homebrewing Journal
For the serious home brewer, this journal—filled with nearly 200 charts and references as well as plenty of space for recording recipes and notes—will help them keep tabs on all of their best batches.
Personalized Beer Can Glass
What better to raise a glass with than a vessel with their name on it? 
Beer Bottle Candle
Crafted from beer bottles and growlers, these soy wax candles will fill a home with beer-inspired fragrances like Barrel Aged Brown Ale, Blood Orange IPA, and Grapefruit Hefeweizen. 
Beer-infused Hot Sauce
Made with real beer to set off the heat with its bitter and hops notes, this set of 3 hot sauces features a mild Asian Sriracha flavor, a moderately spicy Garlic Serrano, and a hot and smokey Roasty Chipotle bottle. 
Keep-It-Carbonated Growler To Go
This cool travel growler not only holds up to 64 ounces of their favorite brew, it also keeps it fresh and sudsy for up to two weeks with a built-in carbonator. 
Artisan Brew Bread Mixes, set of 3
Looking for a brand new way to enjoy beer? Just add any brew to these super easy bread mixes (with flavor options like Green Chili Cheddar, Honey Wheat, and Roasted Garlic) and bake up a loaf that's sure to wow. 
Beer Soap
Crafted with real beer and hops, this bar soap provides a spicy, herbaceous (red: not stale beer-esque) scent and a rich lather. 
Rambler Colster Drink Insulator
Double-walled construction helps this beer holder regulate temperature so your can stays chilly no matter how hot the day gets.  
Beer Faucet Patent Art Print
Appreciate the artistry of a good draft pour with this early patent drawing. 
Haute Diggity Dog Grrrona Beer Can Plush Dog Toy
For the beer lover who's also a dog lover, here's one can he can share with his furry friend. 
Rabbit Freezable Beer Glasses, Set of 2
Say goodbye to lukewarm beer. These freezable glasses get your brew ice cold and keep it that way for up to two hours. 
Urban Trends Collection: Metal Wall Mirror Metallic Finish
Now here's a drinking game any beer lover can get into. Win or lose, you'll certainly be enjoying some brews. 
Georg Jensen Bernadotte Bottle Opener
Whether they're sipping a craft brew or standard supermarket fare, they'll certainly feel classy with this stainless steel bottle opener. 
This content is created and maintained by a third party, and imported onto this page to help users provide their email addresses. You may be able to find more information about this and similar content at piano.io