20 Best Watches for Women in 2022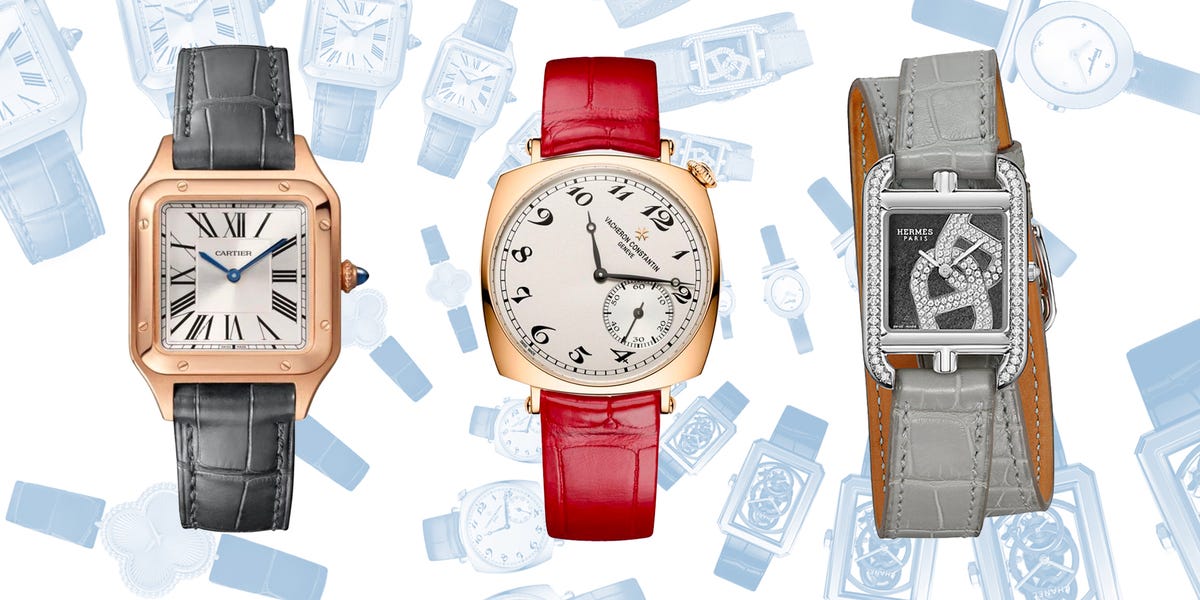 Up until recently, a woman's watch was generally designed to be dainty and jewelry-like, and ladies who craved a more utilitarian—or technologically advanced—timepiece had to resort to men's watches. But now there is no need to dip into the boys section (though you still can if you want). Classic brands like Rolex, Vacheron Constantin, and Cartier offer the full gamut of styles that are both incredibly chic and exquisitely crafted. The message is clear: serious watch collecting is no longer a man's domain. As proof, here are 20 of the most timeless watches for women for all needs and occasions, whether you're looking for an heirloom treasure, a showstopper for a night on the town, or an easy, everyday, statement piece.
1
Cartier Santos-Dumont Watch
A classic style gets an update in a less common hue: gray. The subdued color and rose-gold frame will match any outfit.
2
La D de Dior Diamond Watch
With its lustrous satin band and minimalist design of diamonds and mother of pearl, this Dior watch is the epitome of elegance. 
3
Rerun Digital Bracelet Watch
Nixon's piece allows for easy readability with a digital display, all while delivering serious retro vibes.
4
Cape Cod Chaine d'Ancre Joaillier Watch
A double-stranded Hermès' Cape Cod watch is a perennial classic—the added diamond chain detail on the face of this version adds an extra dose of glamour.
5
Gancino Bracelet Watch, 22mm
With its thin red leather band and sturdy rose gold shape, this Ferragamo watch is a modern masterpiece. 
6
Boyfriend Skeleton Watch
Who says you have to choose between function and form? Chanel expertly—and daringly—reveals a watch's inner workings without sacrificing sleek design. 
7
Reine de Naples Wristwatch
A playful blue band and quirky numbers inject fun into an otherwise old school watch brand, while the 117 diamonds that encircle the dial guarantee people will notice.
8
Villeret Women Date
Blancpain
Adding a pastel band is an effortless way to update a staple watch for changing seasons.
9
Tambour Monogram 28 My LV Tambour
The iconic Louis Vuitton monogram spices up this sleek style. That there are 7 other strap variations to choose from mean you'll never get bored.
10
Historiques American 1921
Originally created for Jazz Age-era Americans 100 years ago, this updated Vacheron Constantin classic is perfect for the dawn of the 21st century's very own Roaring Twenties.
11
Emerald Collection 18k Yellow Gold
Harry Winston
Searching for a piece worthy of heirloom status? Here it is, courtesy of Harry Winston.
12
Sweet Alhambra Watch
Van Cleef's iconic Alhambra motif makes for a unique and stunning watch. Plus, it's the best of both worlds: a face free of numerical symbols means this can easily double as a bracelet. 
13
Oyster Perpetual, 31 mm
A Rolex is obligatory for any watch enthusiast's collection. Subvert expectations with a bold, turquoise face.
14
Serpenti Tubogas Watch
Channel Elizabeth Taylor, but also, keep perfect time.
15
Limited Edition Rectangle Watch
Many factors make this Tiffany watch well worth the investment: the striking Art Deco-esque design, all those diamonds, and that only 22 of them were made. 
16
Possession Watch
Is there anything more soothing than looking down at a watch with such a perfectly round face?
17
Arden Leather Strap Watch, 36mm
As classic as the brand itself: yellow gold and tan leather, always a winning combination.
18
Constellation Quartz, 22mm
Omega's legendary Constellation collection is a masterclass in exquisite detail. See: the bezel engraved in Roman numerals, the characteristic claws on the case, the mono-rang bracelet, and all the gold elements crafted in the brand's own 18k Sedna gold. 
19
Long Island 952 QZ O
Franck Muller
A metal bracelet band that is the same width as the face is an innovative design choice, and creates one of the sleekest silhouettes out there.
20
Layton Bracelet Watch, 33mm
Watches are inherently practical accessories, but at such a stellar price point like this, why not have some fun? 
This content is created and maintained by a third party, and imported onto this page to help users provide their email addresses. You may be able to find more information about this and similar content at piano.io