20+ Best Winter Cocktails 2021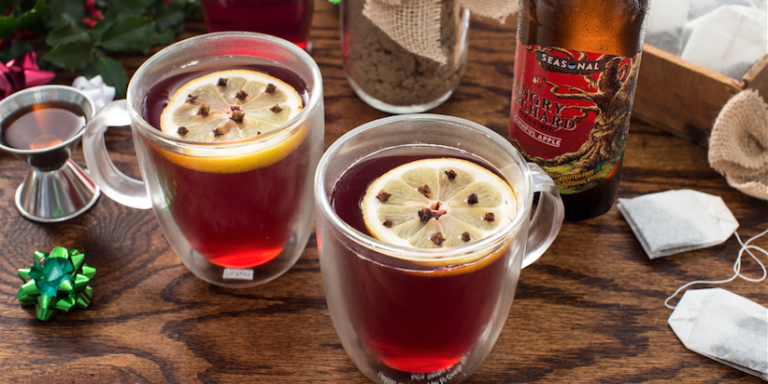 As it starts to get colder, our favorite way to stay warm indoors is with a delicious, seasonally-minded cocktail. Whether you like yours with bourbon, rum, tequila—or even with candy canes as a garnish—these cocktails are guaranteed to keep you toasty this winter. Here's a selection of our favorite cold weather libations.
Autumn In New England
Ingredients
2-4 fresh sage leaves, plus small sage sprig for garnishing
.25 oz maple syrup
2 oz bourbon
1 oz apple cider
.25 oz cider vinegar
Instructions
Add sage leaves and syrup to base of cocktail shaker and muddle until fragrant, about 30 seconds. Add bourbon, apple cider, and vinegar, then fill shaker with ice. Shake mixture until just combined and chilled, about 5 seconds. Double-strain cocktail into chilled old-fashioned glass half-filled with ice or containing single large ice cube. Garnish with sage sprig and serve.
From America's Test Kitchen's How to Cocktail: Recipes and Techniques for Building the Best Drinks
Mexican Hot Chocolate
Ingredients
2 oz Partida Añejo
6 oz hot chocolate
.5 bar spoon ancho chili powder
Pinch of ground cinnamon
Instructions
Add ancho chili and a pinch of ground cinnamon and stir until they are mixed in. Pre-heat a hot toddy glass or mug with hot water. Pour out the hot water. Add spiced hot chocolate to heated glass, add the 2 oz of Partida Añejo and stir. Garnish with cinnamon stick.
Kings of Manhattan
Ingredients
2 oz Ragtime Rye
.5 oz Carpano Antica Formula Vermouth
.5 oz Punt de Mes
1 dash Angostura Bitters
1 dash Regan's Orange Bitters
Instructions
Stir ingredients over ice until exceedingly well-chilled and then strain into chilled cocktail glass. Garnish with a brandied cherry on a cocktail pick.
From the Shanty at New York Distilling Company, Brooklyn
Merry Maple Sour
Ingredients
2 oz Mount Gay Rum XO
1 oz fresh lemon juice
.5 oz maple syrup
.5 oz egg white
Instructions
Add all ingredients into a shaker without ice. Dry shake, then shake with ice. Fine strain into a chilled coupe glass. Express lemon oils over the surface. Garnish with a lemon peel.
Jalapeño Cranberry Margarita
Ingredients
2 oz Tanteo Jalapeño Tequila
1 oz fresh lime juice
1 oz agave nectar
2 oz no sugar added cranberry juice
Instructions
Combine ingredients in a shaker with ice. Shake well and strain into an ice-filled rocks glass. Garnish with a cranberry skewer.
Golden Tail
Ingredients
2 oz Nelson's Green Brier Tennessee Whiskey
.75 oz lemon juice
.5 oz honey simple (2:1 ratio raw honey to water)
.25 oz Allspice Dram
1 dash chocolate bitters
Instructions
Add all ingredients to a cocktail shaker filled with ice. Shake until chilled and strain into a chilled coupe. Express the oils from a lemon peel over the top of the drink and discard the peel.
G.H. Mumm Highball
Ingredients
1 oz Malfy Gin
.75 oz Lillet Blanc
1 oz club soda
2.5 oz G.H. Mumm Brut
Instructions
Build in glass over cubed ice. Stir. Top with club soda and G.H. Mumm Brut Champagne.
The Lucky Few
Ingredients
1.5 oz Rémy Martin XO
.75 oz Som Pineapple Szechuan Pepper
.75 oz pineapple juice
.5 oz lime juice
.25 oz simple syrup
Fever Tree Club Soda
Freshly grated nutmeg
Instructions
Combine all ingredients with ice in a cocktail shaker. Shake and strain. Top with Fever Tree Club Soda. Garnish with grated nutmeg and a slice of pineapple.
By Chef Andy Ricker for LUCKYRICE
Very Merry Bourbon Alexander
Ingredients
1 oz bourbon
1 oz crème de cacao
1 oz half and half
One egg white
Dash of simple syrup
Dash of salt
Instructions
Combine ingredients in shaker, add ice, shake vigorously, strain into a coupe glass. Garnish with nutmeg, cranberries ,and a sprig of rosemary.
Courtesy of the Kentucky Derby's Bourbon Ambassador, Monica Wolf
Shop Now Bulleit Bourbon, Prices Vary
Eximo Noir
Ingredients
1.5 parts Facundo Eximo rum
.25 part cold-brew coffee
.25 part Amaro Montenegro
.25 part Combier orange liqueur
Orange peel for garnish
Instructions
To make the cold brew coffee syrup, combine equal parts cold brew coffee and Demerara sugar. In a mixing glass, stir all the ingredients with plenty of ice. Strain contents into a coupe glass. Garnish with an orange peel.
Cold Brew Martini
Ingredients
1 oz Absolut vodka
2 oz Kahlúa
3 oz cold brew
Instructions
Fill shaker with ice. Add all ingredients and shake hard for at least 10 seconds to create a nice foam. Strain into a cocktail glass to get rid of all of the small ice chips. Garnish with coffee beans.
La Chine Grog
Ingredients
4 oz El Dorado 8 year old rum
6 oz Puerh Tea (or another brewed Black Tea)
1.5 oz ginger syrup (simple syrup prepared with fresh crushed ginger)
.5 oz maple syrup
2 dashes aromatic Bitters
Instructions
Brew of tea in saucepan. While hot, add remaining ingredients and stir to integrate. Add a lemon peel as the garnish. Serves two.
From the Waldorf Astoria New York
Not Your Basic PSL
Ingredients
.75 oz Scotch
.75 oz Carpano Bianco
.75 oz Copper & Kings Immature Brandy
.75 oz Coco Lopez
3 heaping bar spoons of pumpkin puree
Instructions
Combine all ingredients into tin, add ice, and shake. Double strain into a coupe glass. Grated nutmeg on top to garnish.
From YNK, Irvine, California
After #8
Ingredients
.75 oz honey
.75 oz heavy cream
1.5 oz Jamaican rum
.5 oz Branca Menta
Instructions
Shake with ice. Serve up in a coupe glass. Garnish with mint leaf and grated nutmeg.
From Bartender Brandon Bramhall of Bastion, Nashville
Winter Spiced Old Fashioned
Ingredients
2 oz bourbon
.5 oz winter spiced simple syrup*
2 dashes orange bitters
2 dashes aromatic bitters
Cinnamon stick
Instructions
Stir ingredients with ice. Strain into a rocks glass. Garnish with cinnamon stick.
*Winter spiced simple syrup: simmer 1:1 simple syrup with clove, cardamom, cinnamon, and nutmeg.
From YNK, Irvine, California
Mulled Malbec
Ingredients
2 oranges, peeled & juiced
150 g sugar
50 g honey
3 white cloves
1 cinnamon stick
7 pink peppercorns
1/2 nutmeg, grated
2 star anise
2 bottles of full bodied Malbec
Toasted almonds & dried apricot for garnish
Instructions
Simmer 1/2 bottle of wine with spices, sugar and orange juice. Once sugar is fully dissolved into a syrup, allow to cool and strain. Mix your newly formed and richly flavored 'syrup' with the rest of the pan and heat on low (careful not to boil to lose your alcohol!) Ladle the mulled wine into heatproof glasses and garnish with an orange peel with a side of dried apr
From Balvanera, New York City
Time Regained
Ingredients
2 oz blended scotch like Monkey Shoulder
.75 oz dry vermouth
.5 oz Singani 63 or another pisco
.25 oz jasmine tea syrup*
Instructions
Stir well, strain into coupe glass. discarded lemon swath garnish
*Jasmine tea syrup: Steep 3 level teaspoons of loose jasmine tea in 6 oz of hot water for 5 minutes. Strain, and stir in an equal amount of sugar by weight.
Spice Me Up
Ingredients
2 oz bourbon
.5 oz allspice dram
.5 oz simple syrup
.5 oz lemon juice
Angostura bitters
Instructions
Add all ingredients to a shaker with ice and shake well. Double strain into a rocks glass with a big ice cube. Garnish with a lemon segment on top of the ice cube.
From the Rye Bar at the Rosewood Washington D.C.
Cocoa Buie II
Ingredients
2 oz Drambuie
9 oz hot milk
3 oz hot cocoa mix
1/8 tsp ground cinnamon
1/8 tsp kosher salt
Instructions
In a saucepan combine all ingredients and warm over medium heat. Stir slowly until simmering. Serve hot, garnished with miniature marshmallows if desired.
More: Boozy Hot Chocolate Recipes
Angry Jolly Juice
Ingredients
1.5 cups Angry Orchard
2 cups water
1 cup cranberry juice
.5 cup brandy or spiced rum
.5 cup light brown sugar
3 tea bags of chai tea
Instructions
Add water to a pot and bring to a boil. Reduce heat to low and add the tea bags. Allow to steep for 2 minutes and then remove the tea bags. Add the rest of the ingredients and stir. Simmer over low to medium heat and serve hot. Garnish with a lemon wheel studded with cloves.
Boozy Candy Cane Milkshake
Ingredients
12 oz vanilla gelato
2 oz Rumple Minze Peppermint Schnapps
.5 oz simple syrup with red coloring
5 mini candy canes
Instructions
In a mixer, blend the vanilla gelato, schnapps, and 2 mini candy canes for 30 seconds or until it is a rich creamy-smooth consistency. Do not add any milk or cream. Put simple syrup in a squirt bottle and squirt 3 horizontal lines inside the glass/mason jar. Pour shake into the middle of the glass / mason jar and top with whipped cream .
From Borgata Baking Company, Atlantic City
The Resolution
Ingredients
2 oz gin
.5 oz simple syrup
.5 oz lemon juice
1 sprig rosemary
Instructions
Combine all ingredients into a shaker. Shake, then double strain into large coupe glass. Top with champagne. Garnish with rosemary sprig.
Created by Steve Muntean, Harding's, NYC
Bourbon Milk Punch
Ingredients
2 cups cream
2 cups whole milk
1 cup Woodford Reserve bourbon
.75 cup sifted powdered sugar
Half of one vanilla bean
Fresh grated nutmeg
Instructions
In a metal bowl over an ice bath, whisk sugar, cream, milk, and bourbon until nice and frothy. Add vanilla bean and strain through fine mesh strainer into pitcher. Place pitcher in freezer for 30 minutes to an hour stirring on occasion. Pour into glass and garnish with freshly grated nutmeg.
From Sea Island Resort, Sea Island, Georgia
Holly's Day
Ingredients
1.5 oz Bacardi 8 Year Rum infused with Cinnamon*
.75 oz fresh lime juice
.5 oz honey syrup
Gonet Blanc de Blancs Champagne
Instructions
Build all ingredients (except Champagne) in a shaker. Add ice and shake hard (30X). Double strain into a coupe. Fill with Champagne and mix well. Garnish with a pear ball on a pick.
*Rum Infusion: Take 3 sticks of Cinnamon and add to one liter bottle of Bacardi 8 Year Rum. Infuse for two days. Remove sticks.
From Strip House, multiple locations
UVA Spritz
Ingredients
1.25 oz Hangar One rose
.5 oz lychee liqueur
.25 oz Disaronno amaretto
1 drop rhubarb bitters
Top with Sant Ambreous prosecco (or any kind of prosecco)
Instructions
Shake first four ingredients with ice and strain into glass. Top with prosecco.
From Felice 56, New York City
A Sidecar Named Desire
Ingredients
2 oz Remy Martin 1738
1 oz Cointreau
1 oz simple syrup
1 oz lemon juice
.25 oz egg white
3 Asian Pears
Instructions
Build contents into mixing glass, shake and strain into Coupe or Martini glass. Garnish with 3 Asian pears sliced and presented in a fan-like fashion, with cinnamon dust over the pears and a cherry finish
From Vanderpump Cocktail Garden at Caesars Palace Las Vegas
This content is created and maintained by a third party, and imported onto this page to help users provide their email addresses. You may be able to find more information about this and similar content at piano.io