22 NYC Restaurants Open On Thanksgiving 2021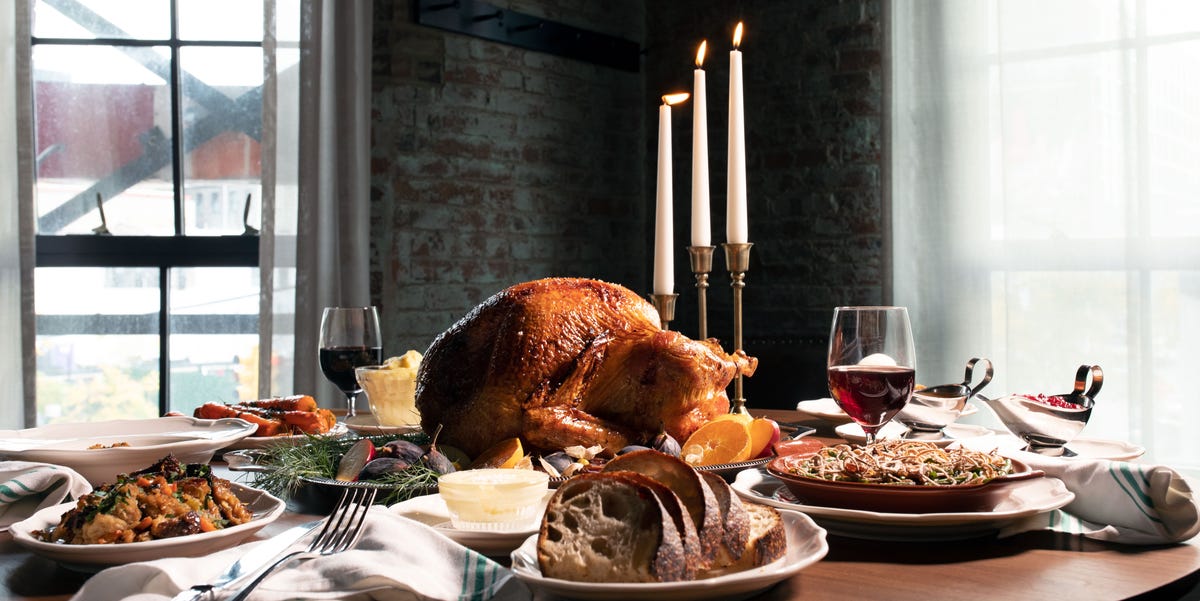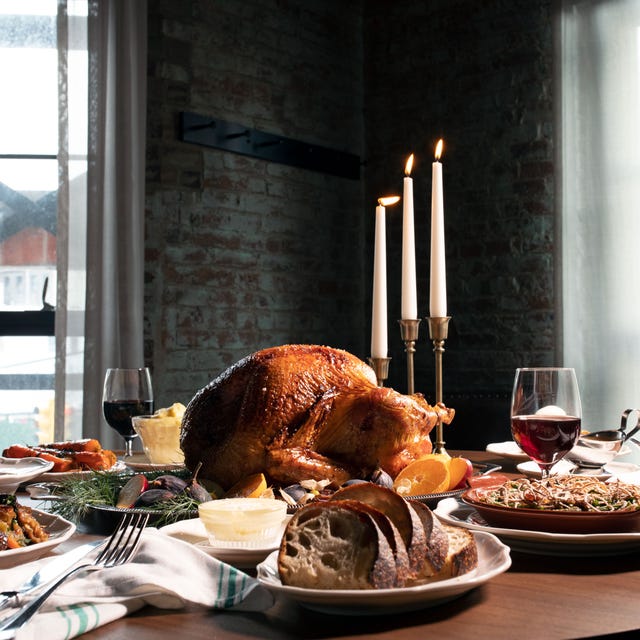 Le Crocodile
Thanksgiving is easily America's top holiday for feasting, but don't despair if spending your day shuffling pans in and out of the oven isn't your idea of a celebration; you don't have to give up on a decadent meal. Whether you're looking to get pampered at the city's fanciest restaurant or you want to get your perfectly cooked turkey and sides via socially distanced take-away, New York City's dining scene will ensure that no matter how you choose to celebrate this Thanksgiving, you'll still have a holiday that's truly something to be thankful for.
Here's a look at what's on the menu around the Big Apple this year, for take-out, dine-in, and even prepared meal kits.
Advertisement – Continue Reading Below
Bubby's
RESERVE NOW
This Thanksgiving, Bubby's will serve a traditional prefix of classic, homestyle favorites from 12:00 PM to 9 PM ($80 for adults, $50 for children under 10). Parties of 8 or less (including high chairs) can make a reservations, while larger groups are asked to submit to the waitlist here.
For those who want to keep things cozy at home, they're also accepting orders for take out packages, available for local pickup on Thanksgiving Day ($140 per box, serves 2). Place orders and view the full menu here. Their homemade pies are also on offer for nationwide shipping and local pickup.
Eleven Madison Park
ORDER NOW
For a Michelin-starred Thanksgiving, the recently-vegan EMP is offering and entirely plant-based menu starting from $375 with home delivery available in certain areas of Manhattan as well as local pickup on November 23 and 24. The meal, which they say will "generously feed four" includes a whole-roasted Kabocha Squash and sides such as Autumn Vegetable Gratin, Brussels Sprouts, and Cranberry Chutney, as well as add-on options like a White Truffle-Chestnut Risotto.
Purchases will also help the restaurant's partnership with Rethink Food to distribute meals to New Yorkers experiencing food insecurity.
Le Crocodile
RESERVE NOW
Looking to get out of the house this Thanksgiving? This Williamsburg brasserie will be open from 11:30 AM to 10 PM with a menu including a number of Thanksgiving-specific additions to the a la carte menu like Roasted Turkey Breast, Maple-glazed Carrots, Roasted Brussels Sprouts, Mashed Potatoes, Gravy, and Sourdough Stuffing.
Celestine
RESERVE NOW
Take Thanksgiving with a view at this DUMBO Mediterranean spot, which will offer a traditional family style Thanksgiving menu for $100 per person ($45 for children under 12.) Selections will include fall chicories salad, brussels sprouts, heritage turkey roulade, sourdough stuffing, apple galette, and more.
Cote
RESERVE NOW
This Thanksgiving, this Michelin-starred Korean steakhouse will offer a meaty feast for $85 per person, including four select cuts of USDA Prime and American Wagyu beef with Korean accompaniments such as savory egg souffle, spicy kimchi stew and sticky rice stuffing with Chinese sausage and shiitake mushrooms.
Jams
RESERVE NOW
Chef Jonathan Waxman's restaurant at 1 Hotel Central Park is offering a full day of options right along the famed Macy's Thanksgiving Day Parade route. Whether it's an in-room brunch basket looking out over the parade, brunch in front of the restaurant's floor to ceiling windows, or a prix-fixe three-course dinner (4 PM to 9 PM, $85 per adult and $40 per child) so you can really make the most of turkey day.
Dante and Dante West Village
RESERVE NOW
At both the original Dante and its West Village outpost,expect a prix fixe look for Thanksgiving classics with modern twists. Think: chicory salad with granny smith apples, clothbound cheddar, and a maple vinaigrette, roasted brussels sprouts with crispy bacon, oven roasted turkey breast with apricot and sage stuffing, and a selection of pies. And since Dante is consistently voted one of the best bars in the world, you'll of course want to sample their signature pumpkin eggnog.
The Osprey
RESERVE NOW
On Thanksgiving Day, The Osprey will offer a prix fixe dinner for $95 per person from 12 PM to 9 PM filled with options like honeynut squash soup, fluke crudo, foraged mushroom risotto, venison shank, heritage breed turkey with mortadella-chestnut stuffing, and horchata panna cotta.
La Goulue
RESERVE NOW
Bring a touch of French glamour to your Thanksgiving with this Upper East Side favorite's three-course Thanksgiving dinner ($86 per person, $43 for children under the age of 12). The menu includes options like butternut squash soup, tuna tartare, roasted organic turkey, pan-seared salmon, pecan mascarpone napoleon, and pumpkin tart.
Cathédrale
RESERVE NOW
The Moxy East Village's towering Cathédrale restaurant will be offering some of their menu staples this Thanksgiving along with specials à la carte like Rotisserie Heritage Turkey, Autumn Squash with Pomegranate Vinaigrette, Golden Raisin Chestnut Stuffing, Brussels Sprouts, Pumpkin Pie, and more.
The Polo Bar
RESERVE NOW
Ralph Lauren's The Polo Bar will be offering an a la carte menu this Thanksgiving with holiday classics including roasted organic turkey, calvados gravy, traditional mashed potatoes, cranberry sauce, chestnut stuffing, pumpkin sundae or Charleston bourbon pecan pie.
Margie's at The Rockaway Hotel
RESERVE NOW
Spend Thanksgiving at Margie's Restaurant where they're offering a three course pre-fixe menu ($49 per person, $22 for children 12 and under) including pumpkin veloute with horseradish cream and almond pesto, cider-brined turkey, and spiced pumpkin mousse with maple whipped cream and ginger cookies, to name a few.
Tavern on the Green
RESERVE NOW
For a classic NYC Thanksgiving, head to Tavern on the Green which will be serving their 4-course prix fixe Thanksgiving menu ($125 per person) from 11am to 11pm on Thanksgiving day.
The Standard Grill
RESERVE NOW
On Thanksgiving day, this west side bistro will be serving a festive four-course prix fixe menu ($95 per person) plus a brand new all-day menu including holiday specials like roasted pumpkin ravioli with black sesame & burnt, traditional roast turkey with truffle stuffing and roasted root vegetables, big-eye tuna Wellington with mushroom duxelles and a choice of apple or cherry pie for dessert.
Carmine's
ORDER OR RESERVE NOW
Whether you want to eat out or cater in your "home-cooked" meal, Carmine's has it covered. This year, they are offering a family-style Thanksgiving menu for dine-in or takeout including an 18-pound roast turkey with sausage and sage stuffing and classic sides like brussels sprouts with applewood smoked bacon, sauteed string beans, sweet potatoes topped with marshmallows and maple syrup, and mashed potatoes with giblet gravy. The full feast serves 6-8 people for $295 for takeout, delivery, and dine-in.
Bar Benno
RESERVE NOW
Michelin-starred Chef Jonathan Benno's Parisian-style bistro, will feature a Thanksgiving Dinner Plate for $32 this holiday which includes roasted turkey with sage-infused gravy, traditional holiday stuffing, squash puree, cranberry-orange compote, and Brussels sprouts. Classic pies ($42) are also available for pre-order online.
Socarrat Paella Bar
RESERVE NOW
Put a Spanish twist on your Thanksgiving at any of this paella palace's three NYC locations for indoor and outdoor dining from 1 PM to 9 PM, or for takeout. Their special Thanksgiving menu ($68 per person) will include a Thanksgiving Paella made with mushroom sofrito, confit turkey leg, roasted turkey breast, chorizo, butternut squash, and piquillo peppers as well as options like crispy brussels sprouts, cranberry sauce, and sweet potatos as well as pumpkin cheesecake or cinnamon sugar churros.
Boucherie
RESERVE NOW
All four Boucherie sister restaurants will offer two special dishes for Thanksgiving: a roasted turkey breast with truffle ballotine, sweet potato au gratin, brussels sprouts, chanterelles, cranberry compote, and turkey jus for $48, and a cheesecake with pecans and spiced caramel for $15.
(2020) The Dutch
RESERVE NOW
This Soho favorite will be bringing their upscale-cozy sensibility to Thanksgiving this year with a three-course prix fixe menu for $130 per person ($50 for kids 10 and under) from 1 PM to 8 PM. Options will include their famous sticky pork ribs, buffalo-style turkey wings, and wagyu steak tartare with bernaise aioli to start, along with a family-style spread including organic roast turkey with oyster mushrooms, mashed potatoes and gravy, spoon bread stuffing with andouille sausage, and cranberry orange chutney as well as a choice of desserts like apple pie with cinnamon ice cream or pecan pie with pretzel crust and chocolate bourbon sauce.
If you prefer to stick close to home this year, The Dutch will also offer a to-go option for $85 per person, including their roast turkey, mashed potatoes with gravy, brussels sprouts, stuffing, squash, cranberry-orange chutney, and apple pie with cinnamon ice cream.
(2020) Restaurant Daniel
RESERVE NOW
Daniel Boulud's Upper East Side stalwart brings their own twist to Thanksgiving for both indoor ($245 per person) and outdoor dining ($195 per person) from 11:30 AM to 8 PM Thanksgiving Day.
For a more casual celebration Bar Boulud is also offering three courses of the famed chef's French favorites like paté en croute and salmon en papillote and Thanksgiving classics from 12 PM to 8PM both indoor and on the terrace for $85 per person.
(2020) Wayan
What better way to celebrate a unique Thanksgiving than with a unique feast? Cedric Vongerichten (son of Jean-Georges Vongerichten) and Ochi Vongerichten's Indonesian-inspired spot will be offering prepared family-style Thanksgiving meals and Indonesian-influenced classics this year. Wayan's holiday feast ($488) feeds 6-8 people includes Indonesian organic roasted turkey with sides like brussels sprouts with morning glory terasi, perkedel stuffing, mashed potatoes, spiced cranberry acar sauce and long pepper gravy along with optional add-ons like large-format bottled signature cocktails and whole pies for dessert.
The meals will be available for pick-up from Wayan on November 25—email info@wayan-nyc.com to order.
(2020) James
ORDER NOW
This Prospect Heights standby is offering fans a farm-driven holiday box for delivery or pick-up from 4 PM to 9PM on November 25 and noon to 2 PM on Thanksgiving day. The spread will include celery root soup, roasted brussels sprouts, whipped yukon potatoes, roasted baby beets with castelvetrano olives and pistachios, focaccia stuffing with sausage and chestnuts and Sullivan Country young turkey breast and leg topped with handmade salts and butters. Desserts will include spiced pumpkin cake, fallen chocolate cake and roasted apple crisp.
All orders must be places by November 20.
(2020) Lafayette
ORDER NOW
Feeling French this Thanksgiving? Andrew Carmellini's Lafayette is offering a dine-in menu full of francophile delights including foie gras torchon, French onion soup, boeuf bourguignon, and dry aged duck, as well as holiday classics like roast turkey. The menu is available as a prix fixe for $110 per person for indoor and outdoor dining from 1 PM to 8 PM.
Need something sweet to finish your meal at home? Lafayette's bakery is also offering pies for pick up on November 24, 25, and 26 for $38 per pie.
(2020) Oceana
RESERVE NOW
This classic seafood restaurant in Midtown will still be serving up its Thanksgiving feast in the newly redesigned restaurant with a three-course prix fixe menu ($95 for person; $60 for children under 12) including traditional seasonal favorites.
Those who prefer to spend the holiday at home, Oceana is also offering Thanksgiving Takeout Packages in both small (serves 4-6 people, $275) or large (serves 8-10, $475) sizes featuring turkey two ways and side like sausage stuffing, potato puree and gravy, cranberry sauce, and braised brussels sprouts, plus pie and a wine pairing (for an additional supplement.) Takeout packages are available for pre-order by calling 212.759.5941 through November 16 (while supplies last) for pick-up between 11 AM and 4 PM on November 25 and 26.
More: The History of the Macy's NYC Thanksgiving Day Parade in Photos
This content is created and maintained by a third party, and imported onto this page to help users provide their email addresses. You may be able to find more information about this and similar content at piano.io
Advertisement – Continue Reading Below