23 Best Luxury Spas in the World for 2022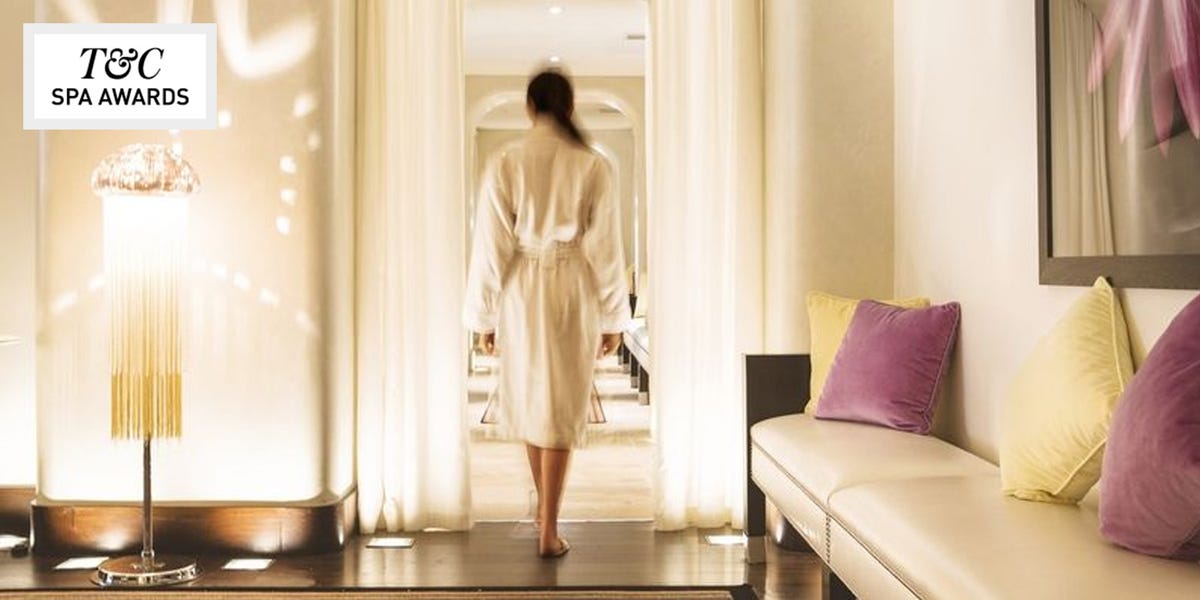 'Tis the season…for fitness resolutions. Our mission: to identify the best places around the world to tune up, or be transformed—spas that not only deliver a mean massage but over time seem to rearrange our very molecules. (And, since we're all multi-taskers, ones that throw in some cultural highs as well.) Below are wellness retreats in California and Nepal, Italy and Indonesia, Mexico and Massachusetts. Among them: boot camps and pleasure domes, treatments medical and mystical, Western and Eastern. But what they all share (we know because we've been there) are top therapists, state-of-the-art facilities, good (often superlative) food, pleasing (often outstanding) decor, lovely locations, and a take-home educational component—because we all want to make the feel-good last. Here's to that.
1
Aja Malibu, California
Keep an open mind at this year- old holistic retreat (already booked through 2018), which focuses on different chakras— wheels of energy along the spine—each day. Meditation teachers, sound healers, shamans, breathing specialists, and nutritionists guide treatments ranging from crystal light therapy to binaural beats that balance your energy fields. Communal dinners feature "living foods" (think carrot spaghetti and tomato tartare).
HOW LONG Seven nights.
WHO GOES New Agey types who embrace a kumbaya vibe.
DON'T MISS The tile designs at Adamson House, a late-1920s Moorish-Spanish- style villa.
Book now
2
Canyon Ranch, Massachusetts
The all-inclusive Tucson spa's New England outpost, on the grounds of the Bellefontaine Mansion in the Berkshires, feels like a college campus for fitness geeks, with lectures, cooking demos, medical assessments, and massages. Weight loss is a focus, and cardio comes in the form of kayaking, hiking, and cross-country skiing.
HOW LONG Two-night minimum.
WHO GOES Nature and culture lovers who want education with their exercise.
DON'T MISS Tanglewood is practically next door.
Book now
3
La Reserve Geneve, Switzerland
As close as you'll come to the fountain of youth. The sauna, hammam, and indoor pool at the 20,000-square-foot lake-front Nescens spa erase stress, but it's the customized "Better Aging" regimens developed with doctors, osteopaths, acupuncturists, and nutritionists that work the magic, slimming, detoxifying, and reviving you. Visitors depart with a medical report, recipes, and an exercise program.
HOW LONG From a 24-hour refresh to deeper four-to-seven-night stays.
WHO GOES Politicians, businessmen, and ladies who lunch.
DON'T MISS The artisans of nearby Carouge.
Book now
4
Villa Stephanie, Germany
Old World elegance and state-of- the-art healing are combined at this Belle Epoque mansion in the Black Forest. The sister property to Baden-Baden's Brenners Park, it has just 15 rooms and a genius digital detox switch that blocks WiFi. Next door, experts in dentistry, cardiology, and physiotherapy create individualized programs for detoxing, skin rejuvenation, mental vigor, and more. Unlike elsewhere, the experience is intensely private.
HOW LONG Seven days is suggested— mandatory for detox and weight loss programs.
WHO GOES Those looking for the latest in medically supervised preventive care minus the clinical setting.
DON'T MISS A performance at Festspielhaus, Europe's second-largest concert hall and opera house.
Book now
5
Schloss Elmau, Germany
Artists and authors have been escaping to this resort in the Bavarian Alps, which nurtures the mind with art, music, and literature and the body with yoga, massage, and hiking, since it opened in 1916. Today it hosts political symposiums (the 2015 G7 Summit), renowned musicians (cellist Gautier Capuçon), literary stars (Ian McEwan), and master yogis (Timo Wahl), in addition to non-prodigies looking to jump-start their diets, workouts, and creativity. The 162-room, family-friendly hotel has five spas, six restaurants, three libraries, and a concert hall. A new 47-suite retreat, with its own spa and jivamukti yoga center, is for those into serious R&R.;
HOW LONG One week is suggested.
WHO GOES See above.
DON'T MISS Hikes to King Ludwig's famous summer lodge.
Book now
6
Nihi Sumba Island, Indonesia
At a luxury resort 250 miles east of Bali known for Occy's Left, the most exclusive surf break in the world (only 10 guests are allowed on it per day), a spa day sounds like a snooze. Until you experience the Robinson Crusoe–esque "spa safari." A 90-minute sun-rise trek through misty rice paddies and local villages to a secluded valley is followed by a full day of unlimited treatments (truly) in a private ocean-view balé, punctuated with swims along your own stretch of beach.
HOW LONG The spa safari is a single day; most visitors stay one week.
WHO GOES Honeymooners into private pampering; surfers; those who prefer being active to exercising.
DON'T MISS A bush-to-beach horseback ride that ends with a canter in the waves.
Book now
7
Borgo Egnazia, Italy
Perhaps best known for hosting Justin Timberlake's wedding, this low-key hotel was designed to look like a traditional Puglia village, with 29 villas. Vair Spa, a modern take on a traditional Roman bath house, employs "artist therapists": a psychologist-composer, a scent master, a hair doctor. Spa programs might include a candlelit soak, a scrub using garden produce, and a music therapy session.
HOW LONG Three-day minimum suggested.
WHO GOES The Milan fashion set; wellness seekers who embrace carbs.
DON'T MISS Grottaglie, an important pottery center.
Book now
8
Kamalaya, Thailand
Devotees fly halfway around the world to Koh Samui for this holistic retreat founded by a former yogi monk and his wife, who is an acupuncturist and traditional Chinese medicine expert. Kamalaya hosts visiting practitioners of Eastern and Western healing methods, and it's known for a highly effective detox program combining a mostly raw diet, in ared sauna sessions, and chi nei tsang, a kind of Taoist abdominal massage.
HOW LONG Three-night minimum stay. Make it two weeks if you're flying from the U.S.
WHO GOES Soul searchers who want cultural immersion and personal transformation.
DON'T MISS The weekly cruise aboard a Turkish ketch.
Book now
9
The Ranch Malibu, California
Tough hikes on 200 miles of trail and tiny portions of delicious food characterize this no-nonsense 18-cottage retreat in the Santa Monica Mountains. Expect: 5:30 a.m. wake- up calls, four-hour hikes, four hours of low-impact exercise, and falling into bed by 8:30, dreaming of your next vegan meal.
HOW LONG Seven days.
WHO GOES Type A's who want guaranteed weight loss (3 to 7 percent of body weight on average) and sweaty selfies against Insta- grammable vistas.
DON'T MISS Sunning at Malibu Lagoon State Beach.
Book now
10
Chable Resort, Mexico
The 32,000-square-foot spa at this 19th-century Yucatán hacienda is centered on a cenote and surrounded by Mayan ruins, and the therapies are rooted in ancient practices. There's a resident shaman, detoxifying sweat lodge sessions, and full moon bathing rituals. The menu includes mouthwatering dishes like suckling pig with pickled Ixchil onions.
HOW LONG No minimum stay.
WHO GOES Travelers who want an alternative to Tulum and prefer jungle
to beach.
DON'T MISS Stone crabs at Los Pamponos, in the village
of Celestún.
Book now
11
Dwarika's Resort, Nepal
It's not your typical spa, but if you're in the area, this ayurvedic retreat an hour's drive from Kathmandu is known for its masterful blend of Buddhist medicine and vedic philosophy and for its unconventional treatment rooms (meditation maze, chakra sound chamber, Himalayan salt room).
HOW LONG Three to 13 nights for set wellness programs.
WHO GOES Trekkers in need of TLC; ayurveda devotees.
DON'T MISS Dwarika's farm, a 90-minute walk from the resort past rural villages.
Book now
12
Aro-Ha, New Zealand
At this Scandinavian-minimalist, 21-acre retreat near Queens-town, strenuous six-to-10-mile treks (part of them on a portion of the famed Routeburn Track) and daily mindfulness sessions take place against the insanely beautiful backdrop of New Zealand's Southern Alps—snowcapped peaks and turquoise Lake Wakatipu. Your reward: straight-from-the- garden meals and plunge pools with Tolkien-worthy views. Warning: Bonding is part of the process, so be prepared for partner activities like acroyoga.
HOW LONG Four-to-seven-night all-inclusive "wellness adventures."
WHO GOES A crowd that's more North Face than Lululemon.
DON'T MISS Doing the full 12.4-mile Routeburn Track (three days).
Book now
13
Six Senses Douro Valley, Portugal
Wellness and pleasure go together at this Asian brand's first European outpost, in Portugal's destination wine region. The programs, based on biomarkers (metabolism, body composition), are serious, and high-tech skin treatments are available, but most guests come to destress with wine tastings and vinotherapy treatments in the 10-room spa.
HOW LONG Three-day minimum fordedicated wellness programs.
WHO GOES Health devotees who believe in hearty doses of hedonism.
DON'T MISS The medieval town of Lamego.
Book now
14
Rancho Valencia, California
A work hard, play hard mentality prevails at this SoCal sanctuary amid trees and lush gardens. Mornings are devoted to classes, from spin to TRX, afternoons to indulgent spa therapies (desert fig facials, citrus-infused soaks), plus pool-side champagne. Tennis pros teach on 18 championship-level courts. At night Ralph Lauren and Tory Burch replace Nike and Athleta, and lobster tacos are on the menu.
HOW LONG Three-, five-, or seven-night retreats in partnership with San Diego's Lifewellness Institute.
WHO GOES Fitness class junkies, tennis enthusiasts, and a country club set that likes to detox to retox.
DON'T MISS Torrey Pines State Natural Reserve.
Book now
15
Mii Amo, Arizona
The town's mystic vibe has lured some of the world's top healers to this 16-casita retreat, which specializes in Native American treatments and is located on sacred ground in Boynton Canyon. Most healing "journeys" include two daily spa treatments. Traditional therapies (pedicures, Swedish massage) are available, but try the alternatives: interactive aura readings, energy cleansing.
HOW LONG Three, four, or seven nights.
WHO GOES Hikers with hippie souls; wellness seekers who prefer buffalo burgers to tofu.
DON'T MISS A guided vortex (concentrated energy area) hike to Cathedral Rock.
Book now
16
Amangiri, Utah
The desert setting is otherworldly, the 34 suites have terraces to let you soak in the mesa and dune views, and the 25,000-square- foot spa is inspired by Navajo traditions. And no other Aman offers more beyond-the-spa excursions. Amangiri is in the Four Corners, surrounded by the Grand Canyon, Bryce and Zion National Parks, Lake Powell, and Grand Staircase– Escalante, and its staff includes archaeologists, geologists, and naturalists.
HOW LONG No minimum; at least a long weekend suggested.
WHO GOES
Aman junkies; adventurers who want to sleep in luxury.
DON'T MISS Visiting Grand Staircase–Escalante with a paleontologist.
Book now
17
Vana, India
There is no shortage of spiritual retreats in India, but Vana is unique in combining traditional yoga, meditation, and ayurvedic medicine with organic cuisine, beauty treatments, and cultural outings. Your ayurvedic recipe is determined by a doctor, electronics are forbidden in public spaces (but the vibe is otherwise laid-back), and you'll be urged to wear kurta pajamas to dinner (meat and wine are on the menu). The signature program is the 21-night Pancha-karma, an intense detox.
HOW LONG Seven-night minimum.
WHO GOES Spiritual seekers splurging on a five-star ashram with an undiluted version of ayurveda.
DON'T MISS An afternoon trip to Rishikesh, the yoga capital of the world.
Book now
18
Cal-a-Vie, California
This 500- acre retreat with windmills and 32 antiques-filled rooms could be mistaken for Provence. Even the restaurant has a French no-asceticism philosophy. Typical regimen: a predawn power hike followed by four more workouts (there are 120 classes, plus 20 types of yoga) and lots of spa time (vinotherapy treatments are a specialty).
HOW LONG Three, four, or seven nights.
WHO GOES Francophiles; those who would rather be coddled than commanded.
DON'T MISS A candlelit yoga session in the 18th-century chapel from Dijon.
Book now
19
SHA Wellness Clinic, Spain
With its cabana-ringed roof- top pool and white and chrome design, SHA could almost be mistaken for a hedonistic escape on the Mediterranean. No. Combining Western science (genetic testing, cryotherapy) with Eastern wisdom (reiki, acupuncture), it targets everything from frown lines to insomnia. In one day you might meet with a cardiologist, a personal trainer, and an expert in regenerative medicine. A macrobiotic food philosophy is central. HOW LONG Four to 28 days.
WHO GOES Fashion designers and celebs who prefer the seaside to a stark medi-clinic.
DON'T MISS A hike to the 17th-century castle of San José.
Book now
20
Chiva Som, Thailand
This pioneering haven on palm-fringed beachfront offers it all, from weight loss and skin contouring to hypoxic chamber training (to prep for Everest ascents). Always ahead of the curve, it recently started a "cell vitality" retreat for guests recovering from cancer. Treatment rooms outnumber the 58 guestrooms, and classes range from Thai boxing to gyrokinesis, but the pool is as restorative as Tabata training, and a sunrise beach walk with monks more memorable.
HOW LONG Three nights minimum; seven to 14 is typical.
WHO GOES Spa junkies; those looking for an affordable medi-spa.
DON'T MISS
Maruekhathaiyawan, one of the oldest royal palaces in Thailand.
Book now
21
Ananda, India
Even if you're not into yoga, a visit to this resort on a 100-acre maharaja's estate in the Himalayan foothills will leave you feeling enlightened. The 24,000-square-foot spa has 24 treatment rooms and offers more than 80 therapies that balance physical and mental well-being through meditation, chanting, breath control, reflexology, and dosha-appropriate meals of veggie thalis and curries. Daily lectures on vedanta, or life philosophy, feed the mind.
HOW LONG Five-to-21-day programs are the norm.
WHO GOES Yogis; those wanting both spa time and cultural excursions.
DON'T MISS The Ganga Aarati, a 90-minute ceremony held daily at sundown on the banks of the Ganges.
Book now
22
COMO Shambhala Estate, Bali
There are its riverbank seclusion (it feels like a secret temple of wellness), its design (it's one of the most beautiful hotels on Bali, incorporating traditional Indonesian architecture), and its nutrient-dense cuisine, a COMO signature. But what really gets people coming back to the COMO Shambhala is its army of experts. Visiting wellness masters specialize in everything from adrenal massage to hydrotherapy, and local guides lead off-property adventures like rice field cycling and Ayung River rafting.
HOW LONG Programs average three to 14 nights.
WHO GOES Celebrities like John Legend; Eat, Pray, Love fans; travelers who want spa time and sightseeing.
DON'T MISS A water purification ceremony at a 10th-century temple.
Book now
This story appears in the December 2017/January 2018 issue of Town & Country. Subscribe Today
This content is created and maintained by a third party, and imported onto this page to help users provide their email addresses. You may be able to find more information about this and similar content at piano.io