30+ Best Golf Gifts in 2022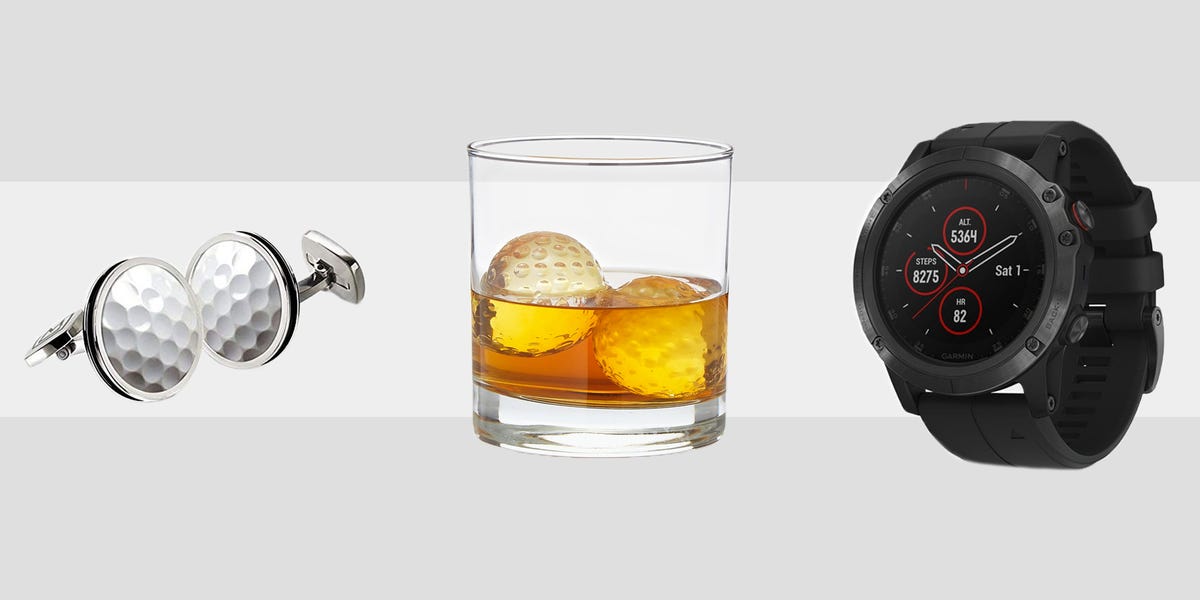 Finding the perfect gift for the golf-lover in your life can be tricky—especially if you're not an aficionado of the sport yourself. Whether your favorite golf fiend is a seasoned pro or spends more of his time in the pro shop, we've got everything the golf geek in your life needs to incorporate their passion into every aspect of their life, from high-tech swing analyzers to stylish golf decor.
Blast Motion Golf Swing Analyzer
Track performance and gradual improvement over time with a bluetooth enabled swing analyzer. It's like a pocket-sized and portable coach—what could be better?
Golf Ball Whiskey Chillers
Pop these glass whiskey chillers into the freezer before hitting the course for a perfectly cooled post-game drink.
Hot Sox Golf Crew Sock
Much classier than a "I'd Rather Be Golfing" t-shirt.
All in One Set Golf Flask
For the guy who enjoys a tipple as much as he does teeing off, this leather-wrapped flask has all his needs covered. 
Mancrates Personalized Golf Ball Mini Crate
He'll never lose track of a ball again when he has a crate of Callaways emblazoned with his name (plus a personalized ball-marking divot fixer and golf towel.)
SaltyLaneStudio Monogram Golf Ball Marker
Prestige Decanters Hand-Blown Glass Decanter
Garmin fēnix® 5 Plus Multisport GPS Watch
With a built-in GPS, heart rate monitor, activity profiles, and performance metrics, this do-it-all smart watch is just what high-tech sporty types are craving.
Golf: The Impossible Collection by George Peper
With this luxe coffee table book, he can explore 100 of the best golf courses in the world without leaving the comfort of his living room.
A Life Well Played: My Stories by Arnold Palmer
Help him bring a little bit of his gold love off the course with this memoir by golf great Arnold Palmer. 
Golf Stance Trainer
Give his stance a level up with this practice board that's specially designed to move his body into he right position for an optimum swing. 
Smythson Golf Notes Panama Notebook
Help him keep track of of his game with a sophisticated notebook.
Framed Print of JFK Playing Golf
Give his decor a hint of his favorite game without looking like he picked his housewares up at the sporting goods store.
Golf Trunk Organizer
Keep him organized with a trunk organizer (with space for accessories) at home and on the go. 
7-piece Golf-Club Style BBQ Grill Accessories Kit
Frontgate Golf Organizer
For the guy who has a lot of golf clutter, this organizer can hold all of his bags, clubs, balls, shoes, towels, and all of his other playing gear. 
PatentPrints Patent Art
For the guy who appreciates the technical side of the game, this print of an original golf club patent is sure to please. 
Vineyard Vines Stretch Breaker Shorts
These flat-front, stretch cotton shorts will become his new wardrobe go-to, on and off the course.
Taylor Made M5 Driver
Engineered to help keep shots straighter and maximize ball speed, this driver is designed to up his game.
Go Golf Elite Golf Shoe
Fashion plates will love these cool golf shoes that can transition from the course to cocktail hour with minimal effort.
Columbia Men's EvaPOURation Omni-Tech Waterproof Jacket
This waterproof, all-weather shell (made with wicking technology and zippable vents to keep you comfy at any temp) can tuck easily into a golf bag so he's always prepared for unexpected mid-round showers.
Dixon Earth Golf Balls
For eco-conscious golfers, you can't go wrong with these high-performance, 100 percent recyclable golf balls.
Grommet Floating Golf Turf Game
Help him get some practice on those water traps with this floating green. 
Mack Weldon Silver Polo
The special weave of this polo is blended with naturally odor-resistant silver to keep him smelling fresh all the way to the 18th hole.
Callaway Cabretta Leather Golf Gloves, Set of 3
Moisture-resistant and durable, he'll have a quality grip when he hits the greens.
Jay Stoltz Golf Game Dartboard
OK, so this technically isn't golf, but it is a golf-themed game of darts. Perfect for days off the course.
Golf Bag Tag
Practical, personalized, and affordable—arguably the perfect stocking stuffer. 
New York Times Personalized Golf History Book
Make their day with a personalized compilation of golfs greatest moments in a stylish hardbound heirloom.
Oakley Mainlink XL Sunglasses
Special technology helps make the view through these sunnies especially sharp, while also providing UV protection for eyes.
Adidas Go-To 5-Pocket Water Repellent Golf Pants
These comfy pants provide the elegance of dressier trousers with the feel of his favorite workout gear. Bonus: they're water repellent for drizzly days on the course. 
Kenny Flowers The Birdies of Paradise Golf Shirt
Add a touch of preppy whimsy to his look with this patterned polo shirt which even comes complete with a handy, built-in tee holder next to the buttons so he's always ready to tee up. 
Intex Entertainment Inc. Desk Top Golf Game
Maybe he wants to hit the links every day, but just so happens to have a day job. This is a good happy medium.
This content is created and maintained by a third party, and imported onto this page to help users provide their email addresses. You may be able to find more information about this and similar content at piano.io