30+ Best Summer Movies of All Time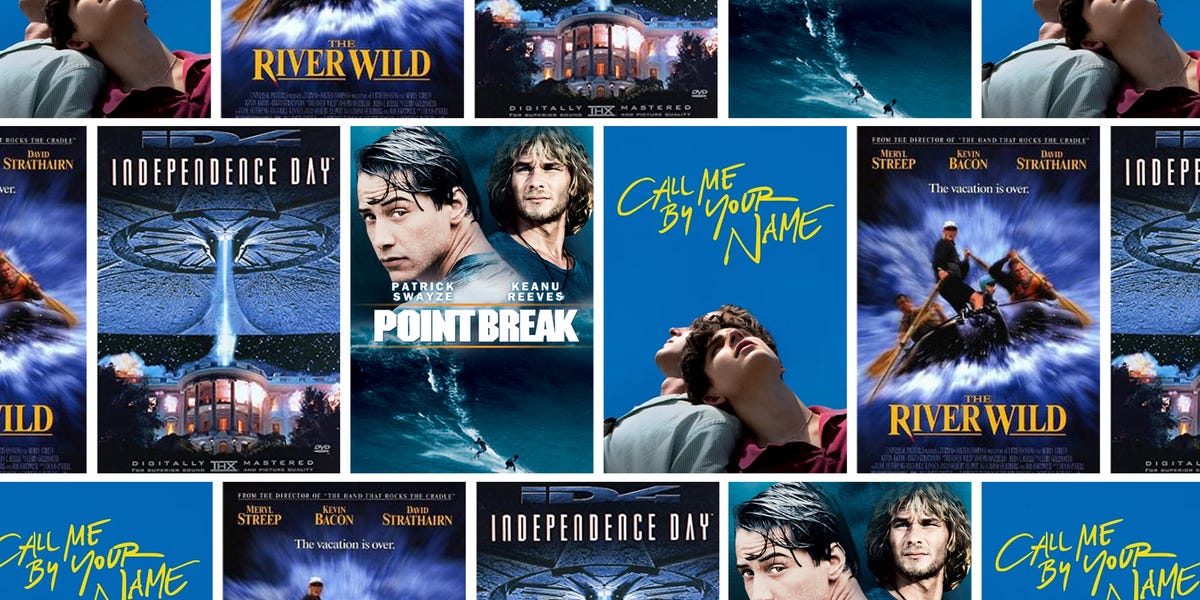 Ah, summer. The word alone evokes sun-soaked memories of seasons past. No matter how long it's been since you were a student, everybody loves that last-day-of-school feeling that the warmer months bring. And this summer will be especially sweet. After more than a year of turmoil and isolation, we're ready to slip on our flip flops, load up on sunscreen, and make the most of every summery moment. Simply put, summertime is just one of those things you can rely on to make everything better. Another tried-and-true: movies. So, by the law of addition, what could be better than summer-themed movies? Whether you're stuck inside on a rainy day, or it's the middle of winter and you're craving the sun on your skin, we've rounded up some of the ultimate summer flicks to boost your mood and get you ready for your best summer yet.
Charlie's Angels, 2000
Everything about this action-packed movie will have you feeling summertime fine–from the costumes and the soundtrack to the campiness of it all. The cast, starring Lucy Liu, Drew Barrymore, and Cameron Diaz as an elite crime-fighting team, also features the likes of Bill Murray, Matt LeBlanc, LL Cool J, and Luke Wilson.
WATCH NOW
Thelma & Louise, 1991
Summer is the perfect time to hop in the (preferably non-stolen) car with your best friends, roll down the windows, and hit the wide-open road. While we wouldn't recommend following exactly in the footsteps of stars Susan Sarandon and Geena Davis, Thelma and Louise have to be the patron saints of girls' trips. The trouble-making duo will inspire you to be "drinkin' margaritas by the sea" on your next weekend getaway.
WATCH NOW
E.T., 1982
No summer movie watch list is complete without Steven Spielberg's classic, E.T., in which one boy takes on the ultimate summer project of returning a strange visitor back to his home planet. Even if only because you watched in on repeat as a child, this one is sure to have you nostalgic for summers long-gone.
WATCH NOW
Mamma Mia! 2008
The only thing better than one great love story is three great love stories. Let the sweeping Grecian vistas and Meryl Streep's, well, everything, put you in a good mood. Besides, is there anything more summery than ABBA? While you're at it, watch the oh-so-charming sequel starring Lily James. Did we mention Cher makes a cameo…
WATCH NOW
The Inkwell, 1994
This '70s-themed romantic dramedy tells the story of a teenage boy, Drew Tate, spending his summer in Martha's Vineyard, where he finds The Inkwell­, a posse of wealthy, lively people who love to party. Tate gets entangled in a love triangle between two women, one of whom is played by a young Jada Pinkett Smith.
WATCH NOW
Grease, 1978
Summer lovin', have you a blast with a rewatch of this perennial musical fave, based on the 1971 Broadway show of the same name. Set at a fictional high school in the summer of 1958, Grease follows an ensemble of teenagers led by good girl Sandy (Olivia Newton-John) and "greaser" Danny Zuko (John Travolta), whose supposed summer fling gets more complicated after they unexpectedly wind up at the same school.
WATCH NOW
Clueless, 1995
Amy Heckerling's razor-ship and winsome modernization of Jane Austen's Emma only gets better and better with age, as does Alicia Silverstone's lightning-in-a-bottle performance as Cher Horowitz, cinema's most benevolent popular girl. Though the movie technically takes place across several seasons, its Beverly Hills setting makes the whole vibe deeply summery.
WATCH NOW
Jaws, 1975
Steven Spielberg's beloved shark thriller scarcely needs an introduction. A blissful summer in a quiet resort town is shattered by the threat of a killer shark, forcing the police chief (Roy Scheider) to work with a marine biologist (Richard Dreyfuss) and a shark hunter (Robert Shaw) to stop the bloodshed.
WATCH NOW
Dirty Dancing, 1987
There are few more iconic scenes in cinema than the sequence at the very end of this summer classic, in which Jennifer Grey's Baby and her dance instructor slash age-inappropriate love interest Johnny Castle (Patrick Swayze) finally perform the lift. The rest of the movie, from the idyllic Catskills setting to the surprisingly ahead-of-its-time abortion storyline, holds up just as well.
WATCH NOW
Caddyshack, 1980
If you like your summer movies with a dash of sports, you'll want to check out the film ESPN once called "perhaps the funniest sports movie ever made". Caddyshack follows a series of comedic events at an exclusive goal club, where the staff–including downtrodden teen Danny ((Michael O'Keefe) – must contend with the quirks of their wealthy, weird customers.
WATCH NOW
Stand By Me, 1986
Though it's based on a Stephen King novella, this coming-of-age classic is wistful and emotionally thrilling rather than scary. Wil Wheaton, River Phoenix, Corey Feldman, and Jerry O'Connell star as four young boys who set out in search of a dead body that's rumored to have been spotted near their Oregon town.
WATCH NOW
Weekend at Bernie's, 1989
Yet another objectively iconic American comedy that takes place in the summertime, Weekend at Bernie's follows two rookie corporate employees who make the alarming discovery that their boss is dead just as they arrive at his beach house for a weekend getaway. Their attempts to pass off Bernie (Terry Kiser) as still alive are just the tip of the ridiculous, hilarious comedy iceberg.
WATCH NOW
Do The Right Thing, 1989
Spike Lee's vivid and vibrant masterpiece is a fixture on Best Movies of All Time lists. The oppressive heat of a summer's day in Brooklyn, New York is central to the atmosphere of the movie, which depicts long-simmering racial tensions exploding into violence.
WATCH NOW
Point Break, 1991
Patrick Swayze makes a second strong showing on this list, in the unforgettable role of bad boy surfer Bodhi. One of Katherine Bigelow's earliest hits, the film stars Keanu Reeves as an FBI agent who goes undercover in a gang of surfers who are also bank robbers (just go with it, trust us), and develops a complex relationship with Bodhi.
WATCH NOW
Adventureland, 2009
One of many coming-of-age classics on this list, Adventureland follows a recent college grad whose dream trip to Europe is cancelled. Though working at the local amusement park in his town seems like a poor consolation prize, he ends up finding a sense of belonging and a romance with Kristen Stewart's fellow park employee.
WATCH NOW
Summertime, 1955
One of the seminal filmmaker David Lean's less celebrated pictures, Summertime stars Katharine Hepburn as an unlucky-in-love woman who's drawn into a whirlwind romance while on a Venetian getaway. Hepburn is enchanting, and though dated in places the technicolor romance is irresistible.
WATCH NOW
American Graffiti, 1973
The film George Lucas made before Star Wars is a classic in its own right, telling the story of a group of California teenagers through a series of vignettes set during the course of a single evening. Look out for a young Harrison Ford in his breakout role as the wisecracking Bob Falfa.
WATCH NOW
Wet Hot American Summer, 2001
If you're feeling nostalgic for summer camp, look no further than Wet Hot American Summer, which is both a satirical spoof of teen sex comedies and a legitimately great teen movie. With an A-list cast that includes Paul Rudd, Molly Shannon and Christopher Meloni, there's a good reason why this movie has spawned a cult following–and a Netflix revival series a few years back.
WATCH NOW
Little Miss Sunshine, 2006
Nothing says summer like a really great road trip movie, and this near-perfect indie comedy from the early aughts is one of the best out there. A young Abigail Breslin stars as Olive, a little girl who dreams of being a beauty queen, and persuades her entire family – played by an all-star cast of character actors Toni Collette, Steve Carrell Greg Kinnear, Alan Arkin and Paul Dano – to drive from New Mexico to California in order to attend a pageant.
WATCH NOW
Independence Day, 1996
Action movies and summer go together like peanut butter and jelly, and this 1996 alien invasion classic may be the ultimate summer blockbuster. Starring a formidable ensemble including Will Smith, Bill Pullman and Jeff Goldblum, the movie chronicles the Earth's response to a devastating alien attack, all leading up to a counterstrike which falls–naturally–on July 4.
WATCH NOW
The Goonies, 1985
This beloved classic follows a group of kids who set out to save their house from foreclosure, and end up on a thrilling treasure hunt through their Oregon neighborhood. Goonies! Never! Say! Die!
WATCH NOW
I Know What You Did Last Summer, 1997
A fine spooky summer choice, this slasher flick stars a veritable slew of nineties favorites including Jennifer Love Hewitt, Sarah Michelle Gellar, Freddie Prinze Jr. and Ryan Phillippe. The quartet play friends who are haunted by a hook-wielding murderer, one year on from a car accident in which they accidentally killed a man, and covered it up. Spoiler: shouldn't have done that.
WATCH NOW
The Parent Trap, 1961
Although the Lindsay Lohan remake from 1998 is a strong contender, the original Disney movie is just as entertaining. After a chance meeting, two identical twins (Hayley Mills) who have been raised separately with no knowledge of each other swap identities to try and persuade their estranged parents to reunite.
WATCH NOW
What About Bob?, 1991
An excellent "nightmare vacation" movie, What About Bob? stars Bill Murray as a needy psychiatric patient who follows his egotistical psychiatrist Dr Marvin (Richard Dreyfuss) on vacation. Even worse–he gets along famously with Marvin's entire family.
WATCH NOW
The River Wild, 1994
This adventure thriller stars Meryl Streep and David Strathairn as a bickering couple whose whitewater rafting trip with their children takes a dramatic turn when they encounter two dangerous criminals (Kevin Bacon and John C. Reilly).
WATCH NOW
Dazed and Confused, 1993
One of Richard Linklater's earliest offerings, this mellow 1970s coming-of-age comedy follows a sprawling ensemble of Texas teenagers through the course of their last day of school. Ben Affleck and Cole Hauser are among the future stars who appear, while Matthew McConaughey turns in an early iconic performance as David "I get older, they stay the same age" Wooderson.
WATCH NOW
The Sisterhood of the Traveling Pants, 2005
Carmen (America Ferrera), Tibby (Amber Tamblyn), Bridget (Blake Lively), and Lena (Alexis Bledel) are an inseparable group of teenage BFFs about to spend their first summer apart. They hatch a plan to stay connected to each other by sharing a pair of secondhand jeans which magically fits all four of them perfectly. A heartwarming and truthful portrait of changing friendships among young women.
WATCH NOW
The Endless Summer, 1966
One of the earliest and greatest surfing movies, The Endless Summer follows two surfers as they travel the world discovering new surf spots. As the title suggests, they're essentially chasing summer across the globe, crossing between hemispheres in pursuit of surf-friendly weather.
WATCH NOW
Call Me By Your Name, 2017
Yet another entry in the Luscious Italian Vistas category, this Oscar contender from a few years back also tells a sumptuous and heartbreaking love story between 17-year-old Elio (Timothée Chalamet) and an older grad student (Armie Hammer) who's staying with his family for the summer.
WATCH NOW
Forgetting Sarah Marshall, 2008
Jason Segel stars in this charming rom-com as a down-on-his-luck magician (is there any other kind?) who tries to get over a breakup by taking a trip to Hawaii. Naturally, his ex (played by then-relative newcomer Kristen Bell) is there too, alongside her new rockstar beau (Russell Brand), and hijinks ensue.
WATCH NOW
The Sandlot, 1993
Another perfect summer sports movie, The Sandlot tells a touching coming-of-age story centered around Little League baseball. Shy fifth-grader Scotty (Tom Guiry) initially has trouble making friends in his new town, but is soon taken into the fold of a local baseball team.
WATCH NOW
Emma Dibdin
Emma Dibdin is a freelance writer based in Los Angeles who writes about culture, mental health, and true crime.
This content is created and maintained by a third party, and imported onto this page to help users provide their email addresses. You may be able to find more information about this and similar content at piano.io