34 Best Gourmet Food Gifts To Send In 2022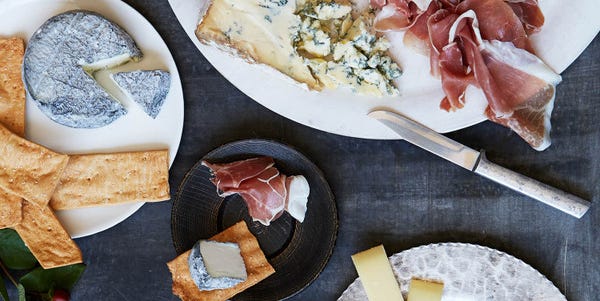 Don't ever underestimate the power of food when it comes to gift-giving. Whether you want to share your city's best bites with a faraway loved one, do something nice for a coworker or a friend, or plan a celebratory evening, a beautifully wrapped treat will win the day. Here, gourmet food gifts for everyone on your list (don't forget the wine!).
Surf & Turf
What's better than a surf and turf dinner on the town? A ready-to-grill dinner of Premium Angus Beef filet mignons, sirloins, or New York strip steaks paired with 6 oz lobster tails ready to grill up in the privacy of your own home. 
Bacon Sampler
You can never go wrong with bacon. Or, in this case, a bacon flight, featuring three different types of everybody's favorite salty treat: applewood and hickory smoked bacons made from heritage breed pork, and D'Artagnan's signature duck bacon.
Murray's Greatest Hits Cheese Collection
A cocktail party in a box. This collection of four cheeses (creamy brie, nutty gruyere, subtle manchego, and tangy English cheddar) chosen by the experts at the famed New York cheese shop pair perfectly with their spiced cherry preserves, olive oil crackers with sea salt, and marcona almonds.
Chest of Chocolates
Nothing will delight your favorite chocolate fiend more than this collection of sweets including everything from decadent chocolate cake to truffles, malt balls, and even chocolate covered pretzels. 
Galaxy Croissants Set of 15
Could there be a gift more magical than waking up in the morning to a hot, freshly-baked croissant that tastes like it came straight from a Parisian bakery? With this set of 15 frozen croissants, the dream can become a reality, and you can earn the title of the ultimate gift giver. 
All the Snacks Box
Your snack-loving deskmate will adore this mix of healthy (and less healthy) bites including salted brown butter cookies, white cheddar popcorn, handmade NYC pretzels, peanut butter puffs, everything bagel-flavored nuts, and much more. 
Meat Subscription Box
The meal prepper on your list will appreciate the head start this box filled with succulent proteins gives them. The Basics Box comes with 4 pasture-raised chicken breasts, 2 boneless sirloin steaks, and a pound of dry aged ground beef, but there are half a dozen other boxes to choose from including all-beef, beef and pork, a box for the grillmaster, and even a breakfast-focused box, all of them available to be delivered every 2, 4, or 8 weeks. 
More: The Best Mail-Order Beef and Butcher Shops Across America
Pink Champagne Cake Bites
A perfect bite-sized treat, these miniature versions of this South Carolina bakery's pink champagne cake features decadent champagne-infused cake dipped in white chocolate for easy eating. You'll never go back to cupcakes again.
Mouth Indie States Of America Every Month
Expand your gift recipient's palate with a monthly selection of snacks made in different regions of the U.S. 
The Best Sellers, 6 Pints
If you're looking to gift a sweet treat, look no further than this curated set of pints from San Fransisco's famed Humphry Slocombe. The pints include six fan favorites like their Blue Bottle Vietnamese Coffee (a blend of Blue Bottle organic coffee, sweetened condensed milk, and chicory), Malted Milk Chocolate, Salted Caramel Cocoa Nib, and perennial favorite Secret Breakfast (bourbon ice cream studded with cornflake cookies).  
A Taste of The Bay
It doesn't get much more luxe than sparkling wine and oysters. This kit delivers the experience of your favorite California oyster bar right to your door with a bottle of Chandon By The Bay Reserve Blanc de Blancs and oyster accoutrements like Fuego hot sauces and berry shrubs, plus 50% off bay-farmed oysters from Real Oyster Cult.
Exotic Truffle Collection
Imagine someone who wouldn't be delighted to open up a box of these decadent chocolates filled with worldly flavors like dulce de leche, olive oil, and pasilla chiles. We'll wait. 
Regiis Ova Caviar by Chef Thomas Keller
Sending someone nice caviar is like giving them a party in a (very chic) tin. Chef Thomas Keller developed this caviar with his chefs at The French Laundry, which is to say it is delicious. Don't forget to include potato chips and crème fraîche for the full experience. 
Driftaway Single Origin Coffee Sampler
For the serious coffee fiend, four packets of freshly roasted whole coffee beans from unique growing regions around the world offer the opportunity to really expand their palette. 
Small-Batch Quarterly Hot Sauce Subscription
We all have someone on our list who puts hot sauce on everything, and now you can make sure they always have something new to try with this year-long subscription that delivers the tastiest hot sauces (12 in all) from small-batch purveyors all over the country right to their door. 
Sfoglini Seasonal Pasta Subscription
For the giftee who doesn't believe in "carb-free." Each month for 3 months, 6 months, or 1 year, your lucky gift recipient will get one box of this Brooklyn brand's signature pasta as well as one box of an unexpected seasonal variety like fennel, chili, or mint. 
Olympia Provisions Pickle of the Month Club
Give your farmer's market fanatic some produce inspiration with a monthly delivery of deliciously-pickled seasonal vegetables from renowned antipasti maker Olympia Provisions. Think options like: curried cauliflower, zucchini, beets, even celery, all of them sure to make sandwiches, salads, and charcuterie plates pop. 
Signature Mille Crêpes Cake
For a gift that truly takes the cake, order one of these specialties, made with delicate, paper-thin crepes and pastry cream, and caramelized until it gleams like the top of a great creme brûlée. 
Rogue Creamery's Beautiful Blues
In 2019, for the first time ever, an American-made cheese took home the top honors at the World Cheese Awards in Bergamo, Italy. That cheese? Rogue Creamery's Rogue River Blue Cheese. For a patriotic cheese aficionado, what could be better than a sampler of the creamery's beloved blues?
Southeast Asian Omsom Sampler
For the home cooking looking to expand their repertoire or simplify their daily prep, these sauce starters will kickstart any dish. Available in a range of authentic East Asian and Southeast Asian flavors like Thai Larb, Korean Spicy Bulgogi, and Filipino Sisig, they're the easiest way to bring your favorite flavors home. 
Vietnamese Pour Over Coffee Filters
For the traveling coffee connoisseur in your life, try this convenient option. The single servings of pour over Vietnamese coffee, is women-owned and sustainably-sourced Copper Cow Coffee. They'll be waving goodbye to their 4:00 PM coffee shop run, that's for sure.  
New York Brunch
Give a taste of classic NYC in this special package from the famous appetizer shop Russ & Daughters, including bagels, the restaurant's beloved smoked salmon, and a chocolate babka, plus cream cheese and coffee, of course. 
More: Classic New York Foods to Order Online Now
Red Clay Cold-Pressed Hot Sauce & Spicy Honey
These hot sauces and honeys are all handmade in South Carolina from local ingredients. Unlike most hot sauces, they are meant to enhance other flavors, not totally dominate the dish. We particularly like drizzling the hot honey on pizza or chicken and biscuits.
Wine Club Subscription
$90 per month for 6 bottles
Oenophiles looking to branch out will love the personalized selections in these monthly boxes. You can choose between red wine, white wine, or a mix and even take a quiz (with questions on everything from the level of sweetness you prefer in your wine to whether you like Argentinian Malbec more than New Zealand Sauvignon Blanc) to help the service pick out prime selections from bottles from all around the world. 
More: The Best Wine Subscription Boxes for Every Type of Wine Lover
Commander's Palace Three-Course Shrimp & Grits Dinner for 2
Even if you can't make it to New Orleans, you can still eat like it with a three course meal from this iconic NOLA institution including garlic bread, turtle soup or seafood gumbo, wild shrimp and cognac with creole cream cheese grits, and a whole pecan pie.
Truffle & Cacio e Pepe Mac & Cheese Combo Pack, For 4
Give their comfort food and upgrade with this selection of indulgent cacio e pepe macaroni and cheese and truffle macaroni and cheese from Wolfgang Puck. Both are made with housemade cavatappi pasta and lush cheeses that make for an irresistible treat. 
Stone Hollow Farmstead Bloody Mary Sampler
Nothing goes better with a luxe brunch than a good Bloody Mary, and these artisan blends made from fresh produce from this family-owned Alabama brand (plus pickled okra for garnish) definitely qualify. 
Build Your Own Spice Trio
Many of us a new appreciation for our spice cabinets, and in turn a new appreciation for the value of spices and where they come from. This brand, dedicated to making the Indian spice trade more equitable, works to support farmers and create more sustainable agricultural processes. Of course, the fact that their single original turmeric, cumin, pepper, are all the most flavorful versions of them you've ever tasted certainly doesn't hurt either. 
Seedlip Non-Alcoholic Spirits Trio Pack
The non-drinkers in your life deserve something extra special to sip, and these non-alcoholic spirits—which are distilled by the same method as traditional tipples, but without the booze—definitely fit the sophisticated mocktail-making bill. Seedlip offers three iterations: Spice 94, an aromatic warm-spiced citrus flavor that's perfect for the holidays; Garden 108 a crisp, herbaceous. floral flavor; and Grove 42, which has a citrus-forward palette of orange accented by lemongrass and a hint of pepper. 
More: The Best Non-Alcoholic Spirits for All Your Mocktails
Fly by Jing Sichuan Chili Crisp
Our national chili crisp obsession shows no signs of slowing down and this intensely flavored version has developed a major fan following for its ability jazz up essentially anything you'd care to put it on (yes, they even suggest ice cream.)
Wagyu Burgers
Get the grill lover this set of twelve half-pound burger patties made from richly marbelized Wagyu beef (the American breed descended from Japan's famous Kobe cattle) and twelve made from a mix of Wagyu brisket, sirloin, and short rib—it will take their burger game to new heights.
Levain Cookies
SHOP NOW
$27 for four, $68 for a dozen
caviar.com
New Yorkers have long been obsessed with this mega-sized, meal-worthy cookies, and now they're available in giftable packs featuring their signature flavors Chocolate Chip Walnut, Dark Chocolate Chocolate Chip, Oatmeal Raisin, and Dark Chocolate Peanut Butter Chip. (Local shipping in NYC is available through Caviar, and nationwide through levainbakery.com.)
Essential Collection For 3-4
It doesn't get much more indulgent than a delectable gifting of caviar. This collection of essentials by Caviar Russe contains everything you need for a luxurious tasting, including 125g of the Caviar of your choice, house-made blinis, creme fraiche, and of course mother of pearl serving utensils.
Saffron Gold
Make their culinary experience that much better with Acid League's citrusy-saffron sauce, which is also made with fermented peppers, roasted garlic, and honey. They'll be adding it to everything from roast chicken to fish tacos in no time at all.
This content is created and maintained by a third party, and imported onto this page to help users provide their email addresses. You may be able to find more information about this and similar content at piano.io