40+ Best Netflix Original Series 2022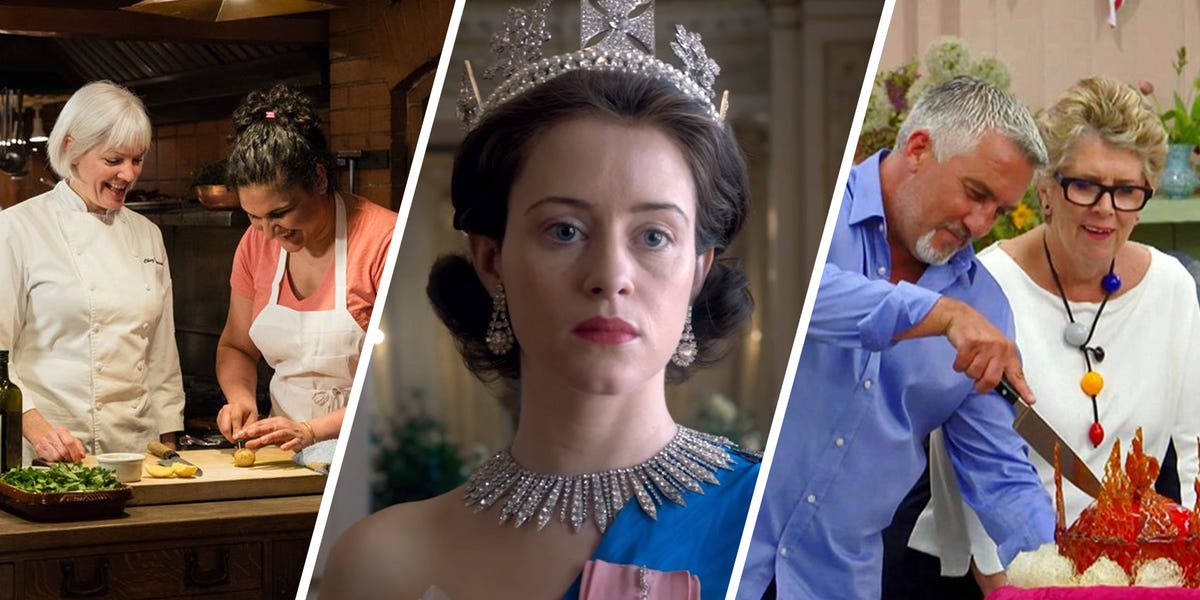 The glut of excellent television available these days is almost intimidating, and with streaming services like Netflix jumping into the ring with their own all-new content, there are more options than ever. But which ones truly deserve your precious free time? From historical dramas and true crime thrillers to rib-splitting comedies and cooking shows that will make your mouth water, these Netflix original series provide everything you need to make your next binge watching session truly spectacular.
Bridgerton
Watch Now
Based off the bestselling books by Julia Quinn, Bridgerton, a steamy period drama, follows the eight close-knit siblings of the Bridgerton family as they look for love and happiness in high society. Season one followed the eldest daughter, Daphne (Phoebe Dynevor) and her romance with a Duke, Simon Basset (Regé-Jean Page). Season 2 of Bridgerton, following the enemies-to-lovers story of Anthony (Jonathan Bailey) and Kate (Simone Ashley), will premiere on Netflix on March 25.
The Queen's Gambit
Watch Now
The Queen's Gambit follows 1960s chess champion Beth Harmon (Anya Taylor-Joy) on her rocky road to stardom. The character was created by Walter Tevis for his 1983 book of the same name, but drew on real-life chess drama. The show became Netflix's most-watched scripted miniseries after just four weeks on the platform, and won 11 Emmys.
"If I've learned anything from being in this industry, it's never say never," series star Anya Taylor-Joy tells T&C of a possible second season. "I adore the character, and I would certainly come back if I was asked to, but I do think we leave Beth in a good place."
Dead to Me
Watch Now
If you enjoy watching dark comedy, Dead to Me is for you. The show follows Jen (Christina Appelgate), a woman whose husband recently died in a hit-and-run. Jen is determined to solve the crime as she mourns his loss. At a grief support group, she meets optimistic free spirit Judy (Linda Cardellini), and they become unlikely friends. We won't spoil you any further. Seasons one and two are now streaming, and season three wrapped filming at the end of 2021.
Life in Color with David Attenborough
Watch Now
David Attenborough travels the world from the rainforests of Costa Rica to the snowy Scottish Highlands to reveal the extraordinary and never-before-seen ways animals use color. Only three episodes long, this nature documentary is a delightful miniseries.
Shtisel
Watch Now
Shtisel is an an Israeli series about a fictional Haredi ("ultra-Orthodox" Jewish) family living in Jerusalem, focusing on the lives of Shulem Shtisel (Dov Glickman), a rabbi, and his large family. The social media response to the show streaming on Netflix was so immense after the first two seasons that the creators made a third season four years after season two ended. All three seasons are now on Netflix.
Chef's Table
Watch Now
Whether you're fascinated by the lives and creative processes of chefs or you're just enthralled by grade-A eye candy, you might want to add Chef's Table to your watch list. Each hour-long documentary episode profiles a famous chef from around the world (including Nancy Silverton, Dan Barber, and Enrique Olvera), tracking their path to culinary greatness and exploring their food, lovingly filming dishes in gorgeous detail.
Grace & Frankie
Watch Now
Buttoned-up Grace (Jane Fonda) and free-spirited Frankie (Lily Tomlin) are flabbergasted when their husbands (Martin Sheen and Sam Waterson) announce that they've been carrying on a secret romance for the past twenty years. Stunned, the unlikely duo turn to one another to find ways to cope with their new status quo in this Emmy-nominated comedy.
The Great British Baking Show
Watch Now
The Great British Bake Off (GBBO to those in the know) has been a huge hit on UK television for years, but American audiences can now watch it on Netflix. In this feel-good competition show (known here as The Great British Baking Show due to Pillsbury's ownership of the term "bake off"), amateur bakers pit their skills against daunting challenges like exotic breads, chocolate soufflé, and even wedding cake.
Queer Eye
Watch Now
This Emmy-winning reboot of the beloved early-00s makeover show features the Fab Five, a group of five queer people, giving the looks and lives of the style-challenged a little zhuzh. With grooming tips, closet revamps, interior design renovations, menu makeovers, and life skill tutorials, the Fab Five help and connect with their subjects with heart-warming and often hilarious results.
Wild Wild Country
Watch Now
Netflix's gripping docuseries introduced a new generation of Americans to the story of Rajneeshpuram, a utopian commune founded in Oregon in the 1980s by cult-leader Bhagwan Shree Rajneesh. In the years before its leadership left the country, the group took over thousands of acres of land, attempted to infiltrate local government, and perpetrated the largest bioterror attack in US history.
Collateral
Watch Now
From the screenwriter of The Hours and The Reader, this four-episode series was a hit on the BBC before Netflix imported it. It stars Carey Mulligan as the police detective assigned to the seemingly random murder of a pizza delivery boy, but as she digs into the circumstances surrounding the killing, it becomes increasingly clear that there's something more sinister at work.
The World's Most Extraordinary Homes
Watch Now
Architecture buffs will love getting a sneak peek inside some of the most unique and adventurous houses around the world. From a retreat crafted from the wings of a 747 to a subterranean Scandinavian paradise, a serpentine space-saver to a Stone Age-inspired communal living space, hosts Piers Taylor and Caroline Quentin explore what it's like to design and live in these truly out of the box homes.
Alias Grace
Watch Now
Based on the novel by Booker Prize-winning author Margaret Atwood, this thriller was inspired by the real life case of Grace Marks, a domestic servant who was convicted of the murder of her employer in 1843 Ontario. The series revolves around a psychiatrist attempting to determine if Grace deserves parole for her crimes, in the process stumbling into questions about Grace's history, sanity, and whether or not she's been playing him for a fool all along.
The Keepers
Watch Now
This Emmy-nominated true crime docu-series takes a look back at the cold case of the murder of Sister Catherine Cesnik and the links between her death and an abusive priest.
A Series of Unfortunate Events
Watch Now
This clever adaptation of the best-selling children's book series is a winner for the whole family. The show follows the trials and tribulations of the Baudelaire orphans as they attempt to escape the clutches of the nefarious Count Olaf (Neil Patrick Harris) and uncover the mystery behind their parents' death and the secret society to which they may have belonged. Where the movie adaptation of the series mostly failed to deliver on the darkly funny aesthetic of the books, the show captures it perfectly.
Salt Fat Acid Heat
Watch Now
Chef Samin Nosrat, author of the James Beard Award-winning cookbook Salt, Fat, Acid, Heat, hosts a four-episode exploration of the elements that shape our food—yes, fat, salt, acid, and heat—but more fundamentally, the cultural and familial traditions that shape how and what we eat. Nosrat visits with farmers who raise food in Italy, Japan, Mexico, and the United States, and spends time in the kitchens of home cooks—most of them women—who make each meal they prepare a quiet celebration of their family and identity.
House of Cards
Watch Now
It's the show that started the Netflix original programming empire. In the wake of the scandal surrounding star Kevin Spacey's sexual misconduct, the award-winning House of Cards (an American reboot of the '90s British hit) underwent a major revamp, killing off Spacey's ruthless Francis Underwood and making room for Robin Wright's Claire Underwood to take over as President of the United States. The show's sixth and final dramatic season landed in 2018.
Bloodline
Watch Now
This slow-burn family drama centers on the Rayburns, who are hiding some dark secrets behind their facade as pillars of their Florida Keys community. Starring Kyle Chandler, Sissy Spacek, Linda Cardellini, and Norbert Leo Butz, the twisting show delves into the dark side of an American family.
Ugly Delicious
Watch Now
Chef David Chang (of Momofuku fame) digs into the history of your favorite dishes like pizza, tacos, and fried chicken to question everything you think you know about authentic eating. Playful, informative, and irreverent, this show is guaranteed to change the way you think about your go-to meals.
Stay Here
Watch Now
The home makeover show meets Airbnb when designer Genevieve Gorder and real estate guru Peter Lorimer team up to help short-term rental owners revamp their properties and business strategies.
Stranger Things
Watch Now
Life takes a turn for the weird for four young friends as they try to uncover the truth about the mysterious disappearance of their pal, Will. What they uncover—a world of superpowered girls, government conspiracies, and monsters from a dark alternate universe—will permanently change them and their sleepy little town in this Netflix mega-hit.
The Unbreakable Kimmy Schmidt
Watch Now
This much lauded Netflix comedy revolves around Kimmy, a young woman who moves to New York after spending years underground with a doomsday cult. If that doesn't immediately sounds like a laugh riot, take in the fact that it's the brainchild of creator Tina Fey and garnered 18 Emmy nominations in its four-season run, then give this plucky misfit and her found family, including comedy greats like Jane Krakowski and Carol Kane, a chance.
Somebody Feed Phil
Watch Now
Feeling the wanderlust? Everybody Loves Raymond creator Phil Rosenthal eats his way across the world in this charming food travelogue. Between noshing on pasta with Massimo Bottura and sharing a bite with Nelson Mandela's grandson, he explores all of the sights and experiences of some of the most beautiful and unique travel destinations on the planet with an excitement and wonder that is sure to inspire your next vacation (or vacation daydream).
Lost in Space
Watch Now
A new spin on the classic 1960s family sci-fi, this Netflix adaptation pits the Robinsons against the elements, an alien robot, and a mysterious doctor (played by the delightful Parker Posey) who is not all that she appears. Thoughtful, action-packed, and full of heart, this family show has something for everyone.
Mindhunter
Watch Now
For thriller addicts, this drama series tells the story of the early years of the FBI's behavioral analysis program. By delving into the psychology of serial killers like Ed Kemper (played by Cameron Britton in an Emmy-nominated performance) FBI agents Ford (Jonathan Groff) and Tench (Holt McCallany) challenge traditional crime-solving techniques to try and catch a nefarious murderer.
Million Pound Menu
Watch Now
There's more to running a restaurant than just food. On this reality competition, UK food entrepreneurs open pop ups to vie for the attention and backing of some of the biggest names in the restaurant industry, proving not only their culinary creativity but also their business and branding prowess.
One Day at a Time
Watch Now
Nostalgia fans and sitcom lovers will fall for this modern take on the beloved '70s comedy. Centered on Penelope, a newly single Army veteran raising her kids with the help of her mother (the indomitable Rita Moreno) and her over-involved landlord, the show brings classic sitcom laughs while addressing modern issues like immigration and sexual identity.
The Big Family Cooking Showdown
Watch Now
For anglophile foodies, this reality competition pits families of British home cooks against one another to serve up their tastiest and most creative meals for celebrity chef judges Rosemary Shrager and Giorgio Locatelli.
Ozark
Watch Now
Fill the gaping hole that Breaking Bad left in your TV schedule (and heart) with this tale of financial planner Marty Byrde (Jason Bateman) as he's forced to move his family to Missouri after a failed money laundering scheme lands him in hot water with a drug cartel. To make up for the loss, Marty has to take on an even bigger laundering enterprise while navigating the seedy criminal underbelly of the Ozarks.
Peaky Blinders
Watch Now
Based on a true story, Peaky Blinders follows the Shelbys, a crime family from Birmingham, England. The show, taking place just after the First World War, charts the exploits of this gangster group as they attempt to gain power in this era. Peaky Blinders's sixth season, set to premiere in the UK on February 27, 2022, will be the final season.
Black Mirror
Watch Now
For the dystopia-lovers out there, look no further than Black Mirror, the buzzy British show examining the possible consequences of technology. Be warned—the show gets dark, but there's no doubt it'll keep you thinking long after each episode ends.
Anne with an E
Watch Now
Based on the beloved 1908 novel Anne of Green Gables, Anne with an E charts the life of a gregarious and lively 19th century orphan named Anne Shirley. The series follows her move into a new home and explores her friendships and education, all while also exploring complex themes like gender, race, and individuality.
The Politician
Watch Now
This star-studded dramedy takes you into the absurdist world of the Santa Barbara, California elite, exploring a young, ambitious man's journey to higher office. The show was created by Ryan Murphy (Glee, American Horror Story) and stars Ben Platt, Gwyneth Paltrow, Zoey Deutch, Jessica Lange, and Lucy Boynton.
Cheer
Watch Now
This docuseries has captured the attention of the nation with its gripping portrayal of the Navarro College competitive cheerleading team. Watch as they work to win the national title—we promise you won't be able to turn away. A second season premiered in January 2022.
You
Watch Now
This jaw-dropping psychological thriller will keep you glued to your screen until you finish the show's two seasons. Originally a Lifetime series, the show stars Penn Badgley (of Gossip Girl fame) as an obsessive romantic with a real dark side.
Sex Education
Watch Now
Sex Education is a charming British comedy exploring the relationship between an awkward teenage boy and his sex-therapist mother. While there's no shortage of explicit footage, the show gives you a raw, real look at the challenges teenagers (and their parents) face in terms of love and romance.
The Haunting of Hill House
Watch Now
Ready to be spooked? Look no further than The Haunting of Hill House, a supernatural horror drama about paranormal experiences taking place in an old, scary house. The story cuts between the present and past, making it even eerier when all the pieces come together.
GLOW
Watch Now
GLOW is the 1980s women's professional wrestling dramedy you never knew you needed. Starring Alison Brie, the show explores the interpersonal relationships between women reinventing themselves as professional wrestlers.
This content is created and maintained by a third party, and imported onto this page to help users provide their email addresses. You may be able to find more information about this and similar content at piano.io