40+ Best Things to Do in NYC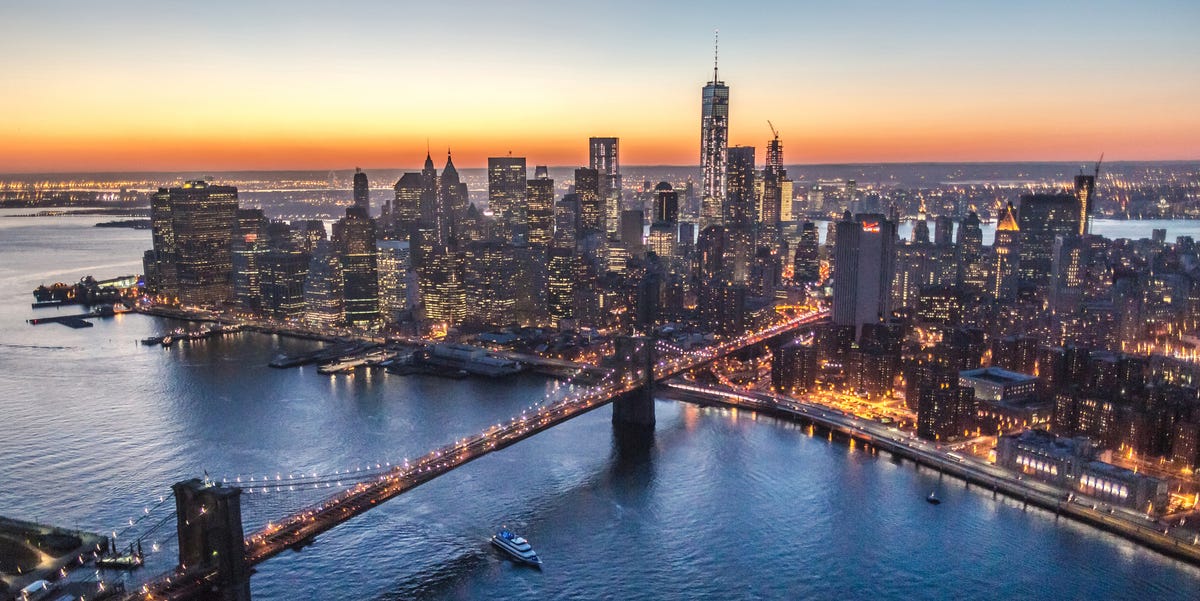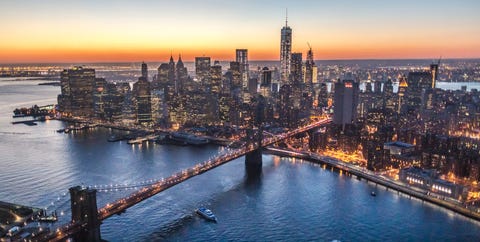 WIN-InitiativeGetty Images
Have breakfast at Tiffany's.
Take in outdoor theater at Shakespeare in the Park.
"Seeing a Broadway show is great, but if you're in New York in the summertime, nothing beats Shakespeare in the Park. It's a free series put on by the Public Theater in an open-air venue in Central Park, and combines astonishing performances from incredible talent with a night under the stars for an unbeatable theatrical experience." —Adam Rathe, Senior Editor (Arts and Culture)
Following COVID-19-related shutdowns, New York City's Public Theater brought back Shakespeare in the Park in 2021, staging a production of Merry Wives this past summer.
Visit the Metropolitan Museum of Art.
"Every time I go, I encounter a room I've never been to before. But I never leave without visiting the medieval armor on the first floor."—Jamie Rosen, Contributing Editor
Go for a walk in Central Park.
843 acres are open to visitors in America's most-visited urban park, which was designed in 1858 by landscape architects Frederick Law Olmsted and Calvert Vaux after they beat out 32 competitors for the project. Now a National Historic Landmark, the park is full of places to explore, starting with its zoo, Bethesda Fountain, the mall (shown here), and Woolman Rink. Even the Metropolitan Museum of Art technically falls within its confines.
See a show at the Park Avenue Armory.
The expansive 55,000-square-foot drill hall plays host to year-round events, including the Winter Show, TEFAF New York, and its own cultural programming. But what you might not know is that visitors can tour other areas like the first-floor period rooms and restored Board of Officers Room and Veterans Room with a guide.
Due to the ongoing pandemic, all ticket holders must be fully vaccinated. To learn more about the events at the Armory, visit its website here.
Walk around the Columbia University campus.
Even if your college days are in the past, you can still explore the city's only Ivy League institution. Head out on a self-guided tour or choose one of the options with a guide, including one that covers the history, architecture, and sculpture of the Morningside Heights campus. For more architectural splendor in the neighborhood, don't miss the Cathedral of Saint John the Divine.
Take in a show at the Café Carlyle.
There isn't an Upper East Side experience more traditional than drinks at Bemelmens Bar and a show at Café Carlyle. The cabaret theater has hosted luminaries like Alan Cumming and Judy Collins since its debut in 1955. Unfortunately, Café Carlyle is temporarily closed until further notice due to COVID-19.
Wander around The Cloisters.
Located on four acres overlooking the Hudson River in Upper Manhattan's Fort Tryon Park, this annex of the Metropolitan Museum of Art includes four cloisters and a group of reconstructed chapels and halls from medieval French monasteries and abbeys.
Check out the New York Botanical Garden.
The 250-acre National Historic Landmark in the Bronx hosts more than a million visitors annually. One of its recent top draws? Yayoi Kusama's Cosmic Nature exhibition, which ran through October 2021.
Explore the history of design at the Cooper Hewitt.
America's only museum dedicated solely to design has been a branch of the Smithsonian since the 1960s. It now has a collection of more than 210,000 design objects that span 240 years, all housed in industrialist Andrew Carnegie's former mansion on the Upper East Side. Plan your visit here.
Tour the Frick Collection.
The Gilded Age mansion of industrialist Henry Clay Frick is one of the most visually interesting places to visit in the city today. But for through 2023, the Frick won't be where we've always known it. While the museum is being upgraded by architect Annabelle Selldorf, its treasures will be a few blocks away, in the Frick Madison, the building Bauhaus architect Marcel Breuer designed for the Whitney Museum of American Art in the mid-1960s.
Pick up cheese (and a lot more) at Zabar's.
"The king of the old-school appetizing shops, Zabar's is not a deli, as you can't order lunch. It's not a supermarket, as there's no produce (well, not much), and you can't get paper towels or dish soap. But it has the best selection of cheeses on earth (not an exaggeration), many of them very inexpensive. And prepared foods. And outstanding, reasonably priced coffee. And loose tea of several dozen kinds. And who else has a lox counter—just lox, nothing else. And I haven't even mentioned the kitchenwares department upstairs, which is one of New York's best-kept secrets."—James Lochart, Copy Chief
Pay a visit to Lincoln Center.
The Metropolitan Opera, New York Philharmonic, Chamber Music Society of Lincoln Center, and New York City Ballet all perform here. After canceling the entirety of its 2020–21 season, the Metropolitan Opera reopened in September 2021 with "Fire Shut Up in My Bones" by Terence Blanchard, the first opera composed by a Black musician to be hosted there.
Visit the Museum of the City of New York.
Located at the northern end of Fifth Avenue's Museum Mile, MCNY offers exhibitions on the city's art and history, including "New York at Its Core," which charts the city's rise from a striving Dutch village to today's "Capital of the World."
Go to the American Museum of Natural History.
Founded in 1869, the American Museum of Natural History now has more than 32 million specimens and cultural artifacts in its collection. Stroll through the museum's 570,000-square-foot space on Central Park West, which includes 45 permanent exhibit halls including dinosaur fossils, stunning dioramas, and, in the Milstein Family Hall of Ocean Life, a 94-foot-long, 21,000-pound model of a blue whale suspended from the ceiling.
Dine at one of the world's best restaurants (without breaking the bank).
Stroll through Riverside Park.
"This park—which runs along the Hudson River from 79th to 129th streets—is never crowded, almost devoid of tourists, and perfect for a warm weather stroll. Don't miss the pretty community garden (which made a cameo in You've Got Mail) around the 91st street mark."—Leena Kim, Associate Editor
Admire the architecture and exhibitions at the Morgan Library.
"There are bigger and more famous museums in Manhattan, but the Morgan Library—built in the early 1900s by McKim, Mead & White to house the library of Pierpont Morgan—is something of a hidden gem. The museum houses impressive exhibitions you won't catch at other institutions, and its permanent collection of manuscripts and rare books is one of a kind."—Adam Rathe, Senior Editor (Arts and Culture)
Check out New York's spy museum.
Located in the middle of Midtown, SPYSCAPE provides an interactive deep-dive into the worlds of deception, encryption, surveillance, hacking, intelligence, cyber warfare, and special ops. One especially cool feature is the Special Ops Tunnels, laser mazes that test visitors' agility and reaction times (think Catherine Zeta-Jones in Entrapment). Get tickets here.
See a show at Joe's Pub at the Public.
Joe's Pub is an independent, non-profit music venue at the Public Theater that supports and showcases performing artists at every stage of their careers. Check out its programs here.
Visit one of the city's cathedrals.
St. Patrick's Cathedral is easily the city's most famous. The brick and marble Roman Catholic church, which opened in 1879, can seat 2,200 during non-COVID-19 times.
Explore Grand Central Terminal.
Even if you are just passing through to catch a train, the station— completed in 1913—is an architectural marvel. Plan your visit here.
See a Broadway show.
Many Broadway theaters reopened to vaccinated and masked audiences in October 2021, 18 months after the pandemic forced them all to close. Take a look at what's open now here.
Study (or pretend to) at the New York Public Library.
Walk up the steps of the Beaux-Arts Stephen A. Schwarzman Building of the New York Public Library and past the Library Lions to discover one of the city's best public spaces.
Take in the view from the top of the Empire State building.
Book Now From $42
From 1 p.m. until late 365 days a year, the 1,454-foot-tall Empire State Building's two observation decks provide unobstructed, panoramic views of the city. A 2007 poll conducted by the American Institute of Architects also named the country's tallest LEED-certified building "America's Favorite Architecture," putting it ahead of even the White House.
Go on a food tour of the Lower East Side.
Book Now From $60
"The hip downtown neighborhood is home to some of the city's most historic places to grab a bite, and this three-hour guided food tour allows you to experience them all. You'll sample warm knishes at Yonah Schimmel Bakery, crunchy half-sours at the Pickle Guys, and traditional Jewish deli fare at Russ & Daughters, among other local favorites."—Lindsay Silberman, contributor
Check out a candy store that's been open since the 1930s.
"Few places give you a taste of nostalgia quite like Economy Candy in Manhattan's Lower East Side. The sweets shop, which has been in business since 1937, is stocked from floor to ceiling with every vintage candy imaginable—from Abba-Zaba bars to Turkish Taffy. The store's owner often tells customers 'if you can't find it here it's not being made and if it is made, we'll find it for you.'"—Lindsay Silberman, contributor
Visit a holiday pop-up bar.
Open from early November through New Year's Eve, Miracle on 9th Street and Sippin' Santa serve holiday drinks in a festive setting—the perfect way to end the year on a high note. At Miracle, try the Snowball Old Fashioned (rye, gingerbread, angostura, wormwood bitters, orange essence), and at the tiki-themed Sippin' Santa, give the Mistletoe-to-Toe a go (it's a cocktail made for two with bourbon, walnut liqueur, Jamaican and Puerto Rican rums, lime, orange, and maple syrup).
Dine at Indochine.
"In a city where trendy restaurants come and go, Indochine is something of an anomaly. The French-Vietnamese eatery has been an enduring staple of the downtown fashion set for more than 30 years—a place where Andy Warhol, Halston, and Jean-Michel Basquiat regularly dined and partied until sunrise. Nowadays, the décor is slightly dated and the menu hasn't changed much, but that's all part of Indochine's charm. When you go, don't leave without trying the crispy shrimp."—Lindsay Silberman, contributor
Go on a culinary tour of Chelsea Market.
"This food market, which features shops and stalls that specialize in everything from hummus (Dizengoff) and halvah (Seed + Mill) to spices, fish, matcha, tacos, and kitchen supplies, was way ahead of its time in bringing together disparate vendors under one roof, and it continues to be a great way to spend a weekend morning (it does get really busy in the afternoons)."—Jamie Rosen, Contributing Editor
Walk along the High Line.
"After walking through Chelsea Market, which spans an entire city block, head up to the High Line, an elevated park on former train tracks."—Jamie Rosen, Contributing Editor
Visit Little Island.
Opened in May 2021 with major financial support from Barry Diller and Diane von Fürstenberg, Little Island is a 2.4-acre public park at Pier 55 in Hudson River Park at West 13th Street. During the winter, the park is open to the public daily from 6 a.m. to 8 p.m., with no reservations required through mid-March. In the warmer months, reservations can be made at littleisland.org.
Find something unexpected at John Derian.
Visit Tesla's store in the Meatpacking District.
Tesla's 10,900-square-foot showroom offers an up-close-and-personal look at the automaker's eye-catching electric vehicles.
Shop in the Oculus.
The transportation hub designed by Spanish architect Santiago Calatrava near the World Trade Center cost nearly $4 billion to build and contains the largest shopping mall in Manhattan. Stop by for the views; stay to peruse the selection at London Jewelers and Longines.
Graze at Via Carota.
"This West Village spot is the best place for an aperitif and fresh vegetable-centric small plates on a summer evening. The sidewalk chairs and tables add to its charming, rustic European vibes."—Leena Kim, Associate Editor
Eat and drink at one of the city's best rooftop destinations.
In the spring and summer, Gallow Green is a garden rooftop bar on top of the McKittrick Hotel in Chelsea, home of the immersive theater spectacle Sleep No More. It's outfitted like a secret garden in an abandoned Scottish train station, and the rooftop venue specializes in cocktails including signature large-format punches along with seasonal cuisine for dinner and brunch on the weekends.
Sample the products at Manhattan's first whiskey distillery since Prohibition.
Located at 686 Broadway in the NoHo neighborhood, Great Jones Distilling Co. is the first and only legal distillery to open in Manhattan since Prohibition. Visitors can tour the working distillery and sip the bourbon and rye whiskeys it produces. In October 2021, the distillery opened The Grid, a restaurant on its street level that serves classic American dishes like New York strip steak with duck fat confit potatoes, Great Jones Four Grain Bourbon, and green peppercorn sauce.
Check out the One World Trade Center Observatory.
Book Now From $45
The three-story observatory on top of the Western Hemisphere's tallest building offers some of the best sights in the world. On a clear day, you can see up to 50 miles from the top of the 1,776-foot-tall skyscraper.
Order a sandwich made with some of the world's best beef.
The first restaurant in New York to exclusively serve Wagyu beef sandwiches, Don Wagyu is located in the open-air Bowery Market. It offers up three sandwich-and-fry options that range from $28 to $180 (the top-of-the-line "sando" is made with beef from five cattle shipped to the U.S. every month from a family-owned farm in the Miyazaki Prefecture in Japan). Only about 200 sandwiches are available per day.
Find a book at the Strand.
"18 miles of books" is the slogan at this bookstore, which opened in 1927. Today it carries more than 2.5 million used, new, and rare books "covering topics as far-ranging as occult to philosophy to finance."
Dine at the South Street Seaport.
Some of the city's best new restaurants are in the South Street Seaport in Manhattans Financial District—and even more are in the works. Current hot spots include Andrew Carmellini's Carne Mare, Jean-Georges Vongerichten's The Fulton, and David Chang's Momofuku Ssäm Bar. In 2022, Vongerichten will debut the Tin Building, a 53,000-square-foot marketplace that will include a retail fish market, six full-service restaurants, a gourmet market, and various casual counters and cafes. The culinary destination was originally home to the Fulton Fish Market, which was built on the waterfront in 1907.
Have a drink on the 64th story of an Art Deco skyscraper.
Located on the 64th floor of 70 Pine Street, one floor above its sister restaurant, SAGA, Overstory offers a quintessential New York evening experience. Order a cocktail in its 24-sear bar, and then head outside to take in the stunning 360-degree view from the wraparound terrace. The drinks are overseen by Bar Director Harrison Ginsberg, while Overstory is owned and operated by James Kent and Jeff Katz, the team behind SAGA and Crown Shy. Reservations begin at 5 p.m. each night and run through 2 a.m. A waiting list is managed by the host team in the lobby of 70 Pine Street.
Pay your respects at the National September 11 Memorial & Museum.
Buy Tickets From $28
The 9/11 Memorial (shown here) includes two massive pools that cover the original footprints of the Twin Towers, with nearly 3,000 names of the men, women, and children killed in the attacks inscribed into bronze walls surrounding the pools. Downstairs, the 9/11 Memorial Museum displays artifacts linked to the events of 9/11 and tells the stories of the victims.
Take a helicopter tour of the city.
Book Now From $195
In 15 minutes, you can see a lot more from the air than you would in a whole day of touring by foot. After boarding the chopper at the Downtown Manhattan Heliport, you'll be able to take in sky-high views of the World Financial Center, Statue of Liberty, Central Park, Chrysler Building, and other landmarks.
Walk over the Brooklyn Bridge.
The 5,989-foot-long Brooklyn Bridge, which opened in 1883, offers a quintessential New York experience for walkers and bikers. It also features some of the best views of the city's skyline.
Pick up Peter Pan Donuts before heading to the park in Brooklyn.
"Everyone's got a favorite spot for baked goods, and one of ours is this Greenpoint, Brooklyn donut shop that's been churning out sweets since the 1950s. If you can make it through the ever-present crowd, snag a seat at the retro counter and order a few—we like the chocolate and blueberry buttermilk varieties—to share with friends. Otherwise, take some to go and feast in nearby McCarren Park."—Adam Rathe, Senior Editor (Arts and Culture)
Bike to the beach.
"In what other city is this even an option? You can ride to Coney Island/Brighton Beach fairly easily (from Brooklyn or Manhattan), and there are lots of things to do when you get there (roller coaster, aquarium, Russian restaurants—even minor league baseball!). But if what you want is just beach, go to Jacob Riis State Park/Fort Tilden. You feel as if you've made it to the edge of the world."—James Lochart, Copy Chief
Visit the Statue of Liberty on Ellis Island.
Buy Tickets From $44
While the crown has not yet reopened, tours of Ellis Island that include the Statue of Liberty's pedestal and observation decks, as well as through the Great Hall exhibits at Ellis Island, are easily bookable.
This content is created and maintained by a third party, and imported onto this page to help users provide their email addresses. You may be able to find more information about this and similar content at piano.io