40 Most Romantic Restaurants in NYC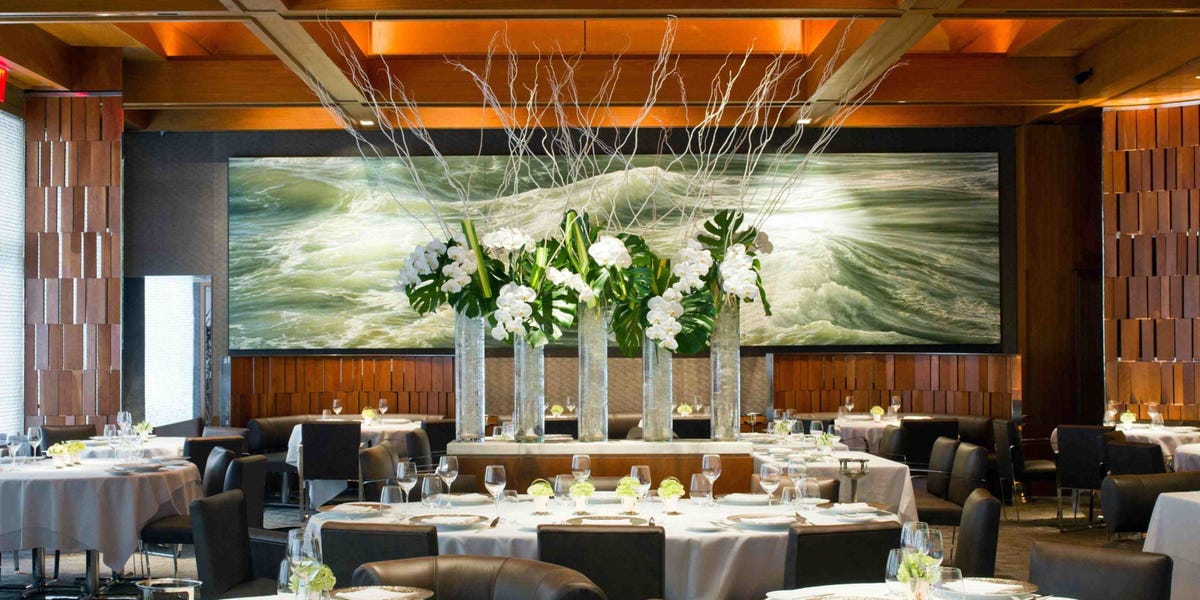 Whether you've been together for years or are cozying up to someone new, the restaurant choice can make or break a date night. From intimate ambiances to indulgent cuisine and wine, we've narrowed down the top choices from all across New York City. Here are restaurants that prove incredible meals–and a romantic setting–are the best way to someone's heart.
1
L'Artusi
Although reservations should be planned far in advance, L'Artusi is well worth the wait. From the outside the cozy Italian eatery may seem nondescript, but upon entering you realize this bi-level restaurant couldn't be further from that. The West Village hotspot is the master of dichotomy– creating an atmosphere that is both energetic and intimate while delivering quality Italian food that is as creative as it is traditional. You would be remiss to not pair at least one pasta, such as the gnocchi with rabbit or the bavette with clams with a bottle of the restaurant's impeccable selection of Italian wines.
228 West 10th St., New York City, NY 10014; (212)-255-5757
READ REVIEWS
2
The Grand Salon at the Baccarat Hotel New York
If your want to feel like royalty on your romantic evening out, it's hard to outdo this crystal palace, with it's silk-covered walls, 22-foot ceilings, and absolute oodles of gleaming, glittering Baccarat crystal. The food, from Michelin-starred chef Gabriel Kreuther, blends French and German influences while the opulent cocktails from the celeb-magnet bar (sipped from Baccarat glasses, of course) offer everything from an Angostura cotton candy-topped old fashioned to vintage champagne.
28 W 53rd St., New York, NY, 10019; (212) 790-8800
READ REVIEWS
3
Shuko
Behind an unmarked door in Greenwich Village lies this jewel box of a sushi restaurant (with seating only at the blonde wood counter and one or two select tables, reservations are a must.) The kaiseki-only menu puts you in the hands of the chefs, who craft exceptionally craveable, mouthwatering bites right in front of you from the very finest fish and seasonal ingredients.
47 E 12th St., New York, NY 10003; (212) 228-6088
READ REVIEWS
4
Le Bernardin
For more than 20 years, Eric Ripert has won over critics and discriminating diners alike with his sophisticated, artful approach to seafood. While the main dining room focuses on a more formal experience–jackets are required for gentlemen, and only tasting menus are offered–the adjacent lounge is a smart (and equally delicious) spot for casually lingering over oysters, caviar, and wine from the impressive 15,000-bottle collection.
155 W. 51st St., New York, NY 10019; (212) 554-1515

READ REVIEWS

5
The Polo Bar
First off, reservations are a must (you can't enter the restaurant without one), so simply being here feels exclusive. Then there's the handsome space, kitted out with tan leather banquettes, emerald green walls, and, in true Ralph Lauren fashion, equestrian-inspired art. The menu favors American comforts, as evidenced by the best-selling, bacon and cheese-topped Polo Burger. Pro tip: it's so generously sized, it's great for sharing.
1 E. 55th St., New York, NY 10022; (212) 207-8562

READ REVIEWS
6
Les Trois Chevaux
Acclaimed chef Angie Mar's latest outing is a return to old school glamour—making it the perfect option for treating yourself on a romantic night out. An homage to the classic French restaurants that used to dot the NYC landscape, the menu is rife with delicacies rarely seen in dining rooms today like a luxe terrine and a silky, umami mousse of veal's brain, and show-stoppers like the datenight-must roast pheasant for two, as well as surprises like a tableside cheese cart and multi-course dessert that make any evening into an event.
283 W 12th St, New York, NY 10014; (917) 261-6085
7
One If By Land, Two If By Sea
Set in a historic 1767 carriage house once owned by Aaron Burr, this West Village institution exudes romance with candlelit tables, a crackling fireplace, live piano music, and decadent prix fixe menus. Not surprisingly, it remains one of the city's most popular places to pop the question since opening in 1973.
17 Barrow St., New York, NY 10014; (212) 255-8649
READ REVIEWS
8
Rezdôra
Pasta is a love language, and if it happens to be the one you speak, there's not better place to indulge than this hot-ticket table in the Flatiron. The Michelin-starred spot from Chef Stefano Secchi, who trained at Massimo Bottura's former World's Best Restaurant winner Osteria Francescana, focuses on the cuisine of Emilia Romagna, especially handmade pastas. For the ultimate experience, opt for the all-pasta tasting menu; it's guaranteed not to disappoint.
27 E 20th St, New York, NY 10003; (646) 692-9090
READ REVIEWS
9
Buvette
Let this pint-sized, all-day eatery transport you from the West Village to Paris with its charming decor (think marble bar, tiny candlelit tables, vintage flatware) and classic bistro menu (think croissants, steak tartare, and coq a vin) by Jody Williams. Given its snug size and popularity, Buvette crowds up quickly (a pandemic-era outdoor dining set-up has only made it more popular) giving you all the more reason to get closer to your companion.
42 Grove St., New York City, NY 10014; (212)-255-3590
READ REVIEWS
10
Corkbuzz
For the wine loving couple, a stop in at Master Sommelier Laura Fiorvanti's wine-centric restaurant is a made to order date night. In addition to their impressive selection of bottles, they also offer adventurous flights and blind tasting options to help you expand your palate, as well as a green-market-driven that runs the gamut from "post-work snack" to "big night out meal". And for those who understand that no romantic night out is complete without a little bubbly, they also offer their famous Champagne Campaign, where all bottles of champagne are offered at retail price—in case you needed an excuse to celebrate.
13 E 13th St, New York, NY 10003; (646) 873-6071
READ REVIEWS
11
Lilia
Don't be fooled by the unassuming exterior and relatively quiet pocket of Williamsburg, because this highly acclaimed Italian restaurant by Missy Robbins is a sure bet. In true Brooklyn fashion, the design is understated but chic, with a wood-beamed ceiling, concrete floors, and white walls. While the space is certainly a looker, it's Robbins's irresistible, handmade pastas (like her Rigatoni Diavola and Pink Peppercorn Mafaldini) that keep Lilia perpetually packed.
567 Union Ave., Brooklyn, NY 11211; (718) 576-3095

READ REVIEWS
12
Le Coucou
Nothing says special occasion quite like French fine dining. At chef Daniel Rose and restaurateur Stephen Starr's decadent collaboration in Soho, expect the classics, from sweeping chandeliers and white table cloths to lobster à la parisienne and duck a l'orange.
138 Lafayette St.New York, NY 10013; (212) 271-4252
READ REVIEWS
13
Atomix
The NYC tasting menu scene is often dominated by European and Japanese influences, which makes this innovative Korean spot so special. Helmed by husband and wife team Chef Junghyun and Ellia Park, the elegant cuisine served at this 14-seat counter is sure to thrill devotees of Korean food and novices alike and is certain to make any date night there a night to remember.
104 E 30th St, New York, NY 10016
READ REVIEWS
15
Aquavit
Scandinavian fare might not be the first cuisine to jump to mind for a romantic night on the town, but this two Michelin-starred restaurant will make you think twice about that assumption. From the sumptuously sleek interiors to the tasting menu filled with clean, precise Nordic flavors, it's certain to be a highlight.
65 E 55th St, New York, NY 10022; (212) 307-7311
READ REVIEWS
16
Acme
Upon entering Acme you feel as if you've walked into a speakeasy not because of its art deco decor of wooden chairs and leather couches, but from the elusive atmosphere. With it's delicious menu with a wide array of bistro choices–come for a drink, or a meal, but stay for the experience.
9 Great Jones St., New York City, NY 10012; (212)-203-2121
READ REVIEWS
17
Le Pavillon
Chef Daniel Boulud's latest venture brings the romance of a dinner al fresco and gives it a serious culinary upgrade. The greenery-bedecked dining room and views of the Chrysler Building make it the stuff of NYC fantasies, while the menu, which focuses on seasonal seafood and vegetable forward fare, will be the highlight of any food-lover's night.
1 Vanderbilt Ave., New York, NY 10017; (212) 662-1000
READ REVIEWS
18
Minetta Tavern
Take a step back in time at this renovated tavern which was once a hangout for luminaries like Ernest Hemingway, Ezra Pound, and Eugene O'Neill. Nowadays, the big names are more A-list at this celeb-favorite hotspot, where the people watching is almost (almost) as good as the signature burgers.
113 MacDougal St, New York, NY 10012; (212) 475-3850
READ REVIEWS
20
Daniel
Looking to splash out? You and your special someone will feel positively regal at this fine dining palace from chef Daniel Boulud, which features classical techniques to make the most of luxe local seafood, meat, and produce. Of course, the food is only part of the story here, where the ultra-attentive service ensures that your every need and whim is artfully attended to—because for your special night out, you deserve it.
60 E 65th St, New York, NY 10065; (212) 288-0033
READ REVIEWS
21
Gramercy Tavern
Whether you opt for more casual bites and drinks in the Tavern–nab a coveted seat at the bustling bar if you can–or go for a more formal meal in the Dining Room, you'll be rewarded with friendly service, vibrant fresh floral displays, and hearty yet refined cooking by Chef Michael Anthony. Another perk? Owner and restaurateur Danny Meyer has eliminated tipping from all of his establishments, so you can let the wine really flow.
42 E. 20th St., New York, NY 10003; (212) 477-0777
READ REVIEWS
22
Zizi
If your idea of romance is less fussy and more fun, this Chelsea hub is a must. Perfect for sharing, the menu is packed with Mediterranean and Middle Eastern flavors, including a wildly addictive baba ganoush, beautifully spiced skewers, and a long-braised lamb flatbread that you and your date will be talking about long after dessert is gone.
182 8th Ave, New York, NY 10011; (646) 669-8162
READ REVIEWS
23
La Grenouille
While the decor of this family-owned midtown French restaurant couldn't be any more romantic–thanks to deep red banquettes, mirrored walls, and the famously lush floral arrangements–what keeps the dining room packed night after night is the kitchen's commitment to classic, time-tested dishes like buttery Dover sole, silky foie gras terrine, and light-as-air soufflés.
3 East 52nd St., New York, NY 10022; (212) 752-1495
READ REVIEWS
24
Oceans
Oysters get all the aphrodisiac glory, but if you really want to impress your seafood-loving lover, head to this Union Square outpost. For a datenight "wow" moment, the whole fish sashimi is a must, but don't skimp on the creative cooked options like madai snapper in Peking duck broth and the highly shareable smallplates. And sure, maybe some oysters for the table too.
233 Park Ave. South, New York, NY 10003; 212-209-1055
READ REVIEWS
26
Icca
If your love has been missing their jaunts to Japan, you can't do better (sans passport) than this Tribeca haven. The new spot from Michelin-starred chef Kazushige Suzuki features fish flown in weekly from Japan, a signature style of beef available only at Icca, and expertly curated sake pairings. Feeling a little more understated? The front bar offers its own unique menu with Italian-influenced takes.
20 Warren St, New York, NY 10007; (646) 649-3415
27
Portale
This Chelsea gem from longtime Gotham Bar & Grill chef Alfred Portale neatly threads the needle between neighborhood favorite and special occasion spot with an Italian-focused menu filled with an exciting blend of classic flavors and zing-y, refreshing takes that are sure to make it a datenight mainstay.
126 W 18th St, New York, NY 10011; (917) 781-0255
READ REVIEWS
28
Raoul's
Though the interiors of this Soho mainstay haven't changed much in over 40 years–imagine quirky original artwork, pink neon, and black tin ceilings–it's still one of the city's most beloved date spots. And in contrast to its bustling neighborhood, Raoul's feels warm and inviting. You can't go wrong with the signature steak au poivre or frisee salad, and if you can't secure a table, the bar is also terrific for cozying up with someone (and snagging one of the 12 burgers available every night).
180 Prince St., New York, NY 10012; (212) 966-3518
READ REVIEWS
30
Petit Boucherie
Spend the evening in a French bistro that may rival those of Paris– without even venturing out of Manhattan. The romantic ambiance of red leather banquets and wood panels is made even more marvelous with a menu full of bistro classics: everything from escargots to tarte tartin. A choice that is equally as good for an indulgent lunch as it is for a romantic meal–nestled within a quiet street in the West Village, Petit Boucherie can be considered the crème de la crème of New York bistros.
14 Christopher St., New York City, NY; (646)-756-4145
READ REVIEWS
32
Il Buco
Dining at this Nolita Italian spot evokes hanging in a rustic farmhouse. (There's lots of dark wood, exposed brick, and pots and pans hanging just about everywhere.) And the cuisine, as you might imagine, is just as comforting and cozy. The artisanal pastas shift with the seasons, but the popular Tuscan black kale salad with anchovy lemon vinaigrette remains on the menu year-round.
47 Bond St., New York, NY 10012; (212) 533-1932
READ REVIEWS
34
Don Angie
The world of Italian dining in NYC tends to skew either ultra-traditional or red sauce Americana, but this Michelin-starred West Village spot bridges the gap and finds its own way with what they've dubbed "modern Italian American" fare like a tartare-style riff on vitello tonnato, a version of chicken cacciatore with mezcal-braised chicken and sourdough pasta, their Instagram-famous lasagne for two, and a fiore di latte mochi.
103 Greenwich Ave, New York, NY 10014; (212) 889-8884
READ REVIEWS
35
Keens
Some things are classic for a reason, and this steakhouse—founded in 1885—is just one such example. If you're looking for a date idea that's destined to become a tradition, look no further than tucking in to one of these old school New York favorites like dry aged steaks, surf and turf, and their famous mutton chops alongside their iconic collection of churchwarden pipes.
72 W 36th St New York, NY 10018; 212-947-3636
READ REVIEWS
37
The River Cafe
Come sunset and evening, the views of the Hudson River, Brooklyn Bridge, and Manhattan skyline are nothing short of breathtaking. Thankfully, they're matched by the serene ambiance, faultless service, and Michelin-starred New American cuisine by chef Brad Steelman. While gentlemen are expected to wear jackets and ties at dinner, daytime dining is a breezier affair. When the weather is warm, request a table on the patio.
1 Water St., Brooklyn, NY 11201; (718) 522-5200
READ REVIEWS
38
Union Square Cafe
USC has been a date night favorite for decades, and for good reason. From their freshmade bread and olives to their seasonal pastas and clean, produce-oriented entrees, this stalwart serves as a reminder of why it revitalized the concept of American cuisine years ago—and why it's still one of the best around.
101 E 19th St, New York, NY 10003; (212) 243-4020
READ REVIEWS
39
Grand Central Oyster Bar
Sometimes you just need a dose of classic New York, and taking a jaunt to this iconic oyster bar certainly fits the bill. While the menu is extensive, the raw bar selections are standouts as well as some of their most old school recipes like the oyster pan roast and oysters Rockefeller. Snap up a few with an ice cold martini with your special someone, then head to the main concourse for some indoor stargazing with Grand Central's famed ceiling.
89 E 42nd St, New York, NY 10017; (212) 490-6650
READ REVIEWS
This content is created and maintained by a third party, and imported onto this page to help users provide their email addresses. You may be able to find more information about this and similar content at piano.io