50+ Best Gifts for Men 2021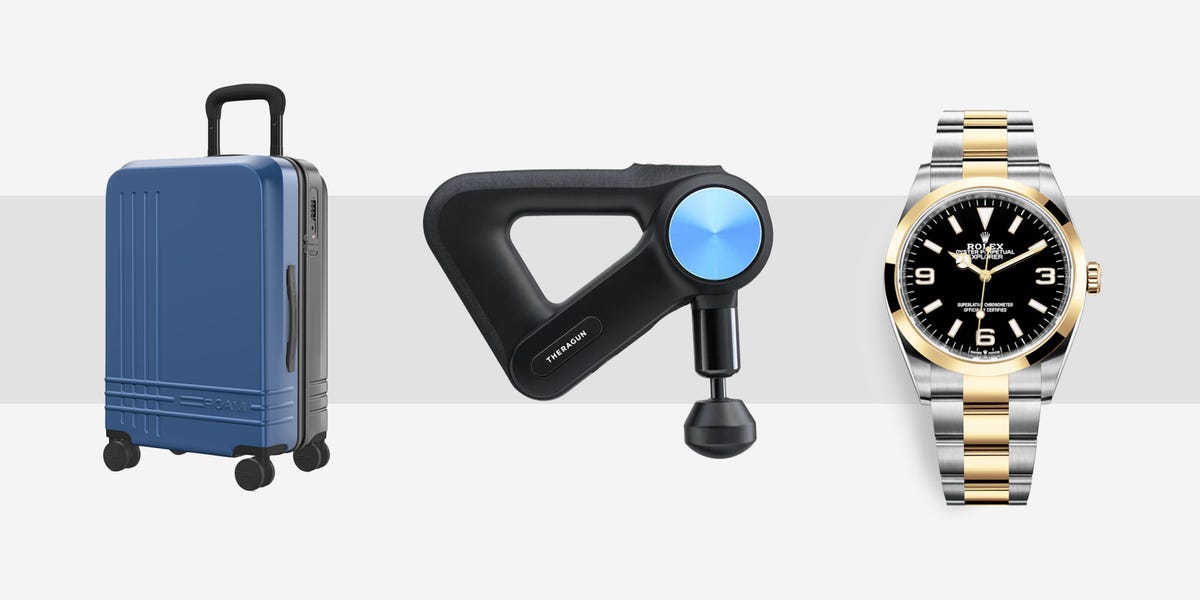 Men have a reputation as being hard to find gifts for, but that isn't necessarily the case. There is always an opportunity to indulge in his hobbies, whether it is travel, sports, cooking—or just making a really good cup of coffee in the morning. Or perhaps you could splurge on a pair of sneakers that will make him smile and a classic jacket. When all else fails, go for the tried and true gifts: a great meal, his favorite cocktail, and a good book. All that and more, below.
Mirror
Fitness enthusiasts will love this smart mirror that streams fitness classes live and on-demand. Personal training sessions ($40) were recently added to the system's offerings, too.
Chess Class with Former World Chess Champion Garry Kasparov
The Bucket List: 1000 Adventures Big & Small
Help him plan his next big adventure with this this collection of spectacular experiences perfect for the passionate traveler. 
Personalized Airpod Case
Add a luxe touch to his on-the-go listening with a Airpods case engraved with his initials. 
Super-Plush Robe
Level up his relaxation game a Brooklinen bathrobe. Equal parts plush and absorbent, he'll find he feels incredibly luxurious even if he's just lounging around the house. 
Royale Sneaker
An elevated leather sneaker that can take his look from daytime casual to evening sleek is a necessity for any shoe wardrobe. 
3-in-1 Wireless Charging Stand
Streamline his desk or nightstand with this three-in-one device that will simultaneously charge his iPhone, Apple Watch, and AirPods. Goodbye tangled mess of charging cables! 
Ember Temperature Control Smart Mug 2
Give the gift of eternally hot coffee with a digitally controlled mug that is as sleek as his style. 
Heritage – Black
Give him a sleek fitness ring that tracks fitness levels, heart rate, and quality of sleep. Bonus: the Oura Ring is waterproof and the charge lasts for 5 to 7 days, make it as fuss-free as possible. 
Wine Simple: A Totally Approachable Guide from a World-Class Sommelier
Classic Bedale Waxed Cotton Jacket
Barbour's waxed cotton jackets are (royal-approved) all-weather classics. The waterproof Bedale style features a corduroy collar and tartan lining befitting the king in your life.  
Air Jordan 1 Retro
For the Michael Jordan superfan in your life who won't stop talking about The Last Dance, a pair of Air Jordans is a foolproof gift. Plus, the most iconic Jordan models, such as these, will only appreciate in value over time, meaning you'll be buying him the perfect present and making a sound investment.
Ray-Ban
The Ray-Ban Clubmaster is a universally flattering classic that will instantly elevate his look. 
Theragun PRO
Help him ease that tension with Theragun's percussive therapy device, which gently soothes cramping and tightness in a just a few short minutes every day.
Supernatural
Turn his video game obsession into a fitness one. Supernatural pairs with an Oculus headset to create workout routines with trainers set in stunning virtual landscapes. It's instantly addicting. 
Avión Extra Añejo Reserva 44
His bar cart deserves an elevated tequila, and this one has been aged for 44 months in oak barrels for full flavor, a rich aroma, and a velvety finish. 
More: The Best Sipping Tequilas 
Garment Dyed Crewneck Sweatshirt
A cozy upgrade that brings a preppy panache to the classic sweatshirt. 
Choose Your Own Boozy Ice Cream – 4 Pints
Tipsy Scoop Boozy Ice Cream
Pick out his favorite flavors, from Spiked Hazelnut Coffee and Dark Chocolate Whiskey Salted Caramel to Mango Margarita Sorbet, and stock the freezer as a surprise. 
Large Box Chain Bracelet
David Yurman's designs are inspired by his early career as a sculptor. This chain-link bracelet is as cool as they come. 
Move Smart Portable Wi-Fi and Bluetooth Speaker
He loves the mobile, active lifestyle, but doesn't want to sacrifice tunes. Keep the vibes going with a smart wifi and blue-tooth speaker that is portable—so the party can move with him. 
Larq Purification Water Bottle
He can sip his way to a healthier lifestyle with a sleek water bottle complete with self-cleaning UV technology.
De'Longhi Digital Combi Espresso Machine
Breville Smart Waffle Pro 2-Square
Make breakfast on Saturday morning that much more fun with a waffle maker, complete with custom control dials. Can't you just smell that warm and toasty goodness already?
More: Gourmet Food Gifts
Minnetonka Men's Slipper
When it comes to sturdy slippers, Minnetonka's fleece-lined version is perfect for working from home or, you know, just being at home. 
Cog Keychain
He deserves to look sleek and cool—even down to the keyring he uses. 
The Star Wars Archives
The force is strong with this one. If he's a lover of all things Star Wars, he'll love this book by Paul Duncan. It's full of exclusive photos and behind-the-scenes facts about the iconic films spanning 1977–1983. Check out the second edition for later years. 
Oh Mon Dieu Incense Holder
This cheeky incense holder will make him smile and ensure that the home smells great. 
Garment-Dyed Cotton Blazer
A durable blazer that is tailored enough for work but soft enough to wear around the house will last him for years. 
43" The Frame QLED 4K Smart TV
Let's be honest, "new TV" is at the top of most men's lists. Samsung's Frame is elegant and modern and displays his favorite artwork when not in use. 
Explorer
Rolex recently released its new Explorer in Oystersteel and yellow gold with a slim 36 mm case. If your man is looking for a sleek new timepiece, this is the one that will really get his clock ticking. 
More: Top Luxury Watches for Men

Henry Tencel Modal Long PJ Set
This no-frills pajama set is as soft as can be and sophisticated enough to double as loungewear. 
Harlem Snapback Hat
Timothée Chalamet is a fan of Rowing Blazers caps, which is really all the endorsement we need. Its new collection represents cities from Augusta, Georgia, to West Hollywood, California, so you can personalize it to his hometown. 
Myrrh & Tonka Cologne Intense
This warm subtle scent of vanilla and tobacco just might convert the man who likes to smell nice but, "isn't a cologne guy." 
Montblanc MB 01 Over-Ear Headphones Black
Give his work from home set up an upgrade with these ultra stylish headphones from Montblanc, which not only offer noise cancelling and headphone integration for all of his calls, but also have internal proximity sensors that can tell when he takes them on and off so he never misses a moment of his favorite music or podcasts. 
All Blood Runs Red: The Legendary Life of Eugene Bullard―Boxer, Pilot, Soldier, Spy
More people should know about the incredible life of the first African American military pilot, who went on to become a Paris nightclub impresario, a spy in the French Resistance and an American civil rights pioneer. He won't be able to put this one down. 
Men's NIPPON MADE MOAL 77™ Low-Top Sneakers
He'll look like a total style master with these kicks that blend retro and trendy. 
Tundra Haul Hard Cooler
Lakeside, poolside or campfire-side, this Yeti cooler will keep his cans and snacks cold for days. Plus, with this model's wheels and handle, he can tow it wherever the party takes him. 
Nourishing Beard Grooming Oil
Facial hair of any length or style can benefit from a dose of this lightweight, woodsy-scented oil which softens whiskers and adds shine but also moisturizes the skin underneath for maximum facial hair health.  
Issa Ultrasonic Toothbrush
Unglamorous as it may be, the gift of healthy gums and a brilliant smile is pretty invaluable. 
Marcus' Hot Honey Chicken & Cornbread Waffles Kit for 4
Marcus Samuelsson's Streetbird
Treat him to a fun dinner in with Harlem institution Streetbird's out-of-this-world  fried chicken and cornbread waffles. 
The Jaunt
Is he ready to travel again? Customize a suitcase just for him. This one is ultra-light, has a flexible shell to really pack it all in there, and a security lock. 
Smart Lawn Plan
For the man who takes pride in a well-manicured yard, this lawn care subscription box is the perfect gift. There's a quick assessment and a soil sample test, so products are perfectly tailored to his yard's specific needs. 
Sweat Shorts
For the days when he wants to rock a button-up on top and boxers on the bottom on those Zoom calls… don't let it actually be boxers.
Dark Rum Candle
If James Bond lit candles, we bet it would be this one, which has notes of dark rum, plum, and leather. 
All-in-One "You're Busy" Set
A straightforward skincare routine that will make him look and feel more refreshed.
Relaxed Fit Denim Overshirt
A light layer made with recycled cotton, this stylish denim overshirt will carry him through all seasons. 
Schott Zwiesel Kirkwall Martini Glasses, Set of 2
Class up his bar cart with martini glasses that will make him feel like James Bond. 
This content is created and maintained by a third party, and imported onto this page to help users provide their email addresses. You may be able to find more information about this and similar content at piano.io