50+ Gifts For The Technology-Obsessed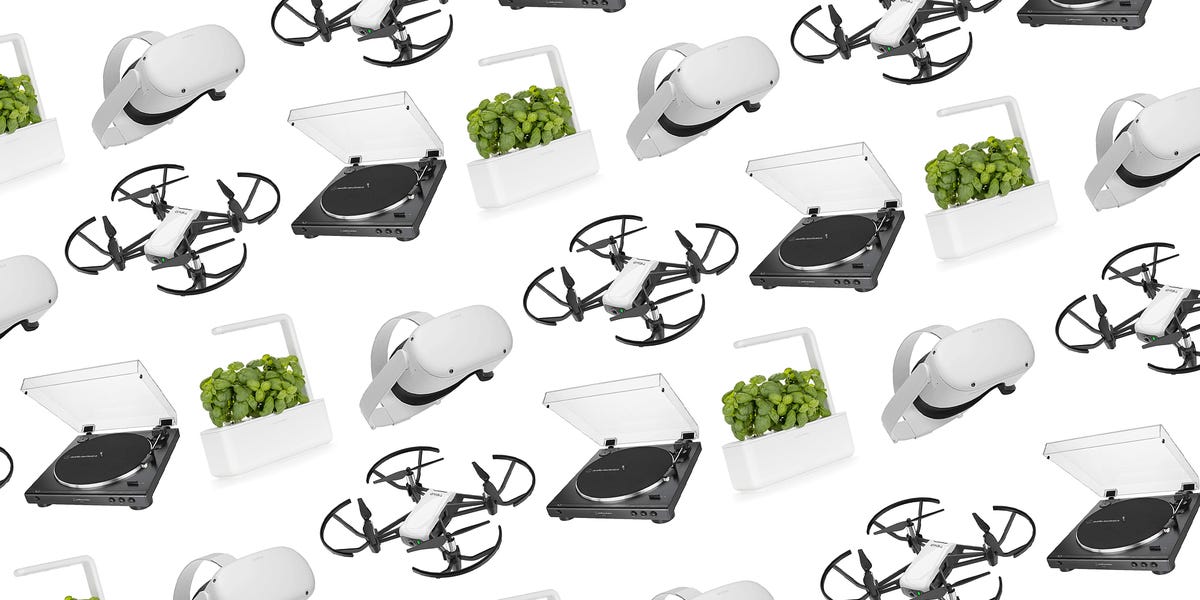 Pretty much every single item in your day-to-day life has a high tech equivalent in this day and age. Looking to grow some plants in your one bedroom apartment? Bad posture because of a year or more of WFH? There's an app for that.
And whether you're related to a tech lover or married to a gadget guru, the truth is, your loved ones deserve better than a generic gift card. Yes, a thoughtful gift is always better than a trip to the electronics store. Since most technology lovers are already equipped with the basics, we've done the heavy lifting for you here. From a water bottle that tracks your hydration levels to yoga pants that are capable of guiding you through your downward dogs and your morning flow—not to mention the latest iPhone and iPad—we've gathered a comprehensive list of techie gifts, no matter who you're shopping for.
Noise-Masking Sleepbuds
These wireless earbuds tune out annoying night noise with soothing sounds that can lull listeners to sleep in any situation. The Sleepbuds pair with the Bose Sleep smartphone app and come in a brushed aluminum charging case that provides up to 16 hours of battery life.
IVY Wireless Mini Photo Printer
Available in rose gold, mint green, and slate gray, Canon's IVY mini photo printer allows photographers to print 2-by-3-inch photos with peel and stick backing directly from a smartphone.
Temperature Control Smart Mug 2
This smart mug keeps your drink at the exact temperature you choose for up to an hour and a half on a single charge. You'll never have to worry about drinking cold coffee again.
More: Buzzy Gifts for Coffee Lovers
Hidrate Spark 3 Smart Water Bottle
There's a fitness tracking device for nearly every need, so why wouldn't there be one for hydration levels? And besides, who doesn't need a little reminder every once in a while about taking a sip of H2O? This bottle glows when it's time to drink more water, at specific intervals. Think of this as the easiest way to up your quality of life. 
Smart Garden
Green thumbed technology lovers will quickly fall for this smart garden, in which you can grow fresh herbs and vegetables indoors, thanks to an LED light that can withstand a range of climates.  
Tello Quadcopter Drone
A budget-friendly option, DJI's Tello is a great gift for someone who is just starting out in the drone world. It includes a 5-megapixel camera and can fly for 13 minutes on a single charge.
Best for Chefs
Sous Vide Precision Cooker
This top-ranked, Bluetooth-equipped precision cooker makes it easy to cook sous-vide like a pro. It heats and circulates water in a pot, allowing you to cook meat, fish, vegetables, and more from edge-to-edge completely evenly.
More: Cooking Gifts for Foodies
Best for the Mixologist
Bartesian Premium Cocktails on Demand
AirTag
We have a feeling Apple's latest innovation is going to be the next tech item nobody wants to go without. The AirTag acts as a versatile, easy-to-use tracking device. Slip it into your purse, or add it to your keyring, then enjoy the peace of mind knowing that you're only a few clicks away from finding your belongings. 
Portable Full HD LED Smart Home Theater Projector
This projector is lightweight and portable enough to fit in a tote bag, but it still packs enough of a punch for a satisfying entertainment experience. Its combination of full HD Resolution (1920 x 1080) at up to 100-inch screen size, wireless connectivity, and a built-in battery add up to a mighty machine that will satisfy any movie lover.
Wemo Mini Smart Plug
This WiFi-enabled smart plug allows you to control your electronic devices from your phone. It works with Alexa, Google Assistant, and Apple HomeKit, so you can toggle the power on your lamp, fan, or whatever you have connected to the plug from wherever you are in the world. 
Fire TV Cube
Bring together all of your favorite entertainment options—cable, satellite, and streaming channels—and Alexa with this nifty cube that lets you control all of your smart home devices plus all of your shows and movies with voice commands. You'll never have to worry about losing the remote again. 
The Remarkable2
Behold, a tablet that even the most committed luddite among us will appreciate. For those that love to take notes on a pad and paper—the tactile experience—Remarkable allows you to use it as a regular cloud-connected notebook. Not only can you take notes directly on PDFs, but all your notes will be organized and accessible across your devices. 
Leather Touchscreen Gloves
Staying warm in the winter is key, and these stylish gloves let you do that while staying connected to your touchscreen. The interior is lined with fleece for an extra-soft feeling.
Meural Canvas II
Upgrade their collection of fine art with a Meural Canvas. The HD Smart Art Frame renders both photographs and paintings in exquisite detail with an anti-glare finish. Pick from your own collection or an extensive digital library. Bye, empty wall space. 
SoundLink Micro Bluetooth Speaker
Small enough to fit into a purse or pocket, Bose's SoundLink Micro Bluetooth speaker's size belies its power. The bass is surprisingly strong, and the waterproof speaker—which is available in black, bright orange, and midnight blue—offers six hours of play time from a rechargeable battery.
Mirror
From small-space dwellers to tech junkies, the Mirror workout device is a sleek and engaging way to get that heart rate going. From streaming live and on-demand workout classes to connecting to your Apple Watch to gather your exercise stats, this unobtrusive but mighty piece of technology is a gift that keeps on giving. 
Apple TV 4K
The latest version of Apple TV comes with support for 4K-resolution video, which has four times more pixels than standard HDTV—that means sharper, crisper content from sources like Netflix, which produces all of its original shows in 4K. It also supports high-dynamic range (HDR), which translates to higher-contrast video that brings things closer to how they look in real life.
More: The Best Gifts for Every Man on Your List
Turntable
Music junkies will be quick to fall in love with Audio Technica's automatic belt drive turntable; a great starter option for those looking to put their old (or new!) records to good use. 
The Skylight Calendar
This sleek digital calendar/photo frame lets you and your family sync all of your calendars in one convenient place, plus manage grocery lists, to-dos, and all of the essentials to keep your household running smoothly. 
Airwrap Styler
This highly coveted hair dryer-meets-styler was one of the biggest beauty launches of 2019, thanks in no small part to its ability to slash drying time on even the thickest hair while also volumizing, smoothing, and even adding bombshell curls. 
Orbi Wi-Fi System
To combat the limited range of wireless routers, electronics companies are now offering improved WiFi systems that use "mesh technology" to blanket a whole home. This one is easy to set up and covers spaces up to 5,000 square feet. And unlike clunky range extenders, it offers the same fast speeds everywhere the signal reaches.
MH40 Over-Ear Headphones
For the frequent flyer that always ends up sitting next to a screaming baby, these noise-isolating headphones are a gamechanger. And the best part? They happen to look as good as they sound.
Apple AirPods Pro
The latest version of Apple's best-selling wireless earbuds come with interchangeable soft tips so you can customize their fit, plus noise cancelling for when you want to block everything out and a transparency mode that lets you hear the sounds around you. 
Best for Bibliophiles
Kindle Paperwhite
Indulge the bookworm in your life with the a Kindle, complete with waterproof capability, which is especially convenient if they enjoy reading in the bath or by the pool. 
More: Gifts for Bookworms 
Lume Cube Panel Mini
Every WFH outfit needs good lighting. Tune theirs with a Lume Cube Panel—it's good lighting in the most compact of panels. 
Best Smart Trash Can
Voice-Activated Trash Can
There's no risk of reaching into a messy trash can when you can lift the lid with your voice. Say "open can" or wave your hand over the top of this one and the lid lifts softly and smoothly. It also includes a liner pocket that dispenses liners one-by-one from inside the can.
Wireless Turntable
There's a vinyl revival going on, and an eye-catching turntable like this one will help you be a part of it. It has built-in Bluetooth, so it can connect to audio systems wirelessly.
Best for Yogis
Nadi X Responsive Yoga Pants
Smart devices can be wearable. These yoga pants, which took two years to develop, include neoprene stripes with haptic technology that offer real-time vibrational feedback that will help guide you through your yoga flow. They also pair with an app that includes 40 poses and accompanying music.
Lumen Metabolism Tracker
The latest innovation in wellness comes in the form of Lumen, a device that measures your metabolism when you breathe into it. All you have to do is inhale through the fixed device, hold for 10 seconds and then exhale fully. Then, the Lumen tells you if you are burning carbs or fat, which of course, gives the user insight into their metabolic flexibility. Bonus: then you can receive a dietary plan through the device that works just for you.  
Oculus Quest 2 All-In-One VR Headset
Get immersed in your favorite TV shows and movies, feel like you're right there in the audience with livestream concerts and sporting events, get in the game with video game playthrough, or just relax on a miniature vacation with 360 degree tours of some of the most beautiful cities and scenic views on the planet with this virtual reality device. 
BALMUDA The Toaster
Balmuda's toaster oven will completely transform the way they eat baked goods, thanks to its steam function with 5 cooking modes that will transform any kitchen into a patisserie. 
Video Doorbell 3
Give your home a *smart* welcome with Amazon's Ring Video Doorbell, which connects with Alexa and allows you to operate the camera and chat with visitors through the Echo Show, Fire TV, or Ring app.
Sodastream Fizzi One Touch
Anyone who loves a good sparkling drink understands the struggle of a spritz gone flat. The SodaStream machine has three carbonation levels, taking just seconds to make seltzer, soda, and more. 
PowerShot G1 X Mark III WiFi-Enabled Digital Camera
Serious amateur photographers will appreciate the first compact digital camera from Canon to feature a large 24.2-megapixel APS-C sensor and a Dual Pixel CMOS AF system, which offers incredibly quick autofocus—even for subjects in motion.
Pro XE Golf Laser Rangefinder
Golf fanatics will love this high-tech rangefinder. It's fully waterproof and comes with 7x magnification.
More: Gifts for Golfers
Gitamini
Perfect for the urban dweller who's sick of lugging their groceries downtown, this personal robot carries your cargo and is programmed to follow you while sensing the movements of fellow pedestrians. Think: a hands-free segway for your belongings. 
Phantom Reactor Compact Wireless Speaker
This speaker looks small, but it packs a punch. Set in on a shelf and connect any of your devices to stream music through AirPlay, Spotify, or Bluetooth. 
Echo (4th Gen)
Amazon's latest echo is a smart home hub that also provides premium sound. Not only can you listen to quality tunes, but you can also command the various Alexa-connected items in your home, for example your lights to turn on. 
Pure Hot+Cool Purifying Heater & Fan
Save space with a three-in-one device that not only purifies the air, but can heat and cool depending on the season. Dyson sets the standard in the industry, and this device is no different—you can control it via remote, app, or voice control, it has oscillating capabilities as well as super quiet functionality. It's a win-win, no matter the climate.
The Link GPS Dog Collar
Help keep your favorite pooch healthy and happy with this tech-y collar attachment system with a GPS tracker and an activity monitor.  
FitBit Sense
Fitbit's latest is the Sense device—complete with the normal FitBit tracking features, but also a number of stress management tools as well as, skin temperature measurement, blood oxygen levels, as well as a compatible ECG map. Think of it as a the all encompassing health tracking device you need in your life. 
Smart Portable Wi-Fi and Bluetooth Speaker
The first portable speaker from Sonos includes WiFi and Bluetooth, so you can stream music on your network and then switch to Bluetooth when you take it on the go. The speaker's battery lasts for 10 hours of continuous play and its case is shock-resistant.
Stroller Hook
Any parent will tell you that having kids uses up a lot of battery power. This mobile charging device, which has enough oomph to charge up a phone multiple times, also doubles as a bag hook for the stroller handle and can hold up to 25 pounds. It's a genius gift for any tech-addicted parent.
Wireless Portable QI Fast Charger
This portable magnetic charging system comes with a retractable kickstand, making it ideal for a desk setup and easy to charge while in use. It's compatible with over 100 different phone models (and can fully charge 2 phones at the same time); an ideal gift regardless of your device. 
Forerunner 935 Running GPS Unit
Get the avid hiker in your life the high-tech watch to track all of their stats as they ascend into the heights. 
Philips Hue White LED Smart Button Starter Kit
This kit turns your lights into smart devices, offering control through Alexa, Apple HomeKit, and Google Assistant.
DiamondClean Smart 9500 Rechargeable Electric Toothbrush
Optimize your oral care with the Philips Sonicare DiamondClean Smart 9500. The device syncs with your phone to give you a better look at where you need to be a little more thorough—or use a lighter touch. With multiple cleaning settings (including one for your tongue), this toothbrush truly does it all.
LS50 Wireless II
KEF's wireless speakers recently added Spotify integration, resulting in a complete, high-resolution audio system solution that can be accessed through Bluetooth or WiFi.
Shark NV752 TruePet Upright Vacuum
Even household cleaning deserves its souped up equivalent. This vacuum cleaner delivers to the tune of anti allergen technology and a HEPA filter that seals dusts and allergy-inducing particles inside the vacuum, and there is also an LED headlight to make sure you get all of the debris. 
New Buy iPhone 13 Pro
This is a tech luxury that is hard to question—after all who doesn't do everything with their cellular device nearby? With the biggest camera upgrade yet (including new depth perception capabilities), as well as the most vibrant and responsive display yet, it's tough to say no. Fret not, with its ceramic shield, it will be tough to damage, too.
YogiFi Smart Yoga Mat
This AI-powered smart yoga mat will elevate your practice by giving you feedback on your posture and form as you flow through your vinyasas.  
Beoplay EQ Adaptive noise cancelling wireless earphones
Get the crispest call quality on-the-go,, whether you're running, walking or just sitting around. Equipped with 6 built-in microphones, that's sound that just can't be beat. Add in adaptive noise cancellation and a snug in-ear fit and you've got yourself the most comfortable pair of headphones that you'll forget you're even wearing.
4K Smart OLED TV with Alexa Built-in
LG's gorgeous 65-inch OLED TV features Google Assistant and also works with Amazon Alexa, so it can sync with your smart devices in addition to offering top-quality picture.
This content is created and maintained by a third party, and imported onto this page to help users provide their email addresses. You may be able to find more information about this and similar content at piano.io