7 Best Jane Austen Movies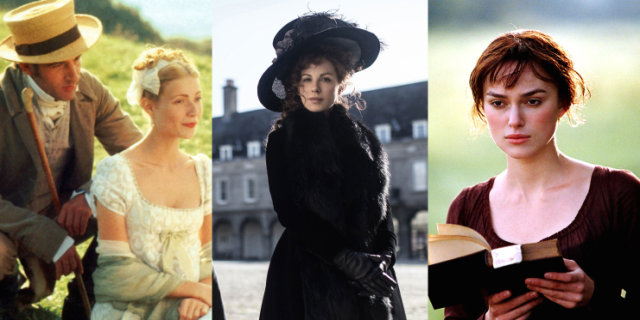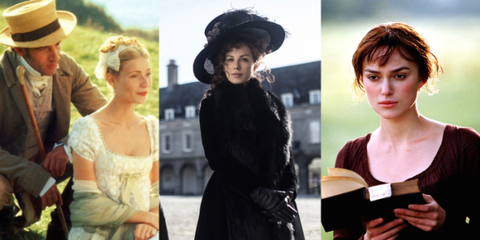 Getty Images
"Perhaps after all it is possible to read too many novels," muses Henry Tilney, hero of Jane Austen's Northanger Abbey. In Austen's world, unabashed novel-readers get into hot water; romantic notions cloud their judgment; these days, we're only in danger of watching too many movies. This year promises to be another big year for Janiacs, starting with the release of Whit Stillman's Love & Friendship, a movie based on Austen's little-known work, Lady Susan. The period piece stars Kate Beckinsale (above) as a Regency beauty who blithely leads men astray. Also due out is Pride & Prejudice and Zombies, a genre mash-up for fans who favor a different sort of biting wit. To usher in this newest Austen season, we rounded up our very favorite adaptations.
Advertisement – Continue Reading Below
Pride and Prejudice, 1995
Claim to fame (or infamy): Andrew Davies' script leads the wave of Austen-inspired films that sweep through the decade like a muslin skirt. Starring Jennifer Ehle as Elizabeth Bennet and Colin Firth as Mr. Darcy, this adaptation of Austen's first (and most beloved) novel charms the breeches off Jane purists and novices alike.
Best scene that never happened in an Austen novel: Mr. Darcy goes for an impromptu dip in a lake (after a sweaty fencing lesson, mind you) and emerges in a clinging white shirt. The scene is widely regarded as one of the greatest TV moments of all time—so we hope it won't dampen your enthusiasm to learn that it never actually happened on film, either. Colin Firth recently admitted that the whole thing was entirely contrived. Please pass the smelling salts.
Wittiest line/exchange: Elizabeth: "And your defect is a propensity to hate everybody." Darcy: "And yours is willfully to misunderstand them." And that, dear presidential candidates, is how insults are done.
Sense & Sensibility, 1995
Claim to fame (or infamy): Emma Thompson, who stars as Elinor Dashwood ("Sense") makes her screenwriting debut, penning the script for this critical and commercial success. She significantly alters the original material to make it more palatable to modern audiences. In case you're wondering, that makes you the "Sensibility" in all this.
Best scene that never happened in an Austen novel: Marianne Dashwood, portrayed by a bloomy, gloomy Kate Winslet, gets lost in the rain, is found in the rain, and is rescued by a man on a horse…twice. Some girls are rich in luck, but poor in umbrellas.
Wittiest line/exchange: "You talk of feeling idle and useless. Imagine how that is compounded when one has no hope and no choice of any occupation whatsoever," says Elinor to Edward Ferrars (Hugh Grant). Word. Everyone knows that only women who marry well are entitled to idleness, uselessness, and no occupation whatsoever.
Persuasion, 1995
Claim to fame (or infamy): Critics praise this production as the most realistic of all the Austen adaptations released in the mid-90s. To help maintain its air of authenticity, director Roger Michell depicts the actors without makeup, polished hairstyles, or elaborate costumes. In a separate interview, Amanda Root, who plays the heroine Anne Elliot, admits, "none of us looked good."
Best scene that never happened in an Austen novel: Anne implores Captain Frederick Wentworth (Ciaran Hinds) to stay at a concert and listen to "a very beautiful love song." Scholars agree that Anne would not have persuaded quite so fiercely in Persuasion. But, after all, there's a pianoforte in the room. What can one expect?
Wittiest line/exchange: This film is short on witty repartee—and words in general. Because most of Anne's thoughts in the novel are expressed internally, the characters in the film communicate through spare dialogue and psychological nuance.
Emma, 1996
Claim to fame (or infamy): In stark contrast to Persuasion's gritty realism, Emma is the movie equivalent of a pink macaron. Gwyneth Paltrow plays the misguided matchmaker, and looks pristine and self-assured in a wardrobe inspired by Jordan almonds (we assume). The lively banter between her and Mr. Knightley (Jeremy Northam) is so enjoyable that you tend to forget they're royally screwing up people's lives.
Best scene that never happened in an Austen novel: Emma's much-anticipated meeting with Frank Churchill (Ewan McGregor) unfurls in predictably playful fashion. He emerges from the forest on horseback, just as her buggy is marooned in a creek. Emma: "Something's happened to the wheel and I cannot move." Frank Churchill: "Well, you'll just have to live here then."
Wittiest line/exchange: "I must throw a party for her! Otherwise everyone will feel at once how much I dislike her." (Emma, on the subject of Mrs. Augusta Elton).
Jane Austen's Emma, 1996
Claim to fame (or infamy): To avoid confusion any confusion with that other 1996 Emma, Andrew Davies dubs his adaptation Jane Austen's Emma, promising a faithful rendition upfront. As the titular heroine, Kate Beckinsale isn't afraid to be unlikeable. Her character is sometimes snobbish, sometimes bratty, qualities that make her eventual humbling more satisfying. Mark Strong's Mr. Knightley is no peach, either. He scolds, lectures, and even insults Emma, creating a relationship that veers into dark territory.
Best scene that never happened in an Austen novel: Emma's lively imagination briefly brings Frank Churchill's portrait to life. And, my dears, he is most attentive—for a painting.
Wittiest line/exchange: "I find I bare his absence very well. I believe I've enjoyed every moment I've spent in his company, but I suspect he's not necessary to my happiness." (Emma Woodhouse).
Mansfield Park, 1999
Claim to fame (or infamy): One of the few Austen adaptations directed by a woman (Patricia Rozema), this film elaborates on darker, more menacing themes, such as slavery, sexual repression, and female subjugation.
Best scene that never happened in an Austen novel: Fanny Price (Frances O'Connor) is portrayed as a talented writer with a gift for satire. Many of the short stories she recites in the film were actually written by Austen herself.
Wittiest line/exchange: "Mariah was married on Saturday. In all important preparations of mind she was complete, being prepared for matrimony by a hatred of home, by the misery of disappointed affection, and contempt of the man she was to marry." (Fanny Price).
Pride & Prejudice, 2005
Claim to fame (or infamy): This dreamy production starring Keira Knightley as Elizabeth and Matthew Macfadyen as Darcy famously has two different endings. British audiences get a final scene consistent with the novel, while Yanks are treated to a fanciful version, in which Mr. Darcy is unable to contain his wedded bliss. He gazes at Lizzie and softly murmurs, "Mrs. Darcy. Mrs. Darcy. Mrs. Darcy. Mrs. Darcy. Mrs. Darcy." In America's defense, we only consented to this ending because we thought it would make a good drinking game.
Best scene that never happened in an Austen novel: Following a sleepless and tormented night, Elizabeth and Darcy encounter each other in a misty field, where they confess their mutual affection. He is without cravat, she is without corset, and we are seduced by the utter impropriety of it all.
Wittiest line/exchange: Jane: "Oh Lizzie, if I could but see you so happy. If there was such another man for you." Elizabeth: "Perhaps Mr. Collins has a cousin."
This content is created and maintained by a third party, and imported onto this page to help users provide their email addresses. You may be able to find more information about this and similar content at piano.io
Advertisement – Continue Reading Below