7 Best Limoncello Cocktails – Cocktail Recipes with Limoncello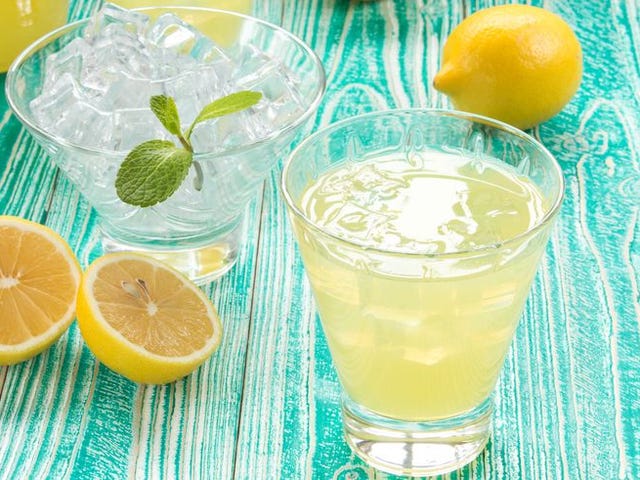 Courtesy of Brooklyn Crafted
You might be used to having a taste of Italy's famous lemon liqueur limoncello at the end of a good meal, but there's no reason to relegate this tasty tipple to digestif status. A bit of limoncello can bring a sweet squeeze of citrus to all sorts of cocktails. Here are a few of our favorite ways to get more limoncello into your cocktail rotation.
Fly Me To The Moon Margarita
Ingredients
1.5 oz Herradura Silver Tequila
.5 oz limoncello
.25 oz amaretto
1 oz lime juice
.5 oz simple syrup
.5 oz orange juice
Instructions
Shake with ice and serve in a large coupe glass and garnish with a lime wheel.
By Erin Ward of Carmine's
Limoncello Mule
Ingredients
1 oz Limoncello
1 oz vodka
1 Brooklyn Crafted Lemon Lime Ginger Beer
Instructions
Add all the ingredients together in a Julep cup and mix. Garnish with a lemon wheel and a mint sprig.
From Brooklyn Crafted.
Sgroppino Spritz
Ingredients
½ oz. Italicus
½ oz. limoncello
½ oz. Nardini grappa
5 dashes lemon bitters
1 scoop of Oddfellows' lemon-hibiscus sorbetto
Prosecco to top
Instructions
Combine all ingredients except sorbetto in a shaker with ice and shake. Scoop the sorbetto into a frozen coupe. Strian the cocktail on top and finish with prosecco.
From Dante in NYC.
Walk in the Park
Ingredients
1 oz Don Papa Rum
1 oz Limoncello
1 oz Vermouth Blanc
Instructions
Pour all ingredients into a mixing glass with ice and stir for thirty seconds. Pour into a rocks glass over a large piece of ice and zest with a generous peel of lemon.
From Short Stories in NYC.
Apricot n' Sage
Ingredients
1.5 oz Maker's Mark Bourbon
.25 oz Pallini Limoncello
Juice of 3 lemon wedges
1.5 tsp all-natural apricot jam
4 sage leaves
Soda water
Instructions
Pour all ingredients except soda into a shaker tin and muddle. Add ice and shake vigorously. Strain into a highball glass over fresh ice and top with soda water. Garnish with fresh sage and/or a twist.
By Kristine Lassor Hopkins of Abattoir

Limone, Limone, Limone
Ingredients
1.25 oz infused lemon vodka*
1.25 oz limoncello
.5 oz homemade lemonade
Instructions
Combine all ingredients and shake with ice. Strain and pour into a martini glass.
*Lemon Vodka: Peel 5-8 large lemons, keep the fruit of the lemons for juicing. Add to 1 bottle of vodka and steep for 1 week, then remove peels.
From Lidia's Kansas City
Newport Legacy
Ingredients
2 oz New Riff Bourbon
1 oz limoncello
.25 oz peach puree
.25 oz lemon juice
4 dashes peach bitters
Instructions
Mix all ingredients in a mixing glass. Strain and pour in a rocks glass over an ice sphere. Garnish with dehydrated lemon.
By Elizabeth Doan of The Lytle Park Hotel
This content is created and maintained by a third party, and imported onto this page to help users provide their email addresses. You may be able to find more information about this and similar content at piano.io