9 Best Places to Visit in November 2021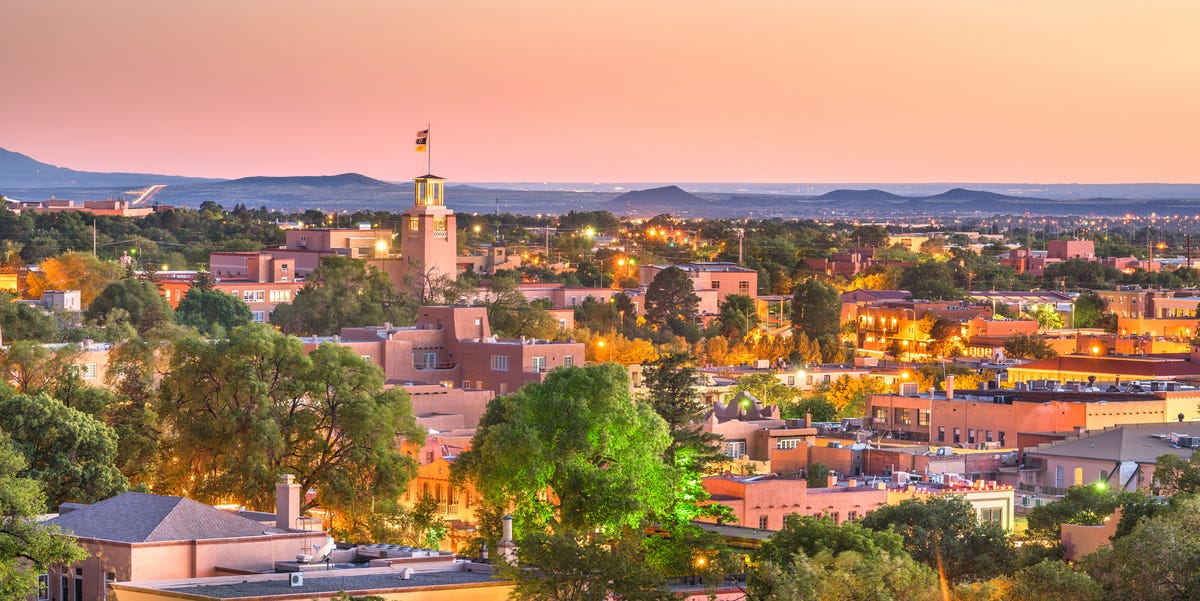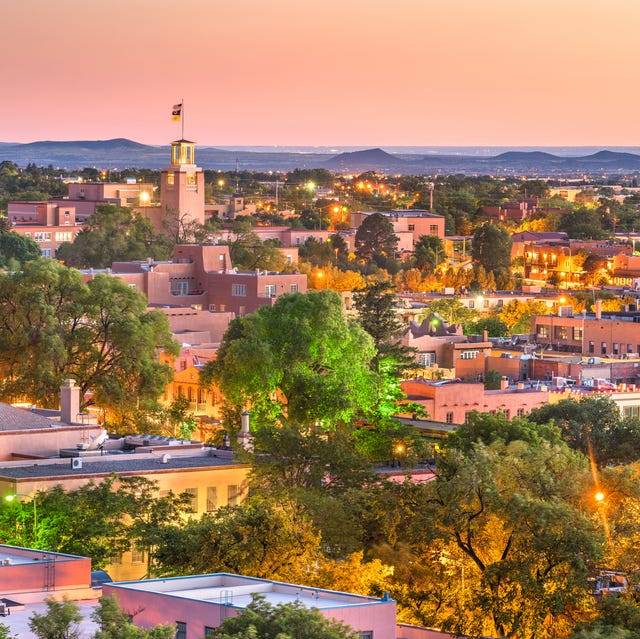 Sean PavoneGetty Images
The end of the year is almost here but there is still time to make use of all the vacation days you've accrued for 2021. The long weekend in November makes for a particularly good excuse for a pre- or post-Thanksgiving jaunt. Or, if you'd rather someone else make your turkey this year, how about an extended Thanksgiving break? The Caribbean and Central America beckon travelers with the promise of perfectly sunny weather, bottomless cocktails, and impeccable beaches. But if you're okay with a nippy late autumn chill, there are a few destinations in Europe that are rather charming—and way less crowded—this time of year. Prefer to stay in the U.S.? Famous American locales, from Santa Fe to Charleston, are ideal, too, with pleasant temperatures and much culture to be enjoyed. Below, our guide to the best destinations for a November trip.
Advertisement – Continue Reading Below
Santa Fe, New Mexico
Santa Fe is undoubtedly one of the most unique cities in America. It has rich Native American history, strong Spanish influences, and a vibrant arts scene. The Georgia O'Keeffe Museum is a must, as is Canyon Road, a half-mile stretch in the historic district that boasts the highest concentration of art galleries in the city, where you will find a diverse selection ranging from Fernando Botero sculptures to handwoven Navajo rugs. Also take the trip out to Ghost Ranch in Abiquiu (an hour's drive from Santa Fe). O'Keeffe was so impressed by this 21,000-acre retreat that she lived there for forty years and prominently featured its landscapes in her work. Back in Santa Fe, the hottest new hotel in town is Bishop's Lodge, a legendary 150-year-old landmark that Auberge Resorts restored into a luxurious property that sits on 317 acres bordering the Santa Fe National Forest and beautifully pays homage to the city's Southwestern heritage with activities that range from sunrise horseback riding to guided pueblo tours.
Read Reviews Bishop's Lodge, Auberge Resorts Collection
Charleston, South Carolina
It's no wonder this charming southern city has become an increasingly popular destination—it has rich history, so much delicious food (don't miss Fig and 167 Raw), swoon-worthy architecture, and, perhaps most importantly, unparalleled southern hospitality. Mild temperatures (think high 60s and low 70s) during the month of November make it an ideal time to visit. While you're in town, be sure to check out the South Carolina Historical Society Museum and the Gibbes Museum of Art for important lessons on Charleston's complicated history. Also consider a day trip out to Sullivan's Island, where you might go for a long stroll on the beach before stopping by the Obstinate Daughter for pizza. There are plenty of great boutique hotels to choose from, but a few of our favorites include 86 Cannon, Zero George, and The Dewberry.
Read Reviews Zero George
Read Reviews 86 Cannon
Read Reviews The Dewberry
Venice, Italy
There is no denying the inimitable charm and beauty of Venice. There is also no denying it's one of the most popular places on earth. The solution to avoiding hordes of tourists? Go in the off season, like in November. Spend your days exploring the city's plethora of cultural sights and landmarks. Guests of the luxurious Cipriani, a Belmond Hotel, will also be privy to behind-the-scenes tours of Venice's centuries-old libraries, where rare books and manuscripts will be on display just for you.
Read Reviews Cipriani, a Belmond Hotel
Playa del Carmen, Mexico
The allure of this Mexico resort town is hard to beat—crystal clear turquoise waters, easy to reach from the East Coast, conveniently close to Cancun airport yet worlds away from the spring breakers scene up there. The lush Banyan Tree Mayakoba recently underwent a $50 million expansion, resulting in 34 new beachfront pool suites, among other things. What's more, this month the resort is debuting a new wellness program called Sanctuary Stays, which includes a 64-point assessment and access to healthy activities like ocean breath meditation. Even if you don't opt for a wellness-themed trip, don't skip out on Banyan Tree's award-winning spa, where you'll be in excellent hands: each therapist must go through at least 350 hours of training.
Read Reviews Banyan Tree Mayakoba
Pérez Zeledón, Costa Rica
Nestled high in the clouds within the Pérez Zeledón mountains (and best reached via chartered flight from San Jose or Liberia airports) Auberge Resorts Collection's Hacienda AltaGracia, which opens this month, is a verdant paradise for wellness seekers. Its 180 acres encompass a working coffee farm, equine stables, vegetable gardens, and wild rainforest, but most enticing of all is that cult NYC spa THE WELL will also open its first Central American outpost at the resort and spearhead all of the holistic programming, which will include healing rituals using ancient practices, expert-led workshops, and plenty of spa treatments.
Read Reviews Hacienda AltaGracia, Auberge Resorts Collection
The Scottish Highlands
After one visit to this incredible scenic region of Scotland, it won't be hard to see why the queen so cherishes her annual summer holidays at Balmoral Castle. On the drive up, stop by Dundee to pay a visit to the Victoria & Albert Museum—fans of Succession will recognize the architectural landmark from season 2, when the Roy family goes to Dundee to honor their patriarch Logan (the actor Brian Cox also happens to be from the town). Then continue on up to Braemar, the tiny town that neighbors Balmoral (which is open for tours when the queen isn't in residence). Stay at the Fife Arms, a former Victorian-era coaching inn that was completely transformed by art world power couple Iwan and Manuela Wirth into a jewel box of a property bursting with more than 16,000 works of art. The town also happens to be on the edge of Cairngorms National Park, the largest in the U.K., meaning there will be plenty to see alfresco, too.
Read Reviews The Fife Arms
Palm Springs, California
Months of triple digit temperatures finally come to an end by November in this California desert oasis, making activities like hiking (put Joshua Tree National Park on the itinerary), pool time, and alfresco dining all the more enjoyable with temperatures in the high 70s. As for hotels, the Instagrammable options are endless. Opt for a classic like the Parker, Colony Palms, or L'Horizon, which are generally considered the area's top hotels, or stay in one of the area's signature Midcentury Modern homes (Airbnb has hundreds available) to live out your Slim Aarons fantasies. Or for a real splurge—and one-of-a-kind experience–rent out Twin Palms, Frank Sinatra's legendary Palm Springs hideaway, which has four bedrooms, a piano-shaped swimming pool, and tons of Sinatra memorabilia.
Read Reviews Colony Palms Hotel
Read Reviews The Parker Palm Springs
Read Reviews L'Horizon Resort & Spa
Read Reviews Frank Sinatra's Twin Palms Estate
Oracabessa, Jamaica
While on a World War II naval mission in 1942, British intelligence officer Ian Fleming became so enamored with this remote paradise in Jamaica that he later came back and built a 15-acre property—which he called GoldenEye—from which, over more than two decades, he would write each of his 14 James Bond novels. Today, GoldenEye is an idyllic resort of charming huts, cottages, and villas (Fleming's original standalone villa, preserved just the way he left it, can be rented out as well) that has mastered the home-away-from-home vibe. There is no signage on the road or the usual trappings of mega resorts, just authentic food, delicious drinks, and ultra-friendly service. The October 8 release of the latest 007 movie, No Time to Die, makes this the perfect month to pay a visit and live like Fleming for a little while.
Read Reviews GoldenEye
St. Bart's
As it has only been a few years since the entire island had to rebuild itself after Hurricane Irma's destruction in 2017, expect everything to be fairly new on this one percenters' island playground. As for where to stay, the list of super upscale properties is long. The Hotel Barrière Le Carl Gustaf, which opened last year, has just 23 rooms, most with plunge pools and private terraces looking out onto the picturesque, yacht-dotted harbor of Gustavia. Then there's Hotel Le Toiny on the other side of the island, with its 22 uber-private and spacious villas, each one measuring over 1,000 square feet and equipped with private pools and ocean views.
Book Now Hotel Barrière Le Carl Gustaf
Read Reviews Hotel Le Toiny
This content is created and maintained by a third party, and imported onto this page to help users provide their email addresses. You may be able to find more information about this and similar content at piano.io
Advertisement – Continue Reading Below