Bombshell's Cast Compared the Real Fox News Workers, in Photos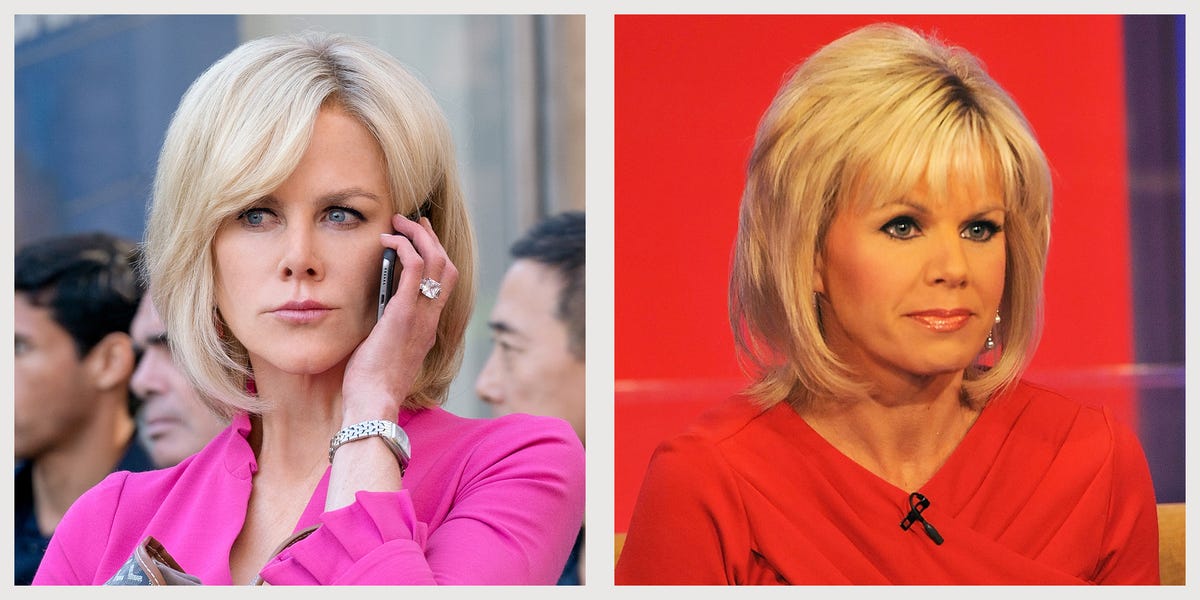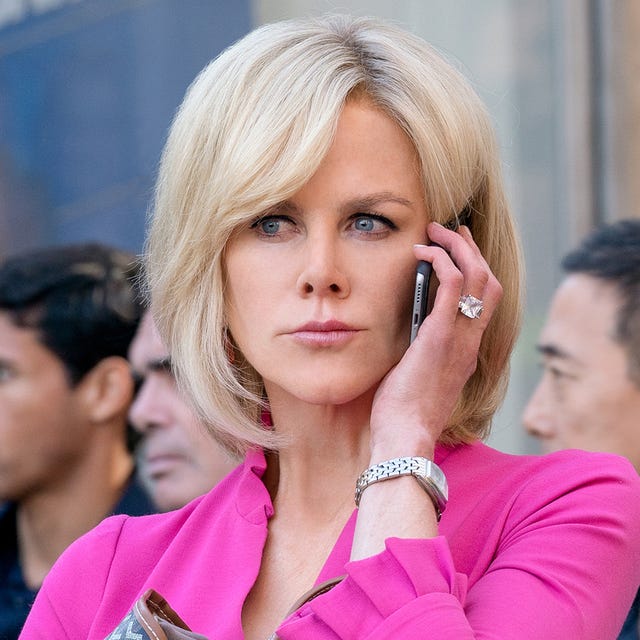 Hilary Bronwyn Gayle SMPSP/Getty Images
For Bombshell, a trio of A-listers—Nicole Kidman, Charlize Theron, and Margot Robbie—were Fox-ified. To play anchor Gretchen Carlson, host Megyn Kelly, and composite character Kayla Pospisil respectively, the actresses were transformed with hair, makeup, and expert prosthetics. The results? "The look," makeup artist Vivian Baker told the New York Times, "fits within that whole concept of women as Barbie dolls… It has to fit a predetermined idea of what men think is pretty, more specifically what Roger Ailes thinks is pretty."
To transform herself into a shockingly accurate likeness of Megyn Kelly, Theron wore an impressive array of custom prosthetics—a nose plug, nose tip, and pieces for her eyelids, jaw, and chin—all painstakingly crafted by prosthetics master Kazu Hiro. Along with Kidman and Robbie, Theron also had a custom wig—and all three headpieces cost the production between $7,000 and $10,000 apiece. "Each hair is hand-tied one by one," hairstylist Anne Morgan told the Washington Post, explaining the level of care and labor that went into them.
And the lead women weren't the only actors who spent hours in the makeup chair. John Lithgow, who plays Roger Ailes in Bombshell, had prosthetics applied to adjust his nose, cheeks, neck, hairline, and earlobes. This attention to detail has ensured that even while the movie itself endured mixed reviews, Baker, Hiro, and Morgan have earned consistent praise.
Here, see just how close Bombshell's cast came to looking like the real Fox employees who inspired the film.
Advertisement – Continue Reading Below
1
Nicole Kidman as Gretchen Carlson
Nicole Kidman stars as Gretchen Carlson, the former Fox News anchor who filed a sexual harassment lawsuit against Roger Ailes.
2
Charlize Theron as Megyn Kelly
Megyn Kelly—a Fox host who published allegations against Ailes in her 2016 memoir—is played by Charlize Theron.
3
Margot Robbie as Kayla Pospisil
Kayla Pospisil is a fictional employee at the news network, portrayed by Margot Robbie in Fox's signature bleached-blonde style.
4
Malcolm McDowell as Rupert Murdoch
Veteran actor Malcolm McDowell portrays Rupert Murdoch, the media tycoon at the top of a worldwide empire.
5
John Lithgow as Roger Ailes
Roger Ailes, the longtime Fox News leader who was ousted in the wake of a sexual harassment scandal, is played by John Lithgow.
6
Connie Britton as Beth Ailes
Connie Britton takes on the role of Beth Ailes, Roger Ailes's wife.
This content is created and maintained by a third party, and imported onto this page to help users provide their email addresses. You may be able to find more information about this and similar content at piano.io
Advertisement – Continue Reading Below