Hot news
Complete Inkscape Review – Is Inkscape Good for Beginners?
[ad_1]

Inkscape 2021
Platforms: Windows, Mac OS, Linux

Price: FREE

VERDICT: Inkscape is a full-featured, completely free alternative to Adobe Illustrator. Contrary to all expectations, this free drawing software has quite powerful tools combined with a simple and intuitive interface for beginners.
Is Inkscape good? Can I install it on my Linux laptop? If you are a designer and don't like the subscription system that forces you to pay for a particular product every month, or you simply can't invest in expensive software packages, Inkscape may be a decent variant for you.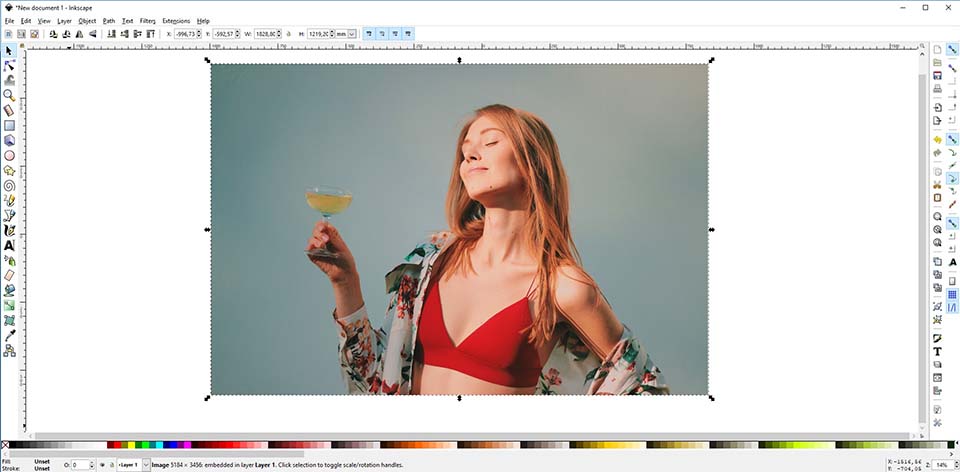 DOWNLOAD INKSCAPE FREE
Inkspace's basic file format is SVG. It is a cross-platform open file format widely used among Adobe products. This format can create relatively compact file sizes without losing the quality of the original image.
The open source code that lets you manually change the lines of code and improve the program is another significant and positive side of this vector graphics editor. Inkscape will be the best choice for beginners or hobbyists, but it won't be suitable for experienced users. Some tools still require improvement.
Read this Inkscape review about everything you should know about this free and open source vector graphics editor. Can it replace Adobe Illustrator and help you make photo-realistic drawings?
Inkscape Review

DOWNLOAD INKSCAPE
Inkscape is a cross-platform vector graphics editor with advanced tools. I tested Inkscape on a fairly weak laptop for architecture and I was pleasantly surprised with the speed and responsiveness.
Unlike Illustrator and Photoshop, Inkscape has minimal system requirements, and is also highly optimized (programs like GIMP and PhotoScape also have a minimum system requirements threshold, but are poorly optimized).
Cluttered and Inconvenient Interface
All available versions of Inkscape software for Windows, Mac OS and Linux have a fairly old interface. It hasn't been updated for more than 5 years. At the top of the program window, there is a panel with various functions, on the left – basic tools, and on the right – the command bar.
All this together may seem difficult for a beginner. However, I like that the editor lets you customize the interface, remove or add functions and tools. To get rid of the unnecessary panels, go to "View" – "Hide".
Text Processing Tools and Functions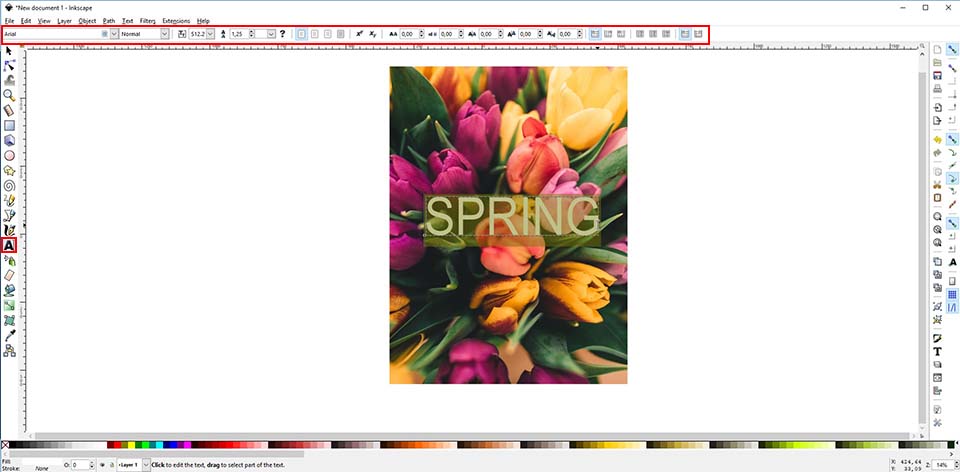 This free vector graphics software copes perfectly with printing and preparing files for it.
You may easily create individual text lines without frames in addition to the paragraph type. To do this, you need to use the Flow Text tool, which can be installed inside any shape, and with Regular Text, you can choose any desired font and its size.
Inkscape's streaming text won't be supported outside the program, so you will need to convert it into plain text, for instance, before exporting for web design.
Besides, if you copy and paste text from Illustrator or other programs using more sophisticated printing tools, Inkscape can paste gobbledygook.
To fix this, use a "Remove manual kernels" feature that fixes all custom formatting and typically solves the problem.
Unrefined Formatting Functions
The available formatting functions of this vector drawing software may seem incomplete or less flexible than those of direct competitors such as CorelDraw.
Accessing various functions, such as OpenType, causes difficulties because you have to assign a specific tool manually. Also, I don't like the fact that the editor doesn't have a feature to create paragraphs or character styles.
Moreover, dot formatting in Flow Text often leads to unpleasant changes.
Creative Gradients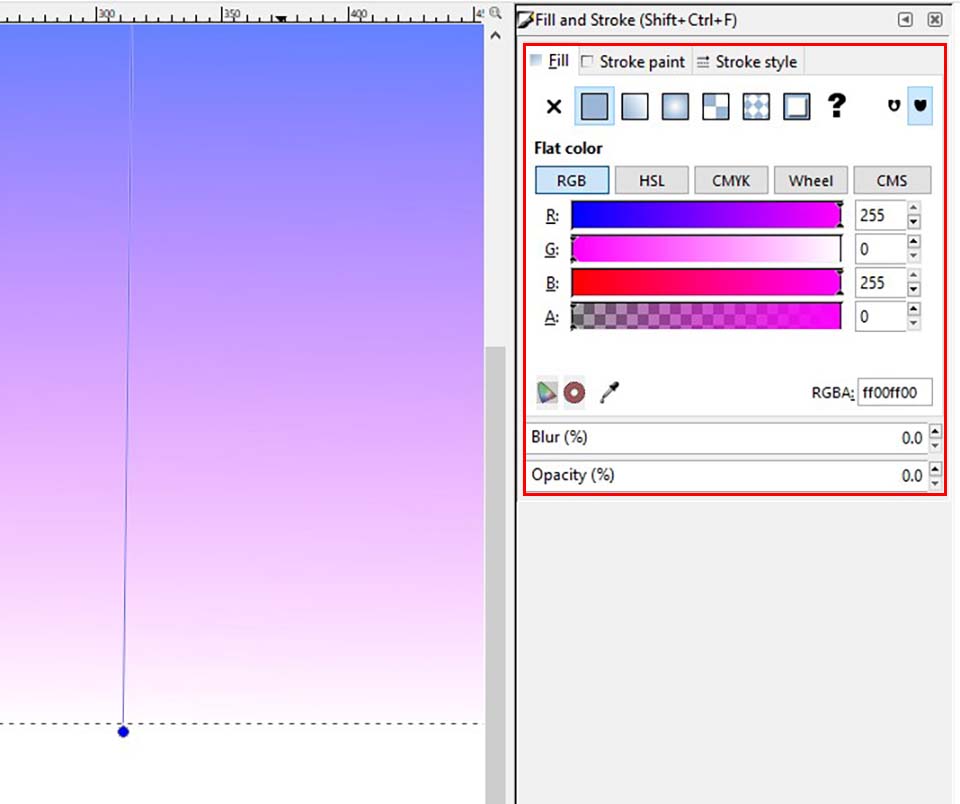 Inkscape supports various gradients and offers a separate tool for creating complex combinations. Like Illustrator, the program includes such tools as Diagram Connector, 3D box Sculpt/Paint.
Easy Node Editing
Nodes are structures that show how vector graphics are created, and they are associated with some mathematical operations. Nodes allow artists and designers to manipulate objects, images and graphics that are vectorized.
Inkscape provides tools for moving nodes and Bezier handles. Bezier handles are used for easy movement of nodes.
Users may insert tons of nods. It allows manipulating many parts of an object and moving its edges in various ways. Meanwhile, if a tool is chosen to make the selected node symmetrical, it will let users pull out one side of the handle and the other side – to scale accordingly.
Full-Featured Vector Managing Tools
Inkscape provides many full-featured and well-designed tools for creating, editing and converting vectors. Each of the tools has a separate settings window, which greatly simplifies the work without cluttering the interface.
In addition to the tools, you will be pleased with the ability of this vector design software to create or download ready-made plug-ins. The tools include spiral, paint bucket, brush, pencil and airbrush.
Advanced Filters and Effects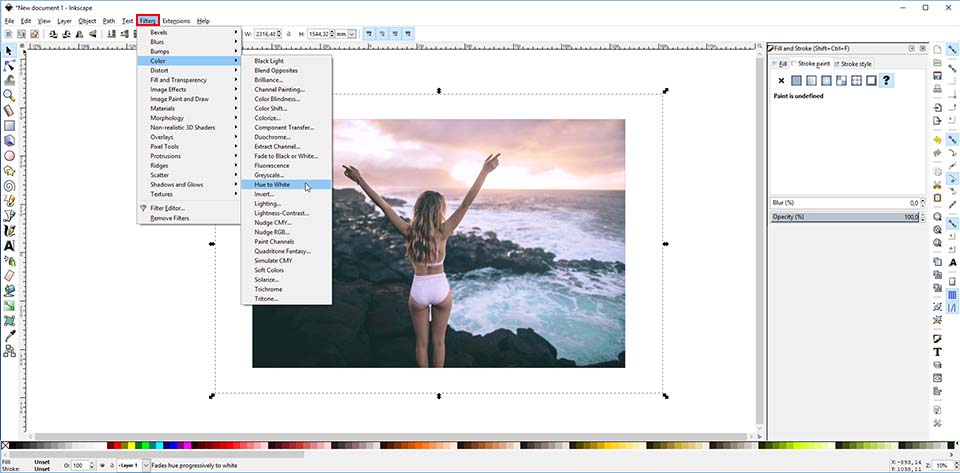 When testing the program for my Inkscape review, I noticed that it keeps up with the trends and provides the user with about 20 different preset categories of filters that can be used.
With their help, you may convert text to Braille, create several types of barcodes or grids, generate a calendar and more in one click.
Quick Import
Preparing files for commercial printing can be challenging. This digital painting software doesn't support CMYK and Pantone. So if your work is meant for printing, you have two options:
Method 1. Find out if your printer converts your files into CMYK.
Method 2. Use another program, such as Adobe Acrobat or Scribus with open source, to do the conversion.
If your files are screen-bound (web page, app design, etc.), the process will be easier because you can export them as optimized SVG, PMG or even HTML. The only restriction here is that Inkscape is unable to export as JPG, so you will have to use another program to do so.
Price
One of the most significant and positive qualities of the editor is certainly its price. Inkspace doesn't offer any pricing plans for businesses, as it is an open source program, GPL (General Public License). Inkscape free download is available for all platforms: Windows, Mac OS, Linux.
DOWNLOAD INKSCAPE
Tip: If you are downloading the app for Mac OS, select an earlier version (for instance, 0.92.2). The reason is that Inkscape doesn't support high-resolution Retina displays.
Similar Products
Illustrator

Developer: Adobe

Free trial or $19.99/month

Affinity Designer

Developer: Serif

CorelDraw

Developer: CorelDraw

Gravit Designer

Developer: Corel
. .
Inkscape VS Similar Programs
To give you a more comprehensive Inkscape review, I compared it with several leading programs.
Inkscape vs Illustrator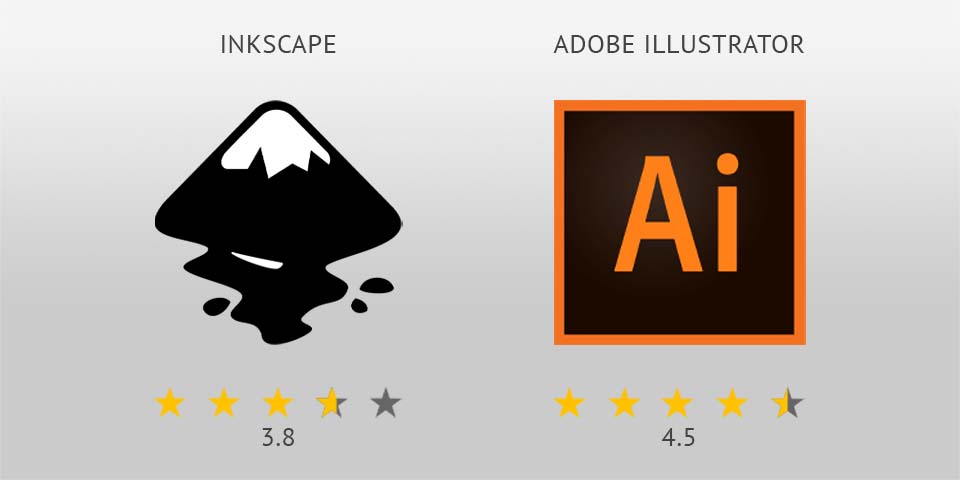 Comparing Inkscape vs Illustrator, I came to the conclusion that Illustrator is significantly ahead of the opponent. It is widely recognized as a standard tool for vector design and is used by the vast majority of studios, agencies and professional designers.
Both Inkscape and Illustrator are "multifunctional". Illustrator offers a large set of features that allow you to create logos, icons, sketches, typography and complex illustrations.
When it comes to flexibility, Inkscape wins. Both applications provide a lot of possibilities for graphics editing.
However, while Illustrator supports almost all file types, Inkscape doesn't support the .eps format. Unfortunately, Inkscape doesn't have the ability to output files in CMYK color profiles, which will make the development of something for printing a real problem.
Inkscape is indeed a viable alternative to Illustrator when it comes to such things as website icons, channel design, Facebook cover photos, graphics interface of mobile apps and nothing more.
Inkscape vs CorelDraw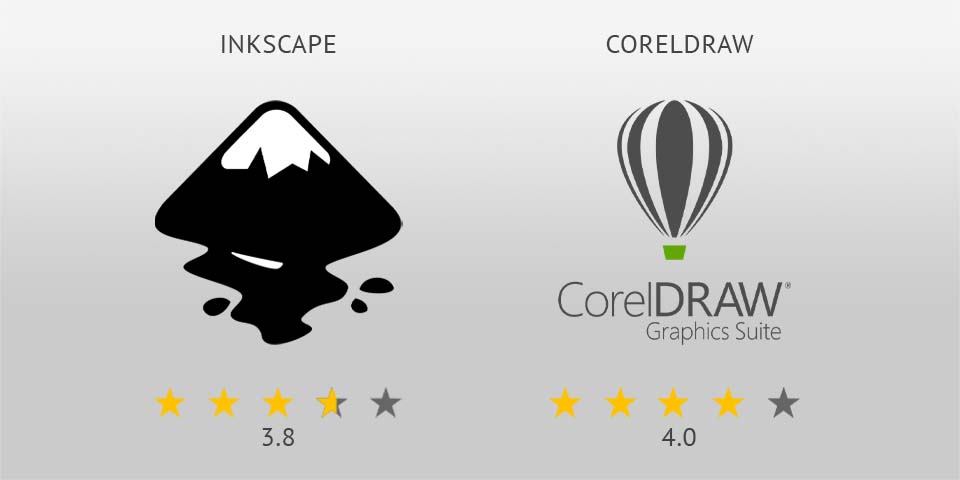 Comparing this Inkscape alternative with the program itself, I haven't quite decided on the leader in this battle, perhaps it is a draw. Inkscape is completely free and has a GPL license. CorelDraw is more efficient and intuitive.
This CorelDraw alternative supports many common import file formats (including SVG, Photoshop and Illustrator). Besides, its plugin architecture lets you add more than in CorelDraw. However, Corel Draw is capable of working with large print projects.
You may use the "legs" as a unit for the output size, and it can still export the graphics to your computer's system resource without problems. Inkscape has difficulties doing that.
Inkscape vs Affinity Designer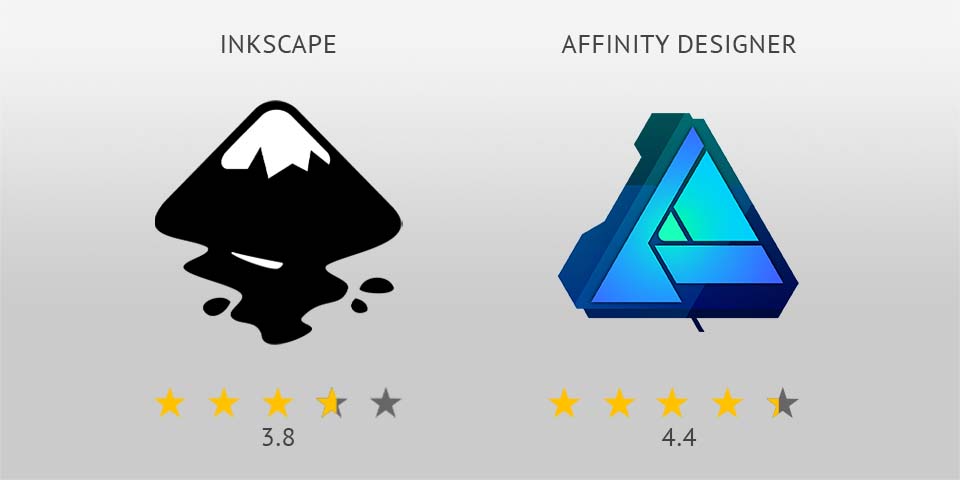 Inkscape is very close to CorelDraw and can easily replace it. However, comparing it with Affinity Designer, the application should go through more than one update.
Inkscape is free and I believe it is the only advantage to date. Affinity Photo offers a significantly better interface and the tools have more advanced settings.
The learning curve, though, will be a bit more complicated than in Inkscape but after some time, it becomes intuitive.
Frequent updates and bug fixes are other important advantages of Affinity Designer. Moreover, users will appreciate its support for all kinds of file formats, including CMYK and Pantone.
Why Choose Inkscape Vector Editor Instead of a Raster One?
Freebies for Working with Inkscape
Since Inkscape lets you extend your toolkit, I have prepared for you a few completely free plug-ins that might come in handy.
Free Inkscape Fog Overlay "In the Woods"
A diffused fog looks great if the image already has a fog element and you just want to enhance the individual details.
In case, the original shot of nature or animal doesn't look very interesting, try adding a fog effect.
Free Inkscape Brush "Cloud"
Do you wish to cover only the right upper part of your shot with pure white puffy clouds? This free brush will help achieve the desired effect.
Besides, it will look very harmonious if there is a white object in the foreground. As a result, the picture appears perfectly balanced.
Free Inkscape Fonts "Artonica"
It is considered to be one of the most legible and best free fonts for logos. The combination of thin and thick lines, sharp and rounded edges gives the text a refined look.
Free Inkscape Texture "Brush Strokes"
This watercolor texture resembles a stunning summer sky. The mix of gray-blue color with white particles creates a real dramatic feeling.
The texture is made in the technique of strokes, where the spots are suitable for wedding shots and portraits.
[ad_2]