Craftaholics Anonymous® | 33 Ideas to Display School Photos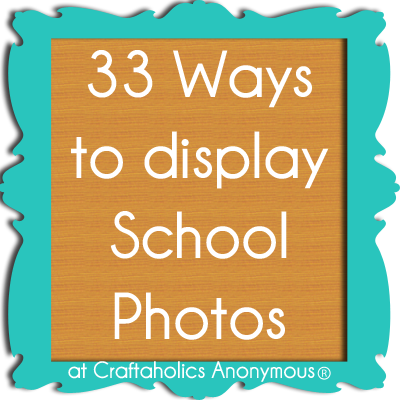 Happy Tuesday! Need some creative ways to display school photos of your kids? Here are 33 awesome ideas from crafters like you!
This post is compiled from this Facebook thread where Sabrina asked:
"I have 8×10 school photos of my children that I have kept in one frame. I just add the newest on top. Today my husband and I looked through them enjoying all the changes. I would like to know if there is a craft I can do to display them in chronological order without having a million frames on the walls?" – Sabrina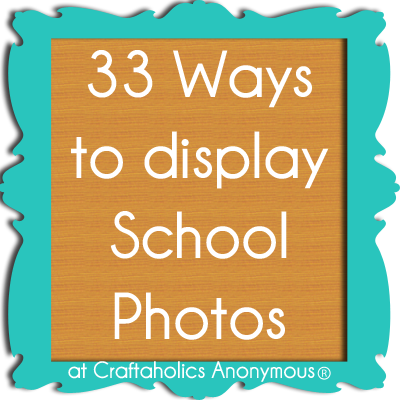 How to Display School Photos
1. "They make collage frames. Why not copy in a smaller size and use those?" – Jodi D.
2. "Shrink them all onto one photo and put on canvas!" – Melissa P.
3. "My first thought is to scan them in and then create a photo collage of them all." – Alicia H.
4. "If you or someone you know is handy what about having something made like the poster displays in the store? Kind of a flip book of sorts." – Crystal C.
5. "Use an old door with windows and put the pictures on the panes of glass." – Katy M.
6. "It's not a craft project, but you could use a digital picture frame." – Kathy C.
7. "How about scan them and have photobooks made that can be given as gifts also. There are several companies that do it for a really reasonable priced and most offer coupons." – Chrissy P.
8. "Take the pics, have them scanned onto fabric, and make a quilt." – Julie H.
9. "I like the door idea. Then use that door as the door to their bedroom!" – Rachelle G.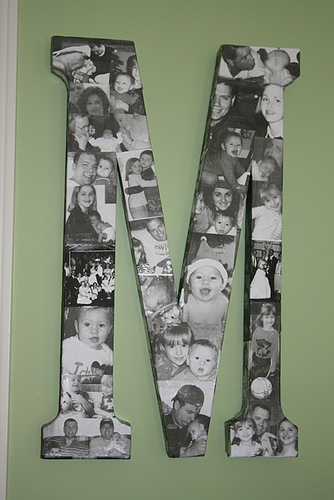 image from A Little Moore
10. "This is a cool idea – decoupage the photos on to the child's initial and you'd have room to add more letters in the future." – Geri J.
11. "You could make smaller images of the pictures. Take a metal frame to put the latest one in and then make magnets of the previous years to place along the frame. This would be easy to add to each year." – Tanya R.
12. "Make a calendar… 12 pictures for 12 months!" – Margaret O.
13. "I made an online 12×12 scrapbook page of my kids, labeling each picture with the age appropriate number. Then I had them printed and hung them in a 12×12 frame. I still like to stop and look at how they changed over the course of time." – Jami C.
14. "Make a scrapbook! It is easy and relaxing! I love the products from creativememories.com! Then you have a beautiful album that's easy to flip through!!" – Jennifer J.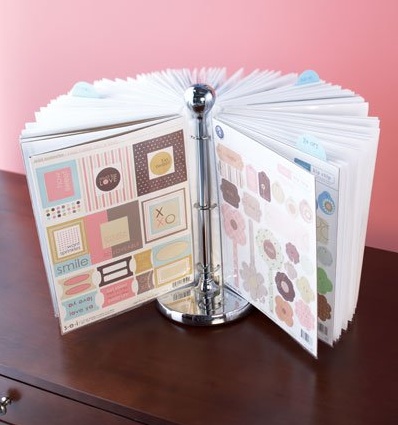 image source
More ideas to display school photos…
15. "What about a paper towel holder or a small curtain rod + rings + plastic paper sleeves? Similar to the idea above, although I am sure you could modify it to hang on the wall and look all fancy!" – Alysha D.
16. "I like photo books myself. You could always scan them and print them smaller and make them into coasters." – Sara O.
17. "Run a string or line and use clothespins to hang the pictures. You could decoupage pretty paper on the clothespin to spruce it up. You can change them out anytime." – Tiffany R.
18."Shrink them down with a photo editing program then put them on old CDs or DVDs that you've painted. It's really easy to put holes in them to link them together. I use colorful paper clips or even twine. Then they can be made into window curtains or hung under the mantle – use your imagination here! Use Modge Podge or a good 'fixant' and 'sealer'. If you have access to a bunch of CDs, you could put other pictures (of activities between each year's school pic). I love my craft room CD curtains!" – Sandi P.
19. "I say the quilt or a scrapbook. With that you could add their report cards and maybe something they did that year." – Sue C.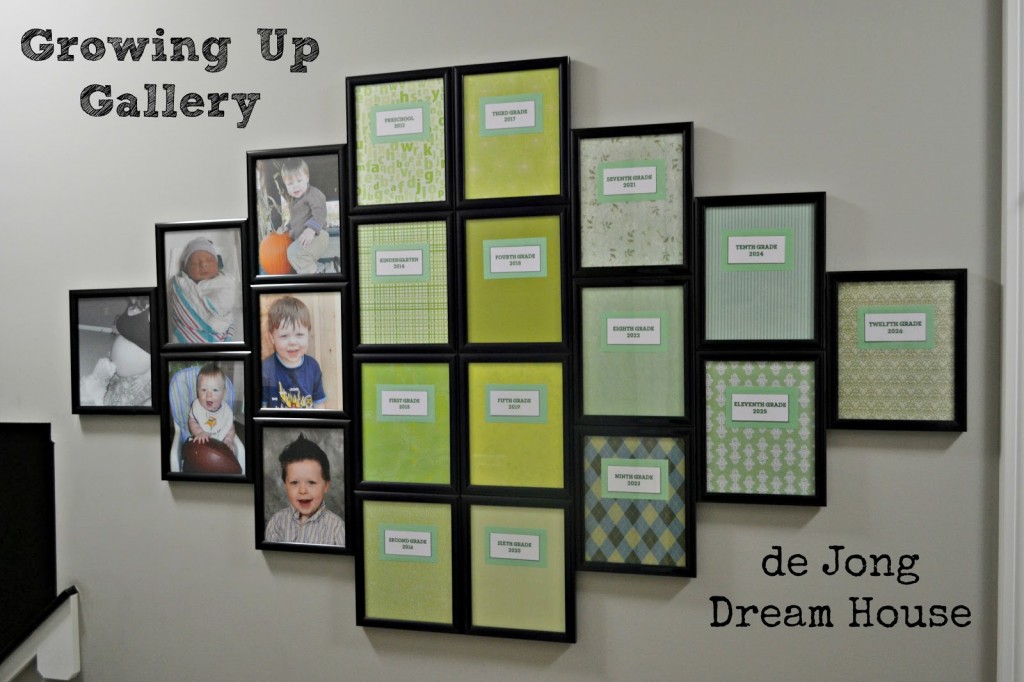 Image from de Jong Dream House
20. "I had the same issue, but I decided to use the frames to make this art project. I used 8x10s, but it would also work with smaller photos." – Jen A.
21. "I took several pictures of the same child over several years and cut them apart. Then I took a piece from each picture and reassembled the child's portrait on top of the latest picture. You could go chronologically or just randomly place the pieces. Example, take one eye from age 6, one eye from age 12, the nose from age 9, an eyebrow from age 5, an eyebrow from age 13, the mouth from age 8, an ear from age 7, etc. You could even go so far as to cut out each feature from every age picture, laminate them, and put magnets on the backs. Adhere the main (latest or earliest) picture to a quality metal baking sheet or a piece of sheet metal. That way they could "edit" themselves or you could turn your 16 year old back into a 4 year old." – Melissa B.
22. "I just did a great collage frame that holds 18 4 x 6 pictures. Scan all of the pictures and make them 4 x 6. I loved how it turned out!" – Chrissy A.
23."A quilt – a pretty way to display the pictures. Or you can shrink the pictures down, transfer them to fabric and put them on a pillow or two that you throw on your couch or your bed. Or shrink them down, transfer them onto fabric and make a tote bag." – Ardelle G.
24. "If you are ok with black and white..scan them all in and arrange them in a pattern you want. Then you can send it to Staples and have an engineers print made of them – they come huge like 3ft x 6 ft or so then just adhere it to a piece of plywood or if something lighter – a piece of foam insulation cut to size. Makes a great statement piece!" – Tammy H.
25. "If you are Photoshop savvy, scan them and layer them on on top of the other with an overlay blend and see what that looks like." – Andrea L.
26. "For my son's 8th grade graduation, I scanned each photo from ages 2 through 13 and created a slide show that faded into each photo after 3 to 5 seconds. The effect was eerie – it looks as if he was aging before my eyes in 30 seconds! I set it to 'You are my Sunshine' and loved it!" – Phyllis J.
27. "I would take them and use a photo editing program (any previously mentioned would work) to make the pics look Andy Warhol'esque' with bright colors and make them ultra modern. Look at some of his collage work. You could divide a custom canvas up evenly to display all of them or you can even have your photos placed on canvas at Wal-Mart now! I would recommend a large canvas, 30×30 or 36×36, whichever you have the space for. It would be like your own work of art!" – Melanie R.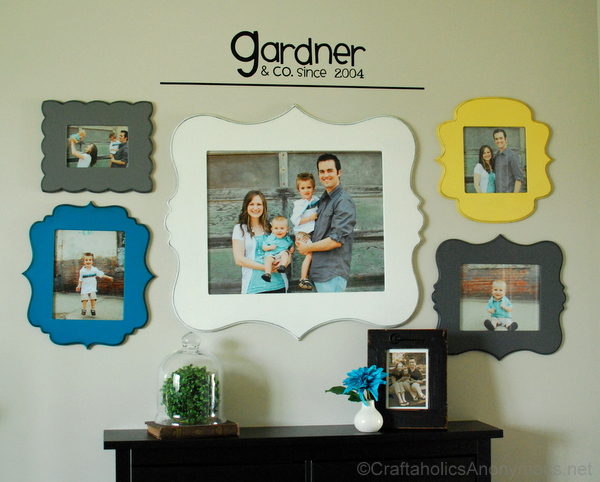 28. "I would take the pictures just like they are and scrap them in to an album. You really don't have to do much to them – find some card stock as the background, use some designer paper, and add the picture. You can 3-D their grade level on to the picture and maybe add something special from that grade like a tag with who the teacher was and the year it was." – Beverly B.
29. "I have always dreamed of doing a school album much like a wedding album with room for notes in it!" – Jenny C.
30. "Have them screen printed on to ivory canvas then turn them into either a lap quilt or a wall hanging quilt!" – Keriann S.
31. "I used to do that but the frames are getting to full. So I decided to put their pictures in sheet protectors facing one side and their final report card on the other side. I've thought about putting the class picture in the middle so they are all together." – Julie M.
32. "I do a 12 x 12 page for each of the year's school photos and keep them in a separate album. I keep the embellishments to a minimum and the whole family enjoys looking back at all the changes!" – Debra J.
33. "Maybe go to Wal-Mart or your favorite photo center and scan each one and have them developed into wallet size. You can make a collage with all the wallets." – Kendra H.
Thanks for stopping by today!
happy crafting,
Linda
Have you entered this giveaway? Click to enter!
Share and Enjoy