Craftaholics Anonymous® | Free Christmas Stocking Pattern and Tutorial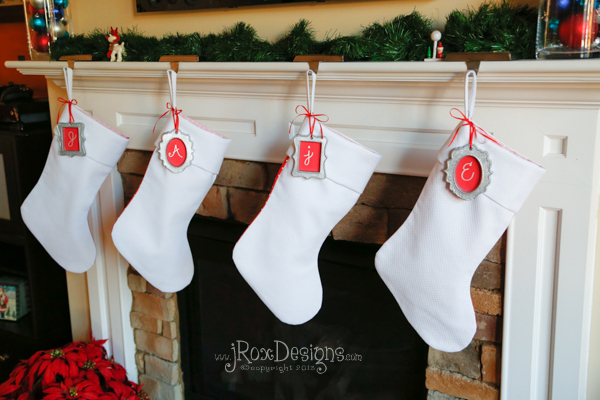 Need a fast Christmas Stocking pattern? Amber shares her easy stocking pattern with us today. I love how she added monogram ornaments to personalize each stocking! enjoy! -Linda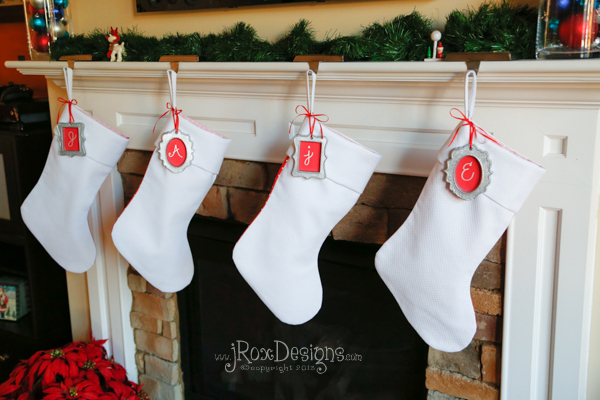 I love waking up every morning to see my home all decorated for Christmas…. but can I share something with you?  We have been without stockings for the last two years!  Gasp!!  I know it's bad but in my defense, Santa fills up all of our stockings at my parents house where we always spend Christmas morning so there was never any rush to get new stockings out of necessity.  We became stockingless on our daughter's first Christmas when I had every intention of making cute little stockings for our new family of four but that didn't happen.  Then last year life just was so crazy that again, we were stockingless.  So, I vowed this year we would be hanging our stockings by the fire with care!  I sat down and drew out a shape I liked, made a pattern, and made stockings. All in one afternoon! We now have new classy stockings! I even mixed it up a bit and did a contrasting fabric on the back so we can change them up if we want.  Do you need some new festive stockings too?  Well, sit back because I'm about to show you how you can make your entire family new stockings in no time!
Easy Christmas Stocking Pattern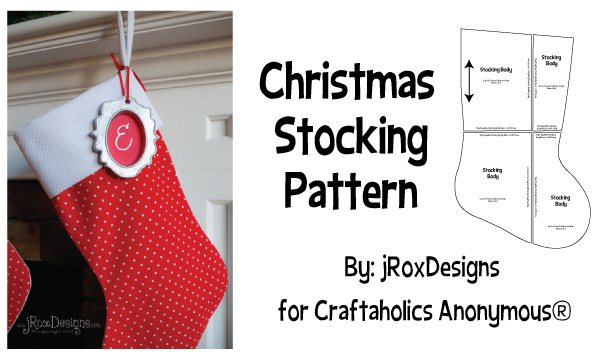 *Click Here To Download Christmas Stocking Pattern*
Supplies
Christmas Stocking Pattern (*Don't forget to turn off "fit to page" option in your printer settings)
Fabric:
Solid Stocking: 1 1/3 yd
Double Sided Stocking: 7/8 yd Main Fabric and 1/3 yd Coordinating Fabric
Coordinating All Purpose Thread
How to Sew a Christmas Stocking
To start, cut out and piece together your stocking body paper pattern.  Then cut out all of your pattern pieces out of fabric.  You should have a front, back (don't forget to flip your pattern to the back to trace out your back stocking piece!), cuff and hanger out of your fabric.  For my stockings I used the white matelasse on the stocking front, cuff and hanger. I used the red polka dot for the back.   After you cut out all of your pieces, place your stocking front and back sides together.  For this pattern, both the stocking body and cuff use a 1/2″ seam allowance and the hanger uses a 1/4″ seam allowance.  Don't worry, I'll remind you as we go along!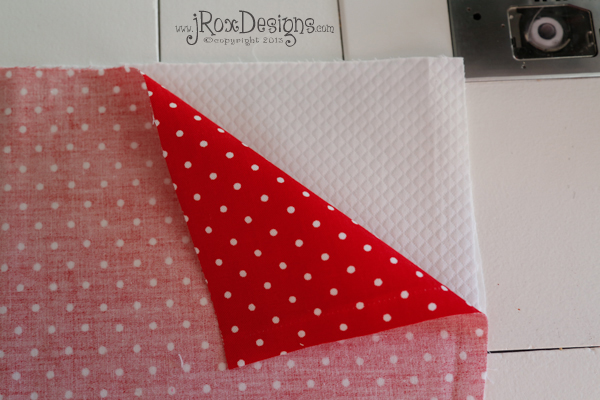 Sew around the sides and bottom of the stocking with a 1/2″ seam allowance, making sure to leave the top open.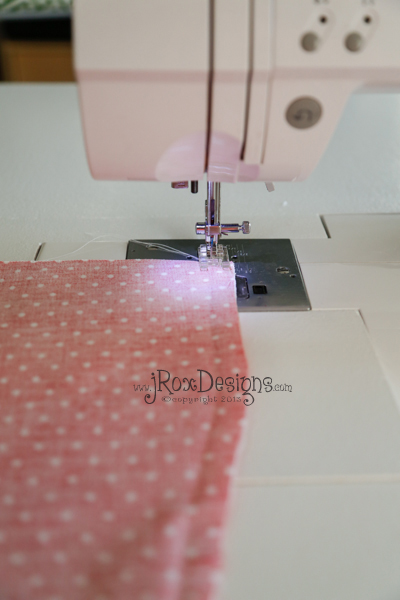 After you finish your seam you will want to clip around the curves of the bottom of the stocking.  It is important to clip your curves so that your seams will be smooth and lay flat once you have turned your stocking right side out.  (You can find more tips on clipping your seams here)  Now the main part of your stocking is done.  Pretty easy so far, right?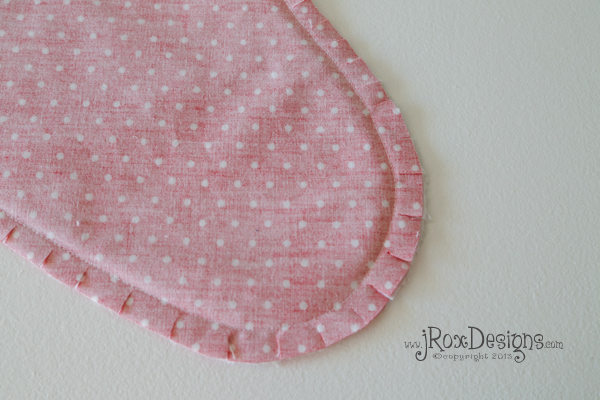 Creating the Cuff
To make your cuff, you will first want to sew together the short sides of your rectangle together.  Make sure to keep the right sides of your fabric on the inside and use a 1/2″ seam allowance.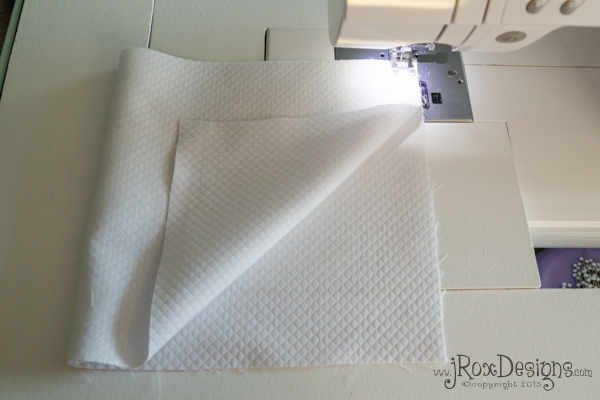 Press the seam open.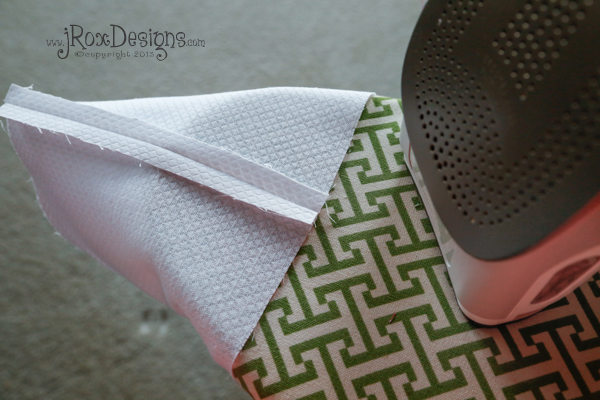 Now fold the cuff up onto itself so that the face of your fabric is outside.  Cuff is done!  I told you this was easy!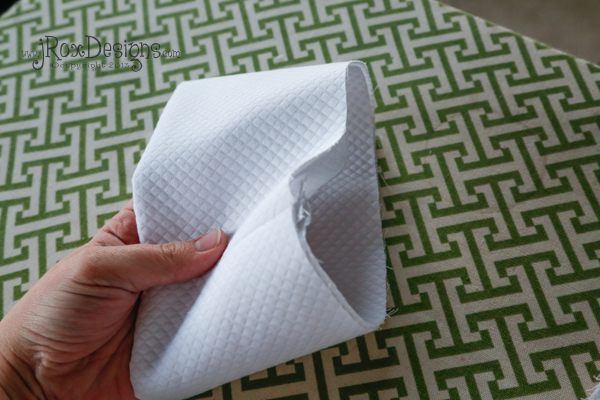 Sewing the Hanger
To make your hanger fold your piece in half length wise so that the right sides are facing each other.  Stitch a seam from top to bottom using a 1/4″ seam allowance.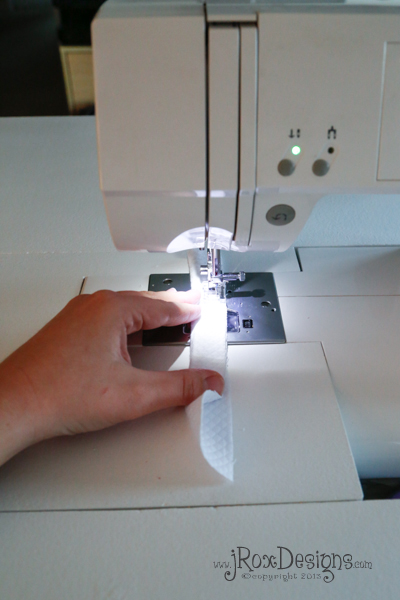 Now here comes the tricky part!  You will need to turn your hanger piece right side out.  The easiest way to turn a tube right side out is to take a safety pin and pin it to one side of your tube.  Then take the pin and push it into the inside of the tube and continue to push it towards the other opening.  The tube will slowly start to turn itself inside out.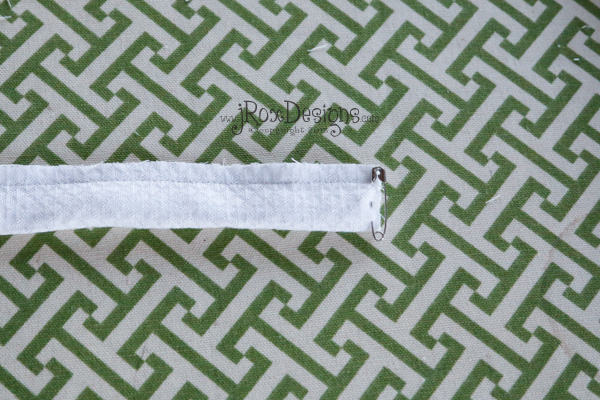 Once the safety pin makes it out the opposite end, you can continue to pull the rest of the tube so that it is turned the correct way.  Remove your safety pin and you are all set.  This technique works great for most fabrics but if you are using a more delicate fabric I suggest using another more gentle method that does not require a lot of tugging or pulling.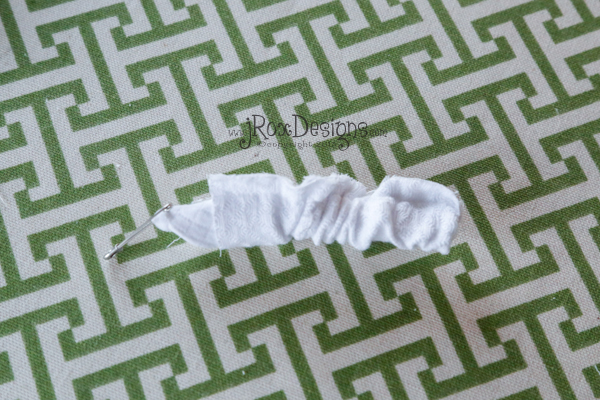 Now, iron your tube out flat.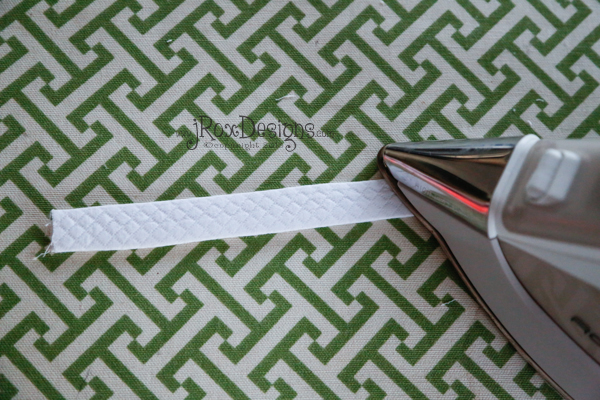 Fold your hanger piece in half and stitch into place at the seam where the front and back pieces meet, loop placed inward.  Make sure that your hanger is on the opposite side seam as the toe end of your stocking so it will hang correctly.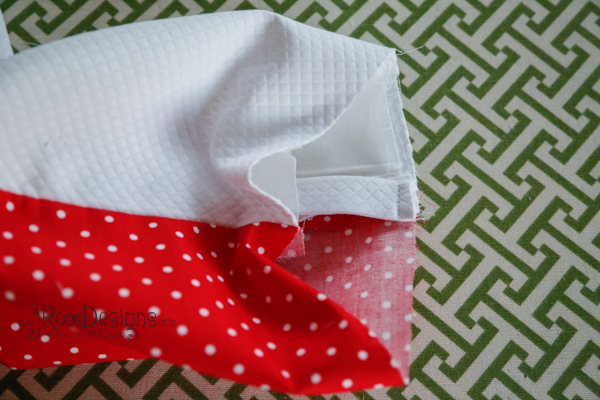 Now that your hanger is in place and you don't have to worry about it scooting around. Its time to pin the cuff in place.  Just to keep everything neat and tidy, I aligned my cuff seam with the same back seam where I have my hanger placed.  It makes for a bit of bulk around the seam, but so sew slowly over it.  Take your cuff and place the folded edge to the inside of the stocking and line up all of your seams.  Pin in place.  If you are having a hard time keeping the bulk from all of the seams in place, use a binder clip to help hold things!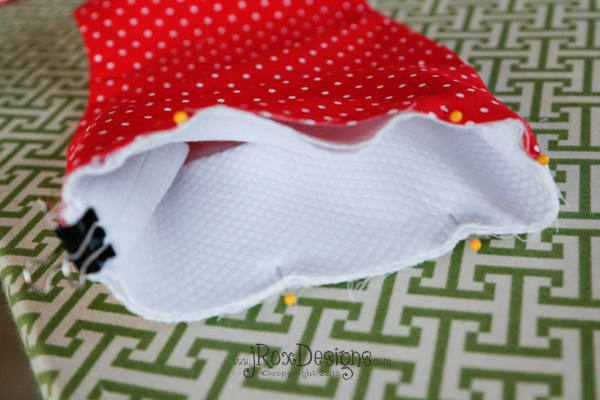 Sew the cuff and stocking at the seam using a 1/2″ seam allowance all the way around the entire edge.  Flip your cuff right side out, and touch up with any ironing and you are done!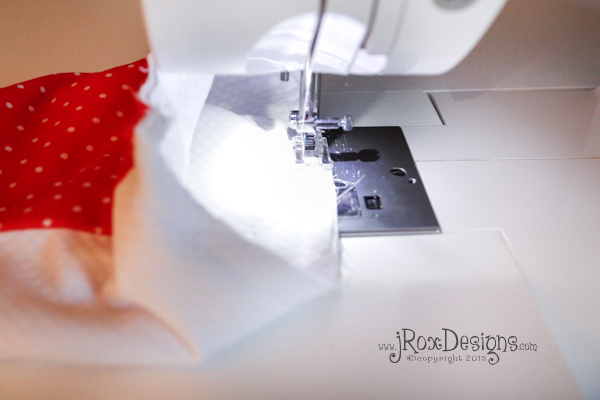 Stand back and enjoy your handy work!  No matter how big your family is, it will take you no time at all to whip all of these up.  My family of four was done all in one afternoon toddler nap session.  I decided this time to not go the traditional monogram or embroidery to personalize our stockings because I just like to be different!  I actually took my inspiration from Linda's post about personalizing store bought ornaments  and went to Michaels to pick up my own.  I found these cute little plaster ornaments on 70% off for a whopping 35 cents a piece!  Score!  A couple coats of glitter spray paint, card stock, a metallic marker, some festive ribbon and voila a new way to personalize stockings!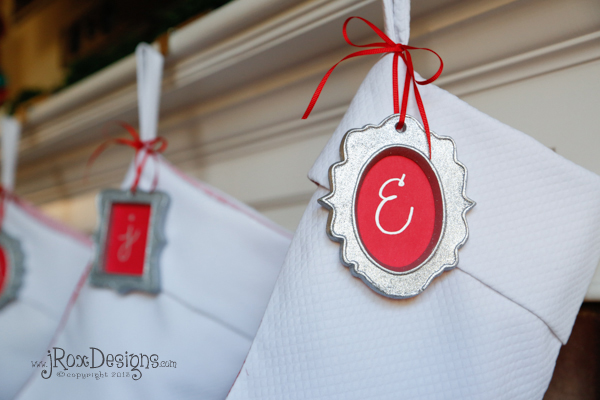 What Christmas traditions do you have with stockings?  Do you like crafting new stockings or do you have special ones that have been handed down? I'd love to hear in the comments below!
Merry Christmas!
Amber
Did you enjoy this Christmas Craft? Keep reading!
Follow along for inspiration for your every day crafting adventures! 
Pinterest // Facebook // Twitter // Instagram
Share and Enjoy