Craftaholics Anonymous® | Where To Find Free Pallets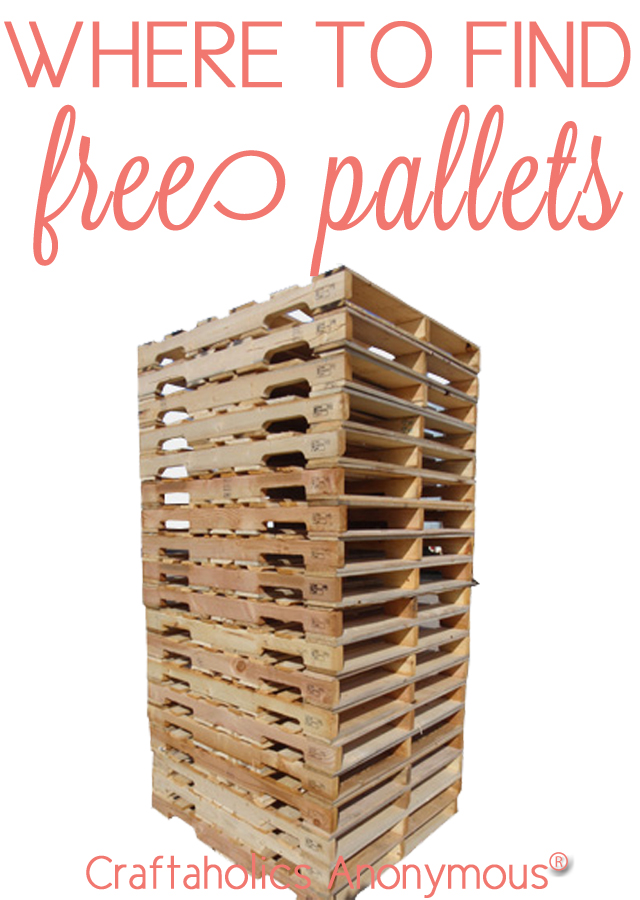 Projects made with pallets are so popular and there so many creative things you can do with them. But, everyone wants to know where to find free pallets! I have some great places for you to try out today thanks to the crafters over on the Craftaholics Anonymous Facebook page crafting community! Karen asks:
"Where does everyone get their pallets to use for all the awesome pallet projects I see? I would love to try some of the projects but have no idea where to get pallets. Thanks!"
Suggestions and ideas for this post were taken from this thread on the Craftaholics Anonymous Facebook page. Join us over there for lots of crafting tips and tricks!
Where to Find Free Pallets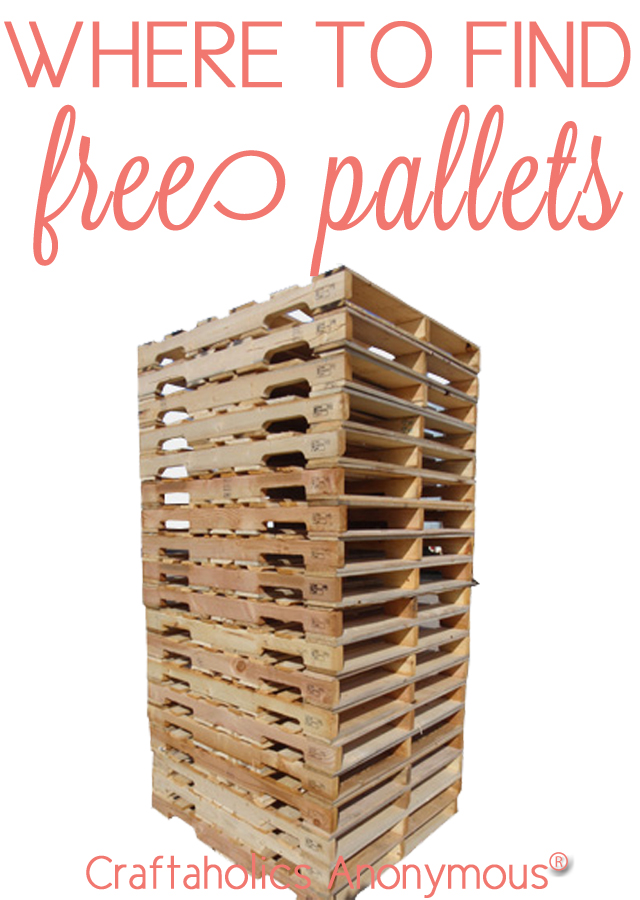 "Don't ever PAY for your pallets. You just have to ask businesses that you see them sitting out at. MOST businesses actually pay someone to come and haul them off; letting them go for free is much cheaper for them. My husband works next to an ABC Seamless Siding company and they told him to take all the pallets he wants, when he wants! We just finished our headboard out of one of them. Good luck!! And Happy Pallet Crafting!!" – Tammy H.
"Try your local feed store or farm and ranch store like Atwoods or Tractor Supply." – Jessica S
"I belong to a local buy sell trade site and people and businesses post them on there. Also if you call local places the will tell you of they give them away." – Melanie S.
"We live near a flooring warehouse so we get them from there, but we originally found out about the place in the free section of Craigslist." – Emily S.
"Never ever pay. Craigslist has an abundance of them. Ex: last week a store advertised that they had over 200 sitting next to it outside. 'Come and get 'em!'" – Danielle C.
"Construction sites, habitat for humanity stores, craigslist, pallet co sell them for about $3-5 or free." – Linda H.
"Look around where new houses are being built. There are usually several laying around" – Sammie H.
"Try your local Ranch/Feed store." – Christie H.
"My husband does construction so he just saves his empty ones." – Pam B.
"Most factories or manufacturers or any business that has a warehouse or gets a lot of deliveries on pallets will have them periodically. We have a glass installation business and an auto parts store that put them by their dumpsters regularly." – Lisa M.
"I went to a recycling center and mine were all free!!!" – Ellen S.
Where is your favorite place to get free pallets? We'd love to hear from you in the comments below!
Have a Craft Question you'd like an answer to? Post it on our Facebook page! Or follow our Pinterest page for loads of crafting inspiration!
Share and Enjoy