Dakota Johnson's Persuasion Netflix Adaptation, Cast, News, Premiere Date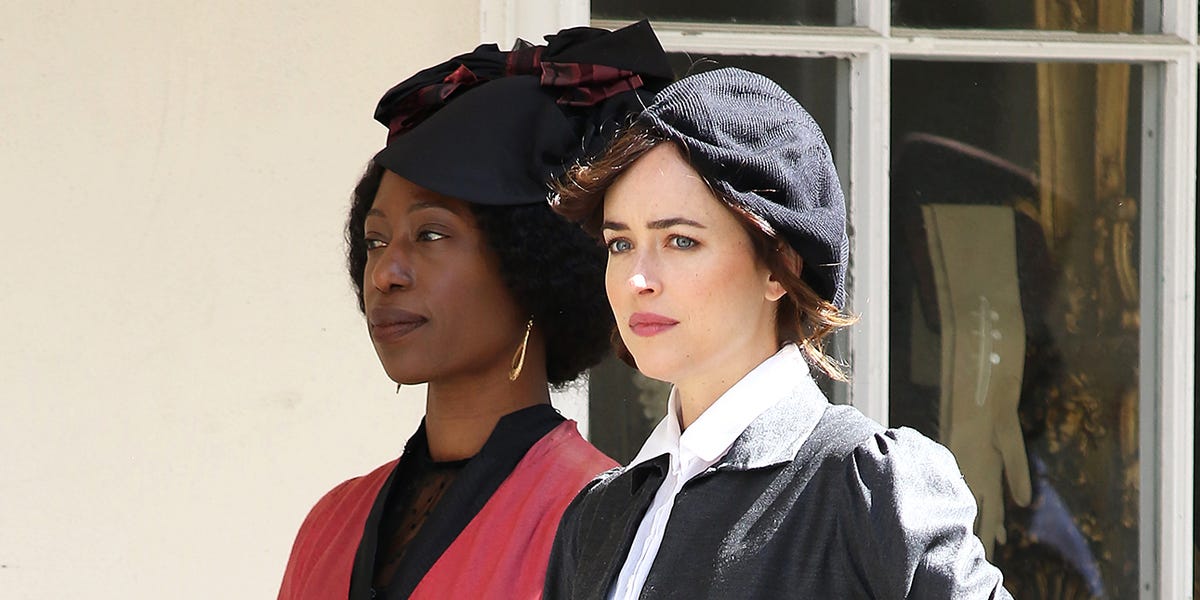 Is Jane Austen heroine Anne Elliot allergic to limes? We'll find out, as Dakota Johnson will portray Austen's most mature lead character in a new adaptation of Persuasion, the author's final completed novel. This comes after a recent announcement that Succession's Sarah Snook will play Anne Elliot in a different Persuasion movie. The Johnson version, however, will be retold with a "modern, witty approach" and brought to screens by Netflix and MRC Film, while the Snook iteration will be a more true-to-form period piece from Searchlight Pictures. However, both appear to be set in Austen's era, rather than the present day.
After last year's new Emma and countless imaginings of Pride and Prejudice, it's not surprising that there is insatiable demand for Austen adaptations. Here, find everything we know about the Dakota Johnson Persuasion movie. (If you're looking for the Sarah Snook version, find that here.)
Persuasion will premiere on Netflix in 2022.
While we do not yet have an exact release date, the movie is slated to air in 2022. Production on the Netflix feature began in May.
The movie is currently in production.
Dakota Johnson was spotted on set in Bath, England this week, filming the new movie. It's only fitting that Persuasion is shooting in Bath—Austen lived there from 1801 to 1806. In the first photo, Johnson wears a gray, long-sleeved period costume with a matching hat. She stands alongside co-star, Nikki Amuka-Bird, who sports a striking pink dress.
In the second, cheekier image, Johnson was spotted kissing, presumably, her Captain Wentworth, played by Cosmo Jarvis. Johnson wears a long, blue dress while her suitor sports a top hat.
Netflix gave a first look at the film.
Netflix posted a few movie stills of Dakota Johnson, Cosmo Jarvis, and Henry Golding on set. The group sports period costumes, however, Johnson's outfit appears to have a bit of a contemporary twist.
This content is imported from Twitter. You may be able to find the same content in another format, or you may be able to find more information, at their web site.
Dakota Johnson will star as heroine Anne Elliot.
Johnson, best known for the Fifty Shades of Grey trilogy, will play Austen's older, quietly intellectual protagonist. Anne Elliot is characterized by her maturity and dissatisfaction with her surroundings. The novel revolves around Anne's reconnection with Captain Frederick Wentworth, her former fiancé whom she left due to societal pressures. Anne must reevaluate both herself in her more mature phase and her relationship with her former suitor.
Johnson recently starred in the drama Our Friend and will soon appear in Maggie Gyllenhaal's The Lost Daughter and Stephanie Allynne and Tig Notaro's Am I OK?
Henry Golding joined the cast.
The Crazy Rich Asians star will also feature in Persuasion. According to Deadline, Golding is slated to play Mr. Elliot, "the callous and classic Austen foil." In the novel, William Elliot is a distant relative of Anne's and heir presumptive of Anne's father. He is cold and calculating, scheming his way into inheriting the Elliot title and property.
Cosmo Jarvis, Richard E. Grant, Suki Waterhouse, and Nikki Amuka-Bird will also appear in the film.
Model and actress Suki Waterhouse (The Divergent Series: Insurgent), Oscar nominee Richard E. Grant (The Iron Lady, Can You Ever Forgive Me?), and BAFTA nominee Nikki Amuka-Bird (of Zadie Smith's NW) all joined the Persuasion cast, though their roles have not yet been announced.
Cosmo Jarvis, best known for his role in 2016's Lady Macbeth and for playing Barney in Peaky Blinders' fifth season, will play Anne Elliot's love interest, Captain Frederick Wentworth.
Ben Bailey Smith, who played Doc Brown in The Split, Izuka Hoyle (The Outpost), Mia McKenna-Bruce (Get Even), and Nia Towle (The Hollow) will also appear in the feature.
The story will have a somewhat modern bent.

This Persuasion is set to be reimagined with a "modern, witty approach." However, given that the cast was photographed in period costumes, viewers should not expect a completely updated storyline. This doesn't seem to be a Clueless (based on Emma) or Bridget Jones's Diary (based on Pride and Prejudice), but the dialogue may be updated for this "modern" feel.
According to Deadline, "In this version of Persuasion, Anne Elliot is an unconforming woman with modern sensibilities, living with her snobby family who are on the brink of bankruptcy. When Frederick Wentworth—the dashing one she once sent away—crashes back into her life, Anne must choose between putting the past behind her or listening to her heart when it comes to second chances."
Carrie Cracknell, who directed Jake Gyllenhall and Tom Sturridge last year Sea Wall/A Life on Broadway, will make her film directing debut with Persuasion.
This content is created and maintained by a third party, and imported onto this page to help users provide their email addresses. You may be able to find more information about this and similar content at piano.io