DIY Porch Signs: How to Cut & Apply Long Vinyl with the Cricut Maker 3!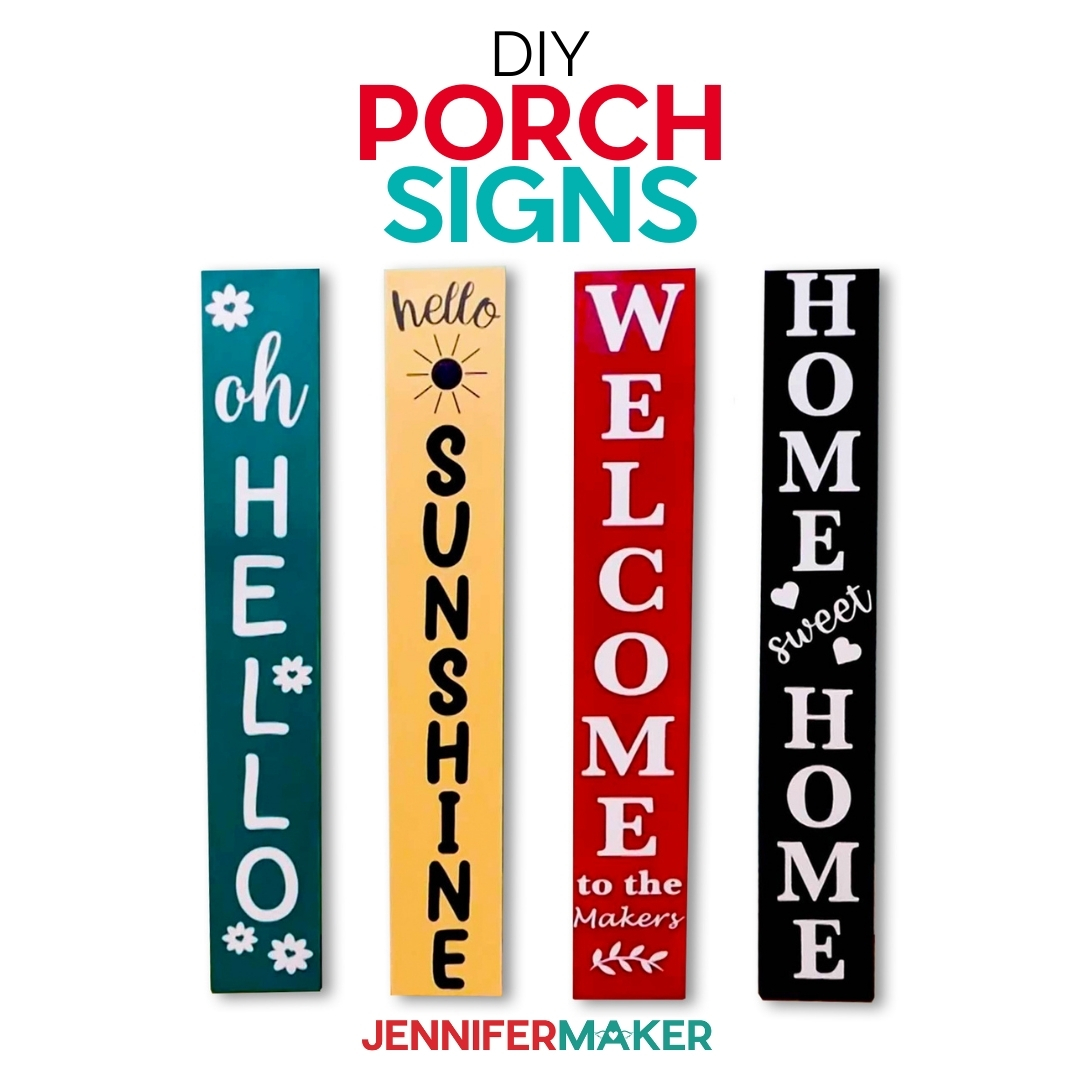 Instructions
STEP 1: PREP YOUR BOARD
These adorable DIY Porch Signs are all the rage these days and now they are easier than ever to make thanks to the new Cricut Maker 3 and Explore 3! Both machines allow for long cuts which make them ideal for this project!
For this tutorial, I will be using the Maker 3, but you can make this sign with either cutting machine. If you don't have a Cricut Explore 3 or Maker 3, you can still make this DIY porch sign with another cutting machine — see my Vertical Sign tutorial to see how to piece and align your vinyl on the sign.
The first step is to get your board ready. Prepping the board takes time, so plan on at least two days to complete this project.
Start by using your 220 grit sandpaper to sand down the surface and edges of your porch sign board.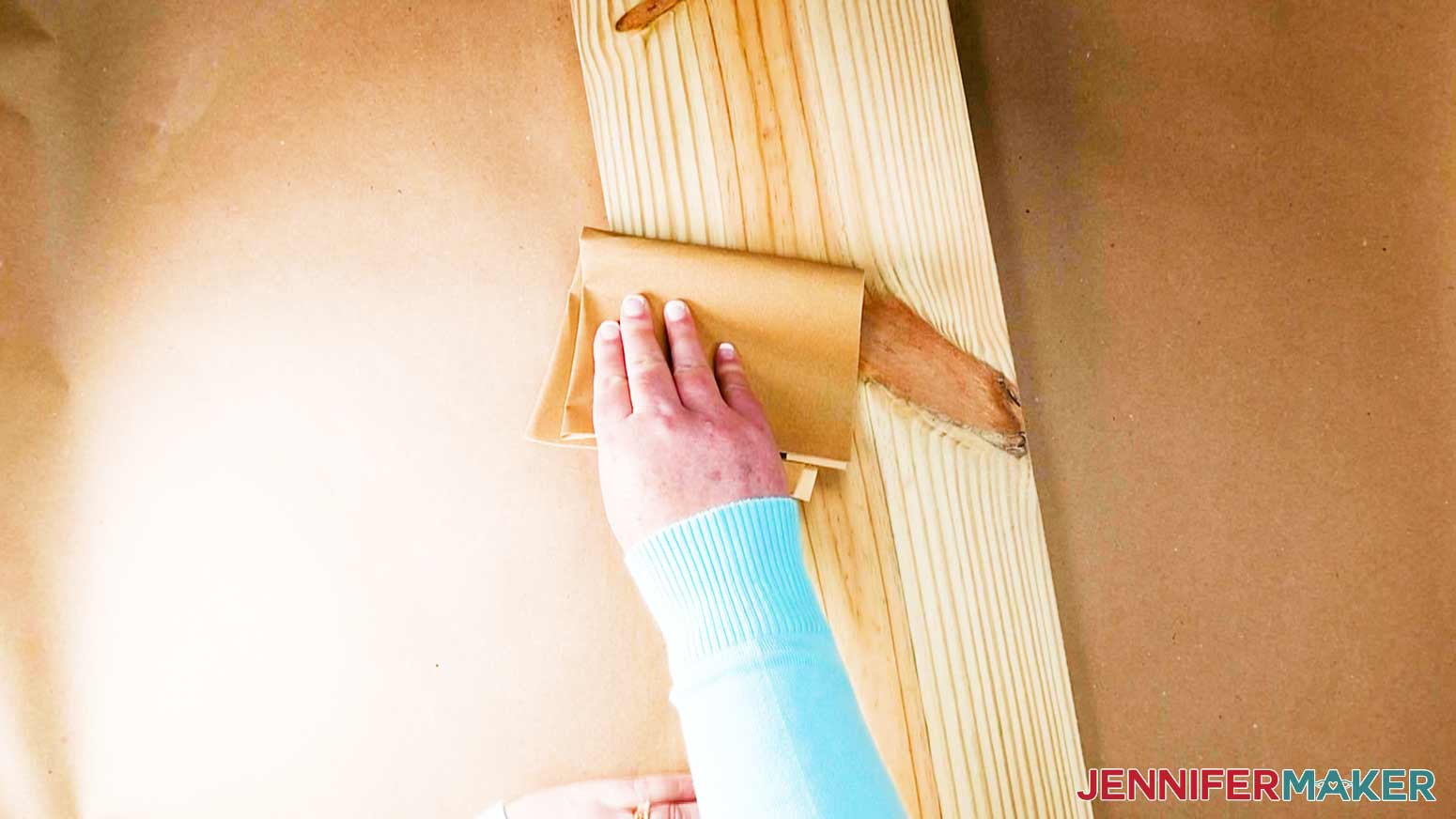 Once you're happy with the smoothness of your board, wipe it down to remove the dust. The smoother your board, the better the paint, polycrylic, and vinyl will adhere.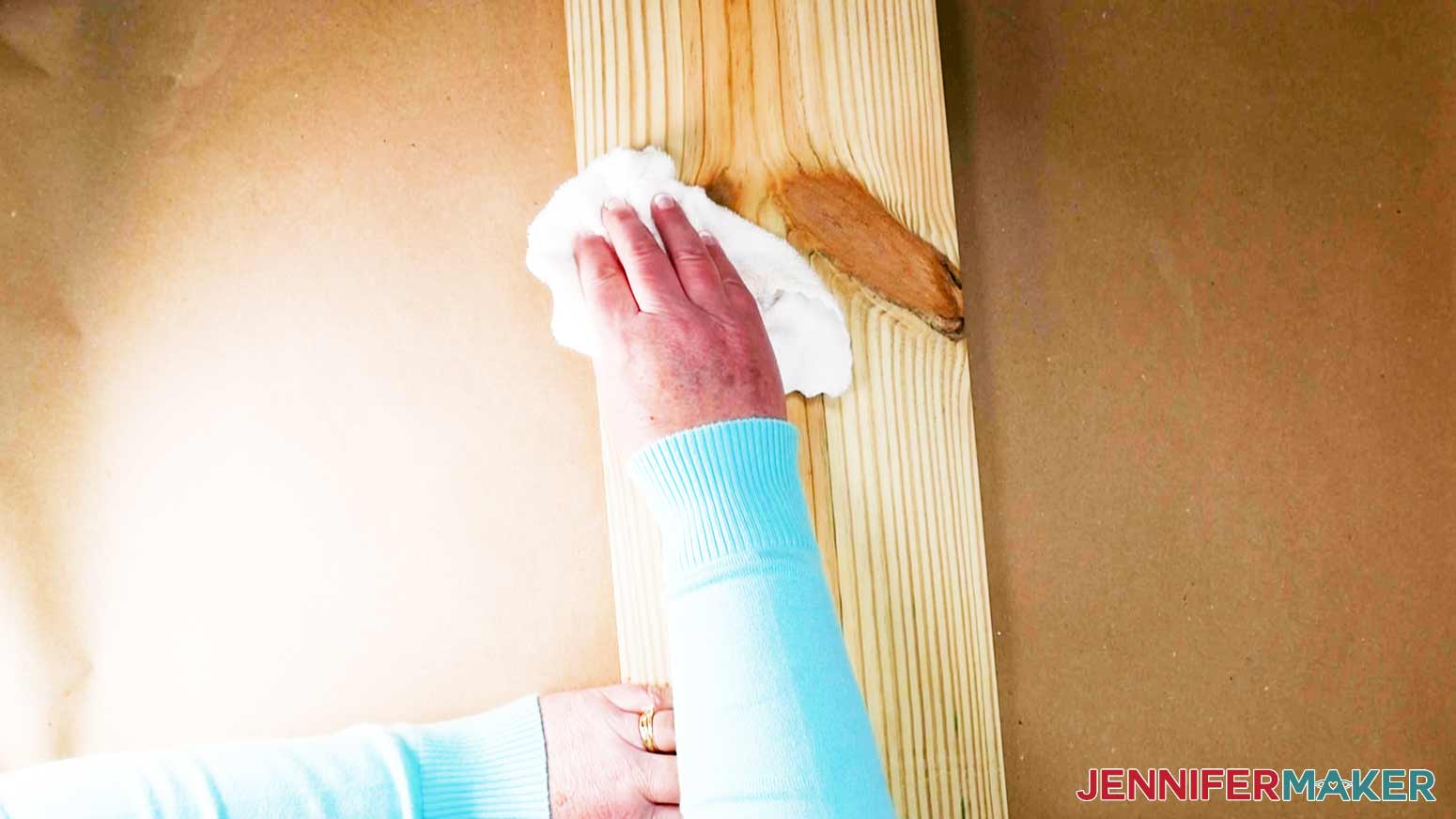 Next, use a foam brush to apply your chalk paint to the surface and edges of your board. I'm going with teal, one of my favorite colors, but you decide on what color is best for you!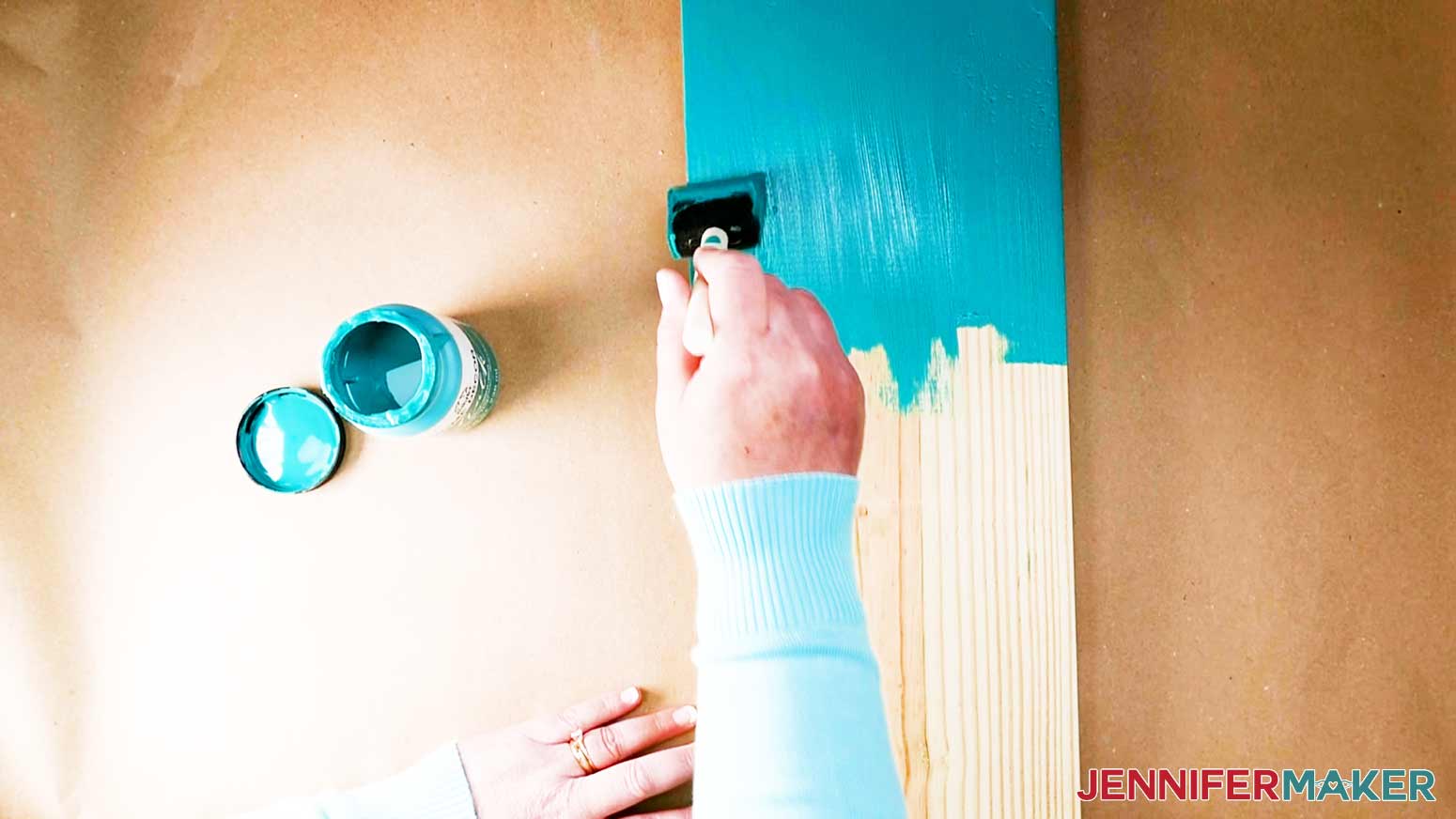 TIP: If you want a weathered look, sand the edges and/or flat surfaces of your board after about one hour, when the paint isn't quite dry yet.
Once the paint is dry (24 hours), gently sand the surfaces again. The smoother the surface, the better your vinyl will stick! Use a paper towel or rag to remove any sand dust.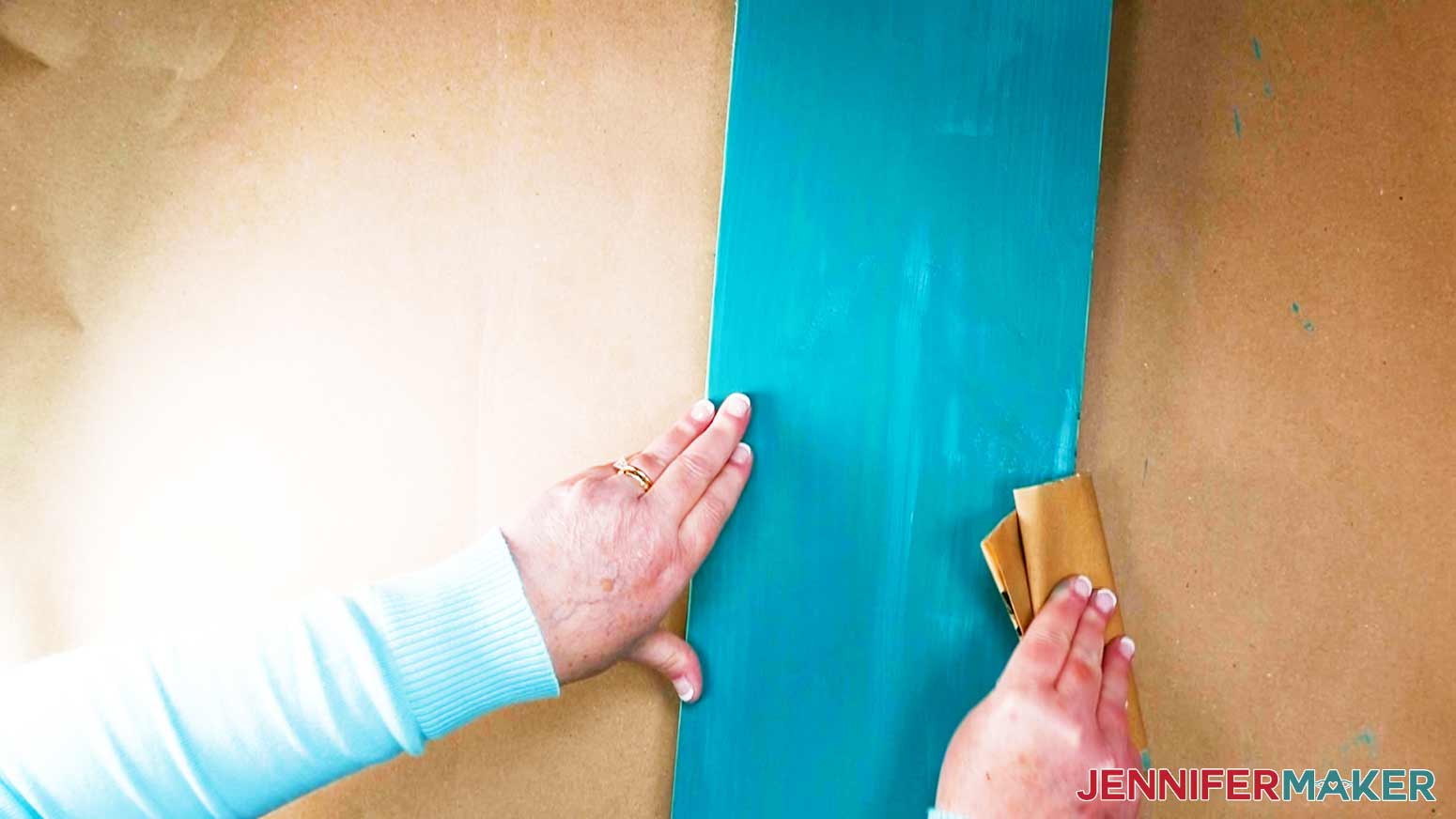 Make sure you are in a well-ventilated area to apply the polycrylic. Use your bristled paintbrush to apply a thin coat of polycrylic to your board.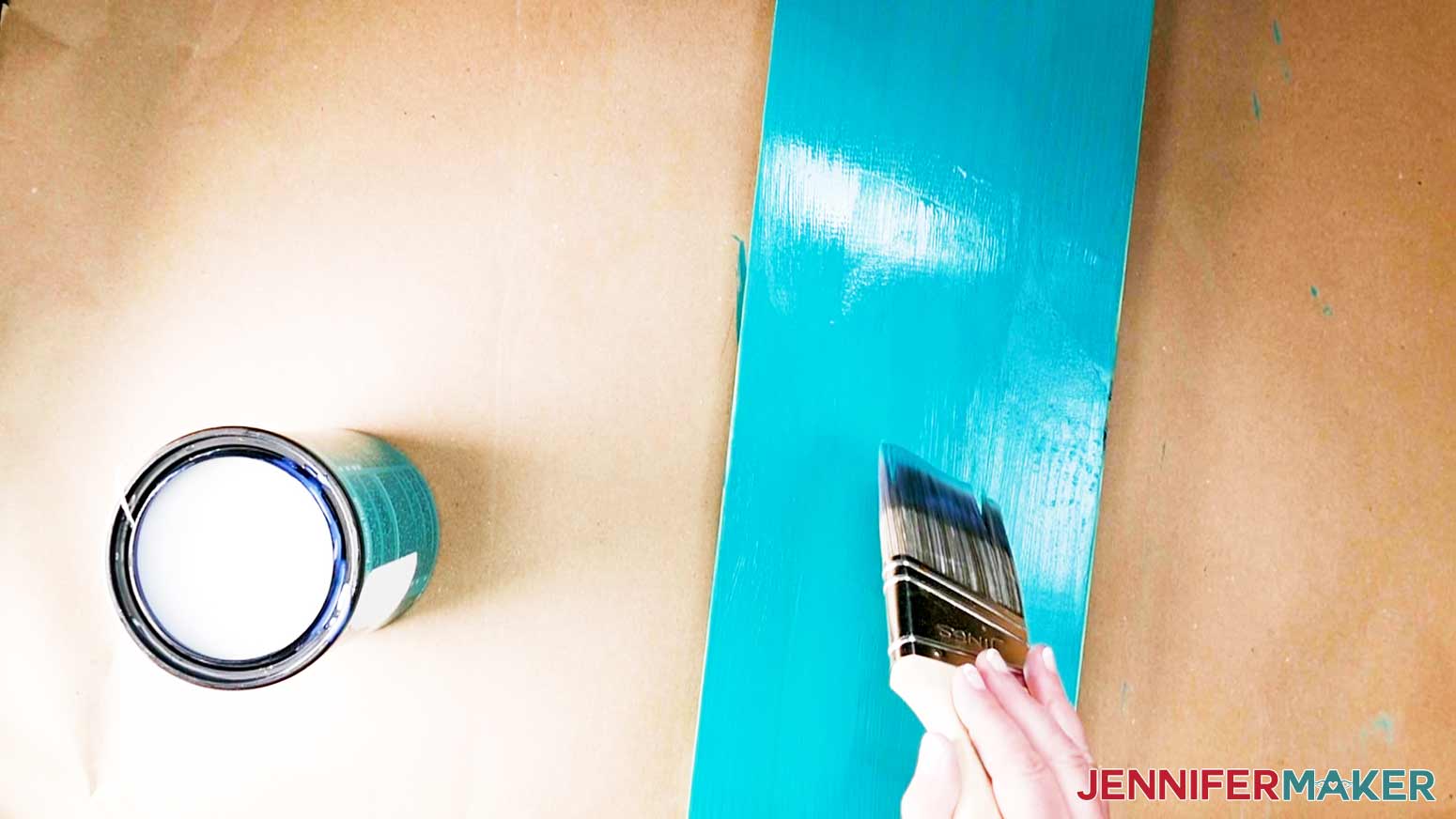 Allow at least another 24 hours for your board to fully dry before applying vinyl.
STEP 2: GET MY FREE DIY PORCH SIGNS FILE
Get my DIY Porch Signs designs from my resource library — it's design #308.
TIP: If you are not sure how to upload an SVG cut file to Cricut Design Space, watch this helpful video training series I made. If you are on an iPad or iPhone, here is how to download and upload SVG files to the Cricut Design Space app.
This is what my DIY Porch Signs SVG file looks like in Cricut Design Space.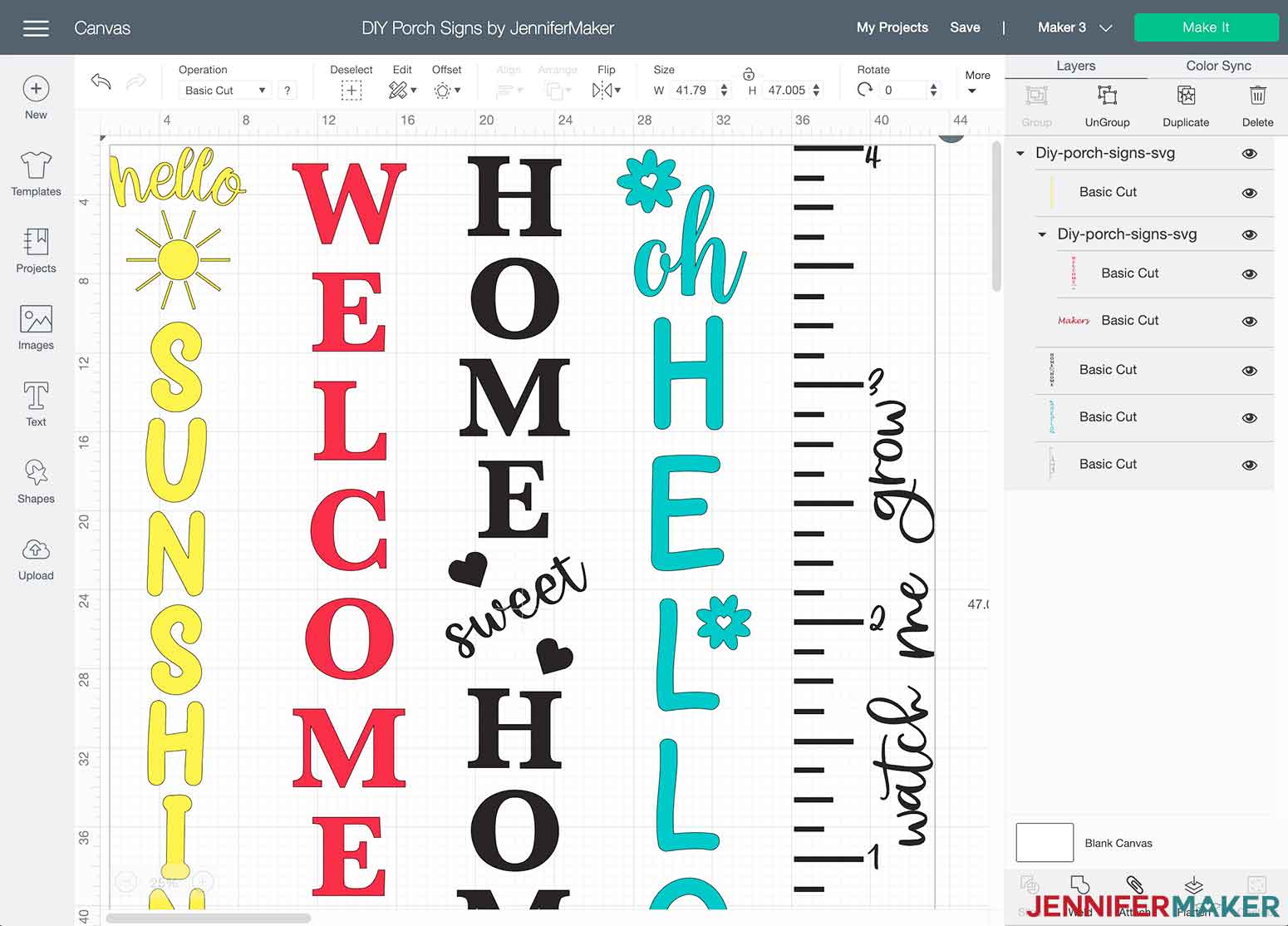 With your SVG still selected, click "Ungroup" in the upper right corner.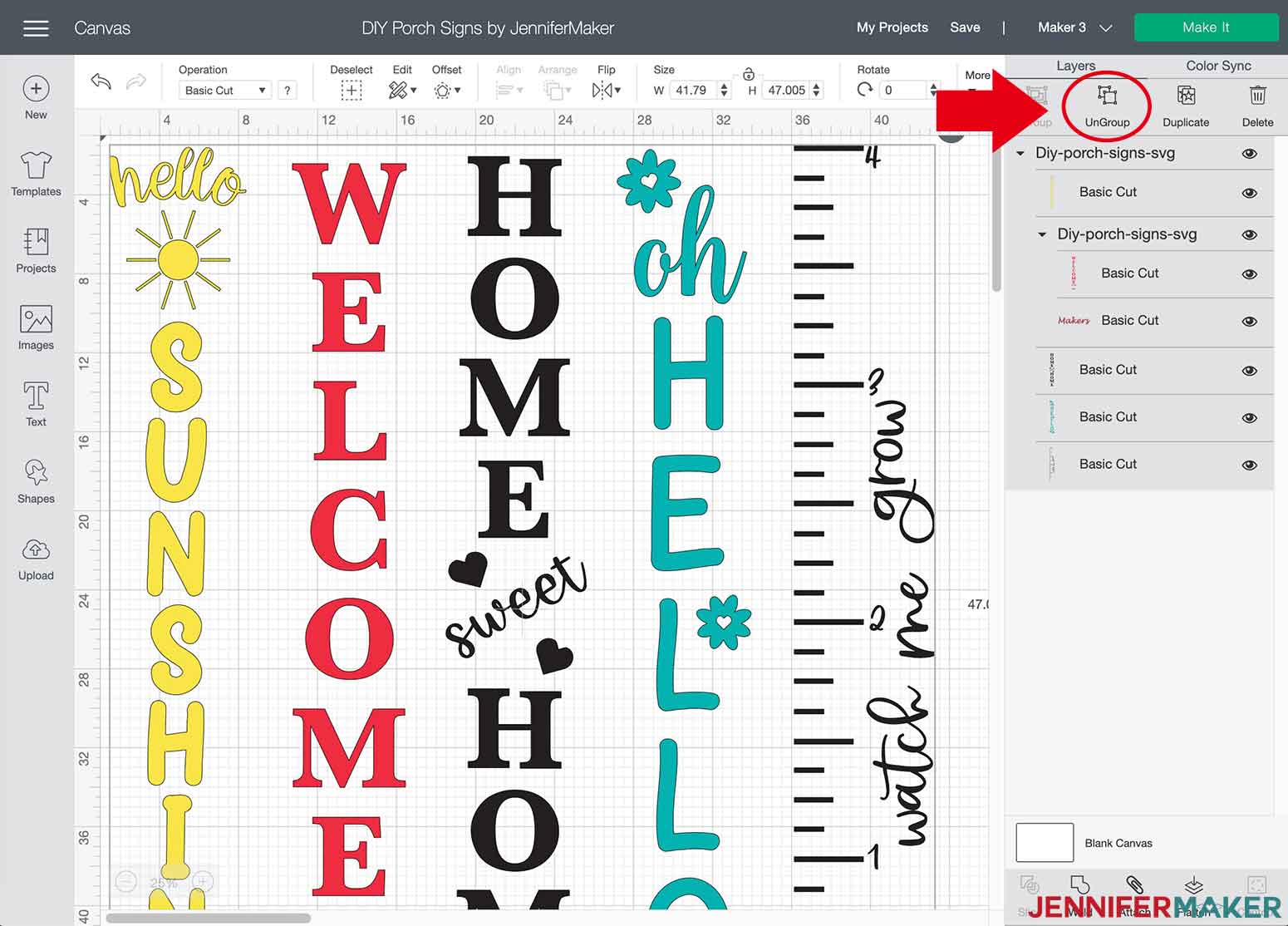 Choose which design you would like to make and "Delete" or hide the other design by clicking on the "Eye" icon.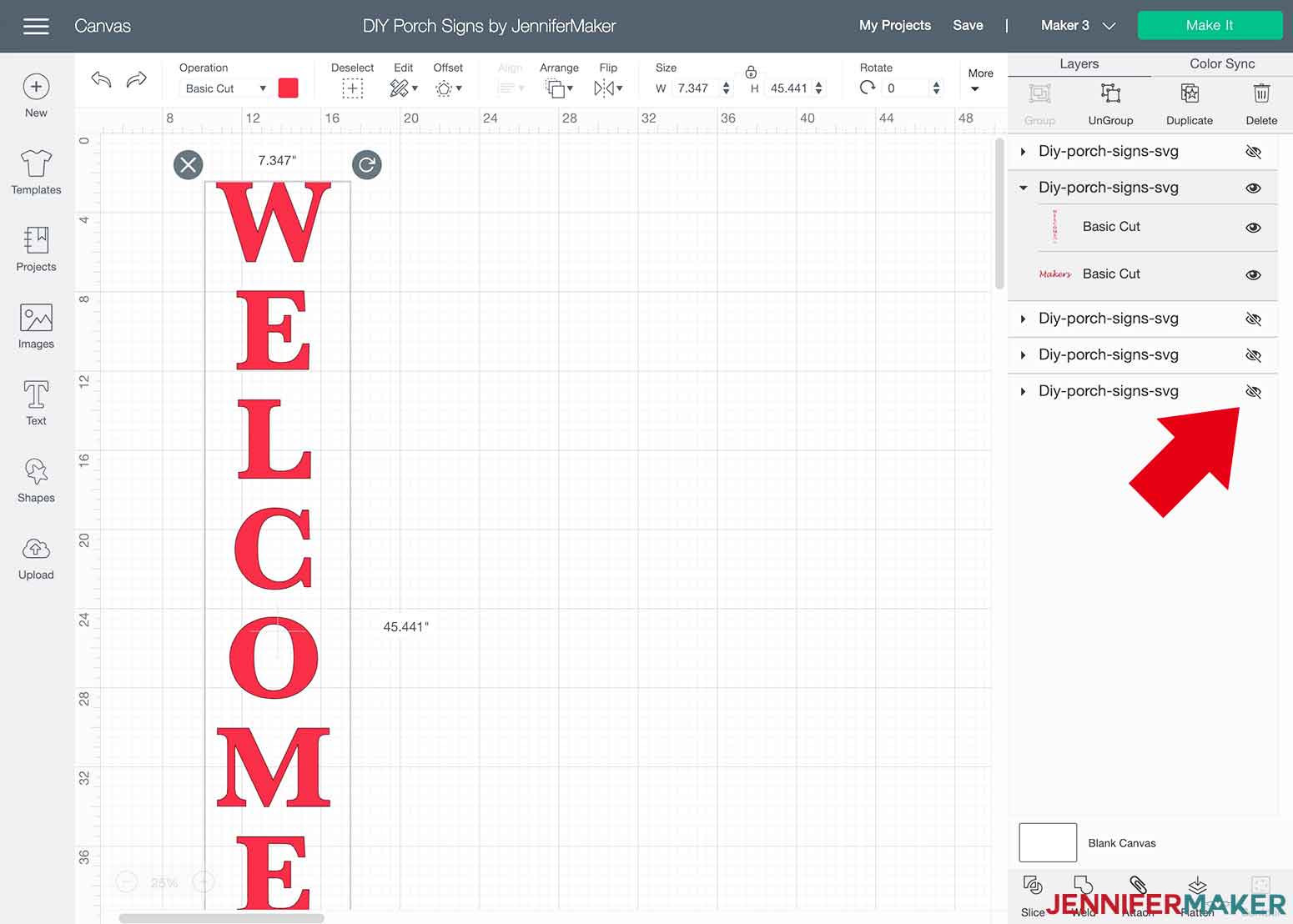 If you choose to personalize the "Welcome to the Makers" DIY Porch Sign, there are two ways to change the name to your family's name. First, I will show you how to use the new Kerning feature and second, I will explain how to do it without the Kerning feature. Select the layer to highlight both designs and click "Ungroup."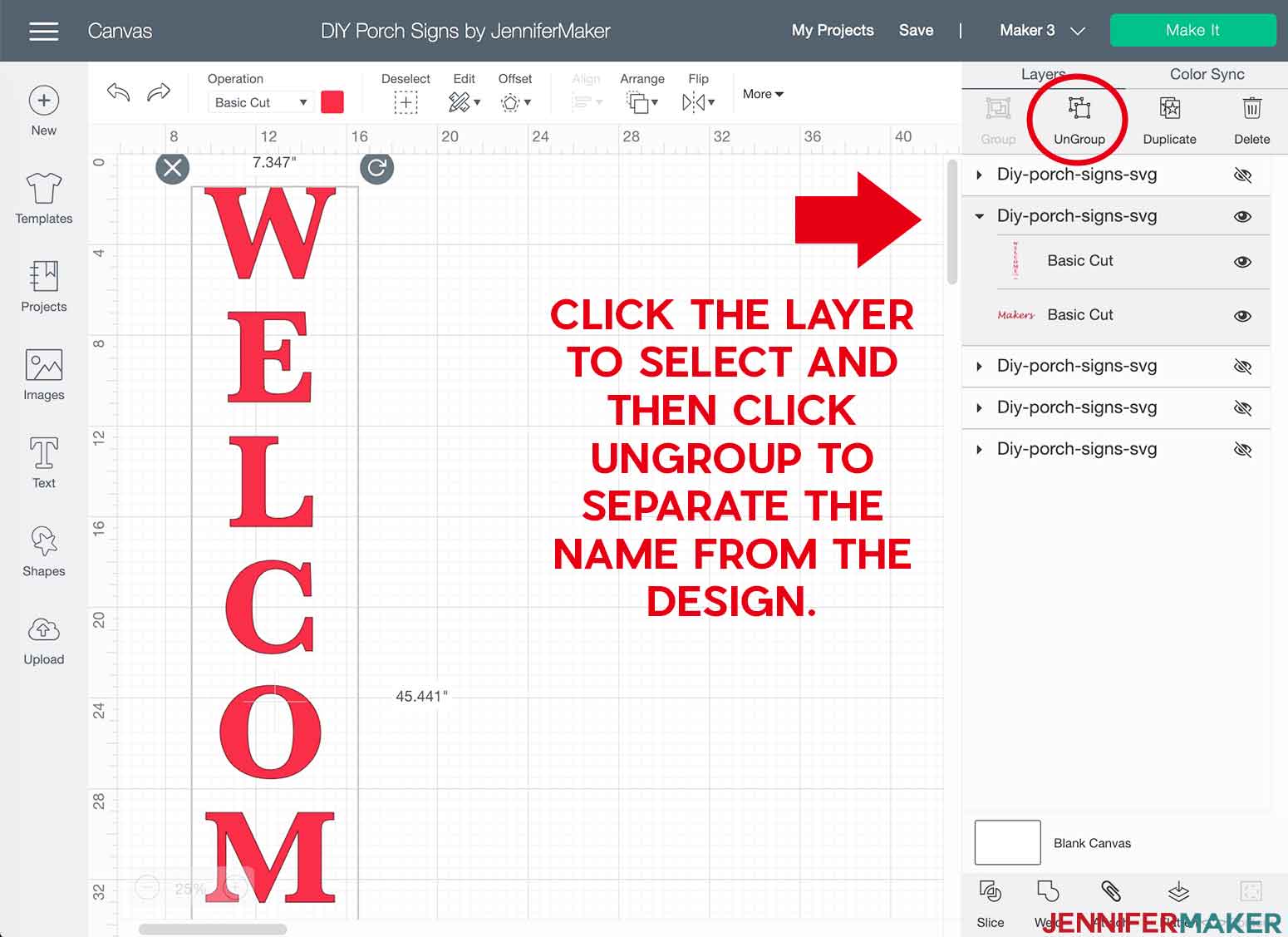 Next, select only "Makers" and click "Delete."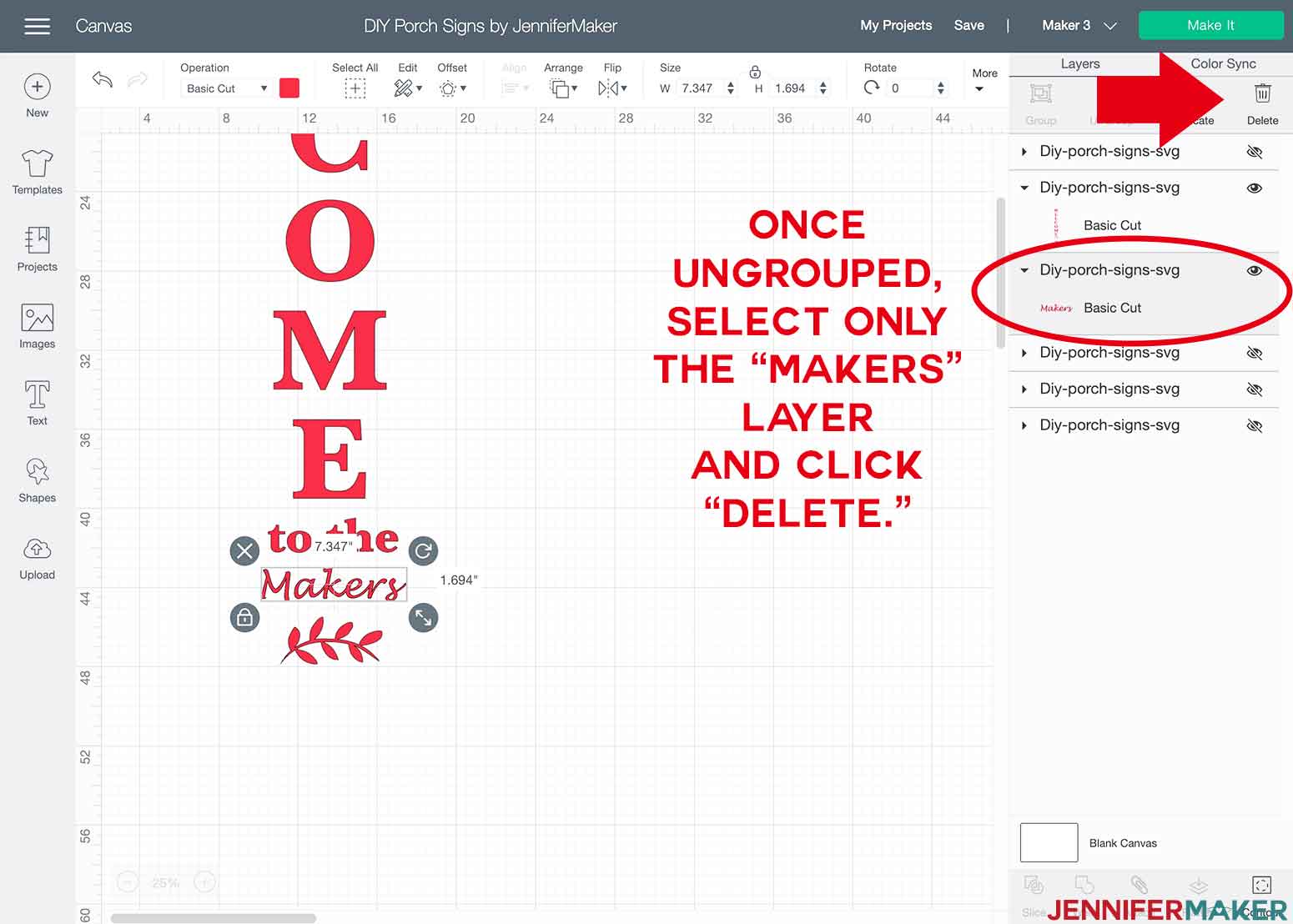 With Kerning: Click the "Text" icon on the left side of your screen to open a text box. Click the font dropdown arrow and check "Only Kerned Fonts" to filter the results to all fonts that will work with this feature.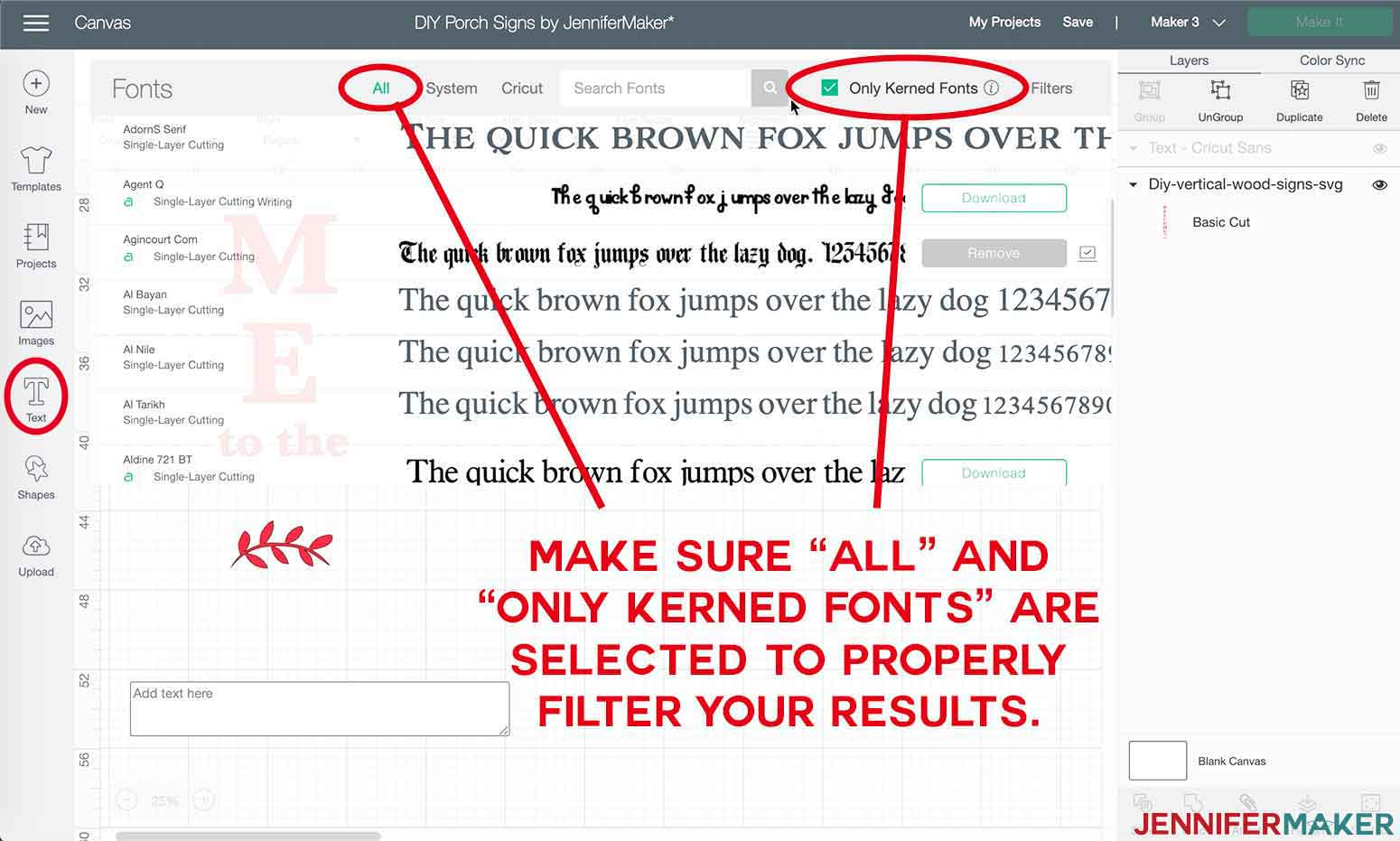 Select your font and click on your text box to begin typing. I used Lucida Handwriting. Note: If you do not have this font installed, you can get it here. But really the choice of what font to use is up to you, so be creative!
Type your desired name and click anywhere on your canvas to get out of the text edit mode. If you used the same font as I did, your name will look like this, with the letters flowing together. Click "Weld."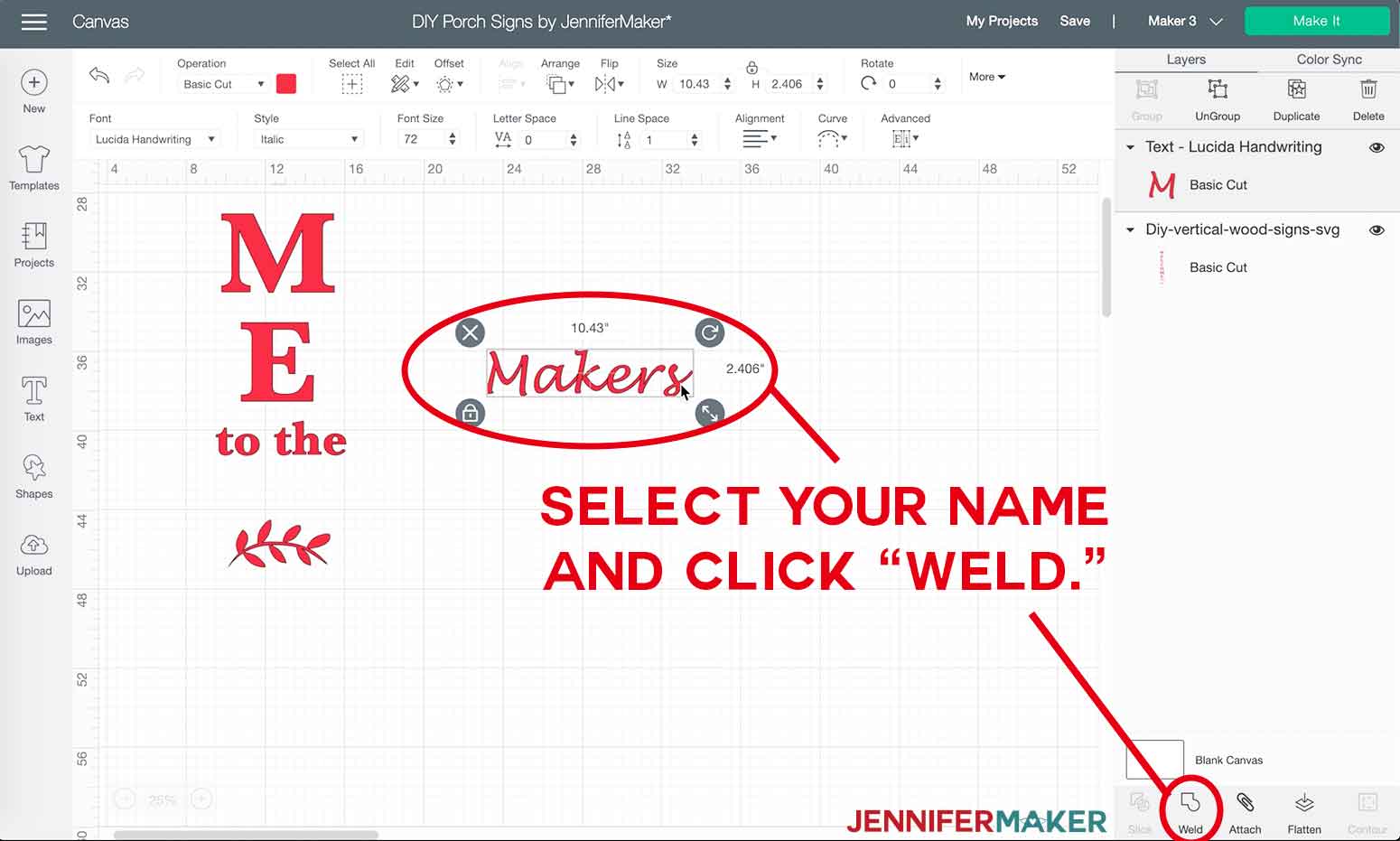 Without Kerning: Click the "Text" icon on the left side of your screen and choose a font from the dropdown window. I am again demonstrating this with the Lucida Handwriting font, but you can use whatever font you like.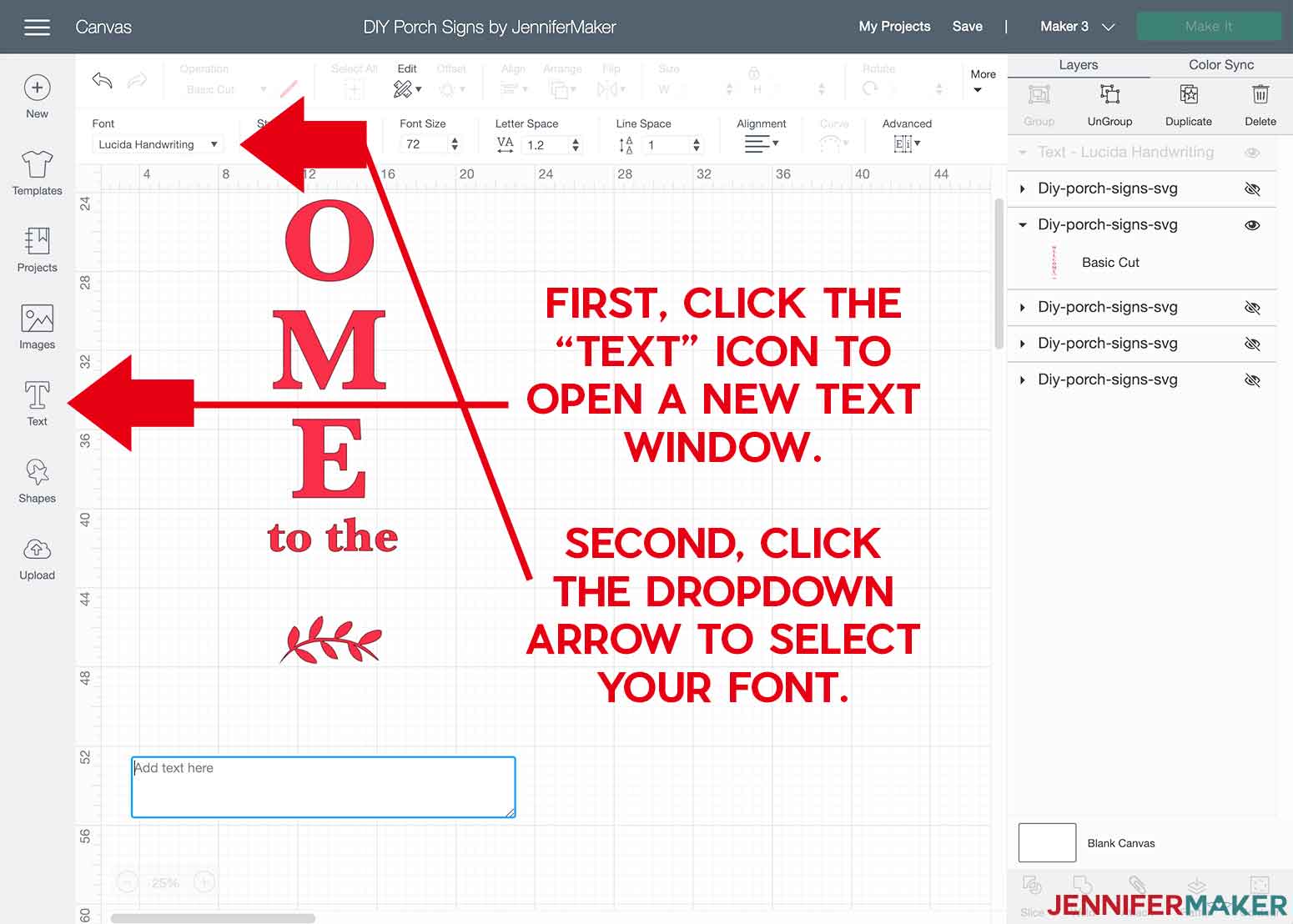 Type your desired name and click the text section in the "Layers" panel.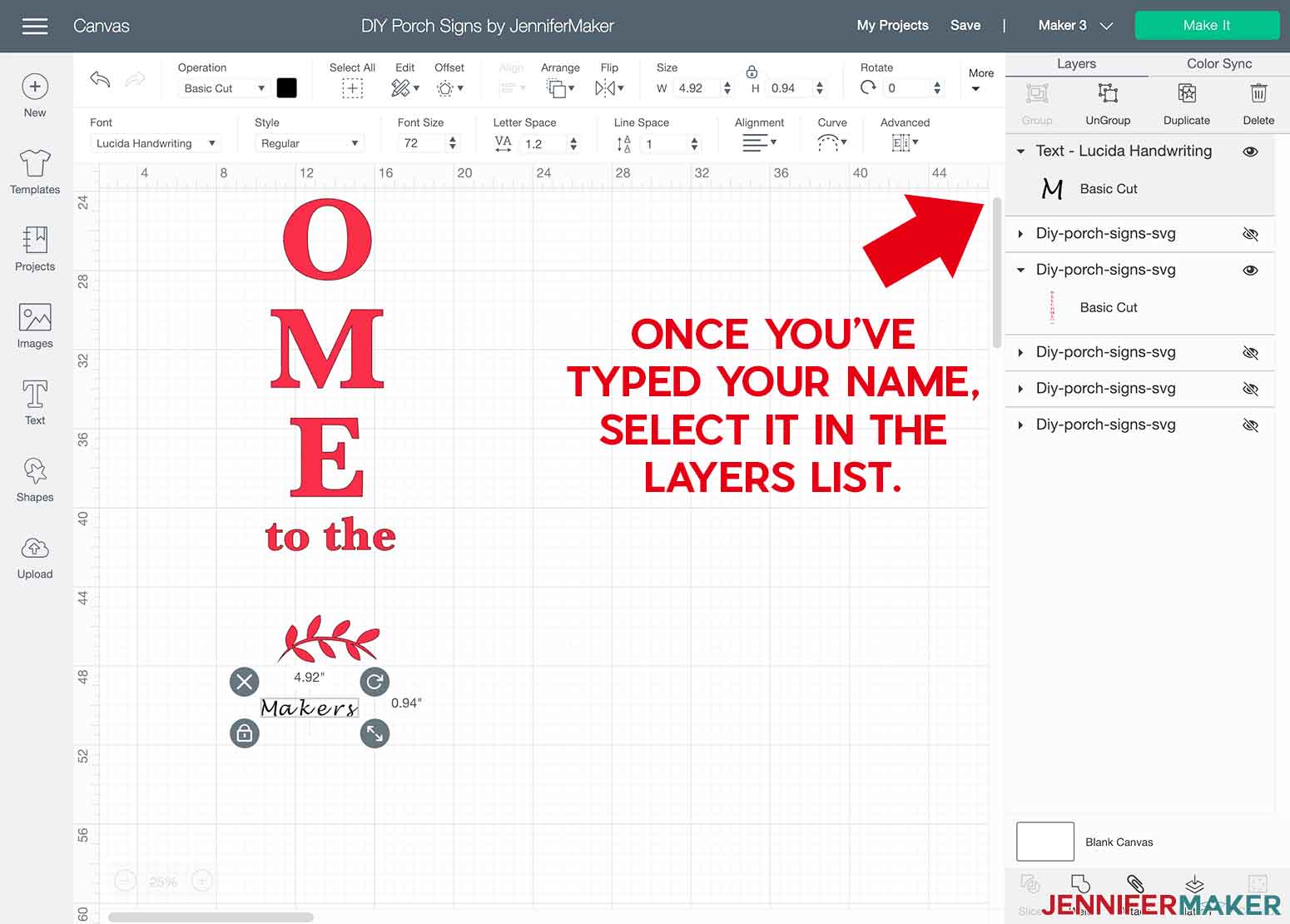 Once the text outline is selected, click and drag your name into place on your board. You can now change the letter spacing.
TIP: If you cannot get your spacing to connect or flow correctly, you can click "Advanced" and then "Ungroup to Letters." This will allow you to manually move each letter in your name to place it how you'd like.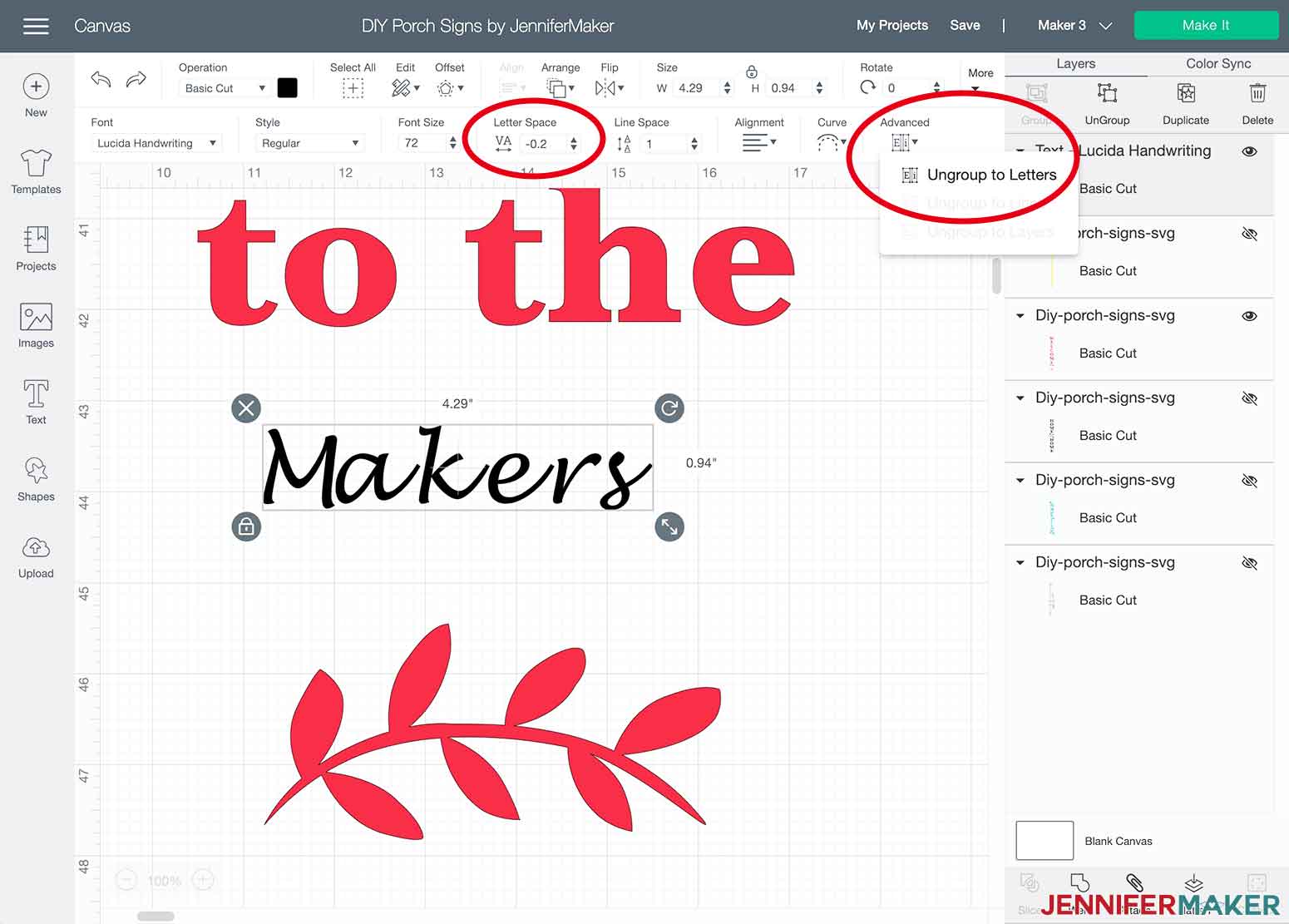 Once you have your name the way you like it, you need to "Weld" it together. Click one letter in the "Layers" panel and hold down your shift key to select all of the text pieces in your layers panel (for the name only) and then click "Weld."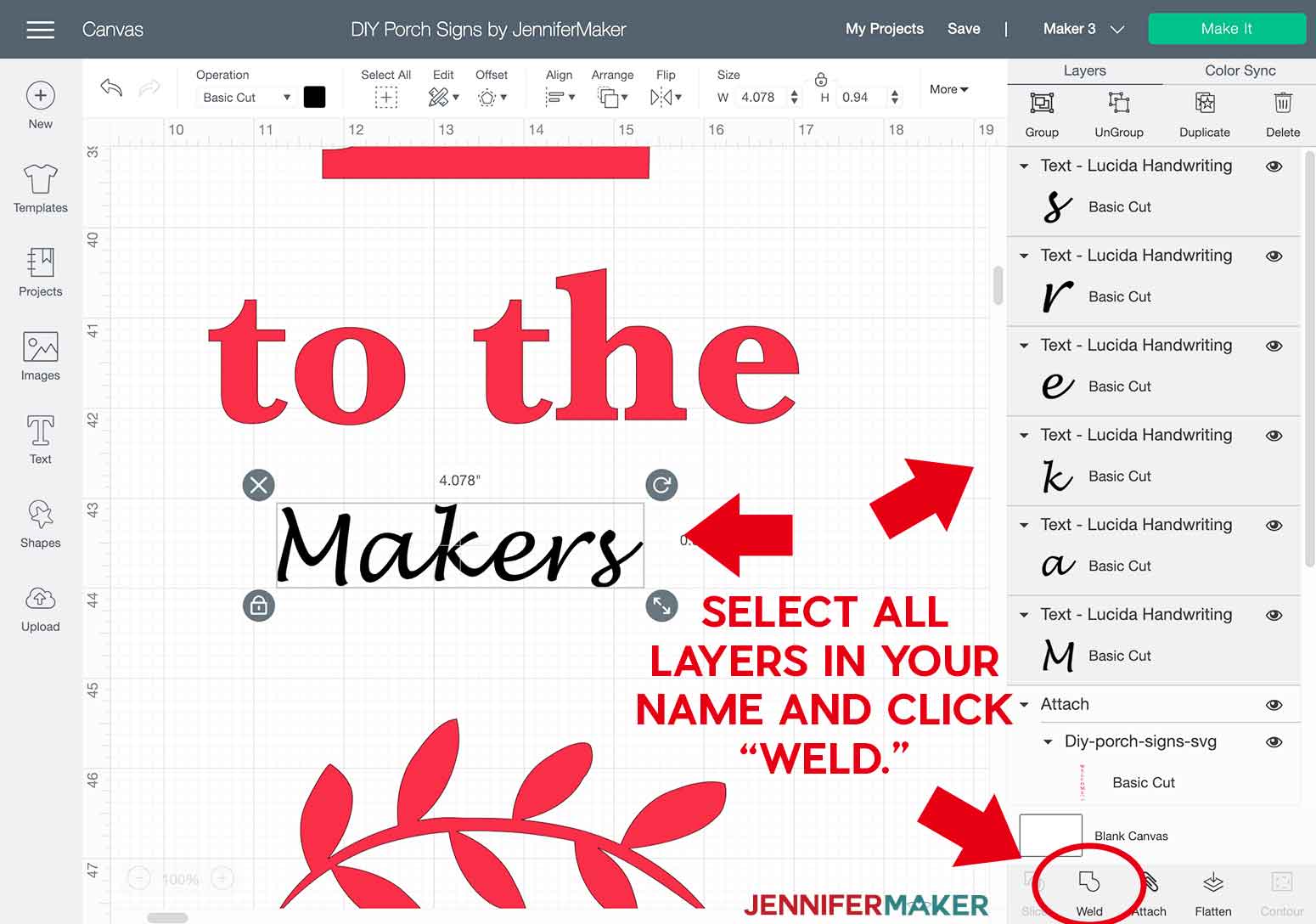 Now that you have your name Welded, you can now click and drag the resize handle to adjust the size. You also want to match the color for it to print with the rest of the wording.
TIP: When you click on the colors menu, your project colors are displayed in the top row. You can easily select one of the colors that match your project.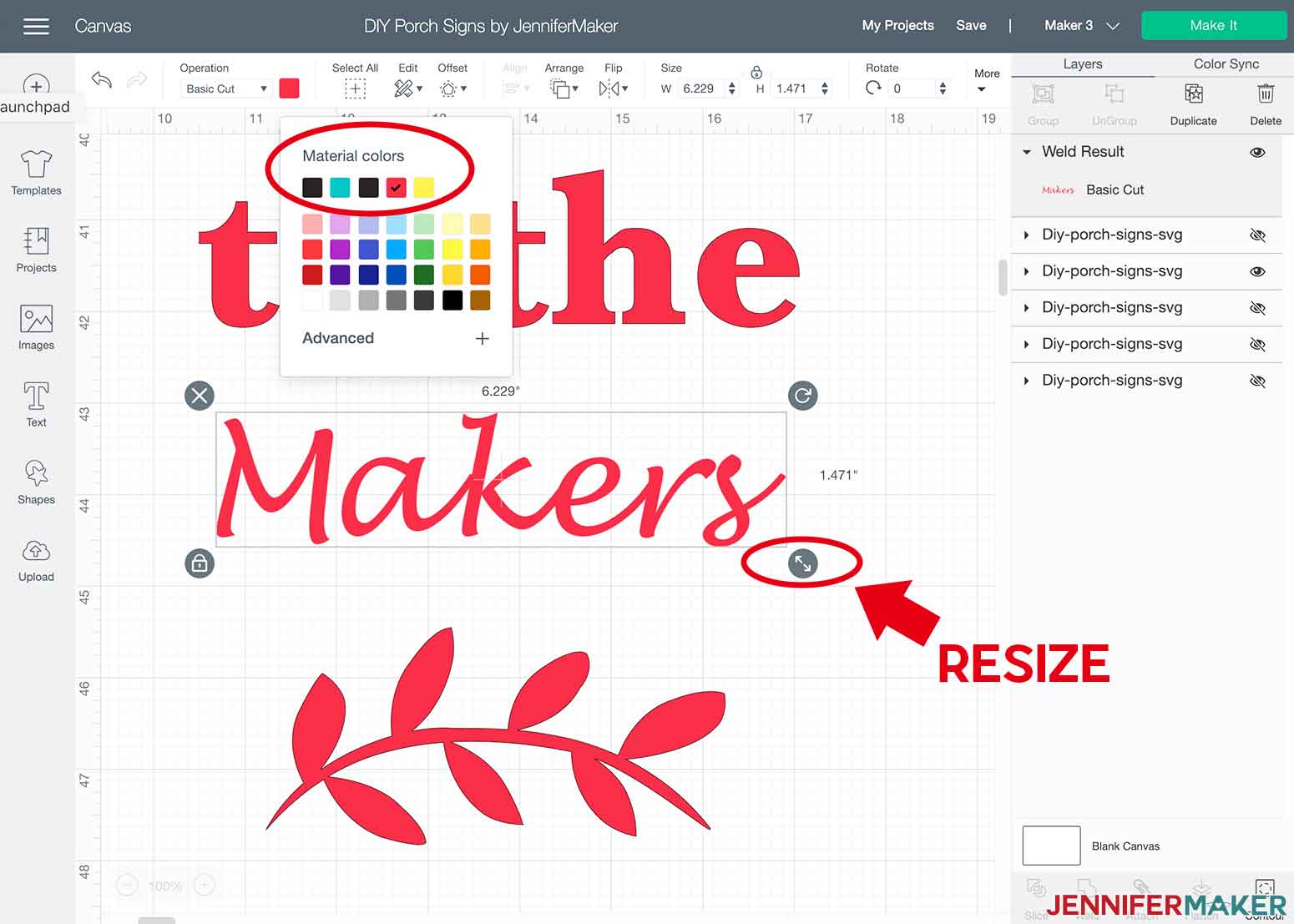 Once your name is just how you'd like it, select the layer with your name in your layers list. Press Shift and also select the "Welcome to the" layer. At the bottom right, click "Attach."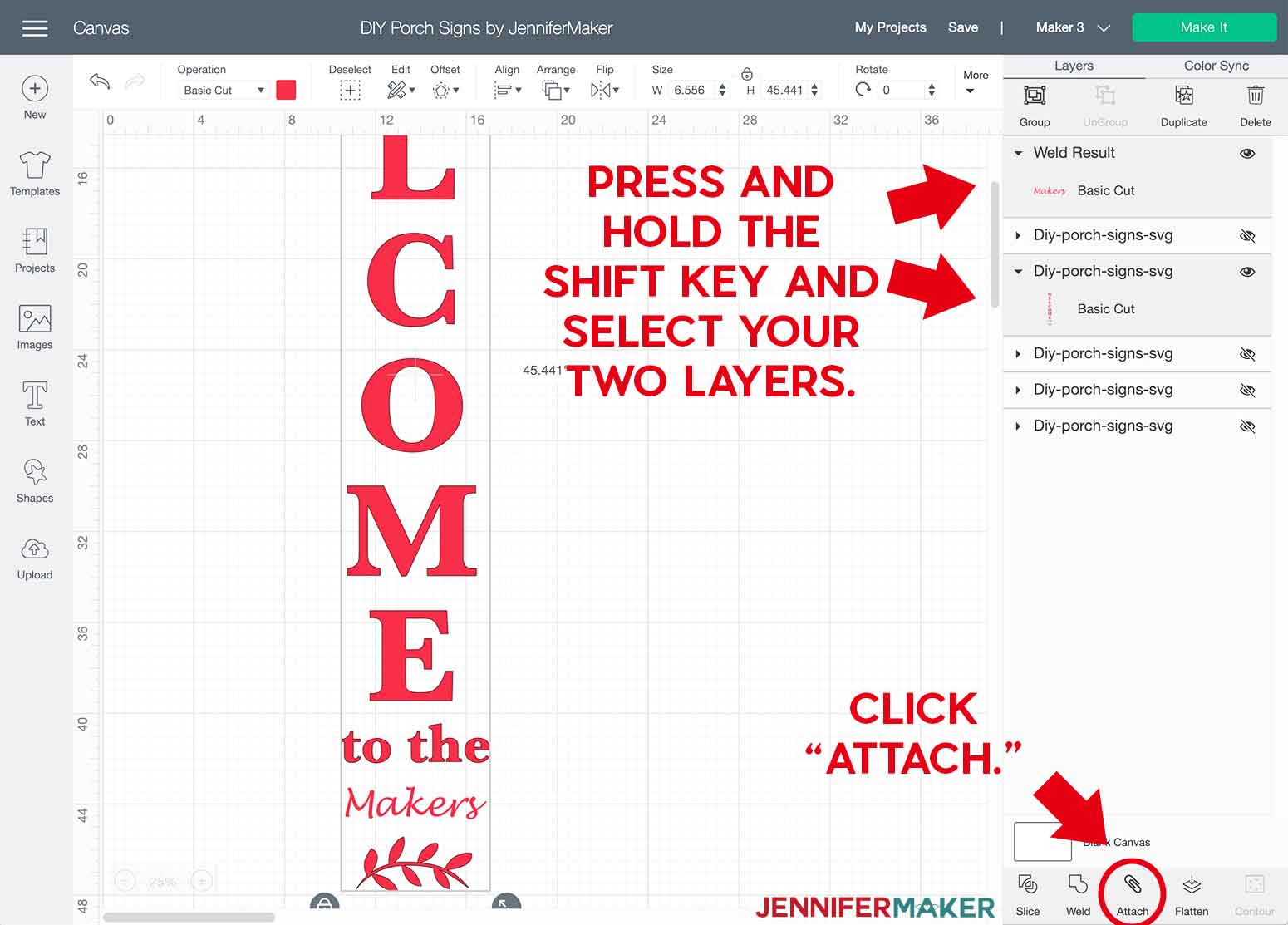 You're all set! You can now cut your vinyl with a custom name.
TIP: My designs are created for wood boards that are 8" wide by 48" long. Confirm the width and length of your board before cutting your design and make sure the dimensions of your design do not exceed the dimensions of your board. You can confirm the width of the design by selecting your design and looking at the top of the design or top toolbars. Your board may not be the same measurements as advertised in the store!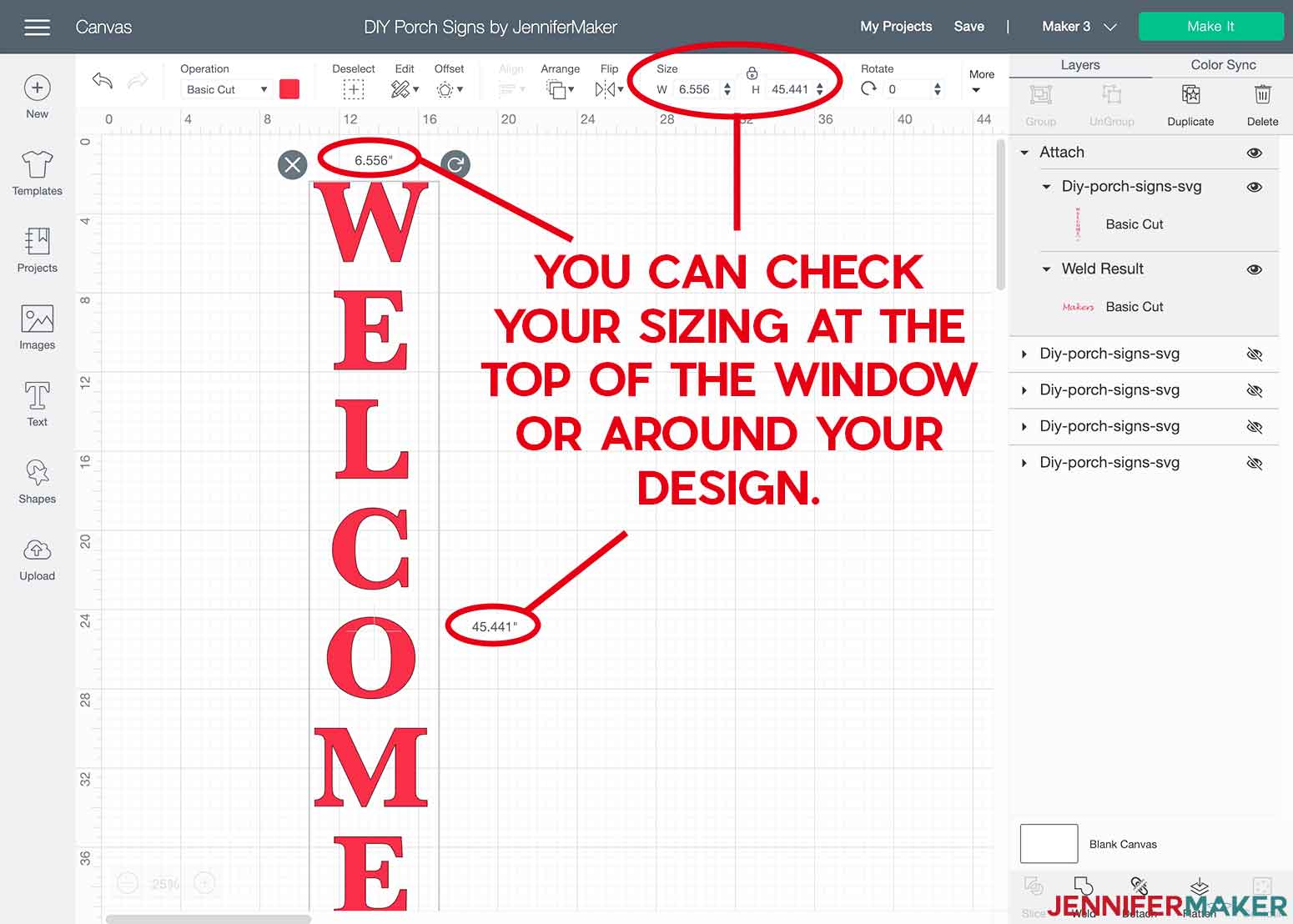 With only the design you wish to make showing, click "Make It" in the top right.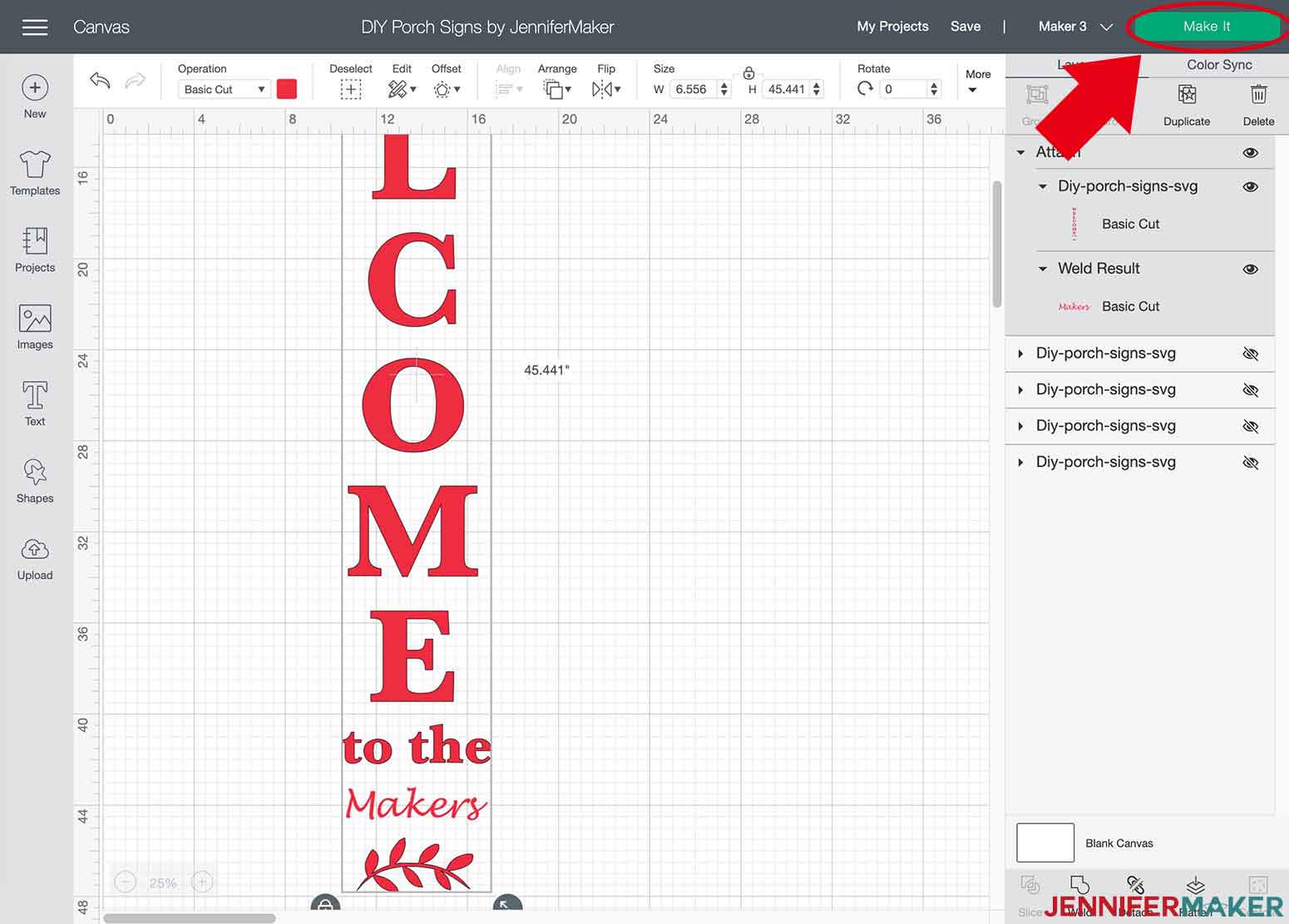 The next screen allows you to review your cut. You will notice this screen also tells you the minimum length of Smart Vinyl you will need to make your cut. So for the DIY Porch Signs, you'll see that it's 47.5 inches. And the best part, because this is a Cricut Maker 3, you don't need a mat! Click "Continue."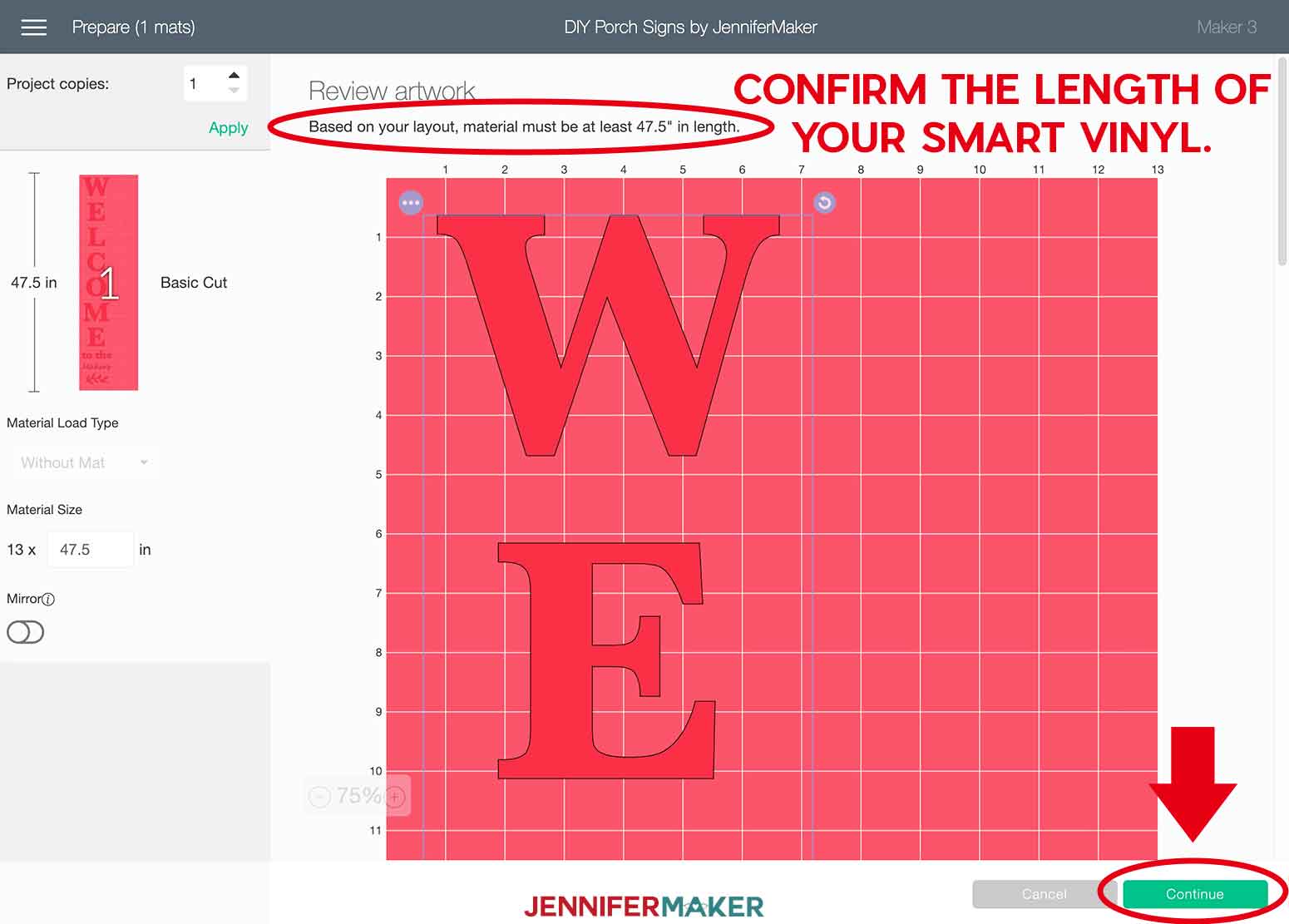 Select your material, "Smart Vinyl – Permanent."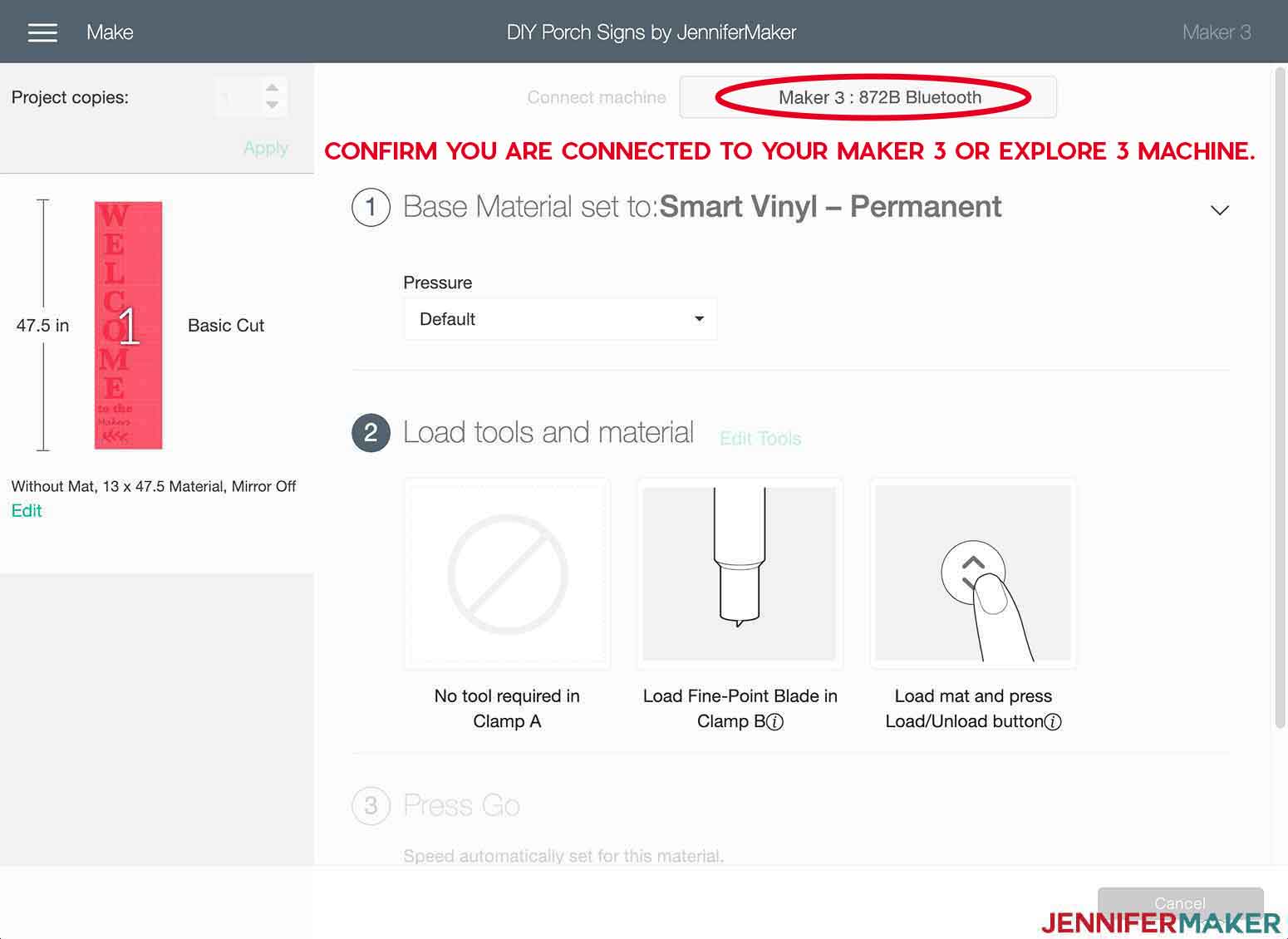 Insert your Smart Vinyl into the Cricut Roll Holder and feed your Smart Vinyl into your Cricut Maker 3 or Cricut Explore 3.
If you do not have a roll holder, you can simply cut your Smart Vinyl to meet the minimum length indicated.
TIP: If you are not at a long table, you may want to put a tub or bin behind your machine to catch the vinyl as it feeds through your machine!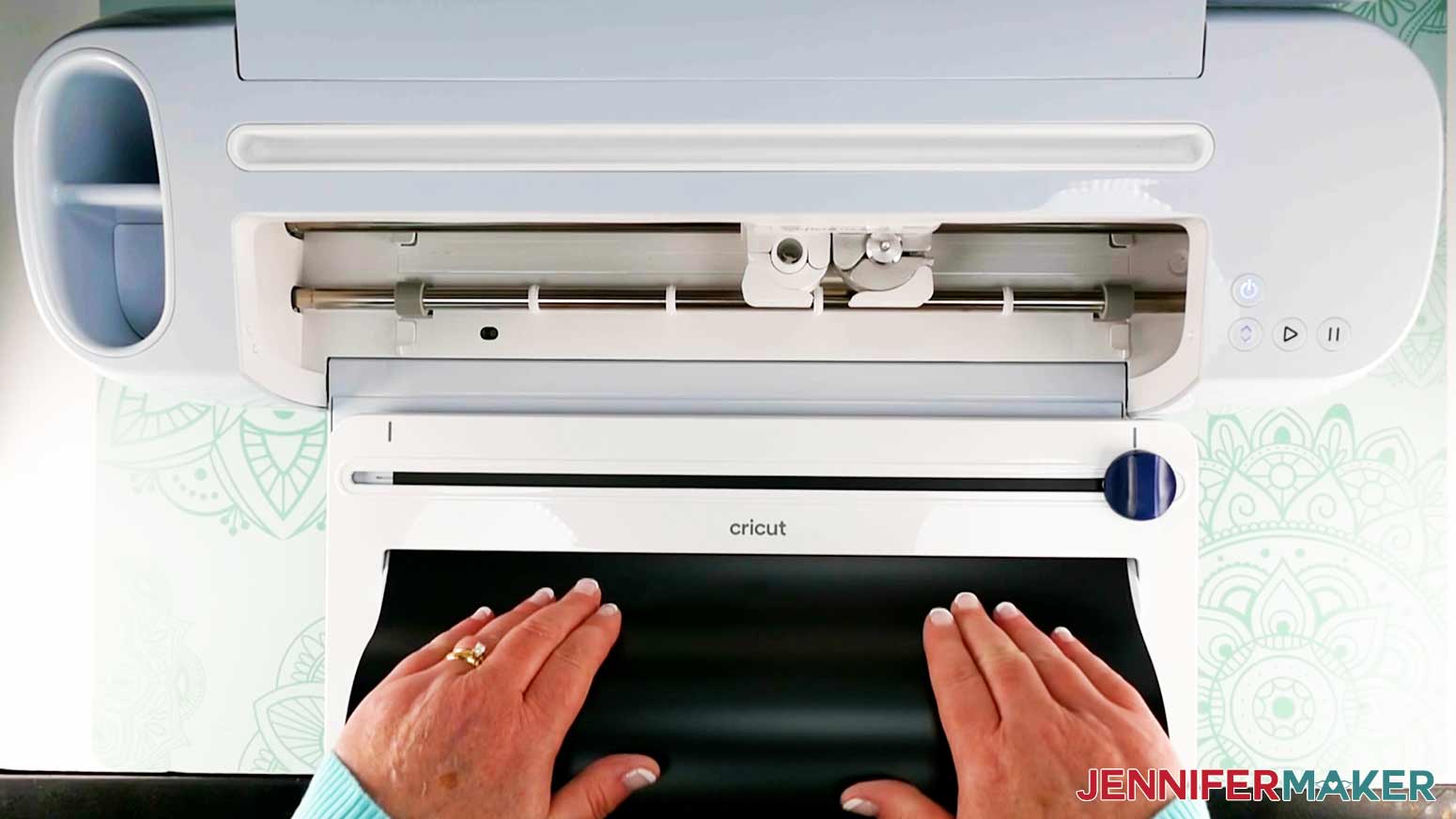 Press the "Load/Unload" Button. Your machine will pull the vinyl all the way through to confirm there is enough material before starting the cut. Once your machine is ready, press the flashing "arrow" button. You'll notice this button has been updated on the Cricut Maker 3 and Explore 3. Now sit back and watch how fast it cuts your Smart Vinyl!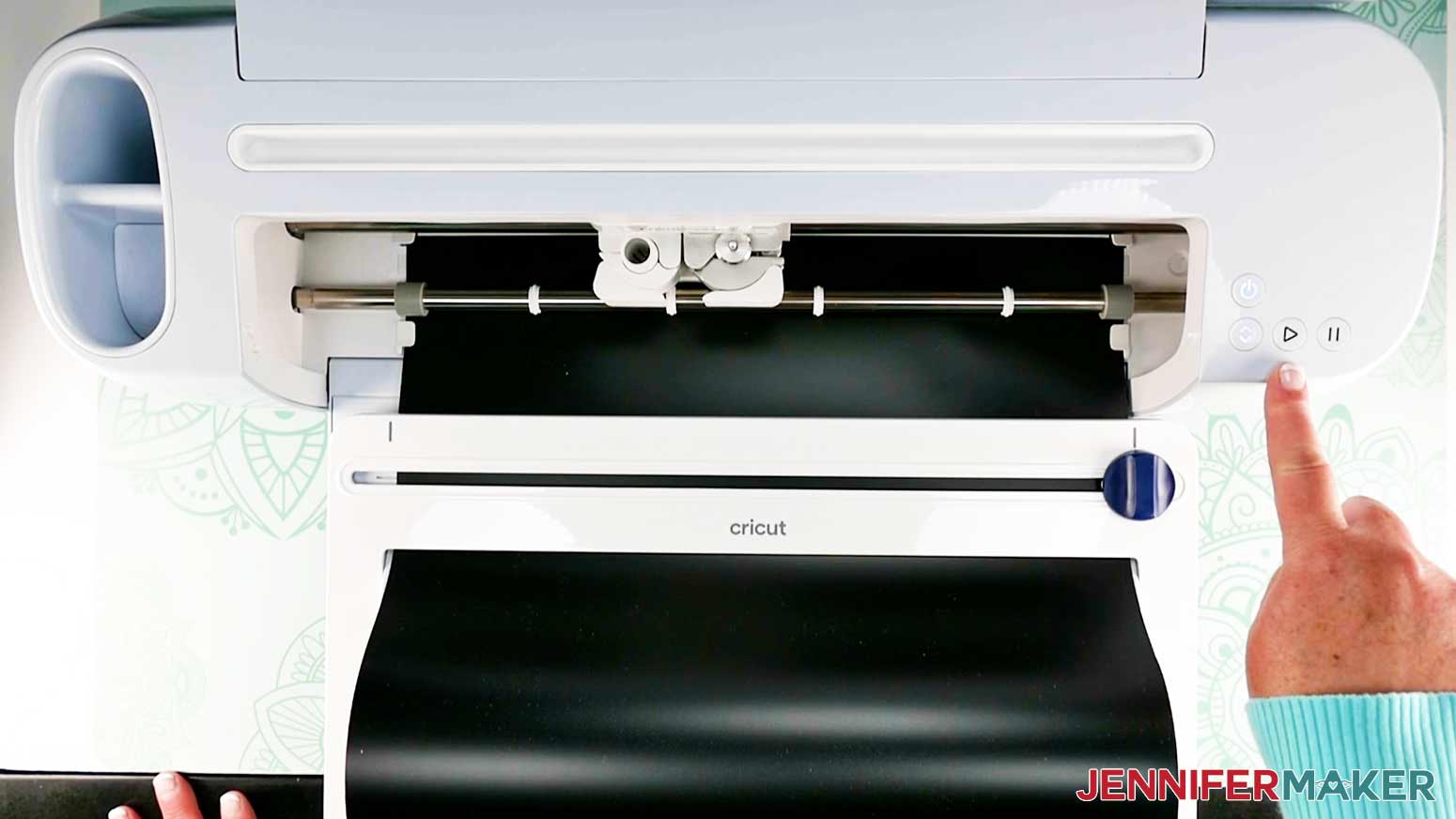 When your design is done cutting, use the "Cutter" on the Roll Holder to cut off the Smart Vinyl. If you didn't use a roll holder you can, of course, skip this step.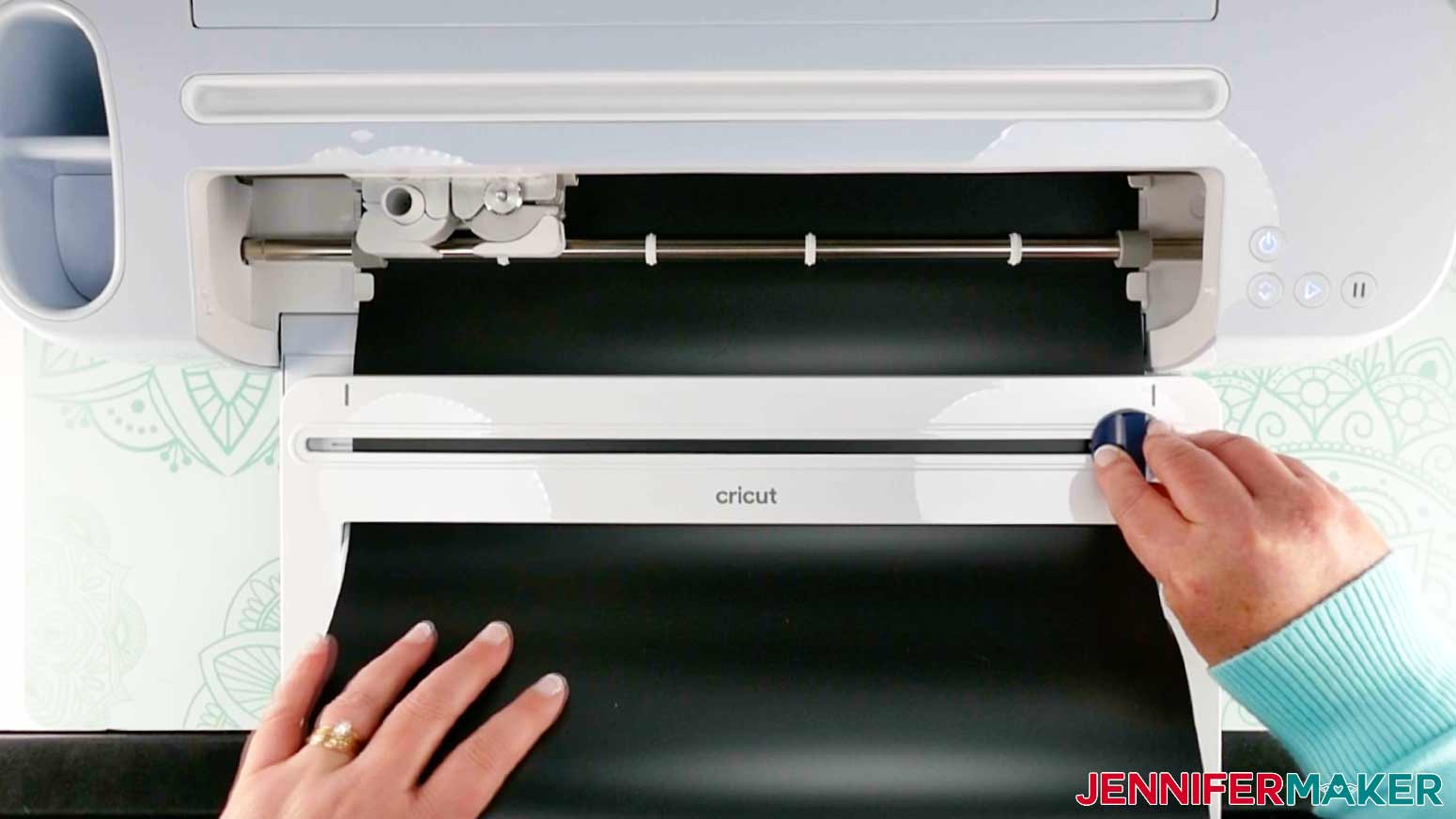 STEP 3: APPLY YOUR SMART VINYL DESIGN TO YOUR BOARD
Time to put it all together.
Grab your weeding tool and peel away all of the excess vinyl from your design. I found it helpful to trim the excess vinyl on the right side so you are only working with the design area. It also saved me a lot of vinyl for future projects!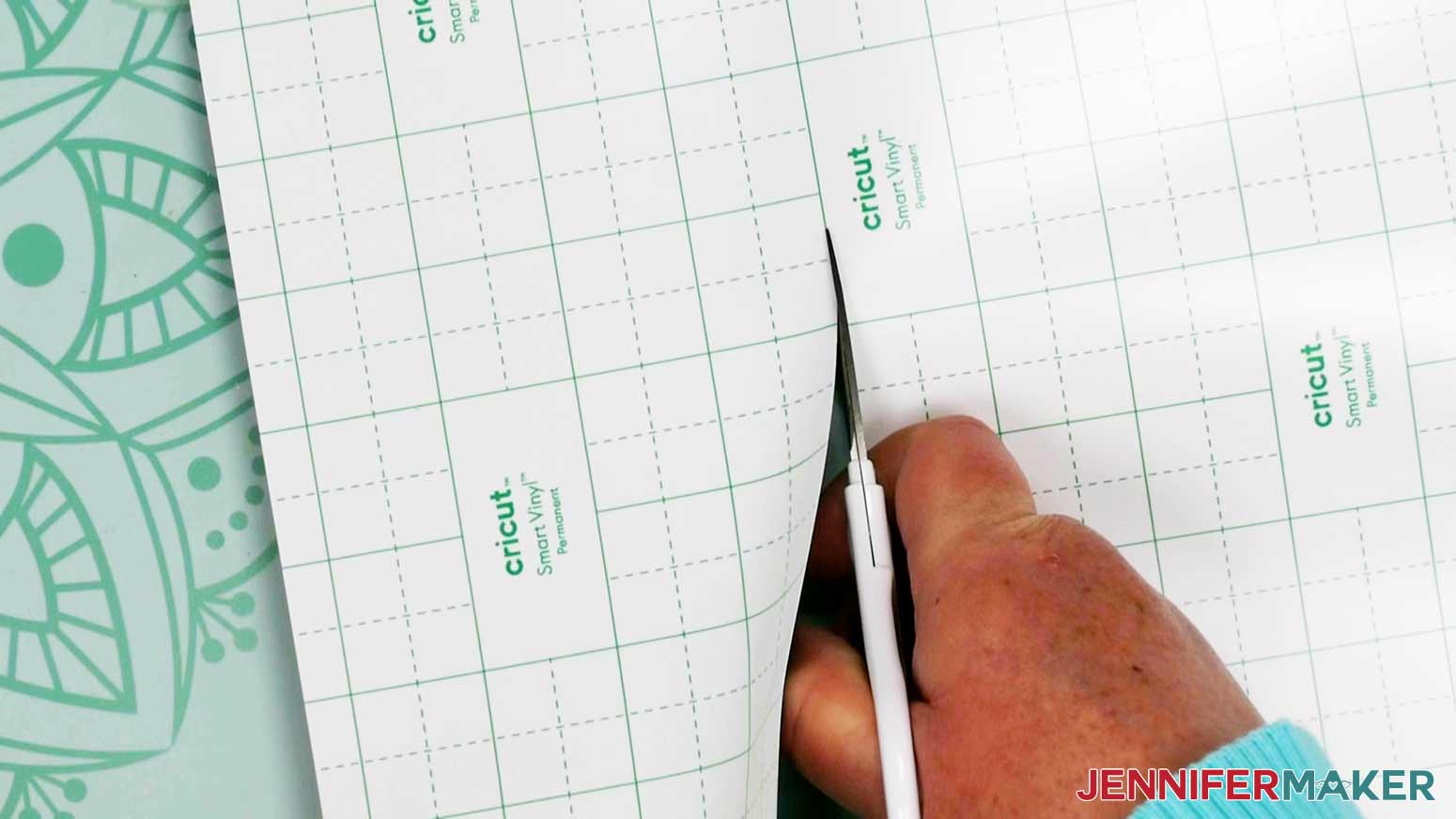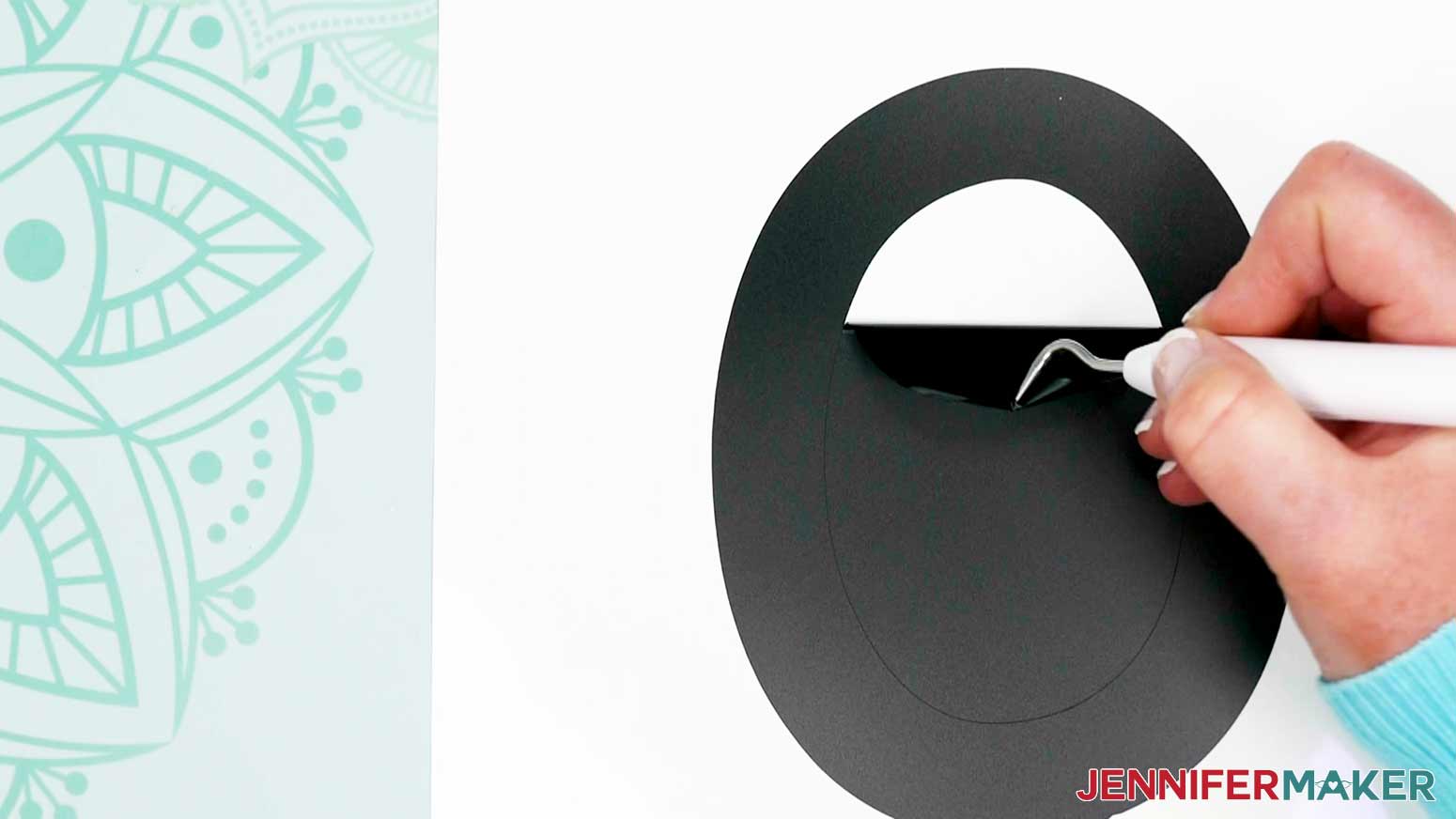 Cut your transfer tape to the size of your design. Peel away the transfer tape backing and carefully lay it over the vinyl. The straighter you align your transfer tape, the easier it will be to align your design on your sign. Use your scraper to make sure your design adheres to the transfer tape.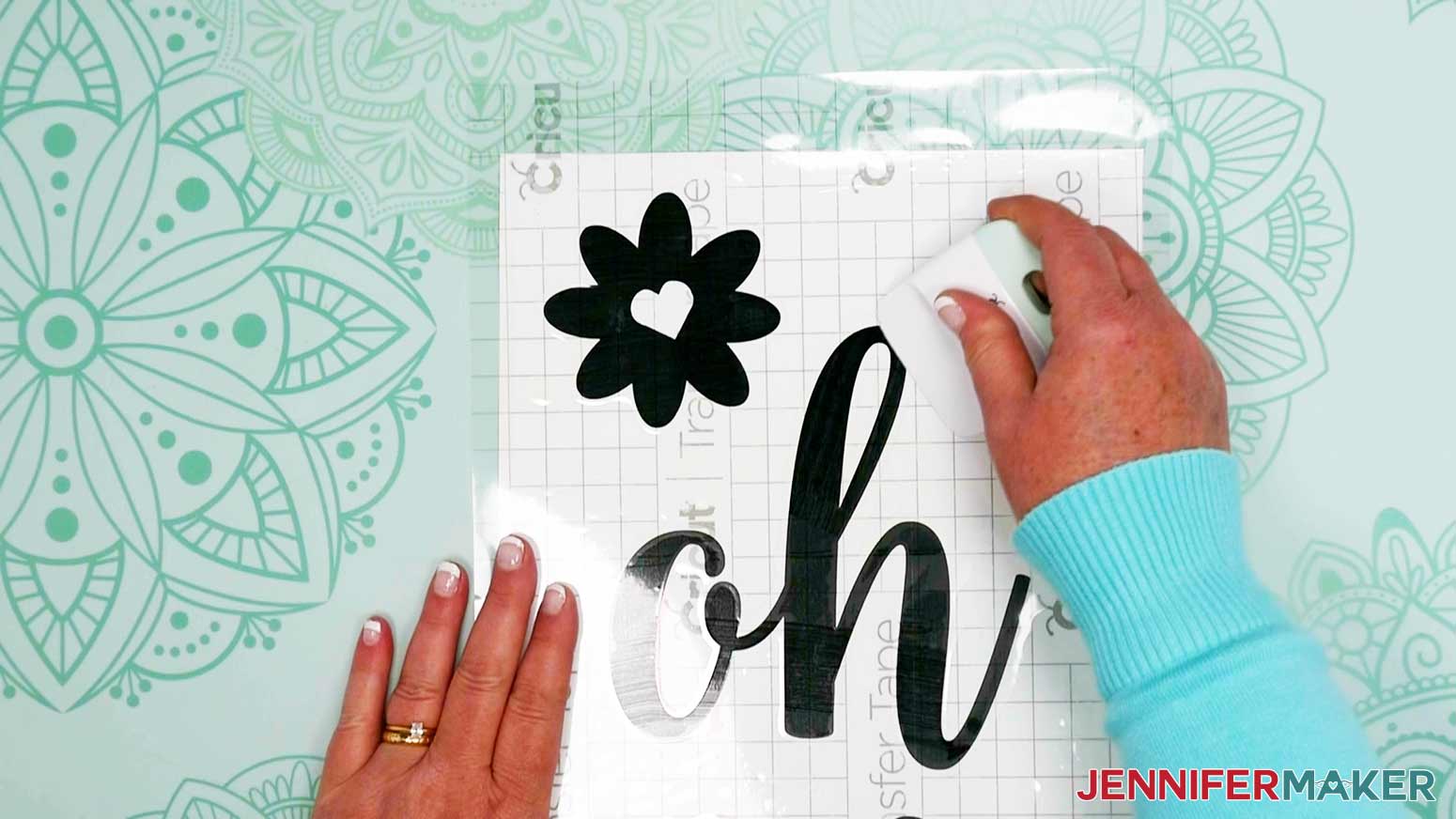 Line up your design on your board and gently begin peeling away the backing to the vinyl. Use your scraper to help adhere the Smart Vinyl design to your board.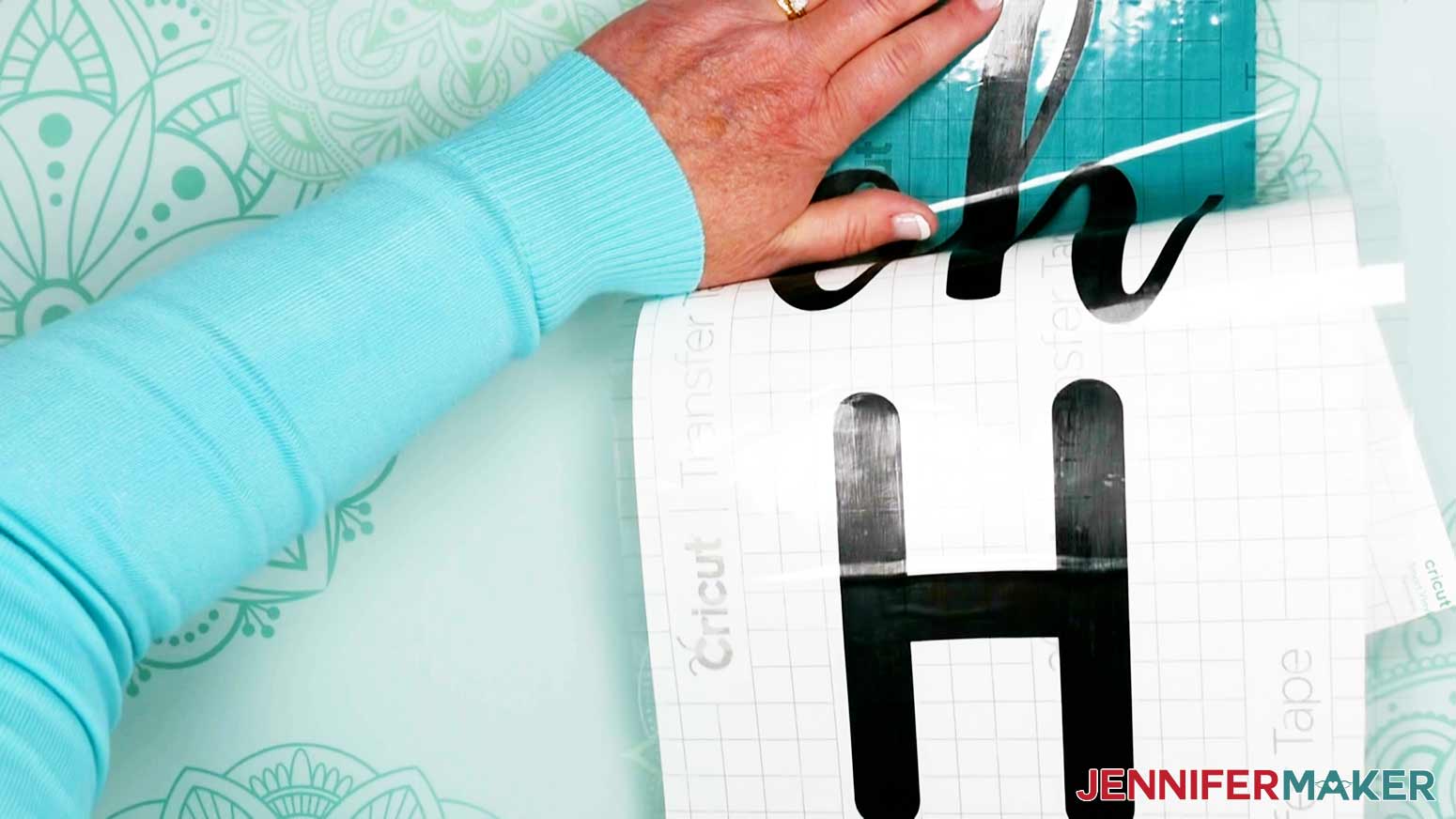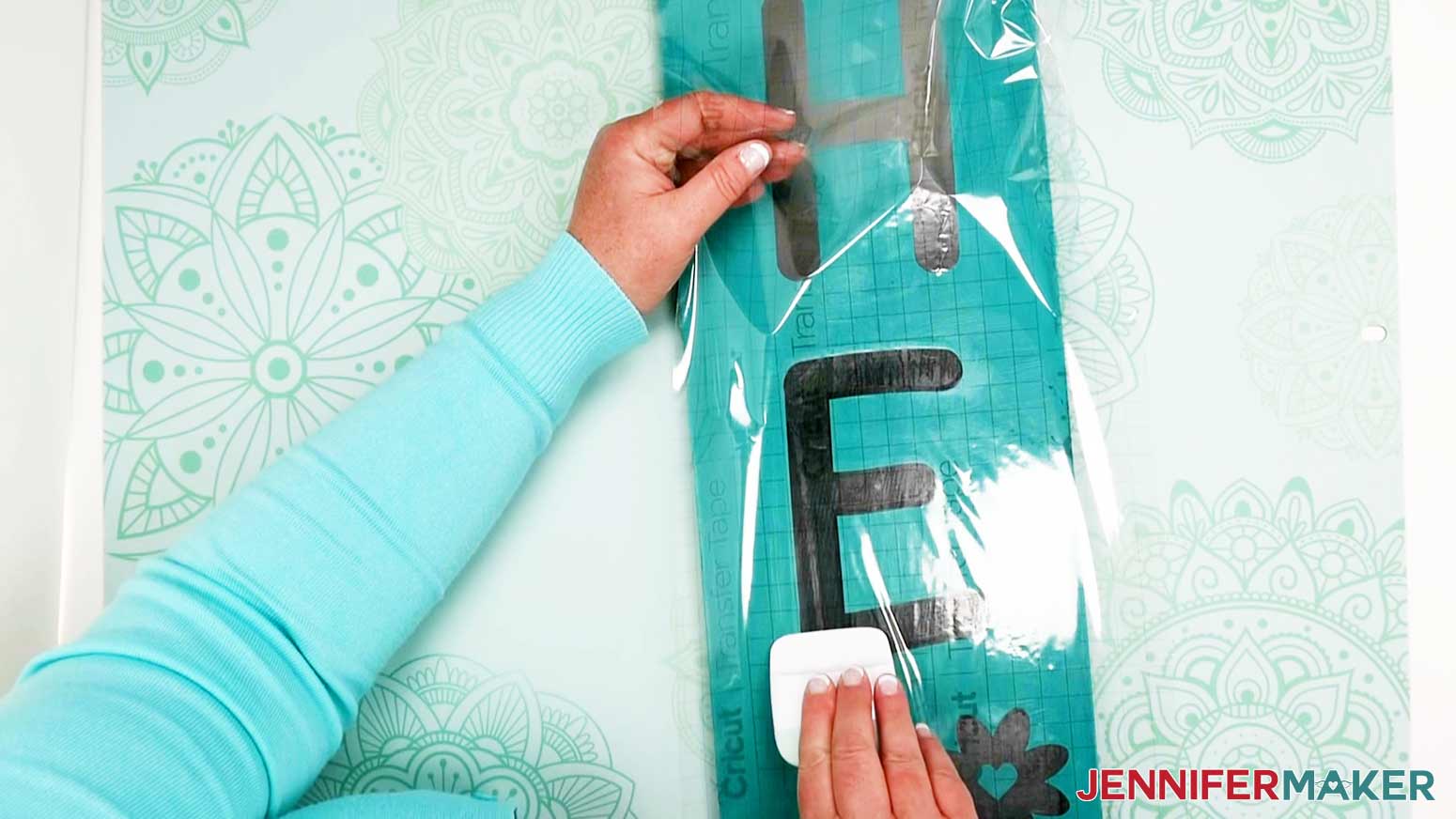 Gently peel away your transfer tape.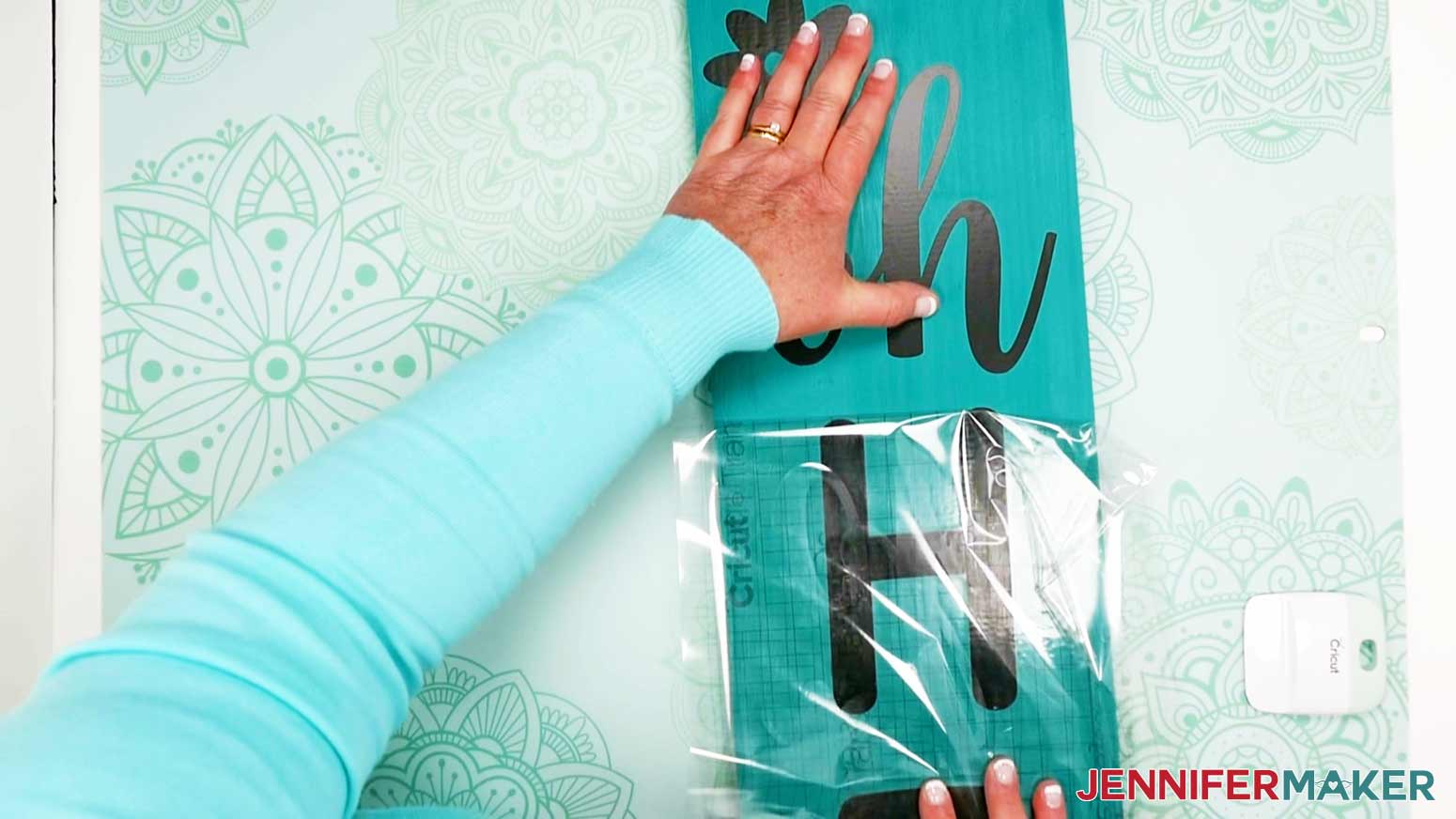 STEP 4: SHOW IT OFF
Your DIY Porch Sign is complete! I can't wait to see all of the beautiful signs you make with your Cricut Maker 3 and Cricut Explore 3!