Faux Stained Glass Window – A Coloring Project!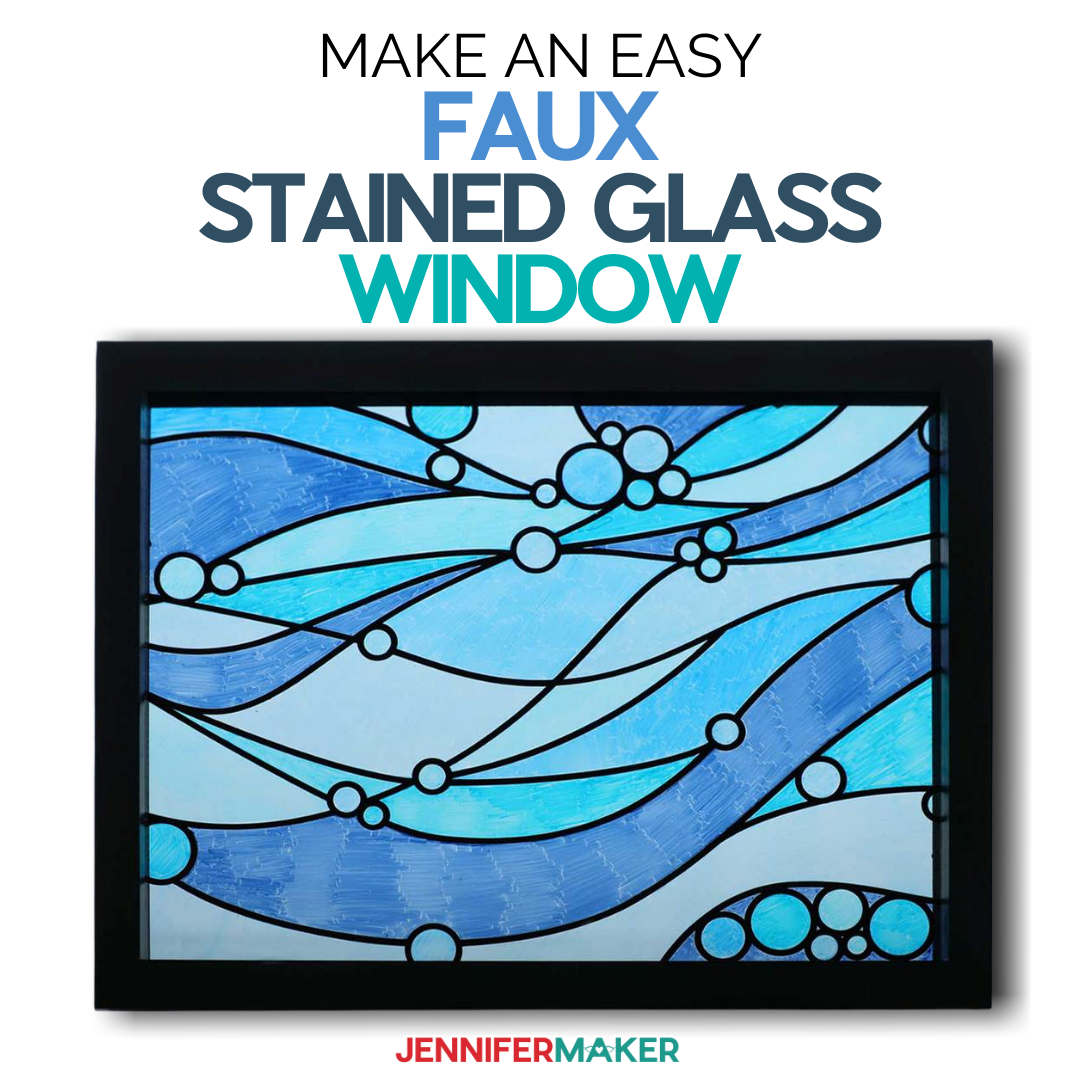 Instructions
STEP 1: GET MY FREE DESIGN FILES
Get Design #273 which are my free Debossed Animal Paperclip SVG designs from my free resource library (get the password to the library by filling out the form at the bottom of this post).
Upload my Faux Stained Glass Window vinyl decal SVG file into Cricut Design Space. If you're not sure how to upload an SVG cut file to Cricut Design Space, watch this helpful video training series I made. If you're on an iPhone or iPad, here's how to download and upload SVG files to the Cricut Design Space app.
This is what the Wave design looks like in Design Space: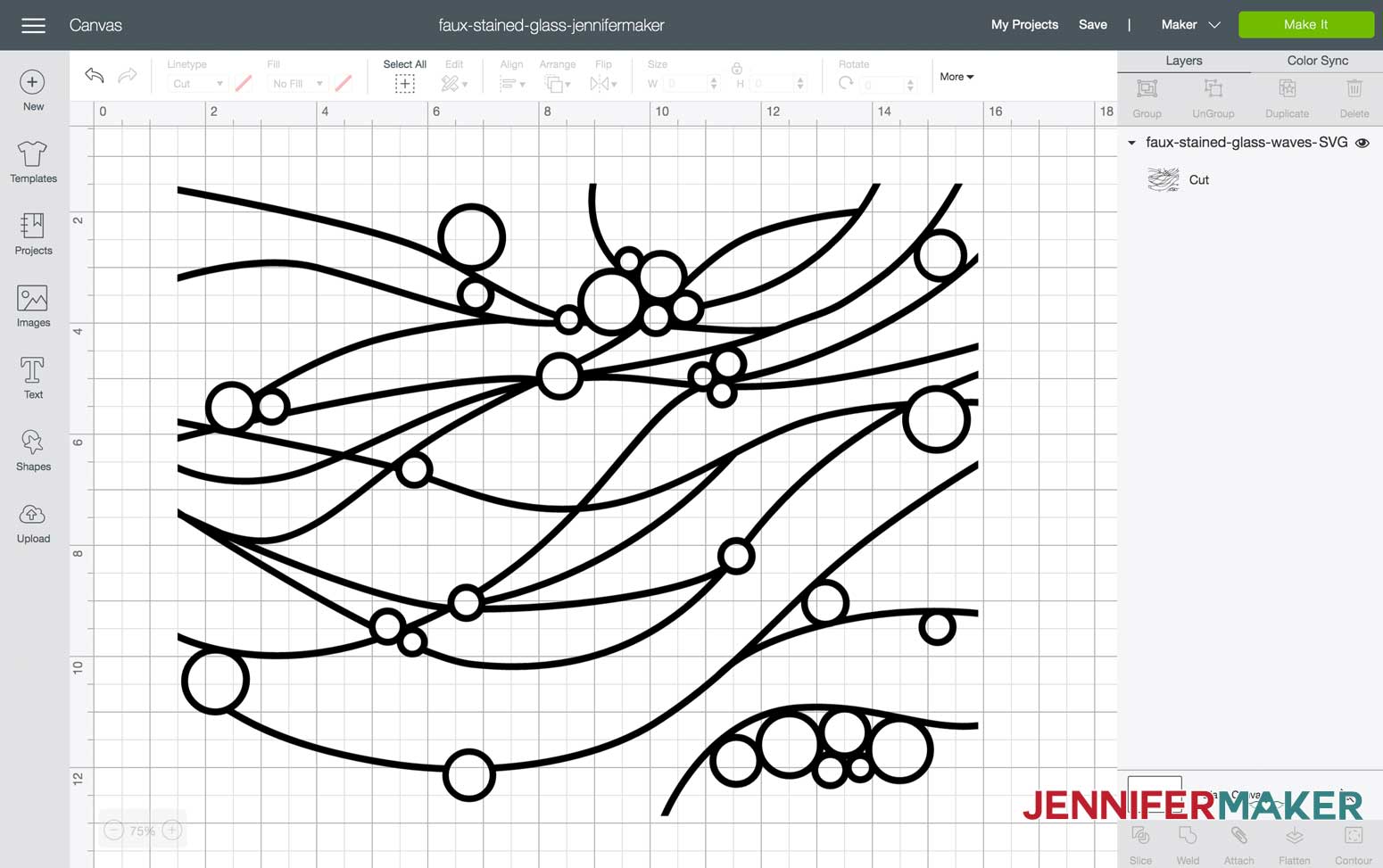 This design is made to fit into an 11″ x 14" frame. When you click "Make It," you will be prompted to select a 12″ x 24" mat. Select your material settings matching your vinyl. I used Cricut Premium Permanent Vinyl so selected Premium Vinyl and selected "More Pressure." Measure and cut your vinyl (you will need at least a 12" x 15" piece) and place it on your StandardGrip cutting mat.
Follow the prompts to load the mat and tools into your Cricut and start your cut.
NOTE: Before unloading your mat, check to make sure the vinyl cut thoroughly. While it's still loaded in your Cricut, carefully peel up a corner of the vinyl off the carrier sheet. If the cut portion does not stay on the carrier sheet, then you will need to recut it. To do that, press the Cricut start button again, and it will recut the vinyl. Check your vinyl again before unloading it.
STEP 2: PREPARE THE VINYL DECAL
When the vinyl is done cutting, remove it from the mat. Gently weed the design using a weeding tool making sure to leave behind all the parts that will become your faux lead lines.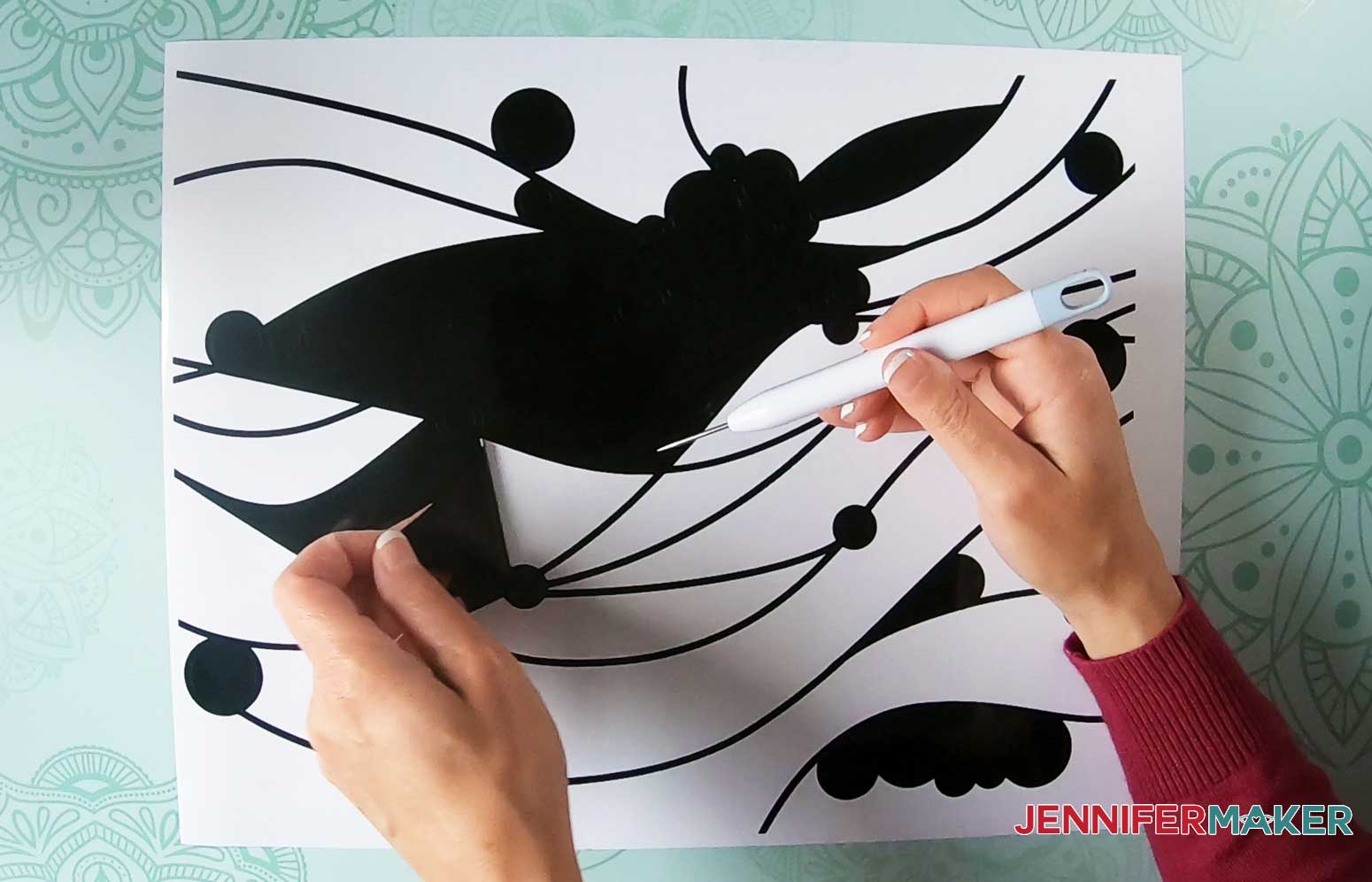 Carefully align transfer tape over your decal. TIP: I left an extra 1/4" of transfer tape overhanging on the two short sides so I could use them for lining up and applying the vinyl to the glass later.
To apply the tape to the vinyl decal, I carefully lined it up over my vinyl decal. I then removed the paper backing on one of the short sides and stuck the tape adhesive-side down onto the vinyl decal. I slowly pulled back the paper backing while burnishing the tape onto the decal.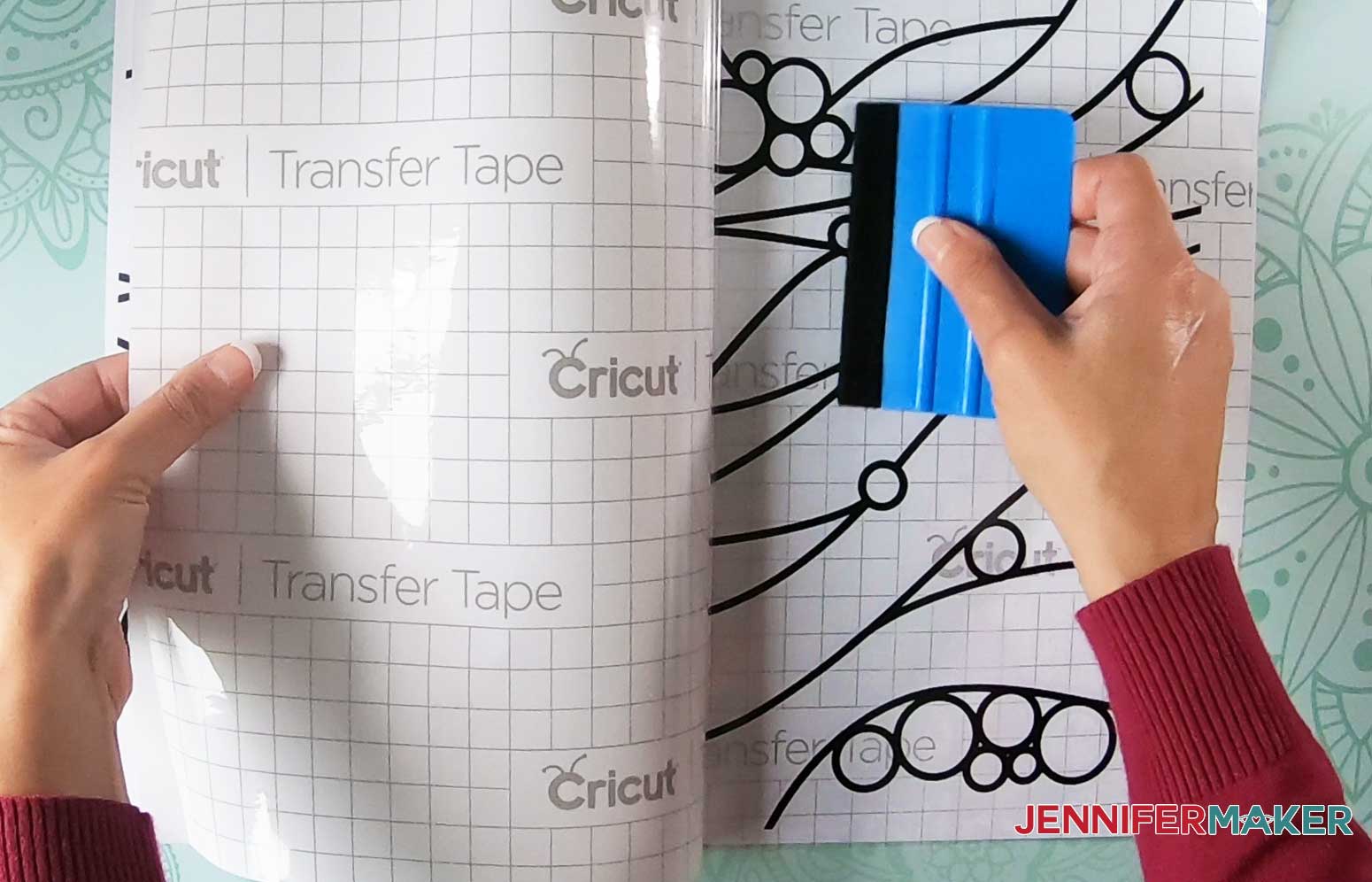 After applying the tape to the vinyl, burnish it well with a vinyl scraper tool, making sure there are no bubbles or creases. Be sure the decal is burnished really well and sticks to the transfer tape.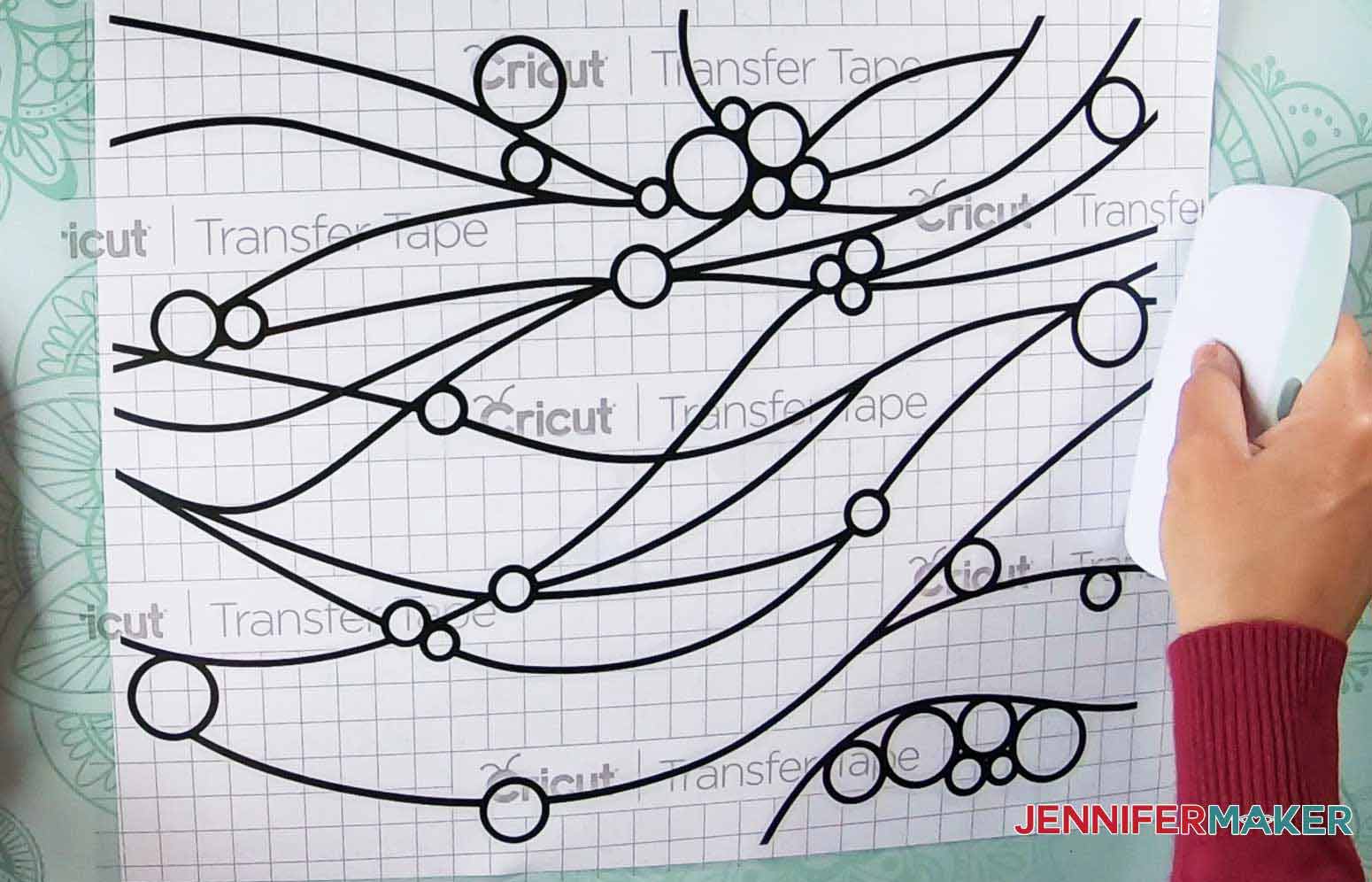 Now we're ready to begin making our faux stained glass! These are all the materials I used to make the faux stained glass window: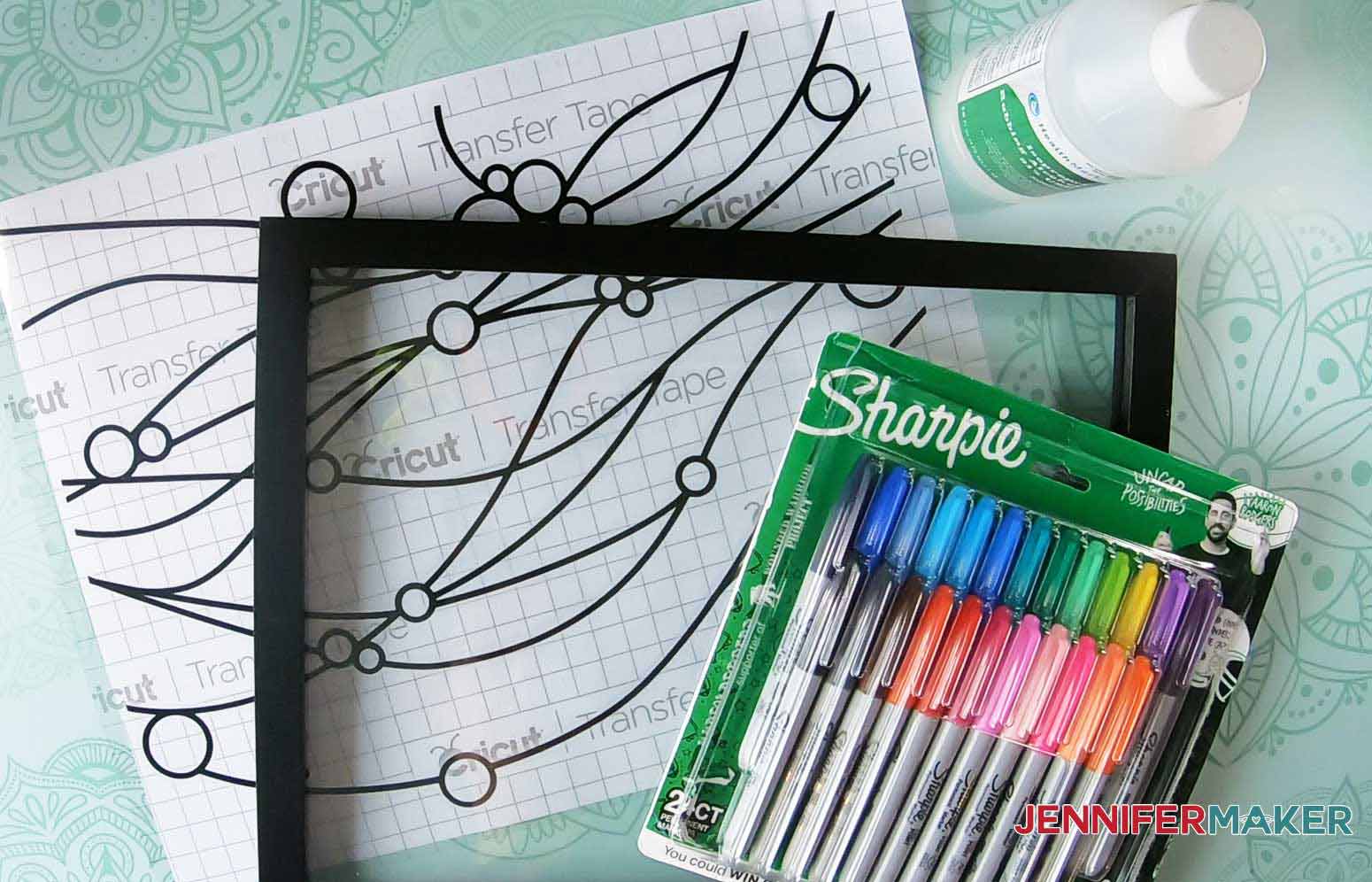 STEP 3: PREPARE THE GLASS
Remove the layers of glass from your floating frame. I had two layers of glass.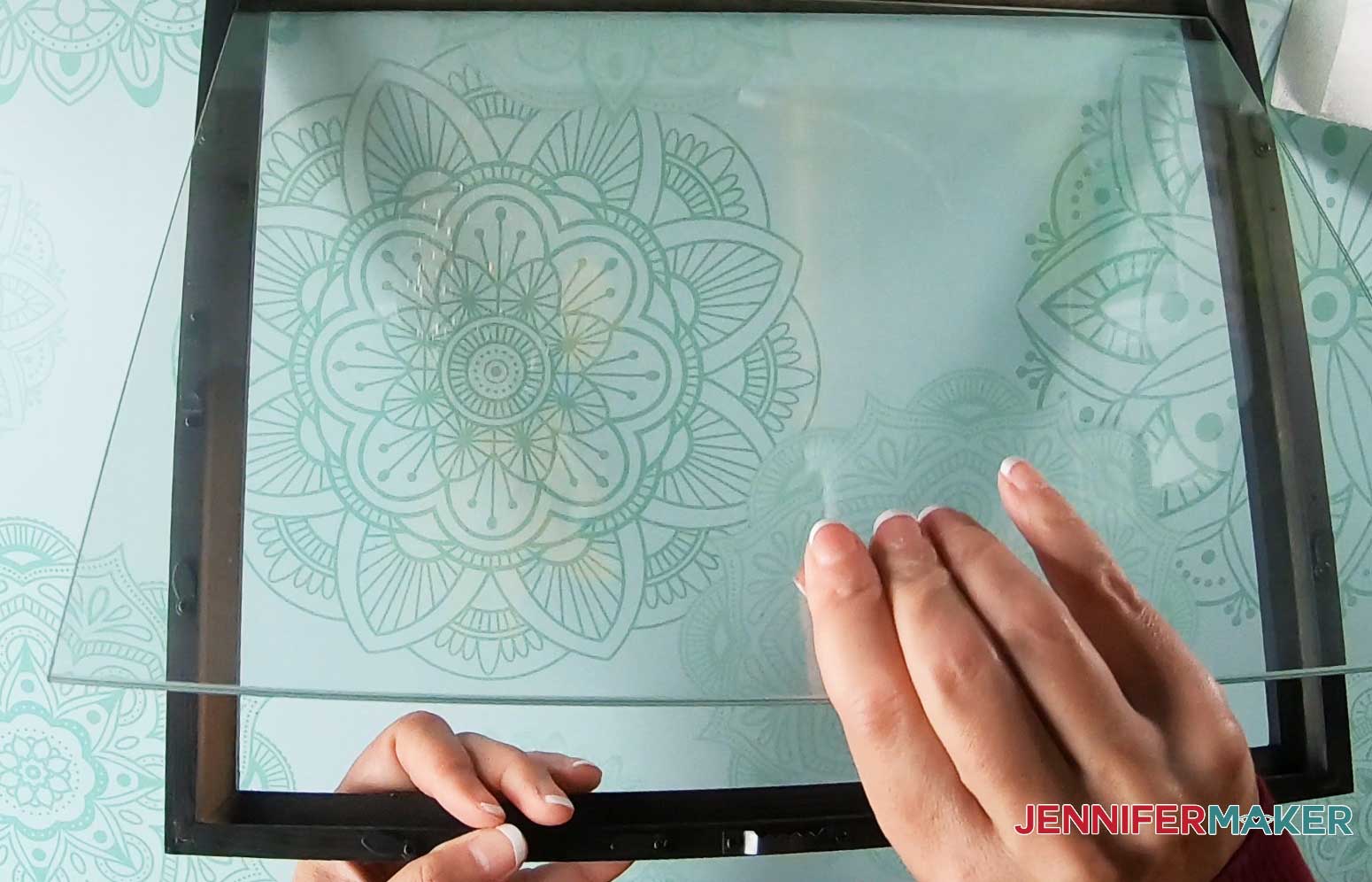 The first thing we want to do is make sure our glass surface is clean and free of debris and oils. Moisten a paper towel with Isopropyl Alcohol and rub both sides of each piece of glass thoroughly and let it dry.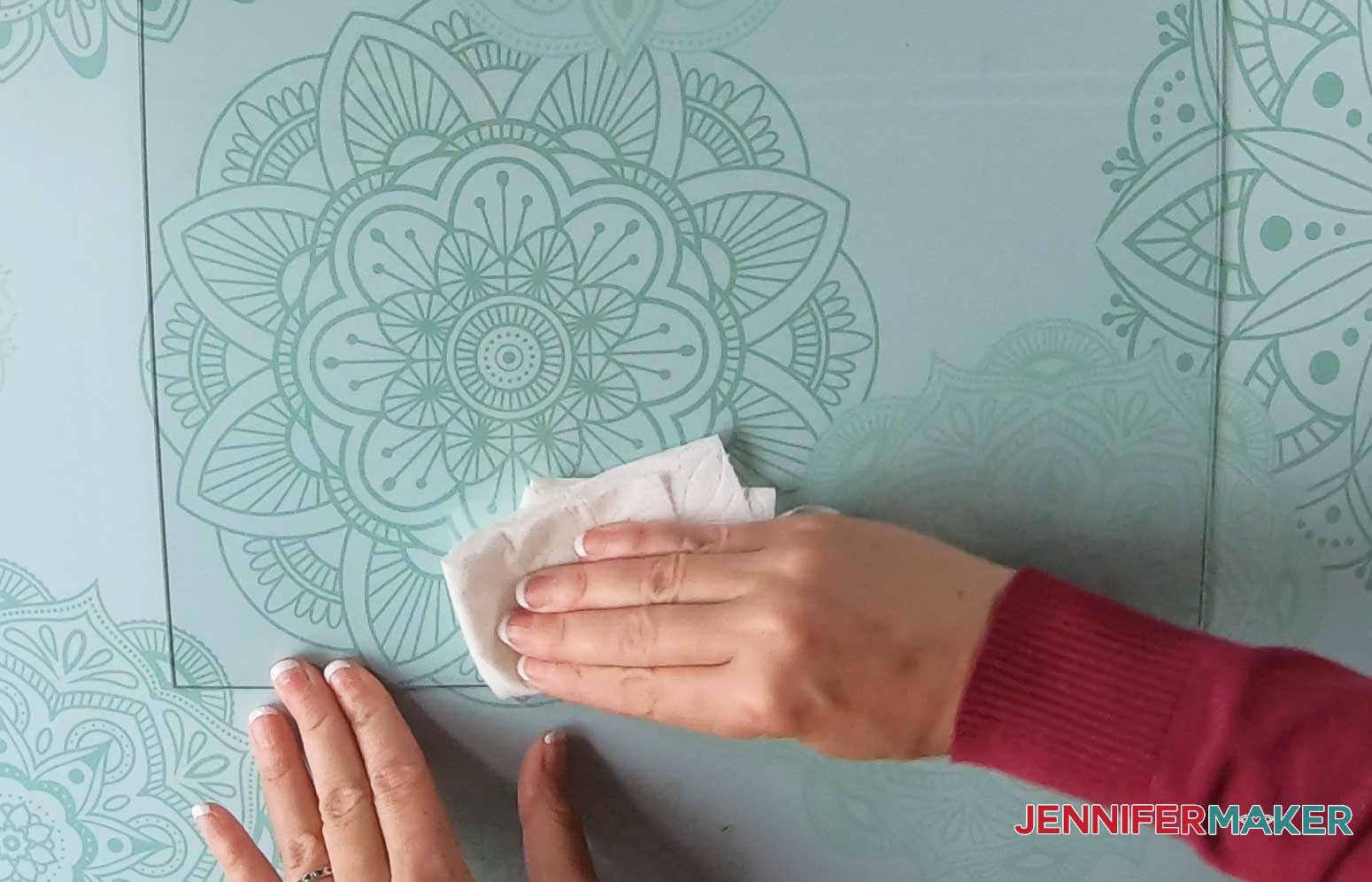 STEP 4: APPLY THE VINYL
Once your glass is completely dry, line up your vinyl decal over your glass. Remember that the edges of your glass will be hidden by the frame, so keep that in mind when deciding how to line up your decal. Remove the backing from one edge of the transfer tape. If you left a 1/4″ overhang of transfer tape along the short edges of your decal, use this extra tape to stick the tape to your work surface. This helps you keep the vinyl aligned while applying it to the glass. Carefully peel back the paper backing while rubbing the decal and transfer tape on top of the glass using a scraper tool. Try to avoid bubbles and creases.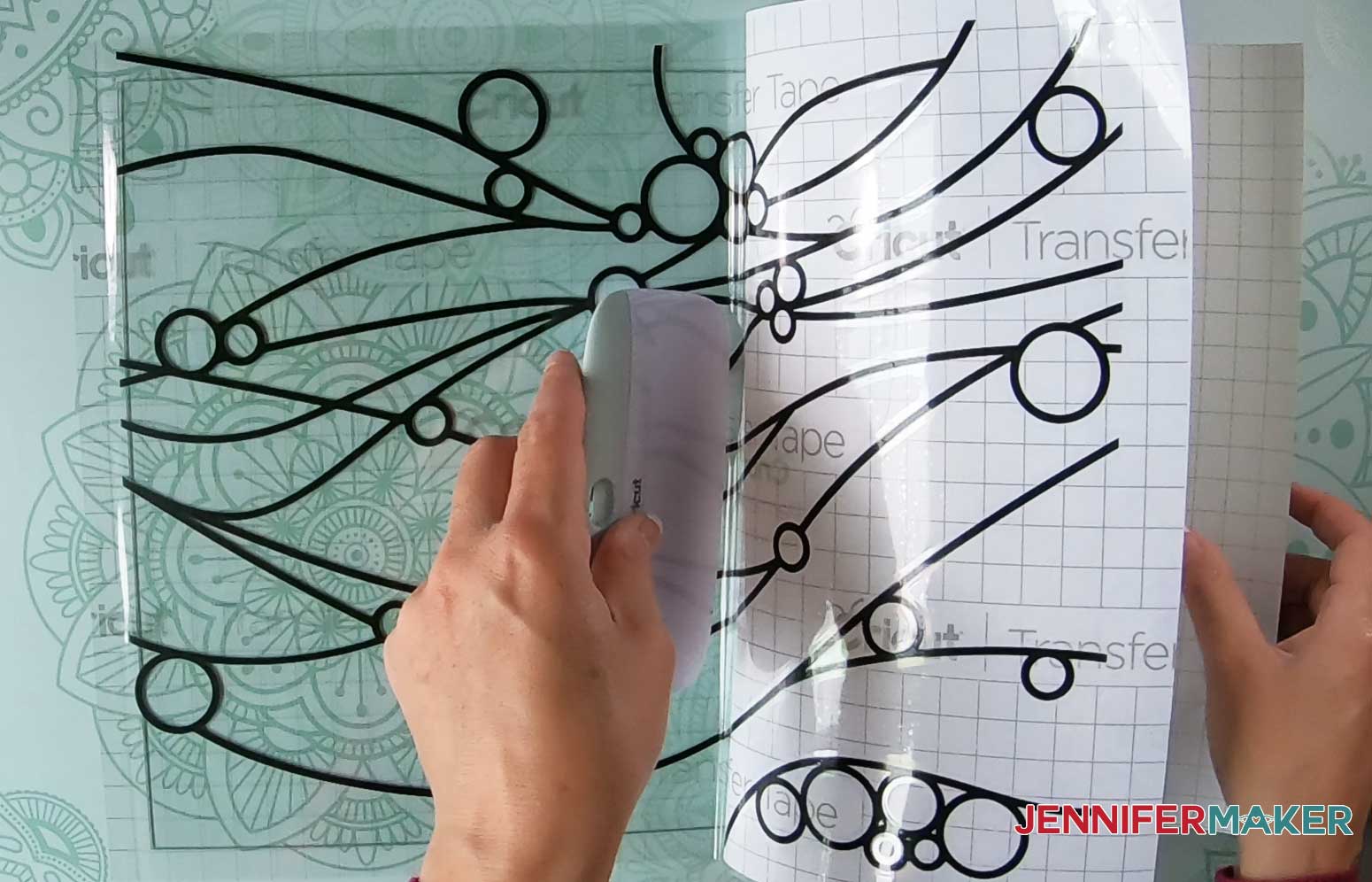 Now, burnish the vinyl and transfer tape onto the glass, making sure it adheres well.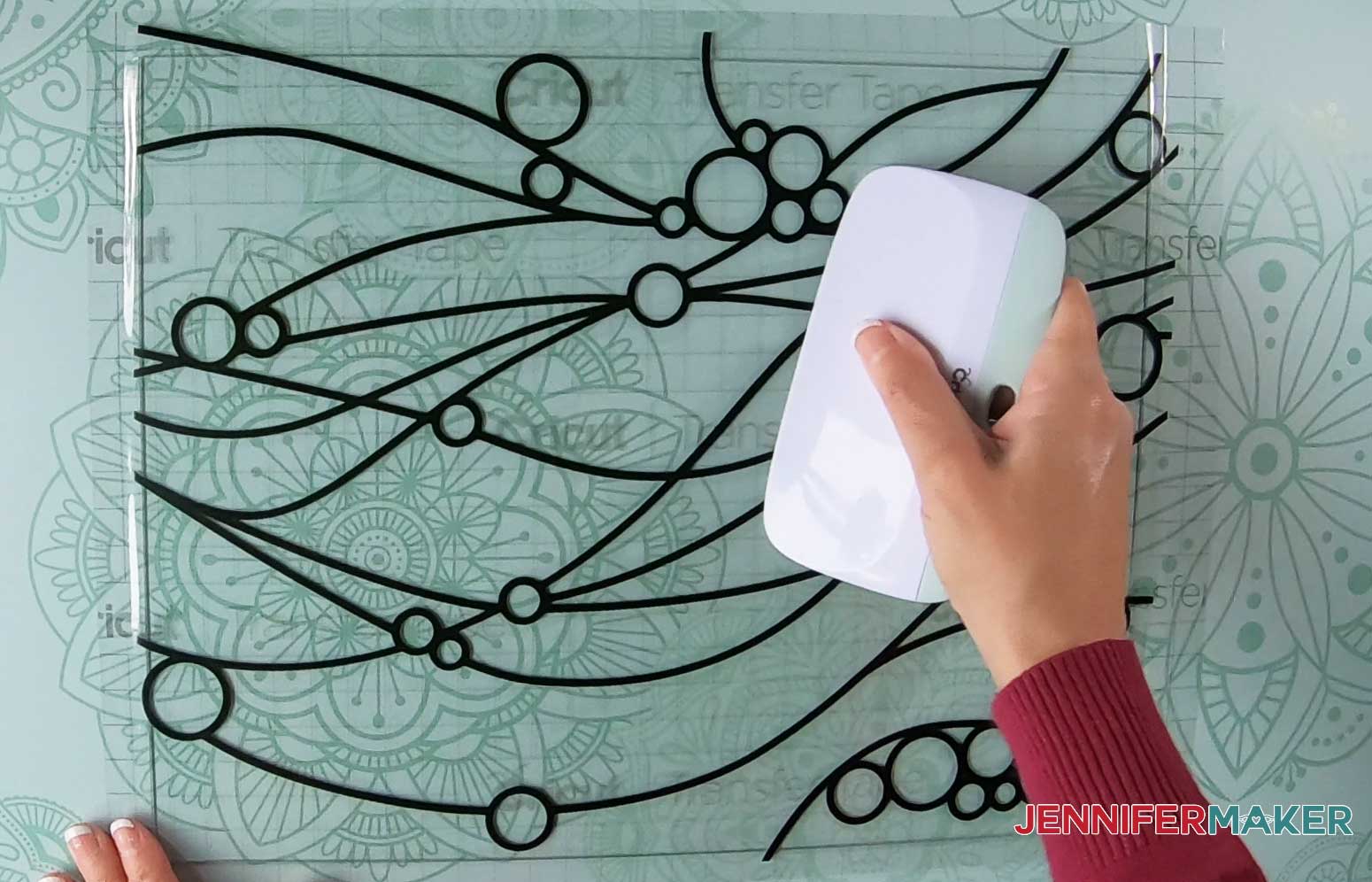 When your vinyl and transfer tape are well adhered to the glass, flip your glass over so the transfer tape is facing downward. Using a self-healing mat and cutting tool, trim the excess vinyl and transfer tape along the edges of the glass.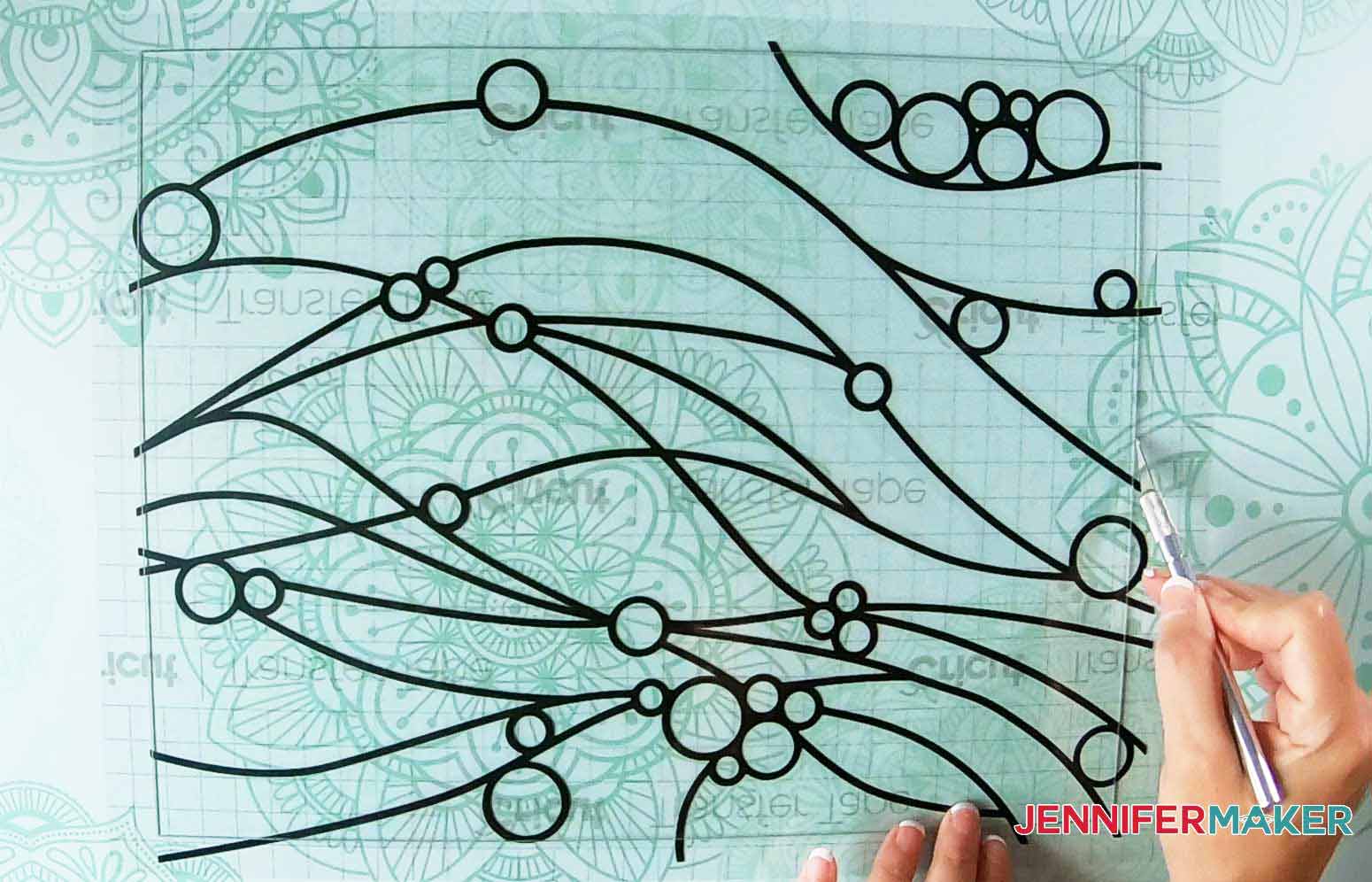 Flip your glass back over and carefully remove the transfer tape by gently peeling it off.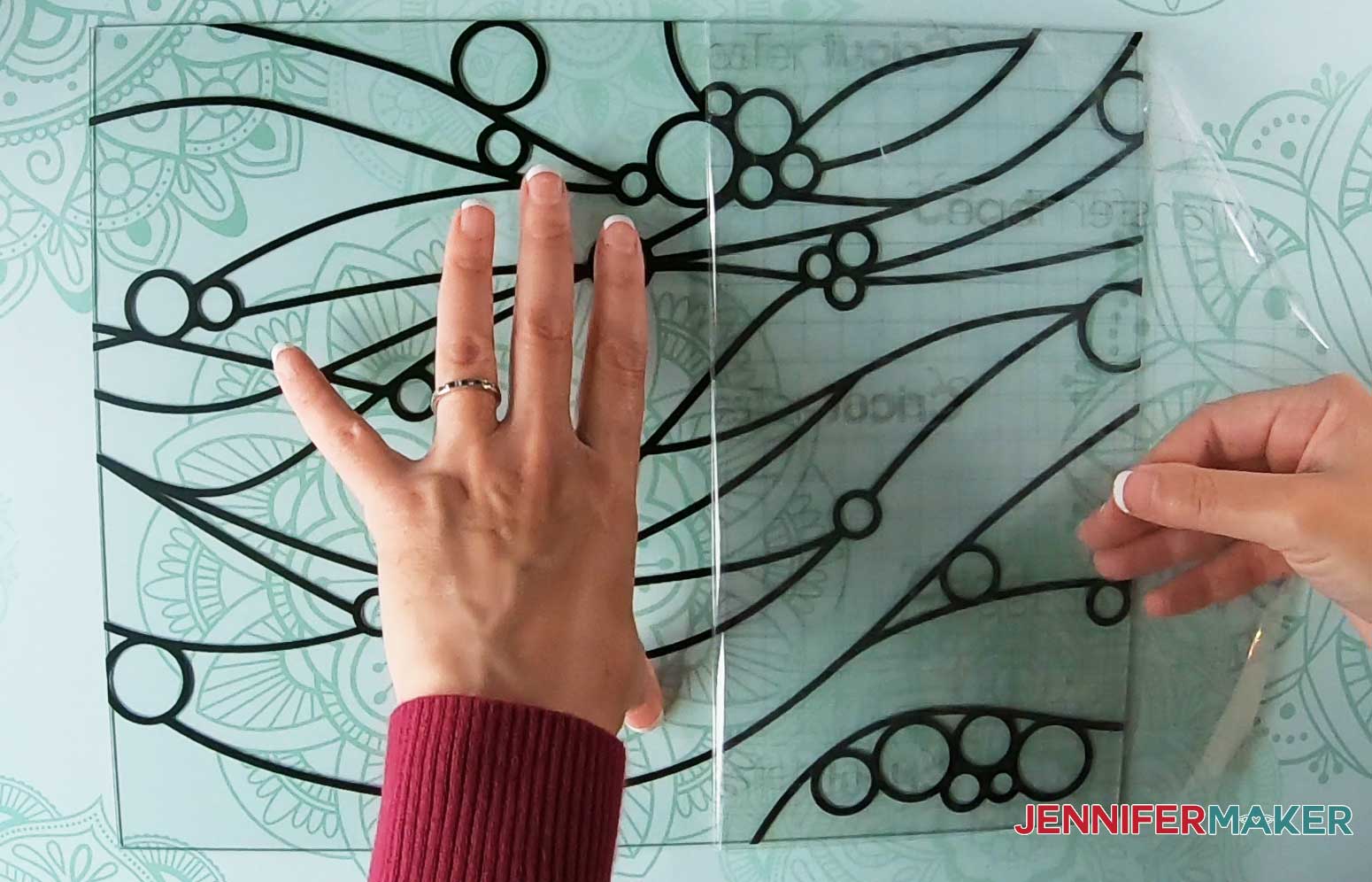 Once the transfer tape is removed, run your fingers over the vinyl again to make sure it's well adhered to the glass.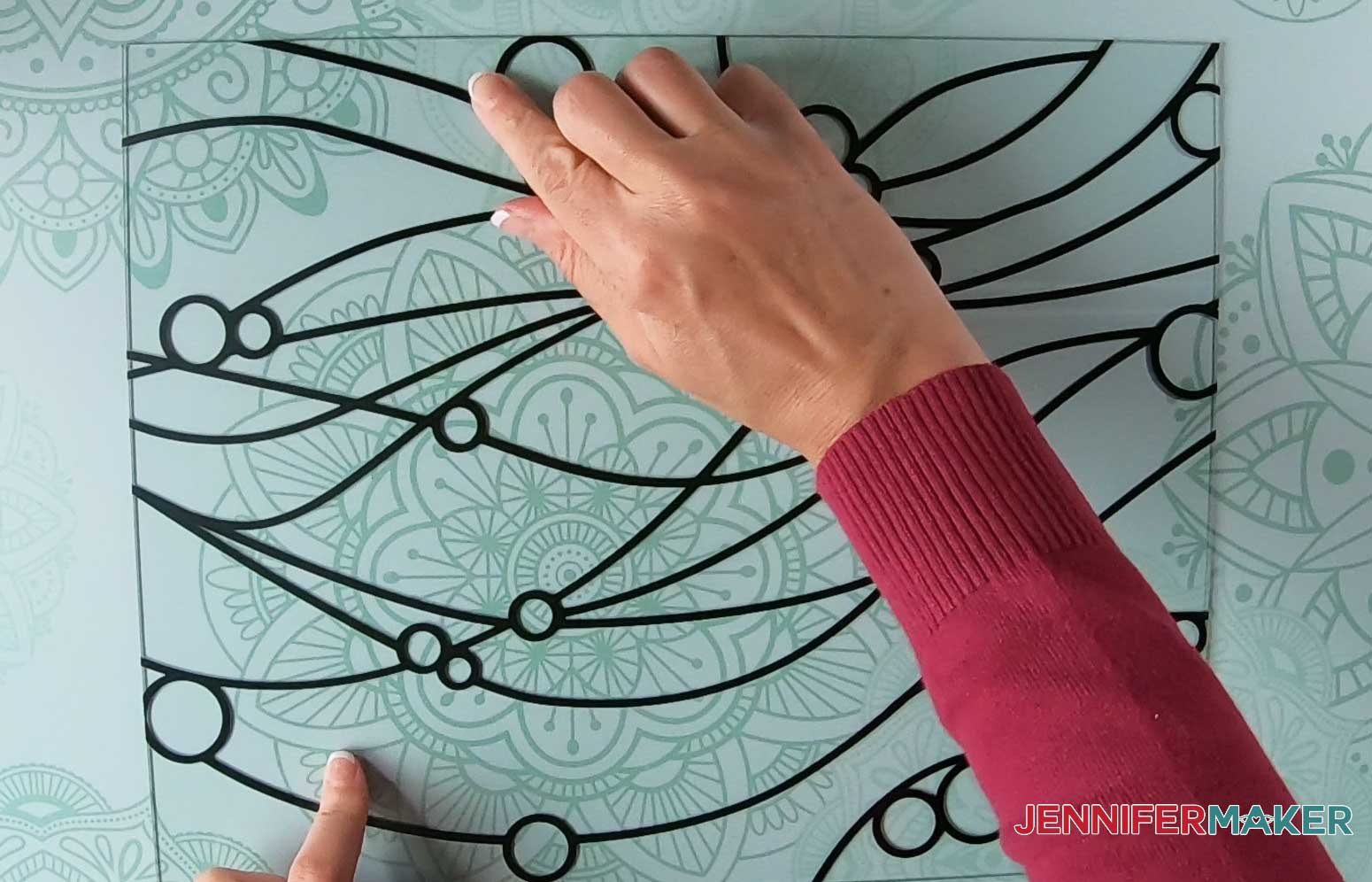 Now we're ready to add the color!
STEP 5: COLOR THE GLASS
Use Sharpies or any permanent marker to 'paint' the glass in between the vinyl faux lead lines. I used a variety of blue hues to color the waves. Your glass will look best if you color the glass using small strokes in small, solid sections. TIP: At this stage, it may help to add a piece of white paper behind your glass so you can see the colors better.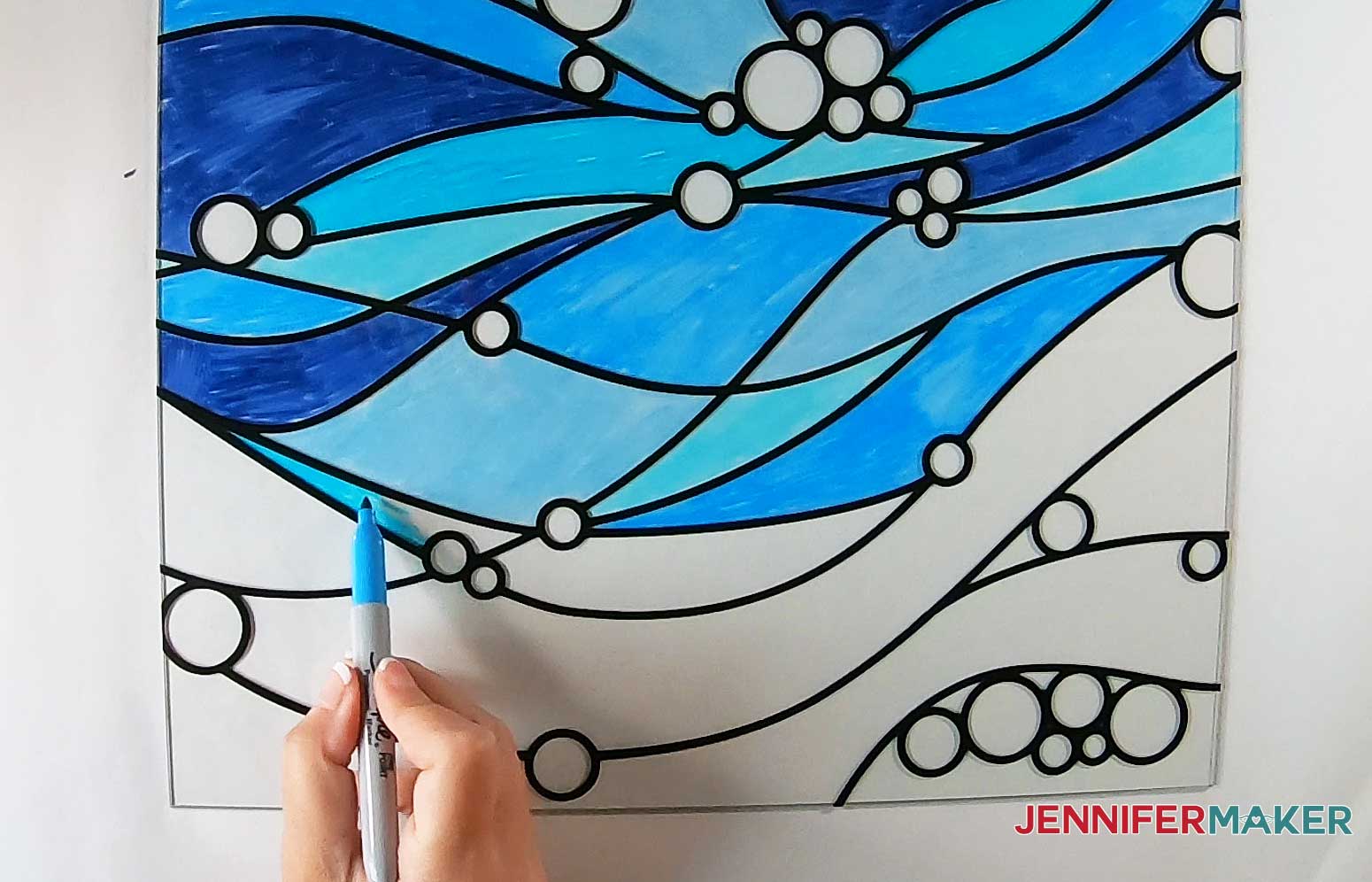 If you mess up or want to change the color of a section, rub the area with a paper towel dabbed with Isopropyl Alcohol. The alcohol will remove the marker and you can start over. In fact, if you mess up completely, you can erase your entire piece of glass and start over!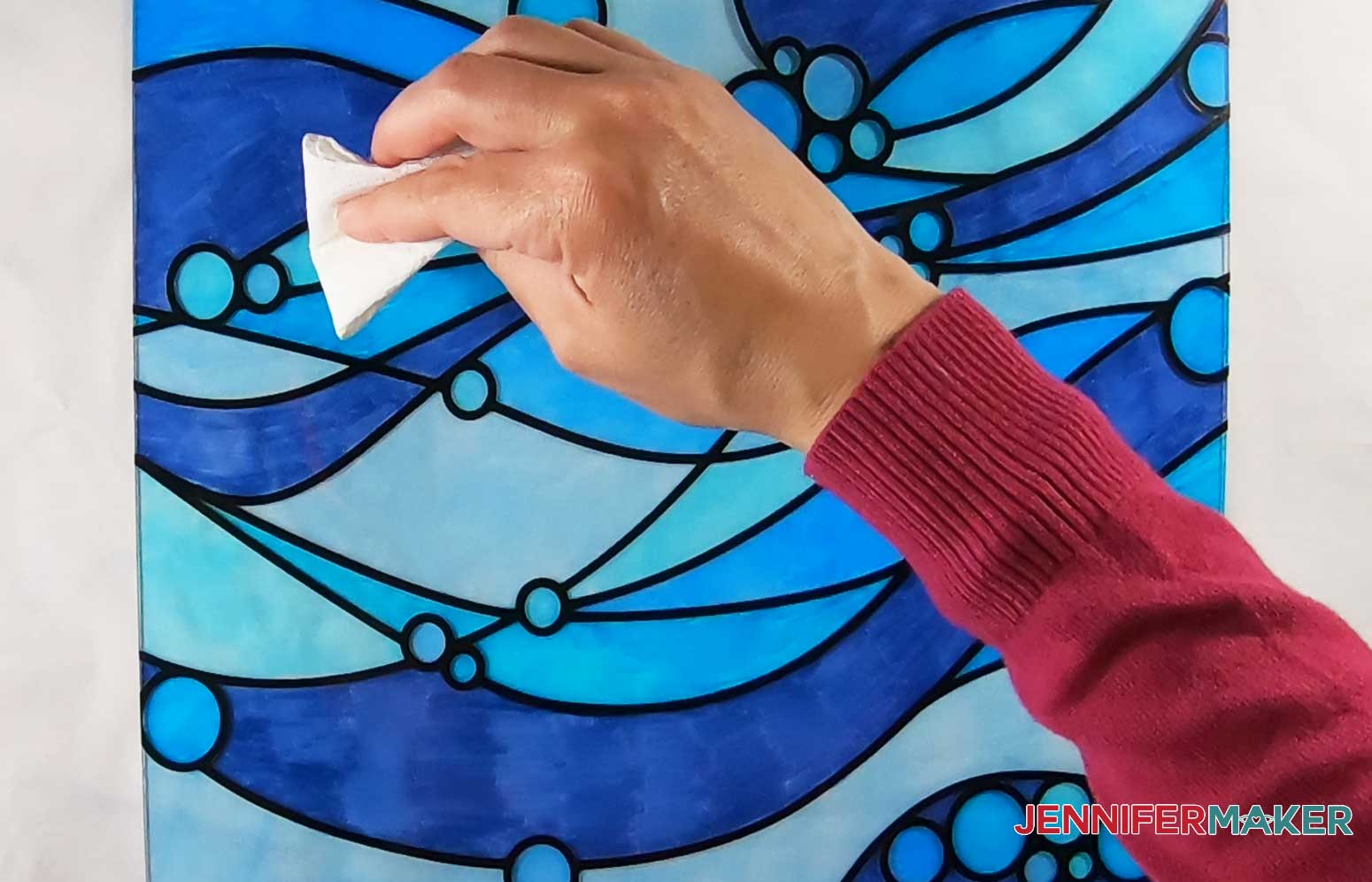 STEP 6: ASSEMBLE THE FRAME
Once you like the way your glass looks, place your second piece of glass over your colored piece, making sure to sandwich your vinyl and colored side in between the pieces of glass. This will protect it from scratches.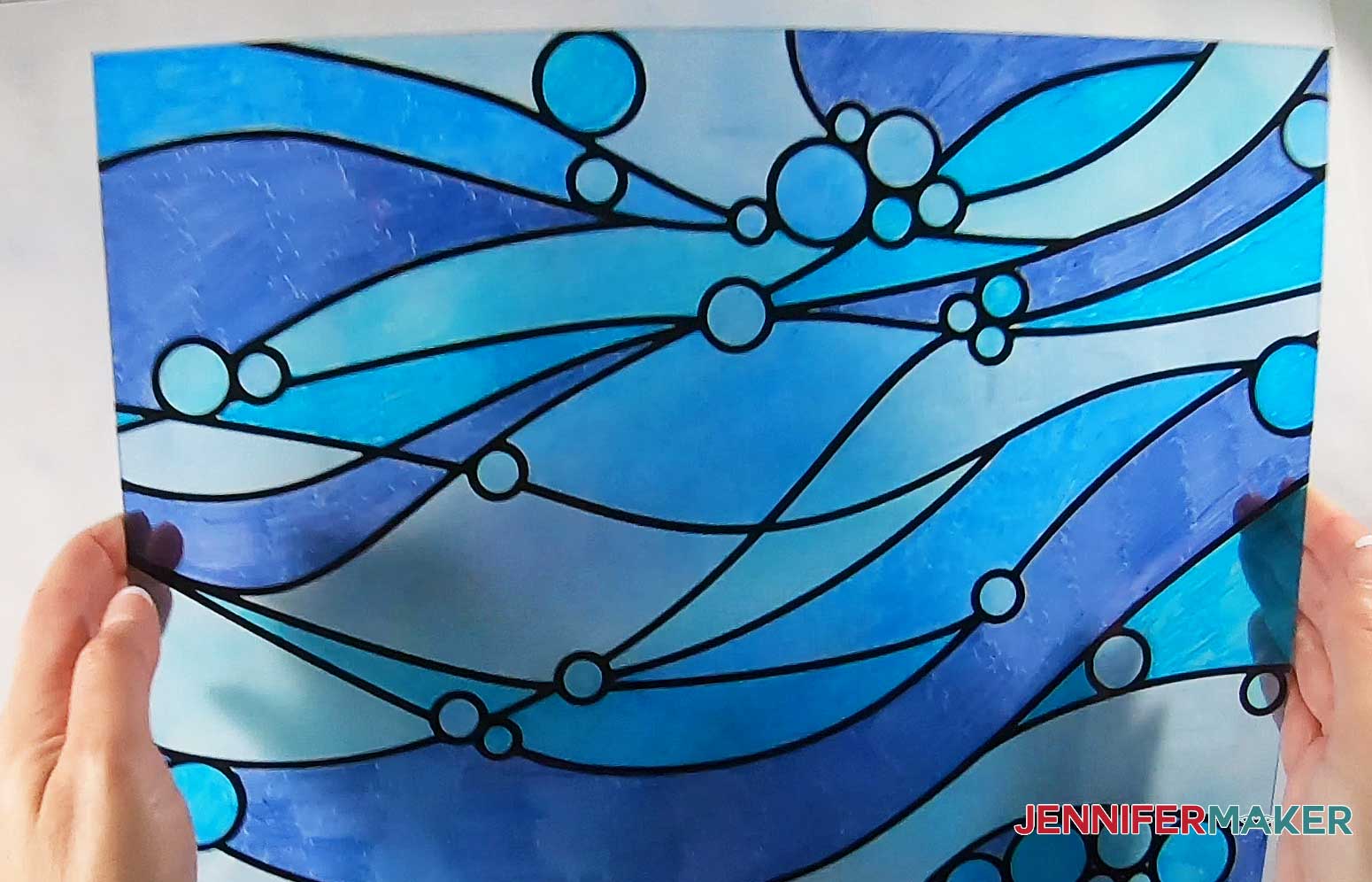 Now place both pieces of glass inside the frame and close the tabs to hold them in place.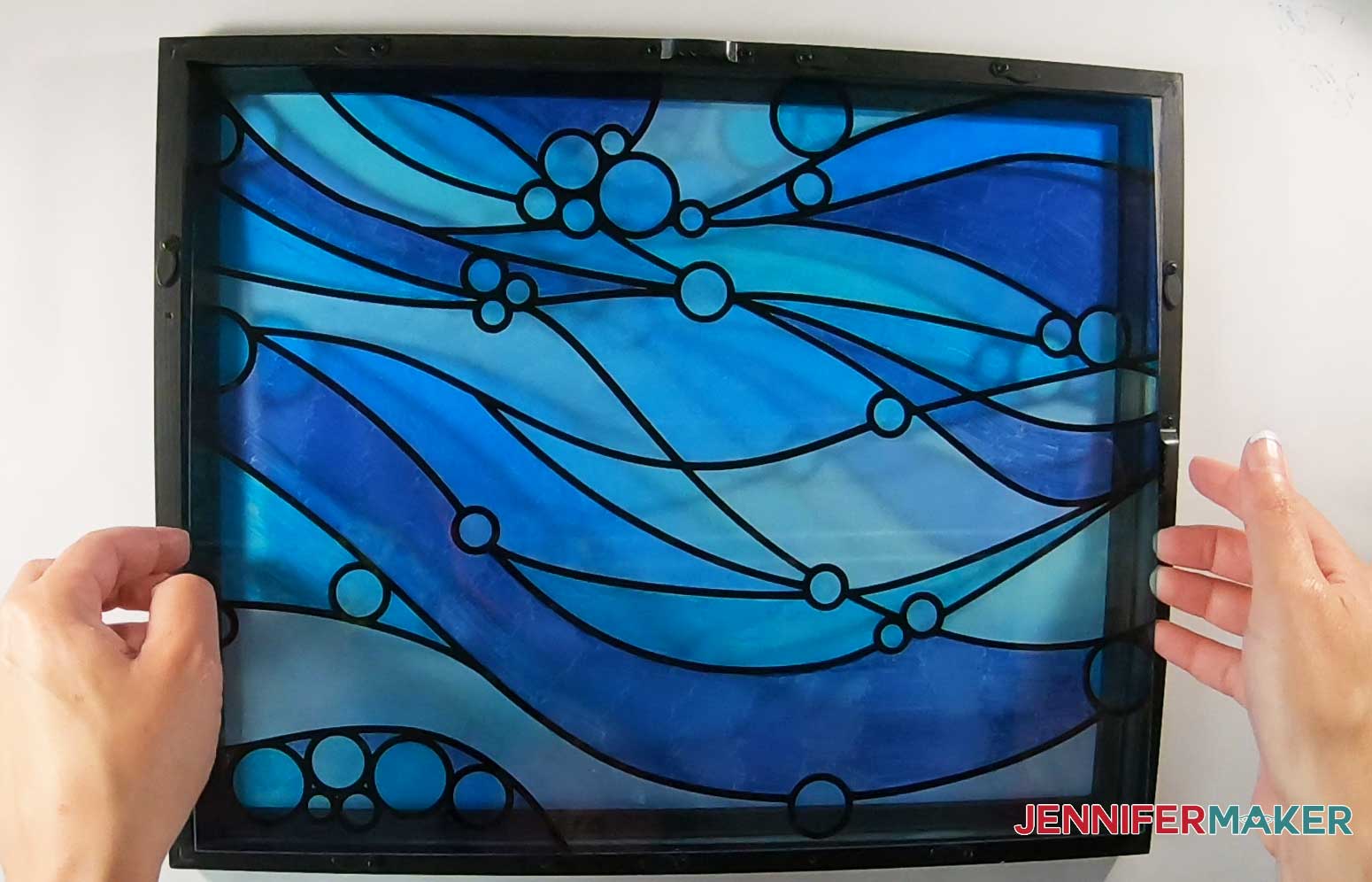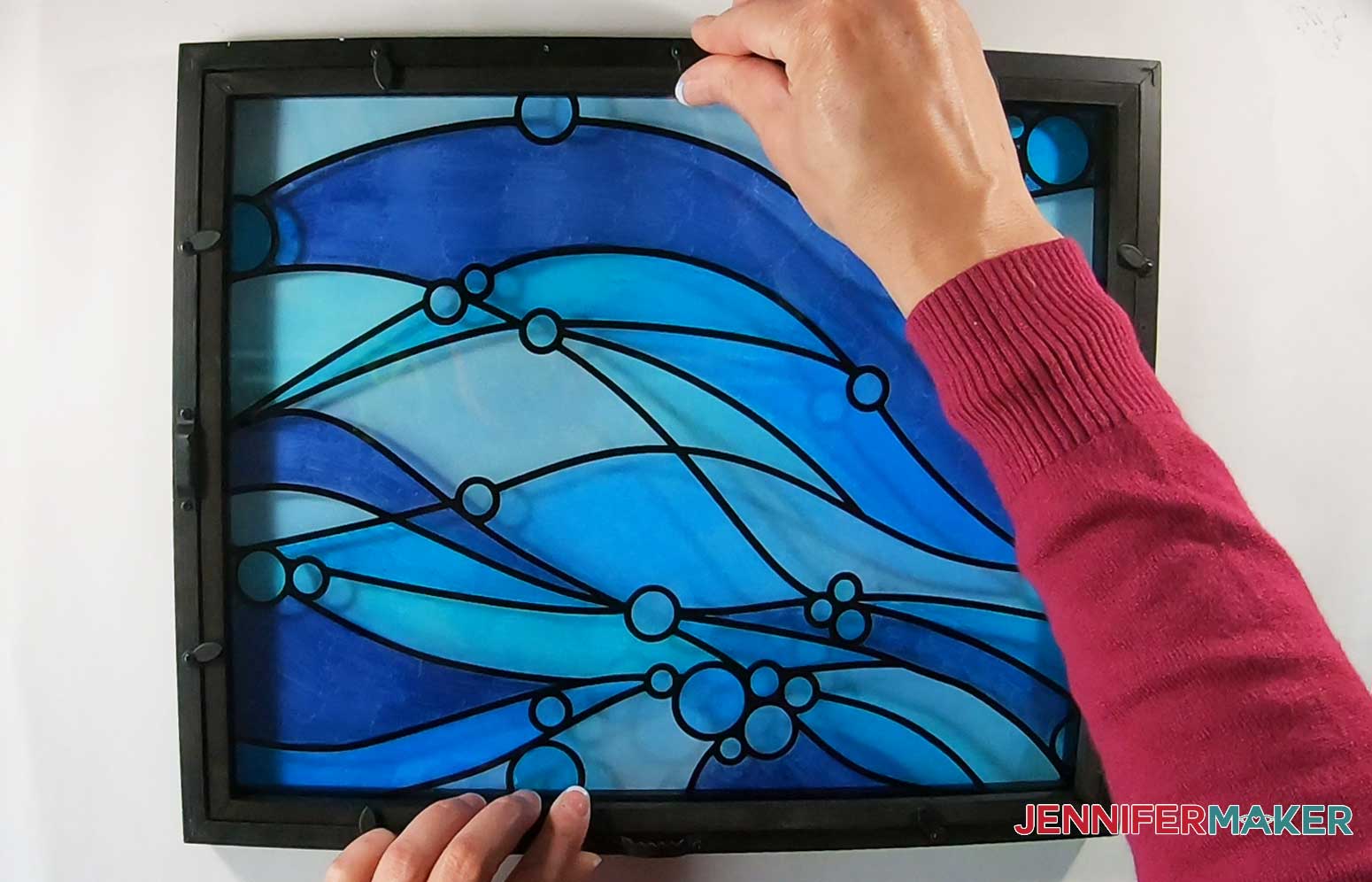 Clean the outside glass of your frame with alcohol one last time.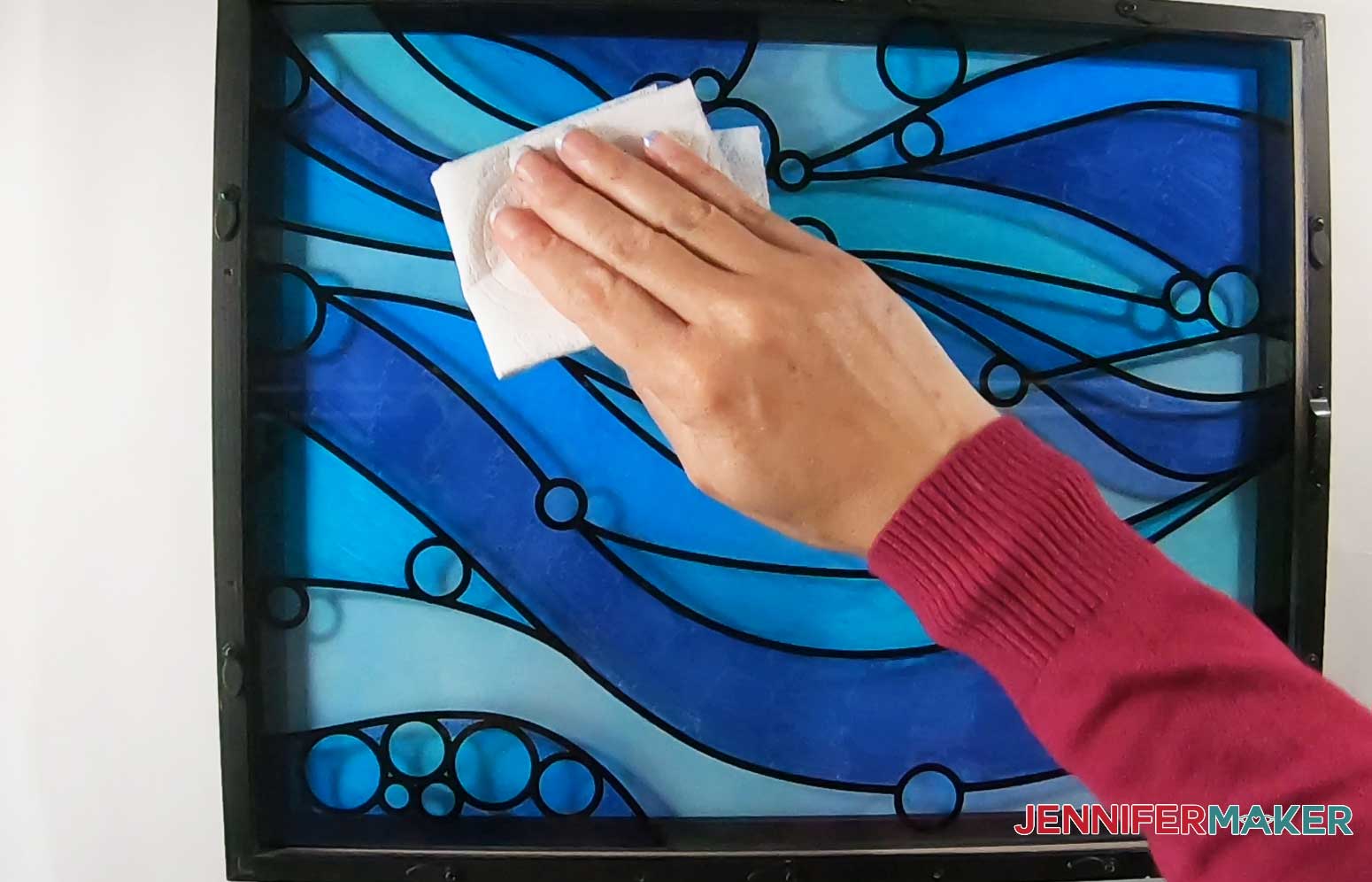 Now you're done! Hang your faux stained glass frame on a wall or in a window. I personally like the way natural light shines through when I put it in a window.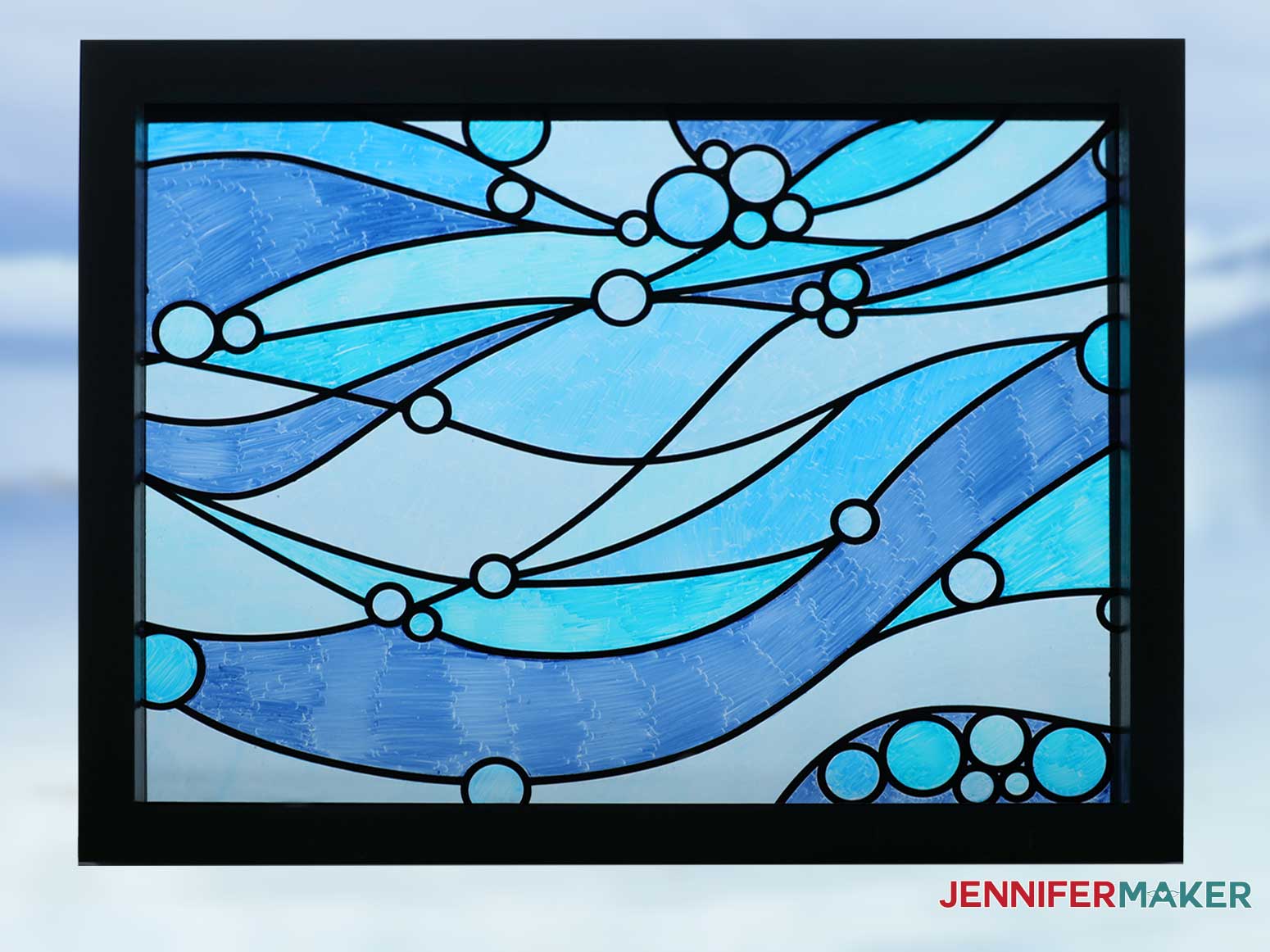 TIP: If you plan on displaying your faux stained glass frame in a window, it is very important add UV protectant to your piece so the colors don't fade. But we need to seal the marker inks BEFORE adding the UV spray. If we skip this sealing step before spraying the UV protectant, our beautiful design will smear and run.
So before assembling your frame, go outside or to a well-ventilated area where you can spray the entire colored glass surface. Be sure to add the sealer first and allow it to dry completely. I like to apply two coats (allowing about an hour in between coats) and then let it dry overnight.
Next, spray the colored glass with UV protectant. Let it dry completely and now you're done!
You may skip this sealing and UV protectant step if your piece will only be subjected to artificial light.
STEP 7: SHOW IT OFF
I'd love to see your finished faux stained glass windows! If you make one, please share a photo of it with me by emailing me at [email protected] or tagging me on social media with #jennifermaker.