Inside the Lonely World of Athina Onassis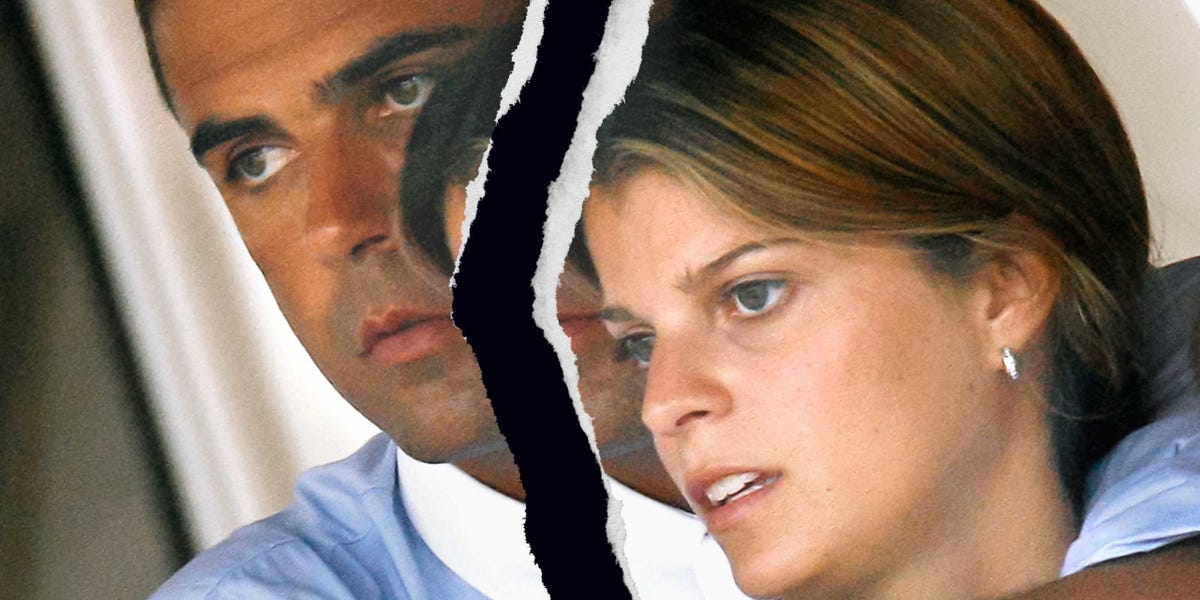 Although she's just 31, Athina Onassis, the only surviving descendant of Greek shipping tycoon Aristotle Onassis, is already familiar with the concept of the "Onassis curse." Her grandmother, for whom she is named, died at the age of 45, her uncle Alexander was killed in a freak airplane crash at 24, and a year later her legendary grandfather, Aristotle, who was devastated by the loss of his son, succumbed to myasthenia gravis, an autoimmune neuro­muscular disease.
Athina's own life has been scarred by the death of her mother Christina when she was three, a much publicized legal battle with her father Thierry Roussel over control of her fortune, and a show jumping accident that caused the death of her beloved horse.
Then, last March, her Brazilian husband of 11 years, Alvaro "Doda" de Miranda Neto, was reportedly discovered by Athina's security team in bed with another woman in their $2 million home in Wellington, Florida. Doda's relationships with a number of women had been the topic of gossip in Wellington horse circles throughout the winter.
Ignoring Doda's pleas, the security team reported his alleged adultery to Athina, and she immediately packed her bags and flew to Belgium, where she has a home. At first Doda's representatives insisted there was no problem in the marriage, but by early June his spokeswoman confirmed that Doda and Athina had separated. Doda told the Brazilian magazine Epoca, "I am really in the midst of a storm. But I will not give up on my love. It won't be easy, but I'll fight until the end."
Does Doda have a chance to regain Athina's trust? His friends say no one should underestimate him, because he is as charming and determined as Athina's father, whom her mother showered with money and gifts far beyond what their divorce settlement called for—even though he left her for his mistress.
We have been observing and writing about the Onassis family for decades, in newspapers, magazines, and books. For the biography Greek Fire, the Story of Maria Callas and Aristotle Onassis, we interviewed the tycoon's closest relatives and associates and were given access to his private papers and logs. While researching the book we met the shy 14-year-old Athina at a family gathering; we also talked to her on the phone in 2004 for an article about her feud with her father over who would control her vast inheritance. Athina has remained incommunicado since the collapse of her marriage last spring, but we returned to Greece to find out from those ­closest to her what went wrong and what fate holds in store for the sole surviving member of the Onassis dynasty.
In our conversations with Athina's friends it became clear that she will react far differently to her husband's alleged infidelity than her mother did to Roussel's. Athina is tough, her cousin Marilena Patronikola told us. "There's a lot of Uncle Aristo in her."
This year has seen a number of high-profile splits, most notably Angelina Jolie and Brad Pitt, whose net worth is also reported to be in the hundreds of millions of dollars. But unlike that case, and other celebrity divorces currently unspooling in the gossip columns, the battle between Athina and Doda will probably not include daily doses of damaging personal information being leaked by anonymous sources. Instead—if Athina's struggles with her father are any indication­—her lawyers will do their best to protect her privacy while resolving the matter quietly.
When Athina's mother Christina Onassis died on November 19, 1988, at the age of 37, she was in Buenos Aires and Athina was being cared for by a nanny at her home in Switzerland. Christina's body was flown first to Athens for the funeral and then to Skorpios, the private island she had inherited from Aristotle, for a private burial ceremony. Roussel attended his ex-wife's services and then had three-year-old Athina brought to live with him and his longtime mistress, Swedish model and translator Marianne "Gaby" Landhage, and their children. They ultimately settled in Lussy-sur-Morges, Switzerland, near Lausanne.
Roussel was Christina's fourth husband (none of the marriages lasted more than three years), and she was deeply in love, staying with him even after she learned that Gaby was pregnant with his child at the same time that Christina was pregnant with Athina. (Gaby gave birth to a son, Erik, in July 1985, six months after Athina was born.) Two years later, when Christina learned that Gaby was expecting a second child by Roussel, she finally divorced him.
Thierry, Gaby, and the children lived in a five-bedroom villa, and Athina and her half-siblings were enrolled at a local public school. Gaby encouraged their interest in the environment and animals, which some say led to Athina's passion for horses. Gaby and Thierry married in 1990, with Athina, Erik, and younger daughter Sandrine as their attendants.
Athina's inheritance, estimated at $500 million, was initially managed by four Greek advisers, who served on the board of the foundation that Aristotle had established in Alexander's memory. There was also a fifth manager of Athina's money: Thierry Roussel. Perhaps anticipating this arrangement, Christina wrote to the board president, Stelios Papadimitriou, telling him, "the job of the protectors is to keep the door [to my fortune] closed…because they know too well that I have a weakness for this man, and therefore I will always be subject to abuse."
Although Athina received only a small allowance, Roussel demanded huge sums for her care (around $150 million over 11 years, according to one board member). At one point Roussel brought Athina to a courthouse in Switzerland so she could fill out documents stating that she "felt great aversion to anything Greek, even though she knows that her mother, her grandfather, and her fortune come from Greece."
This was Roussel's effort to circumvent a provision he had signed after Christina's death in order to get custody—one specified by his ex-wife stating that Athina would be "reared in the Orthodox religion" and "will learn the Greek language so as to speak it fluently." (Today Athina is fluent in English, French, Swedish, and Portuguese, but reportedly not Greek.)
Roussel was constantly at odds with the "graybeards," as the press called the four board members. He accused them of plotting against Athina. They in turn accused him of isolating her and depriving her of her Greek heritage. The disputes became increasingly protracted until, finally, in 1999, a Swiss court took the management of Athina's fortune away from Roussel and the board members and turned it over to a Swiss auditing firm. Athina was 14.
Less than four years later the young heiress moved out of Roussel's home to live in Brussels. She also subsequently renewed her Greek passport (which her mother had obtained for her), dropped out of school, and began preparing a legal case against her father to revoke a power-of-attorney document that he had persuaded her to sign.
Athina had become increasingly passionate about riding, and when she was 17 she enrolled in an equestrian school, Haras de Ligny, in Fleurus, Belgium, run by Nelson Pessoa, a former Olympic rider from Brazil. One of the first things Pessoa did was introduce her to another student, Alvaro de Miranda Neto. The handsome six-foot-two athlete, the son of a São Paulo insurance executive, was 12 years her senior and had won bronze medals in show jumping at the 1996 and 2000 Olympics.
The romance proceeded swiftly despite the fact that Doda had a two-year-old daughter, Viviane, with his longtime girlfriend, Cibele Dorsa. The child's mother, a model and actress, had just left Brussels to audition for television roles back in Brazil. On January 29, 2003, a few months after meeting Doda, Athina turned 18. Soon afterward, she traveled with him to Brazil to meet his family. Within months she had purchased a 10,600-square-foot duplex with space for 15 cars in the best neighborhood in São Paulo for approximately $5 million. She also bought, for $320,000, a cow named Esperança for Doda's farm. (Athina is not extravagant when it comes to clothes or jewelry, but she is willing to pay towering amounts for prize horses and cattle.)
Meanwhile, a heartbroken Cibele gave interviews asserting that "Doda exchanged me for Athina's money" and "he always told me he found her fat and ugly."
Roussel opposed Athina's romance with Doda from the beginning, which exacerbated the rift in his relationship with his daughter. Then, in 2004, Athina initiated legal proceedings to take full control of her fortune, some of which Roussel had allegedly hidden. Many observers predicted a long and public battle similar to the one Roussel had had with the Greek trustees, but by the end of the year he had reportedly signed an agreement releasing all of Athina's assets to her in return for a settlement rumored to be around $100 million.
The same summer, before the Olympic games in Athens, Athina and Doda went to Greece, where, as Nicolas Paraschis, president of the Hellenic Equestrian Federation, told us, "she tried to get her fiancé to ride for the Greek team." Despite her wealth and connections, "she couldn't establish him as a Greek resident, and he was not permitted." As part of the effort, Athina asked a relative in Athens to say that she and Doda lived with her, but the cousin was not able to persuade a key minister in the Greek government. It was the last time she ever heard from Athina.
The new couple made another big decision in 2004: They got engaged. One of the first people they told was Konstantinos Kotronakis, the honorary Greek consul in Recife, Brazil, whom they asked to be best man. The wedding was held in December of the following year in a specially constructed church on the grounds of São Paulo's Maria Luisa and Oscar Americano Foundation. One thousand guests were mailed magnetic cards granting access through tight security at the outer gates. Sheets of plastic were hung around the open-air structure, so while a crowd of photographers gathered outside the property, the images they managed to shoot through the curtain were blurry.
Athina wore a $70,000 Valentino silk gown. There were two ceremonies—first a Catholic mass and then a Greek Orthodox liturgy. Rodrigo Pessoa, the son of Athina's riding instructor, Nelson Pessoa, was best man for the Catholic service. Kotronakis was the koumbaros, or best man, for the Greek ceremony. Ricardo Miranda, the groom's father, walked the bride down the aisle. According to one account, "Athina didn't cry. Doda did."
The buzz among guests was that Athina's father and stepmother weren't there, and while Kotronakis confirms that they were not invited, he adds that Athina's half-siblings—Erik, then 20, Sandrine, 18, and the youngest, Johanna, 14—did attend, despite press reports that only Sandrine came. "Athina and Doda exchanged expensive gifts," he says. "She gave him a prized thoroughbred horse. I heard that Doda signed a prenuptial agreement, but I don't know what was in it."
The newlyweds and their guests danced to a 40-piece orchestra, which played bossa nova until the sun came up. Guests consumed 1,000 bottles of Veuve Clicquot champagne, according to one local paper. After the wedding Athina reportedly changed her name to Athina Onassis de Miranda—dropping "Roussel." She also hired a Greek tutor to come to their home in São Paulo several times a week.
The couple led a low-key life, rarely going out at night or turning up on the party scene. Instead they spent their days training and their free time traveling with their horses to competitions around the world. Before the wedding Athina joined Avlona, an Athenian equestrian club. "She is on the Hellenic Equestrian Federation roster," says Paraschis. "She has raced primarily in Europe in the Longines Global Champions Tour, always under the Greek flag."
In 2006, Athina and Doda began participating in the Global Champions Tour, a new annual series of equestrian events with 15 rounds of competition held at locations around the world. Top riders compete in show jumping for cash prizes that are among the largest in the sport. In 2007, Athina and Doda established the Athina Onassis International Horse Show, which has been held in France for the past three years, last June in St.-Tropez.
From the start the couple always appeared at GTC events together, but since Doda's alleged infidelity came to light, Athina has gone alone, often appearing downcast and conspicuously not wearing her wedding ring. An examination of GTC rankings suggests that marital troubles may have affected their performance. Athina was ranked 13th in 2014 and 88th in 2016. Doda was 24th in 2014, 74th in 2016.
As they began their married life together, the couple were joined by five-year-old Viviane, Doda's daughter with Cibele Dorsa, and then, about four years later, by Fernando, Cibele's 13-year-old son from her first marriage. The children's mother, beset by a drug problem and mental health issues, asked Athina and Doda to oversee their upbringing.
At their home in São Paulo, and in a villa in a suburb of Antwerp, the couple nurtured a life of quiet domesticity: riding lessons, football games, and evenings at home watching movies. "The social whirl was never my thing," Athina told the equestrian magazine L'Eperon. "Everyone likes living in their own way. Me, I like the tranquillity we have."
But in March 2011, while Athina, Doda, and the children were in Belgium, tragedy rocked their lives when Cibele, 36, threw herself out the seventh-floor window of her São Paulo apartment. She left despondent notes on her Twitter feed and sent a letter to the Brazilian magazine Caras with a message to Doda. "May God forgive you one day for what you did and continue to do to me, to Athina, and to the kids," she wrote. It was just the first in a series of catastrophes for Athina and Doda, a pattern that would bring back talk of the Onassis curse and ultimately result in the end of their marriage.
A year after Cibele's death Athina fell from her horse and broke two vertebrae, an injury that kept her from competing for several months. In December 2014, a year and a half after Athina returned to the ring, her beloved mount, AD Camille Z, failed to clear a jump and fell. Athina was competing in the Credit Suisse Grand Prix event in Geneva, when the 11-year-old gray horse crashed into an oxer—a show jumping obstacle—and broke a back leg. It took 45 minutes to tranquilize the mare and transport her by crane to a veterinary facility. Heartbreaking photos show Athina weeping as she learns the horse had to be put down.
Athina took another break from competing, spending much of the winter in Wellington, a wealthy enclave in southern Florida where the peripatetic equestrian crowd gathers from late winter until mid- spring. She purchased a four-bedroom house in Wellington, close to the Palm Beach Polo and Country Club. She also paid $12 million for a nearby 20-stall barn on 5.6 acres that include an all-weather ring and accommodations for grooms. The new residence offered access to horses and to the riding community. Unfortunately, it is also where Doda allegedly ended up in bed with one of the couple's acquaintances.
What does the future have in store for Athina? Will she yield to her husband's charm and return to him, as her mother did to Athina's father decades earlier? Or will she cut all ties to him and face the future alone? Those who know her, like their best man, Konstantinos Kotronakis, say that in her character she resembles her grandfather Aristotle, who began as a penniless refugee from the Smyrna genocide and went on to build a shipping empire by outsmarting everyone. "Athina is reserved and takes everyone's measure before she speaks," Kotronakis says. "She is very, very bright, clear-eyed, and strong. Nobody makes any decisions for her. Nobody takes the lead with her. She marks her own way."
That view is supported by reports in the Greek press that Athina has frozen all of her and Doda's joint bank accounts and that the couple had a secret meeting in a Brussels court on June 16 with their lawyers present. Sources close to Doda say he is seeking half of Athina's fortune, which is estimated to be around half a billion dollars, but that he'd be willing to settle for $100 million, as opposed to the much smaller amount he would get based on the reported terms of the prenuptial agreement ($1 million for each year of marriage). During the meeting, neither Athina nor Doda said a word to the other.
At the beginning of August, Athina began marshaling her legal resources. The New York Post reported that she flew one of the world's top divorce attorneys, Robert Stephan Cohen, to Belgium for a meeting. The New York–based lawyer, who has represented a long list of famous clients including Ivana Trump, Marla Maples, Uma Thurman, and Christie Brinkley, confirmed to Town & Country that he is representing Athina.
If the couple end up in court, the size of the assets involved will certainly be a factor. But a lot will depend on the existence of a prenup and where the divorce is pending, according to Robert Harlan Moses, a Manhattan attorney who has handled similarly high-profile cases.
"In many places money that is inherited before a marriage remains with the person who inherited it," Moses says, "but some states and countries will consider inherited assets fair game when property is distributed." Also on the table, he adds, will be any amount those assets appreciated during the marriage and anything that was signed over to joint accounts or ventures.
Another factor is privacy. Most people do not want their private lives exposed in the press. "But in cases where one person holds the majority of the assets, keeping silent may be a negotiating point for the untitled spouse."
Athina and Doda's separation has begun to play out on the equestrian fields as well. In August, Doda competed in the Olympics wearing the Brazilian flag (he finished fifth with team Brazil and tied for ninth as an individual), and Athina was in Valkenswaard, the Netherlands, competing under the flag of Greece in the 12th leg of the Global Champions Tour season. Doda rode his favorite horse, Cornetto K, in Rio, and he planned to ride the 10-year-old dark brown gelding again at the Nations Cup Finals in Barcelona in September. But when he arrived at the stables in Belgium, he discovered that he would not be able to ride—or even see—the horse. The owner­ship of the steed is now to be decided by a Belgian court.
Depriving Doda of access to Athina's money, and even his favorite horse, is an example of how quickly she can erect a barbed wire fence against anyone who betrays or disappoints her. The battle in the courts between their lawyers will be long and hard fought, but despite Doda's friends' insistence that he'll win her back, Athina's swift and shrewd preparations suggest that she will not be as vulnerable to the man she loved as her mother was to her father.
The curse that has haunted three generations of the Onassis family is its huge fortune, and Athina knows it. "If I burn all the money, there will be no problem," she said when she was 13. But her grit, defiance, and determination to cut her father and now—it appears—her husband out of her life suggest that she won't succumb to anyone's charms. With no progeny yet, Athina is alone to carry the Onassis curse, but her friends and relatives are praying that she will find the fortitude to deal with whatever her future holds, so that she can succeed in exorcising the demons that have beset her and her family for so long.
This article originally appeared in the December 2016/January 2017 issue of Town & Country.