Kate Middleton's 30 Best Hairstyles Ever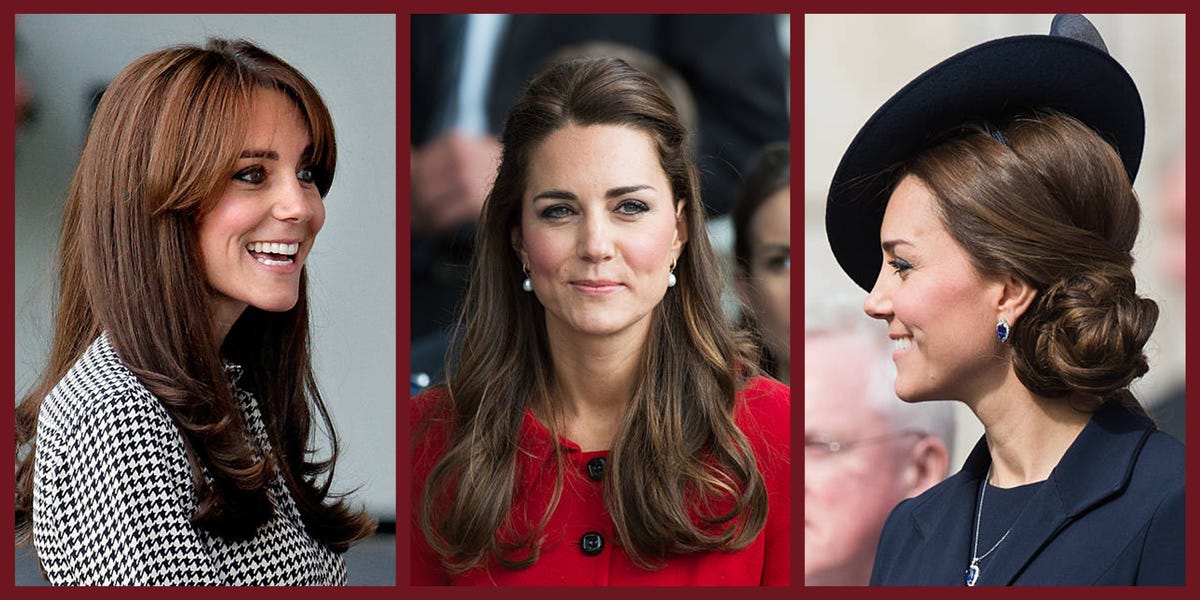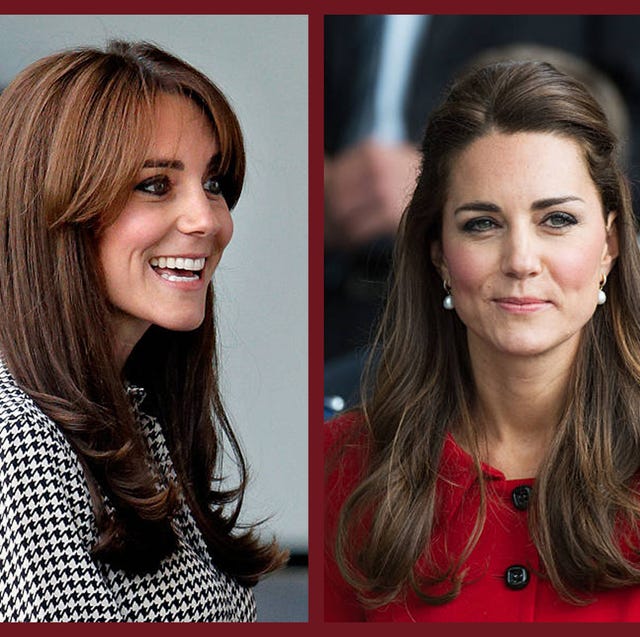 Getty Images
Since her marriage to Prince William in 2011, Kate Middleton has been a perpetually in the public eye. To the fashion and beauty world, she's known for her iconic and elegant style—and her gorgeous glossy hair. The Duchess of Cambridge seems to stick to a few tried-and-true hairstyles, but she has mixed it up a few times (did someone say bangs?). See here Kate Middleton's all-time best hair looks, from her signature bouncy blowout to her trend-resurrecting chignon.
1 of 30
Blown-Out Layers
The Duchess kept things simple on a trip to Australia in 2014, enhancing her long layers with a simple blowout.
2 of 30
Sporty Pony
A river ride on the Shotover Jet in New Zealand called for a sporty, no-fuss ponytail for the Duchess.
3 of 30
Side-Swept Twist
For Princess Eugenie's wedding, the Duchess twisted a few sections of her hair and pulled the rest to the right in a low chignon.
4 of 30
Triple Knot Side Bun
For this complicated style, Kate wore an intricate, knotted chignon off-center to complement the angle of her fascinator.
5 of 30
Romantic Half-Up Curls
For her iconic wedding look. Kate kept it simple with half-up curls, which kept the focus on her veil, dress, and tiara.
6 of 30
Side-Swept Ringlets
Middleton swept ringlets to her left side and added a decorative feathered headpiece for this pretty look.
7 of 30
Pulled Back Volume
Instead of leaving her part visible, Duchess Kate pulled all the hair away from her face for a half-up style that showed off her glow.
8 of 30
Twisted Low Bun
Middleton twisted her hair into a low, loose bun for her and Prince William's visit to India in 2016, in perfect juxtaposition to her bright and intricate dress.
9 of 30
Natural Waves
On a visit to Fiji with Prince William, Kate made the most of the tropical climate and let her natural waves go unstyled.
10 of 30
Dramatic Side Chignon
Kate styled a dramatic low side chignon for the annual Remembrance Sunday Service, finishing the look with a dramatic wide brim hat.
11 of 30
Half-Up Twist with Curls
The Duchess loves her half-up styles. This one was twisted back into gorgeous curls, with some added volume at the crown of her head.
12 of 30
Classic Low Chignon
For the first day of the 2017 Royal Ascot, Kate styled a low chignon, but criss-crossed a few strands at the top for a sophisticated twist.
13 of 30
Low Chignon
The Duchess of Cambridge kept her hair sleek and neat pulled back into a low chignon for the Household Division's 'Beating Retreat' drum ceremony earlier in 2019.
14 of 30
Shiny Loose Curls
The Duchess glowed at a reception in London with voluminous curls and a middle part.
15 of 30
Hatband Twist
Here, Middleton styled a low bun with a soft velvet hatband for a look that was both classic and trendy-sparking.
16 of 30
Wispy Bangs
The Duchess shocked the world when she changed up her style with a pair of face-framing long bangs.
17 of 30
Sleek Pony
Duchess Kate left her long bangs loose for this preppy style, and wrapped a strand of hair around the ponytail to disguise the hair tie.
18 of 30
Complicated Side Bun
Kate stunned at a Service of Commemoration for soldiers in Afghanistan with a complicated side bun that looks almost like a flower.
19 of 30
Half-Up Twist
On a visit to Bhutan, the Duchess kept her hair out of her face by twisting the sides and pulling them into a small bun.
20 of 30
Formal Updo
At the Royal Film Performance in 2015, Kate chose a curly updo with wispy bangs.
21 of 30
Low Pony
You can never go wrong with a classic pony. Middleton added curls and a velvet bow to hers for extra flair.
22 of 30
Braided Updo
At a Bollywood-inspired charity gala, the Duchess braided her hair back and pinned it into a low bun.
23 of 30
Half-Up Bouffant
The Duchess added a classy twist to her usual half-up style, with loose curls and a small bouffant for extra volume.
24 of 30
Side Pretzel Bun
For this look, Duchess Kate twisted her hair to the left side, into a sophisticated pretzel bun.
25 of 30
Bouffant Pony
Kate sported a dramatic, bumped-up pony at an event in London in 2014.
26 of 30
Simple Low Bun
While at the Government House in Australia, Kate pulled her hair into a low chignon and twisted two sections to meet in the back.
27 of 30
Tousled Waves
The Duchess wore her hair in a more casual half-up style with subtle bends in 2014.
28 of 30
Braided Low Bun
Two waterfall French braids meet and form a low bun in this beautiful style from the 2018 Remembrance Sunday Service.
29 of 30
Half-Up Criss-Cross
On a visit to New York City, Duchess Kate sported her signature half-up style, but added a criss-cross detail and a few simple curls.
30 of 30
Knotted Low Bun
For the Saint Patrick's Day Parade, Middleton styled a complicated knotted bun that complemented her simple accessories and outfit.
Advertisement – Continue Reading Below
This content is created and maintained by a third party, and imported onto this page to help users provide their email addresses. You may be able to find more information about this and similar content at piano.io