Kate Middleton's Life in Photos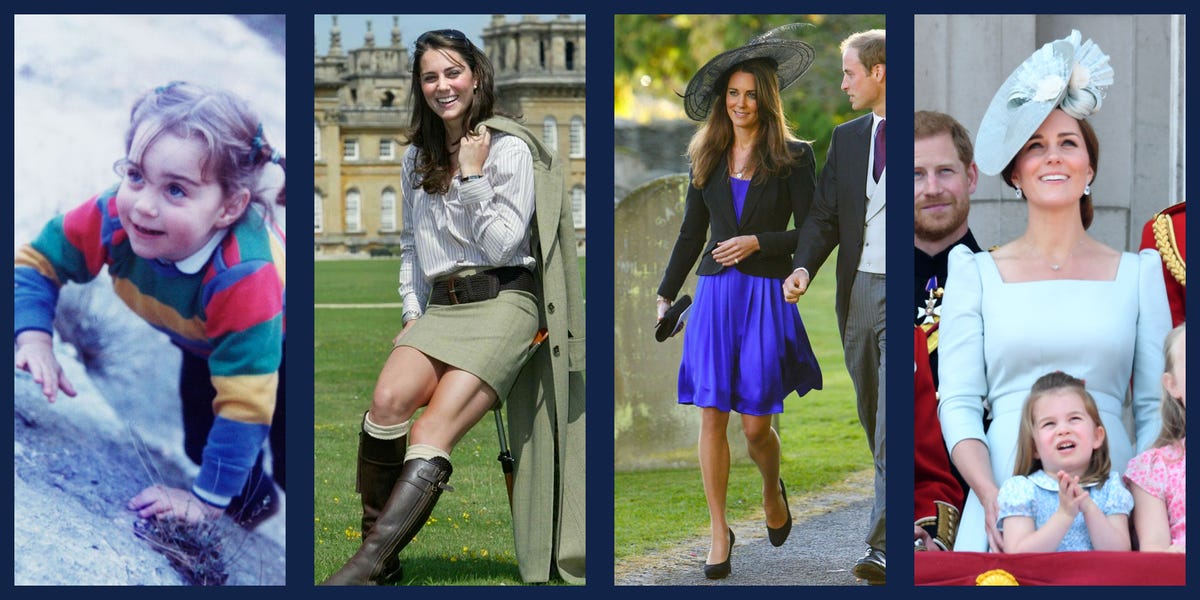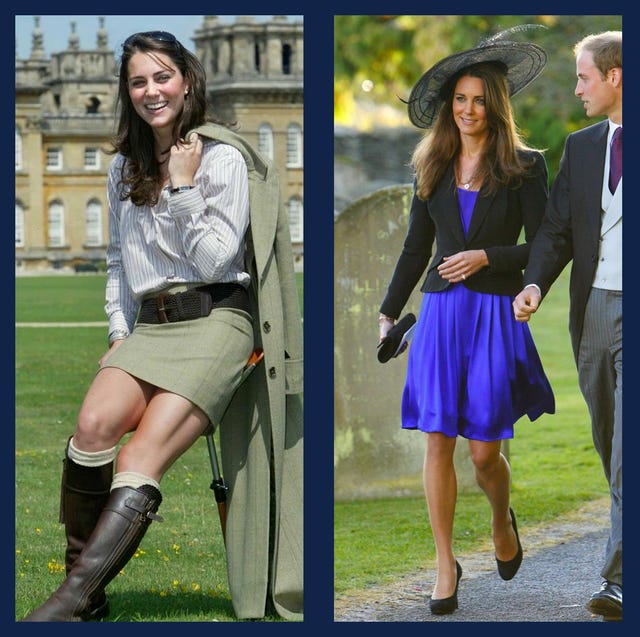 Getty Images
When she celebrates her wedding anniversary on April 29, Kate Middleton will have been a member of the royal family for a decade. Alongside William, she's traveled to far-flung countries and grown into her role as a senior member of the royal family. She's also had three children: Prince George, Princess Charlotte, and Prince Louis.
But Kate's life didn't start when she got her royal title. The Duchess lead an equally interesting life before tying the knot with William, from spending a couple early years living in Jordan to studying Art History at St. Andrew's. Here, relive Kate's most iconic moments in photos.
1 of 67
Circa 1984
Kate Middleton, her sister Pippa, and her father Michael played in Jerash, Jordan. The Middleton family moved to a different region in Jordan for two years in 1984, when Kate was two years old and her sister was almost one.
2 of 67
Circa 1985
A three-year-old Kate climbed around on rocks during a family holiday to the Lake District in northwest England.
3 of 67
Circa 1987
Kate Middleton grinned for the camera at age five. The future Duchess grew up in a well-to-do family. She lived adjacent to the British aristocracy because of her father's ties, and her parents started Party Pieces, a business selling mail order party goods.
4 of 67
Circa 1990s
Middleton (front row, center) played field hockey for years growing up. This team photo from her days at St. Andrew's Prep School was taken on St. Andrew's Day, where the school observed a day of activities and sports.
6 of 67
August 2004
Middleton posed on the lawn of Blenheim Palace in Oxfordshire during the Game Fair, a countryside festival that celebrates rural England.
7 of 67
June 2005
Middleton and Prince William began dating in 2003, and by 2005 she was a tabloid favorite. Here she arrived to a society friends' wedding in Burford.
8 of 67
June 2005
Kate, who was known as a tomboy growing up, is photographed with her father prior to her graduation from St. Andrew's… just minus the cap and gown!
9 of 67
June 2005
After living together throughout university, Kate graduated from St. Andrew's with a degree in art history and William with a Masters degree in geography.
10 of 67
June 2005
The pair were photographed beaming on their graduation day, wearing crisp whites in the gardens of St. Andrew's.
11 of 67
May 2006
The future Duchess smiled at the wedding of Laura Parker-Bowles and Harry Lopes in Wiltshire. We like to think this is where Middleton's hat moments began.
12 of 67
June 2006
Middleton at age 24 watching Prince William compete in the Chakravarty Cup charity polo match. By this point in her life, she was an accessories buyer for the clothing brand Jigsaw and was still helping out with the family business.
13 of 67
June 2006
On the same day, Kate and Pippa (then age 22) sat on the sidelines at the polo match. The two, along with their brother James, were a tight-knit family growing up.
14 of 67
June 2006
Kate attended the grand opening party of The Shop at Bluebird, where a Jigsaw store was opening up. She worked for the chain from 2006-2007, and is now a known style icon.
15 of 67
July 2006
Kate spent the Rundle Cup Day at the Tidworth Polo Club with Chelsy Davy, Prince Harry's longtime girlfriend from 2004-2011, and Zara Phillips, daughter of Princess Anne.
16 of 67
December 2006
After his graduation from St. Andrew's, Prince William began officer training at Sandhurst. Here, Middleton smiled during the Royal Military Academy's Sovereign Parade. For these important events, Kate was always by William's side.
17 of 67
February 2007
Kate, a known sports fan, along with Prince William and Harry, cheered on the English rugby team at a championship match against Italy.
18 of 67
March 2007
The couple attended the Cheltenham Horse Racing Festival together (and even dressed alike). But while Prince William, the Queen, and many other royals enjoy saddling up once in a while, Kate was never known to ride.
19 of 67
May 2007
Kate walked the cross country course at the Badminton Horse Trials. At this point, it was understood that Kate and William were broken up (he allegedly broke it off over the phone), but her appearance here stirred up speculation.
20 of 67
July 2007
Despite her split from Prince William, Middleton made an appearance at the Concert for Diana at Wembley Stadium. She and Pippa sat in the royal box and watched the Princes dance and sing in a tribute to their late mother.
21 of 67
July 2007
Kate trained with the Sisterhood Cross Channel rowing team on the River Thames. This wasn't the first time she got competitive over a boat race.
22 of 67
July 2007
On the same day, Middleton stood and rowed from the back of the boat during her training. She was invited to do the training by her old friend from St. Andrew's, Alicia Fox-Pitt.
23 of 67
January 2008
The future Duchess attended the afterparty of the opening night of 'AFRIKA AFRIKA' in London. She also debuted a darker, sleeker hair color.
24 of 67
March 2008
Middleton beamed during the Cheltenham Horse Racing Festival. By this time, rumors had arisen that her and Prince William were back on.
25 of 67
March 2008
The couple, officially back together, took a holiday in Switzerland. They did plenty of skiing, as Middleton has always been one for an active vacation.
26 of 67
April 2008
Middleton and Prince William had their first public outing since before the breakup. She watched him become an official pilot at the Central Flying School graduation ceremony.
27 of 67
June 2008
Prince Harry, Kate, and Duchess Camilla all laughed as they watched the Order of the Garter procession at Windsor Castle. Prince Harry and Kate had a sibling-like bond since the beginning.
28 of 67
July 2008
Kate, then 26, attended the wedding of Lady Rose Windsor at St. James's Palace, wearing another fun headpiece.
29 of 67
September 2008
Kate dressed like an 80s star for a charity roller disco. We like to think that this was the moment when Prince William decided she was "the one."
30 of 67
October 2010
Kate and William enjoyed the wedding of their friends Harry Mead and Rosie Bradford in a small village in Gloucestershire. At this point in their relationship, Kate had moved into a cottage in Anglesey with William.
Advertisement – Continue Reading Below
This content is created and maintained by a third party, and imported onto this page to help users provide their email addresses. You may be able to find more information about this and similar content at piano.io