Hot news
LovelyWholesale Reviews 2021: What to Know Before Buying
[ad_1]

Lovely Wholesale isn't nearly as popular as some of its competition like SheIn, Zaful, and many others. Even so, I was excited to give them a try since I fell in love with their styles! Today, I'm going to be sharing my LovelyWholesale reviews for the products I ordered as well as sharing my overall experience. These product reviews are 100% honest and based on the 15 products I ordered from them. Let's dive right in! 
RELATED: Honest SheIn Reviews
Is LovelyWholesale Legit?
Yes, LovelyWholesale is a legit site.
With so many of these cheap online brands popping up, it's becoming more and more clear that these are indeed reputable brands that won't just take your money and run. They can just get away with charging less than 50% of what brands in our local malls are charging. For some that are just finding out about these types of brands, you might still be wary of its legitimacy.
There are definitely a couple of things to consider when shopping from these inexpensive brands – quality and fit. It's understandable that you're not going to get Gucci quality when you're spending $5 or less on a shirt, but there are definitely steps you can take to mitigate the risk of being entirely disappointed with your order. 
My Initial Thoughts
Sales + Coupons
Every time I visit their website, it seems that they have an awesome sale going on or coupons available. This is likely just a marketing ploy where they're always selling their products at a discount, but it works on me – I'm like a kid in the candy shop when I visit their website. 
For example, right now they have an "up to 70% off" flash sale. They also share a banner with an "as low as $0.99" sale! They even have a section with items that ship within 24 hours as well as a 10% student discount. 
Aside from this, my overall first impressions of the website weren't great. Originally, I didn't like how the website was laid out, but I got used to it. It's functional and easy to find everything you're looking for. 
LovelyWholesale Styles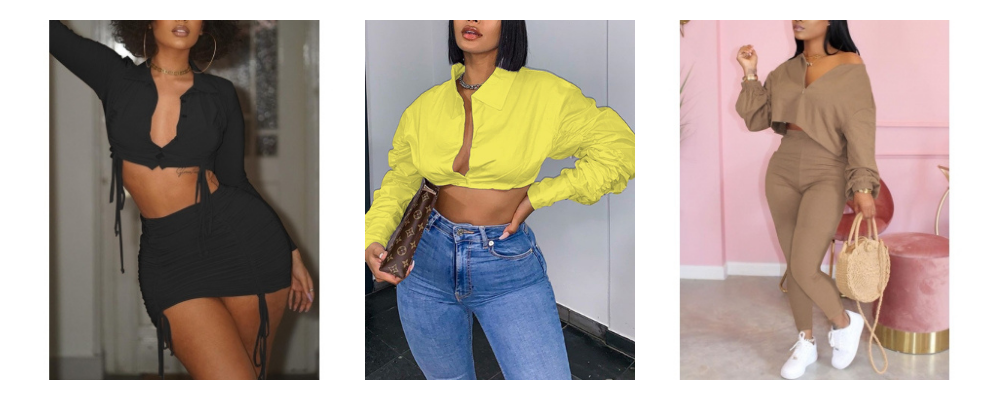 Another thing I noticed when first visiting their site was how great all their styles were, they're really aligned with the type of styles I like to wear. They are very trendy and up-to-date (think IG baddie – pretty similar to Fashion Nova). They also seem to be very cohesive site-wide unlike many of their competitors that sell just about anything.
You'll also notice that all of their models are curvy, which is great – it seems like all the models on competing websites are stick thin. This isn't a bad thing, but it's a lot easier to envision LovelyWholesale clothes on me since their bodies are more similar to mine. They're all about clothes that show off your curves.
I'm actually very suspicious that Fashion Nova sources some of their clothes from this company (or maybe they use the same factory). I saw a replica of a swimsuit I purchased from Fashion Nova for $35 at LovelyWholesale for $11. It was shockingly similar, it had to be the same one!
Sizing
Does LovelyWholesale run small?
Yes, their clothing generally runs a little small despite all of their models being thicker than a snicker. I didn't read many LovelyWholesale reviews before I placed my first order, I just assumed that I should've sized down since the models were so curvy. Although I'm curvy, I have nowhere close to Kim Kardashian hips. But, I really should've ordered my regular size or even a size up for some products!
Each article of clothing has a detailed size guide and specifications. Make sure to check the fit type – I highly recommend getting your measurements to cross-reference with these guidelines. It will ensure that all of your products fit amazingly! After doing this, I was much happier with my second order. 
How Does LovelyWholesale Fit?
As mentioned above, my first haul was mostly a letdown purely due to me not checking how their sizing worked. After doing some research and learning they ran small, I reordered and everything fit perfect. What I really like about this brand is they design each piece to make your curves look as good as possible, which is why I believe all of their items run small. They want their clothing to be form fitting and that's exactly what they do. 
They fit tight in all the right areas, I'm sure we've all seen something that looks amazing on the mannequin or model, only to get the product and realize that it was pinned up in the back and it looks like a large cloth thrown over you. This is not the case with LovelyWholesale!
My favorite things I got had to be their jeans, they cost around $15 dollars a pair (or less with an extra promo) and they have a ton of styles to choose from. I purchased four pairs and was extremely satisfied with three of the four. They're very flattering and remind me of Fashion Nova.
I recommend that if you are going to buy pants, make sure that they're a lighter wash. The dark pair that I received looked really cheap – I'm not sure if that's because dark jeans highlight blemishes more or if the quality is just lower. All of the light wash jeans I got don't look cheap. 
LovelyWholesale Shipping Breakdown
How long does it take for Lovelywholesale to deliver? 
Depending on the shipping method you choose, it can range from 3 to 25 days. I paid for standard shipping on my order and it took about a week to be delivered. One thing I dislike about LovelyWholesale is the fact that they rarely offer free shipping (unless you spend $100), so you have to account this into the overall cost.
Flat Rate     10-25 days
Standards    6-10 days
Expedited    3-6 days
Returns
Much like any company shipping out of China, the return process can be very frustrating (even for myself who has been through quite a few of these). One thing I will say is currently due to the pandemic, they're having a lot more issues with returns. 
They also make you pay for return shipping, which can be expensive and not worth it if you placed a smaller order or only want to return a couple of items. If this scares you off, I'd recommend SheIn because they have free returns for your first order.
To eliminate the likelihood of having to go through this return process, I would highly suggest you take the time to get your measurements. Most of the issues people have with this brand is how things fit, so if you don't take the time to better understand what you're actually getting, you will likely be unsatisfied. Although checking the measurements doesn't guarantee it will fit better, it mitigates the risk.
Overall Thoughts and Suggestions 
Overall, I was fairly satisfied with my entire experience other than the sizing being off my first order, but that was mainly my fault. If you take the time to understand what you're getting, you can have a great experience. But, if you just order everything you see without checking sizes, you will probably get some things that don't fit and then you will get frustrated. Don't be lazy and ruin this gem because it can be an awesome place to shop. 
I would take some of the LovelyWholesale reviews you read online with a grain of salt (as well as the nearly all 5-star reviews on their product pages, I think these might be fake). I've read over 50 negative reviews that almost all pointed back to sizing and the return process, which again can easily be avoided if you take a little time to understand the measurements. 
UP NEXT: 14 Stores like Romwe for Cheap Splurging
[ad_2]