Paper Flower Dress Canvas Wall Art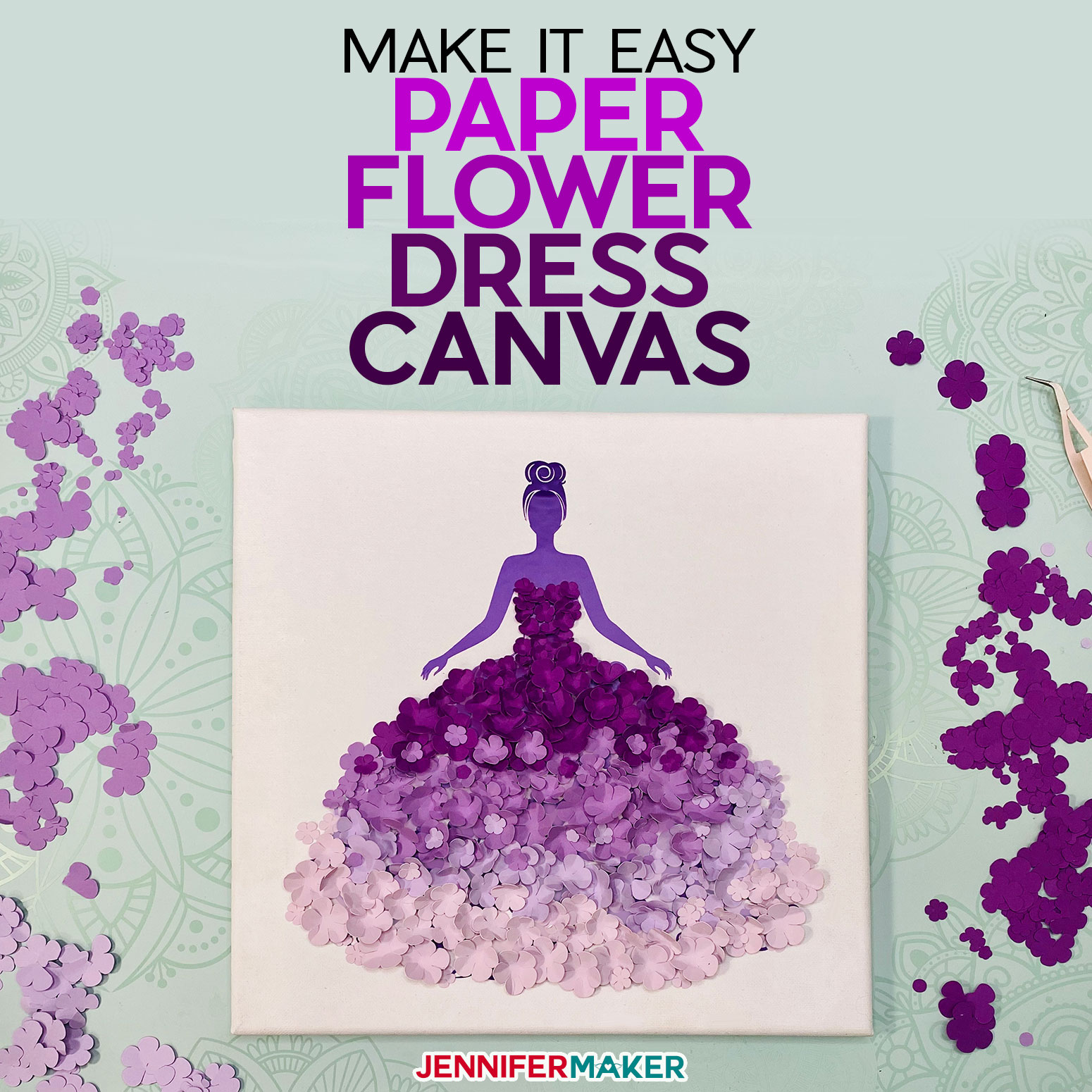 Instructions
Step 1: Get my free Flower Girl & Simple Paper Flowers Design
My free flower girl outline and paper flowers for this project are free for you to use. You can get them either as a printable PDF or as an SVG cut file to use in a cutting machine like a Cricut. The pattern file contains the design to make a pretty paper flower dress canvas. Download the Paper Flower Dress design (Design #203) from my free resource library (get the password to the library in the form at the bottom of this post).
Here's what the uploaded SVG cut file will look like once uploaded to Cricut Design Space: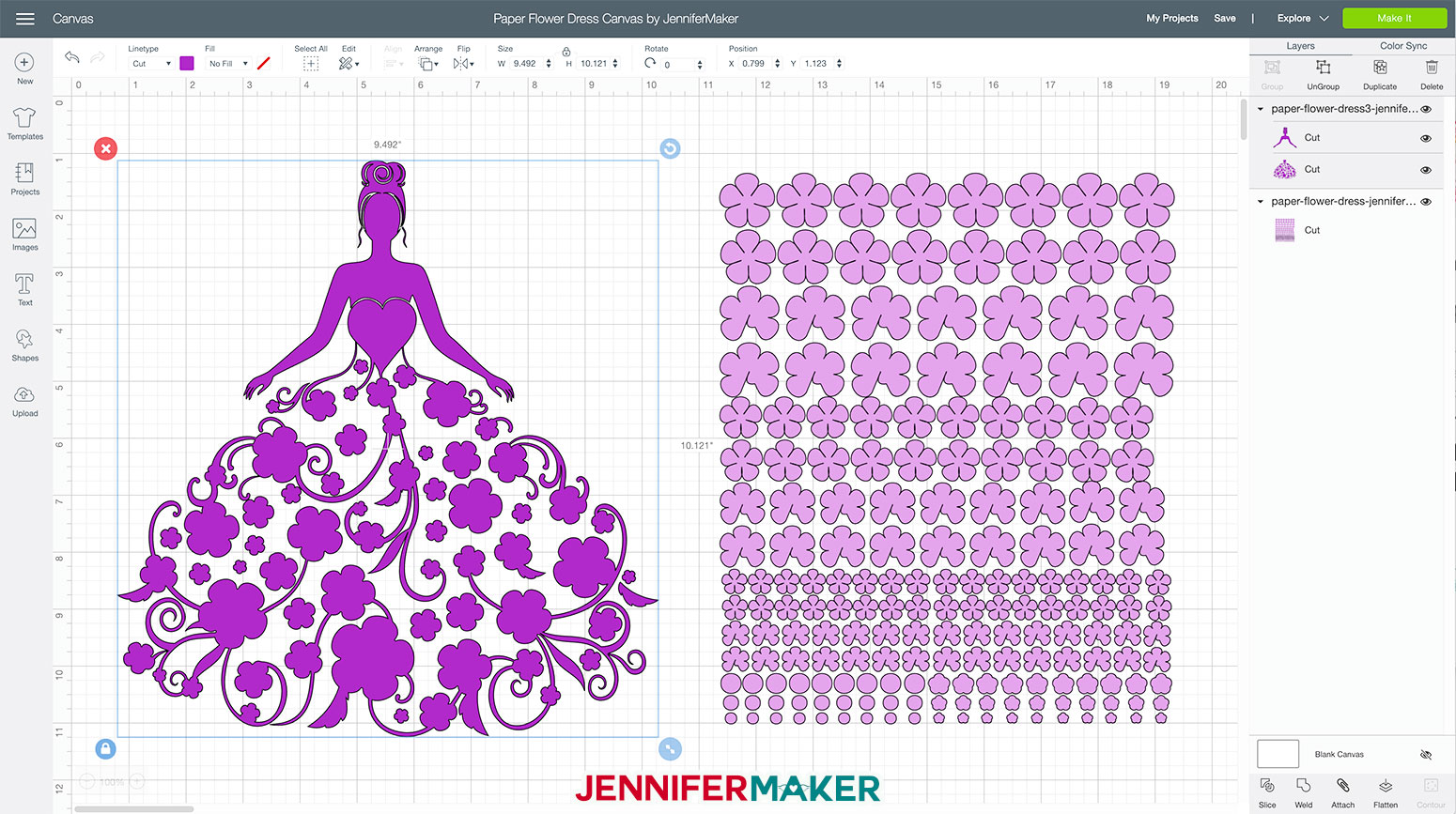 Tip: If you're not sure how to upload an SVG cut file to Cricut Design Space, watch this helpful video training series I made. If you're on an iPhone or iPad, here's how to download and upload SVG files to the Cricut Design Space app.
Tip: If you're going to seal your canvas before you apply your vinyl (so the vinyl sticks better), this is the time to do it. You can paint it with acrylic paint, cover it in matte Mod Podge, or cover it with spray adhesive. In all cases, be sure to let it dry. The fastest method is to use spray adhesive, as that dries in under an hour. (This is the method I used.)
Step 2: Cut out your flower girl vinyl and paper flowers
I have the flower girl decal and the paper flowers already sized to look good on stretched canvases that range in size from 11″ x 11″ (which is what my purple girl is on) up to 16″ x 20″ (with the optional sentiment "Bloom where you are planted). I recommend you keep everything at the same size as you find it in my files for the best results.
Cut four copies of the paper flower designs on four different sheets of cardstock (I recommend you pick four shades of the same color). Use the "Medium Cardstock" setting for these paper flowers. It will seem like a lot of flowers, but you'll probably use most of them.
Cut your permanent vinyl on the right side (don't mirror it) and use the "Premium Vinyl" setting.
Once your vinyl is cut, weed out the areas you won't transfer to your canvas (so everything around the flower girl). I designed this decal to be SUPER EASY to weed — you can get most of it in just one big section.
Transfer your vinyl to a transfer sheet or transfer tape. I recommend you reduce the tack on your transfer tape first by sticking it to your shirt or a paper towel — this will make it less sticky and easier to remove when you put it on your canvas.
Step 3: Put it all together into a beautiful canvas
First, transfer your vinyl to your sealed canvas. To do this, I first centered the transfer tape with the decal onto my canvas and pressed down. Then I put a paperback book underneath the stretched canvas so there was support underneath and then used my scraper on all areas with vinyl to adhere it well to the canvas. Finally, I carefully removed the transfer tape — I only had to coax the vinyl off in a few places.
You can stop here and just have a pretty flower girl on a canvas … or keep going!
Gently crease the petals on each flower with your fingernail (I just pressed my fingernail in the center of each petal and curled it around) to give your petals some shape, then scrunch up each flower to give it some depth.
Place your flowers on your canvas in the way you think you'd like them BEFORE you glue them so you have an idea of what design looks best. I put my paper flowers on my canvas with the darkest color at the top and graduating down to the lightest colors. You'll get a more gentle mix between the layers if you add a little of each color above and below its layer.
Once your paper flowers are in the general arrangement you'd like, glue them all down to the canvas. I found it easiest and fastest to use tacky glue, but you can also use hot glue or glue dots.
Step 4: Show it off!
When you're all done, hang it on a wall to admire or give it to someone special!