Prince George Photos & News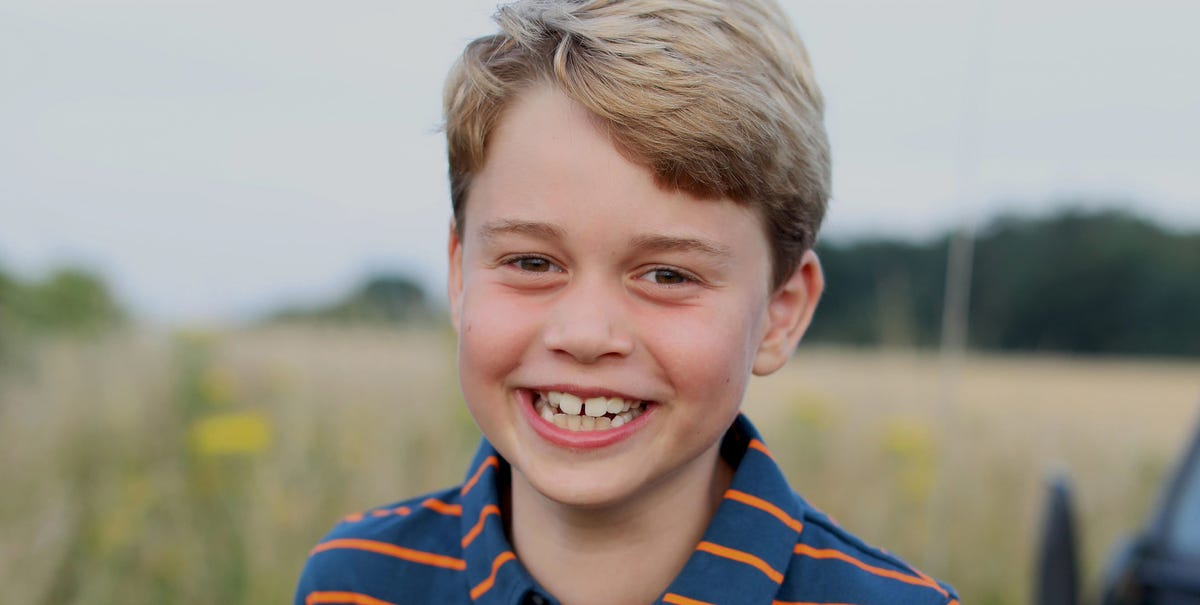 Advertisement – Continue Reading Below
December 2021
Prince George was all smiles in this year's Cambridge family Christmas card, which was taken on vacation in Jordan earlier this year.
July 21, 2021
In keeping with tradition, the Cambridges released a new photo of Prince George in advance of his eighth birthday. The photo was, naturally, taken by George's mother, Kate Middleton, while they were in Norfolk earlier this month.
July 11, 2021
Prince George's face represented the country's sadness as England went from a 1-0 lead to losing to Italy in the European Championship Final.
June 29, 2021
Prince George joined his parents at the England vs Germany match at Wembley Stadium.
September 26, 2020
Sir David even brought Prince George a gift, "a tooth from a giant shark!"
July 21, 2020
Kensington Palace shared two new photos of Prince George in honor of his 7th birthday. This first of which is this smiley summertime portrait.
July 21, 2020
Few details are known about the snaps, but they were taken by George's mother, the Duchess of Cambridge, who is quite skilled behind the camera.
April 23, 2020
Prince George joined his family in clapping for carers early on in the coronavirus pandemic.
December 25, 2019
Prince George made his debut on Christmas Day in a suit alongside his sister Princess Charlotte.
December 21, 2019
In a photo showcasing four generations of royals, Prince George helps cook a Christmas pudding with Prince William, Prince Charles, and the Queen.
July 22, 2019
In honor of the first born Cambridge's sixth birthday on July 22, Kensington Palace released three darling shots of Prince George taken by his mother, Kate Middleton, to celebrate.
July 22, 2019
In the trio, Prince George shows off his toothy grin.
July 22, 2019
Prince George appears in this smiley new portrait taken by the Duchess of Cambridge to mark his sixth birthday.
July 10, 2019
Prince George takes polo! The royal watched his dad play in a charity polo match (against Prince Harry, no less) with a royal fan club on the sidelines. George was joined by his mom, Kate Middleton, Princess Charlotte, Prince Louis, aunt Meghan Markle, and his baby cousin Archie.
May 19, 2019
In another photo from the Cambridge family's outing to the Chelsea Flower Show, George and Charlotte sat on a wood walkway with their feet dangling into the water below.
May 19, 2019
Prince George plays in the Chelsea Flower Show garden created by his mom, the Duchess of Cambridge. In this photo, George and William are both focused on a branch.
December 14, 2018
Prince George poses with his family in their 2018 Christmas Card—and their first with his new baby brother Prince Louis. Another first: George, who is often seen wearing shorts, is wearing pants!
November 13, 2018
Look at that adorable laugh! In the second portrait released for Prince Charles's birthday, a candid George is seen cracking up while sitting on Charles's lap.
November 13, 2018
In honor of Prince Charles's 70th birthday, the royal family released these family portraits taken at Clarence House featuring Charles, Camilla, Will, Kate, Harry, Meghan, and of course George, Charlotte, and Louis. In these photos, George was sitting on his grandfather's lap!
October 12, 2018
Prince George is back on his page boy duties! George and Charlotte were tapped by their cousin Princess Eugenie to serve in the bridal party for her royal wedding in October 2018.
May 19, 2018
Prince George served as a page boy in his uncle Harry's wedding. For the occasion, he sported a mini design of his dad's Blues and Royals uniform.
July 21, 2017
In honor of Prince George's fourth birthday, Kensington Palace released this smiley new portrait of the future King of England.
July 21, 2017
This, my friends, is what pure joy looks like.
After a week of appearing tired and somewhat overwhelmed on the royal tour, Prince George was treated to a first-hand look at some German helicopters. I think his face says it all.
July 19, 2017
A sleepy Prince George arrives in Berlin for the Royal Tour of Germany.
July 17, 2017
Prince George touched down in Poland for a royal tour and, of course, the prince showed his adorably pouty face to the cameras.
September 29, 2016
Nothing brings the young royal joy quite like blowing bubbles.
June 13, 2015
Photographers captured this silly behind-the-scenes moment of the 2015 Trooping the Colour.
May 2, 2015
Learning to wave, just like his dad, Prince William.
December 13, 2014
Prince George's official Christmas portrait, complete with toy soldiers on his vest.
July 2, 2014
Prince George celebrates his first birthday with this snapshot of him looking at a butterfly.
June 15, 2014
The young royal toddles along with the help of his mom at Cirencester Park Polo Club.
April 9, 2014
Playing with toys in New Zealand.
April 7, 2014
Prince George and his parents, the Duke and Duchess of Cambridge, arrive in New Zealand for the first day of a Royal Tour.
October 19,2013
Prince George's first official photo.
July 23, 2013
Leaving the hospital for the first time!
This content is created and maintained by a third party, and imported onto this page to help users provide their email addresses. You may be able to find more information about this and similar content at piano.io
Advertisement – Continue Reading Below