Scarf Face Mask Pattern – Pretty & Stylish!
Instructions
Step 1: Get my free Pretty Scarf Face Mask pattern
My free printable PDF pattern for the Scarf Face Mask is Design #224 which is available in my resource library (get the password to the library in the form at the bottom of this post), or click here!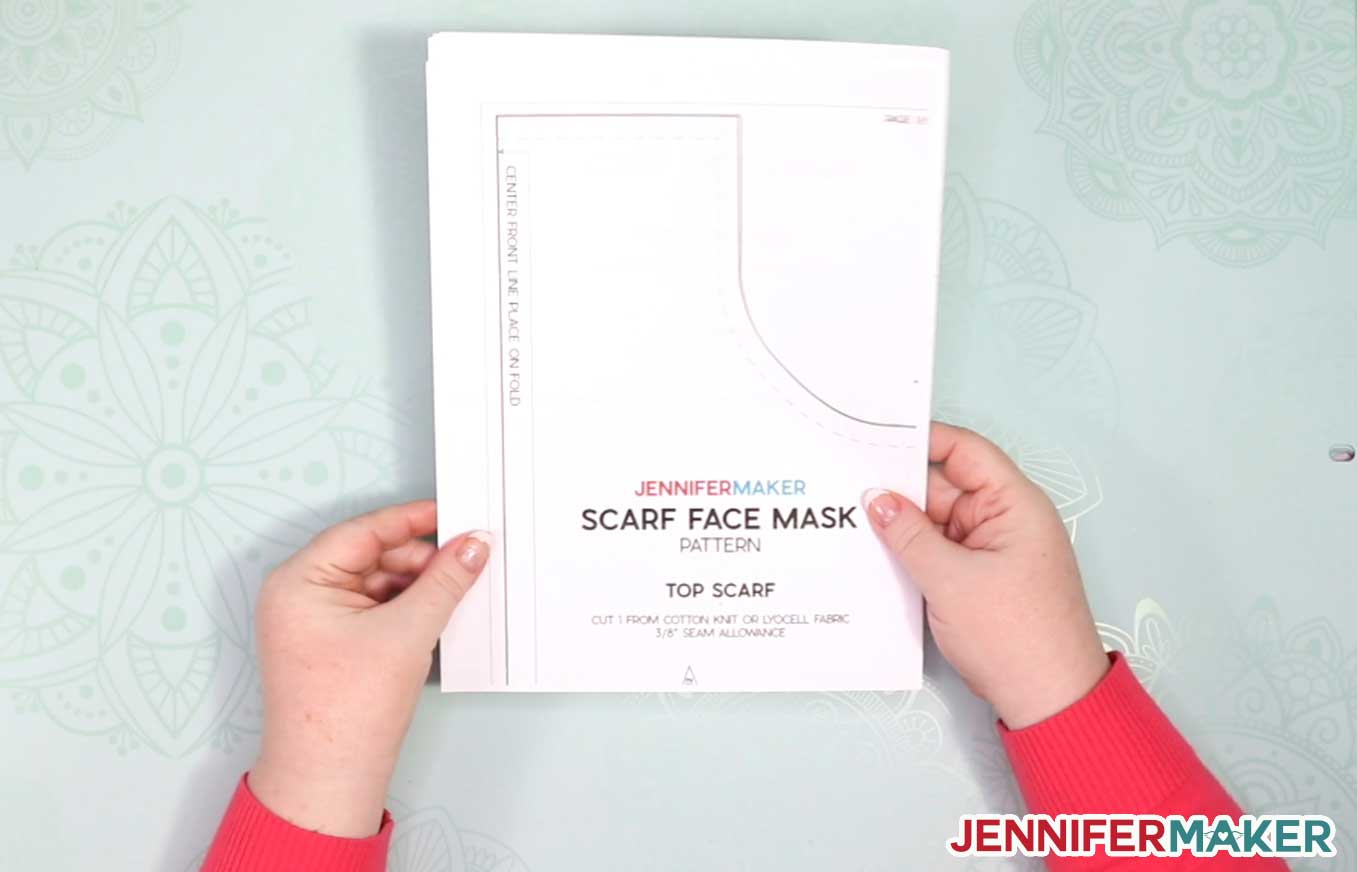 Here's what the Pretty Scarf Mask PDF pattern looks like printed out and taped together.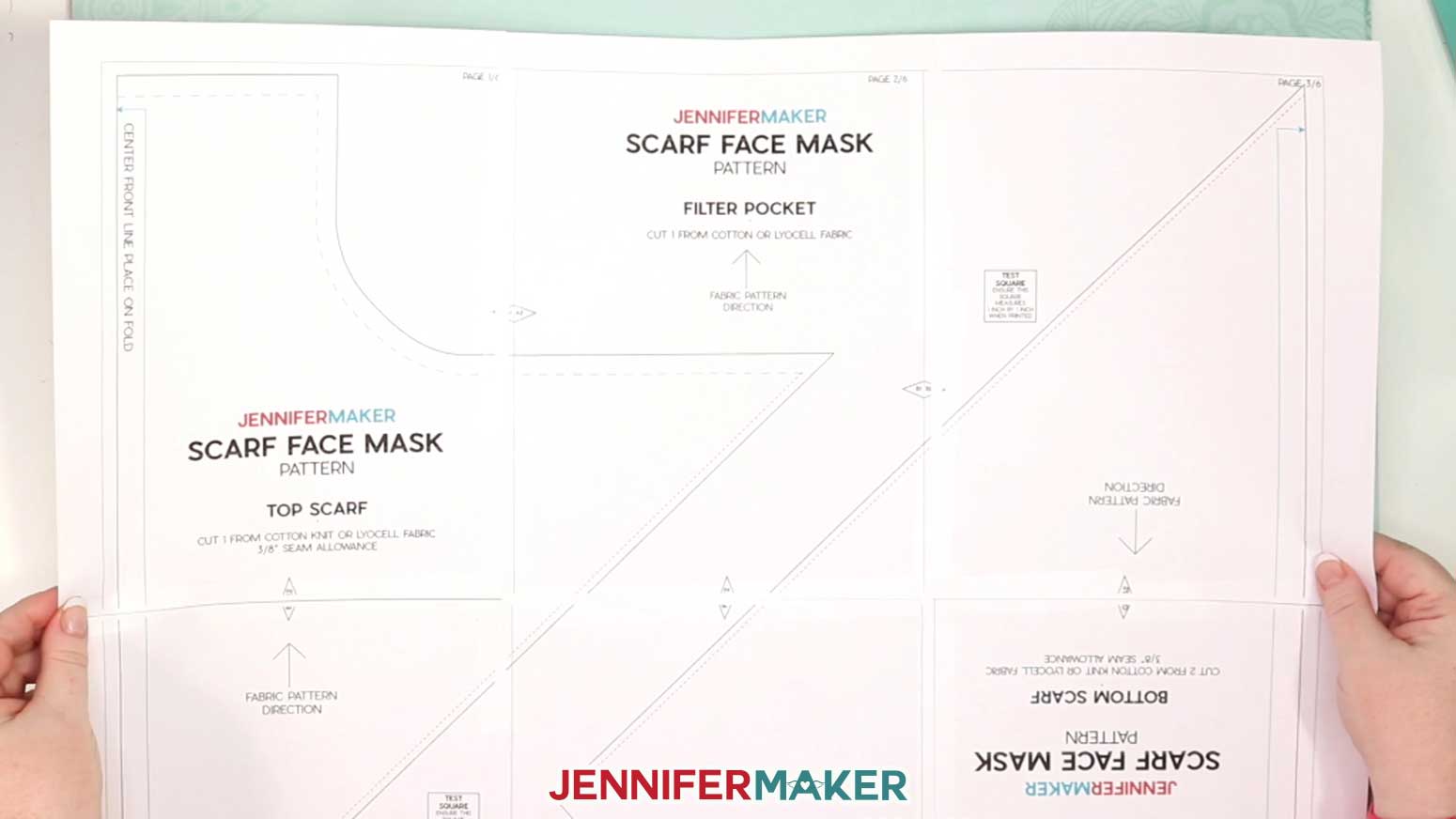 Note: This pattern is not available as an SVG because it is too large to fit on a Cricut cutting mat.
Step 2: Cut out your Scarf Face Mask pattern pieces from fabric
I recommend you use Lyocell fabric for this scarf face mask, as it is hypoallergenic, very soft, and breathable. Lyocell, which is a type of rayon (NOT a polyester), is composed of nanofibrils — literally very, very small fibers — which research has shown at being good at capturing virus particles because moisture particles can get stuck and then cannot pass through. For this tutorial, I'm using a mint green Lyocell fabric. You could also use a 100% cotton interlock stretchy cotton knit, but it would drape a little differently and not be so lightweight.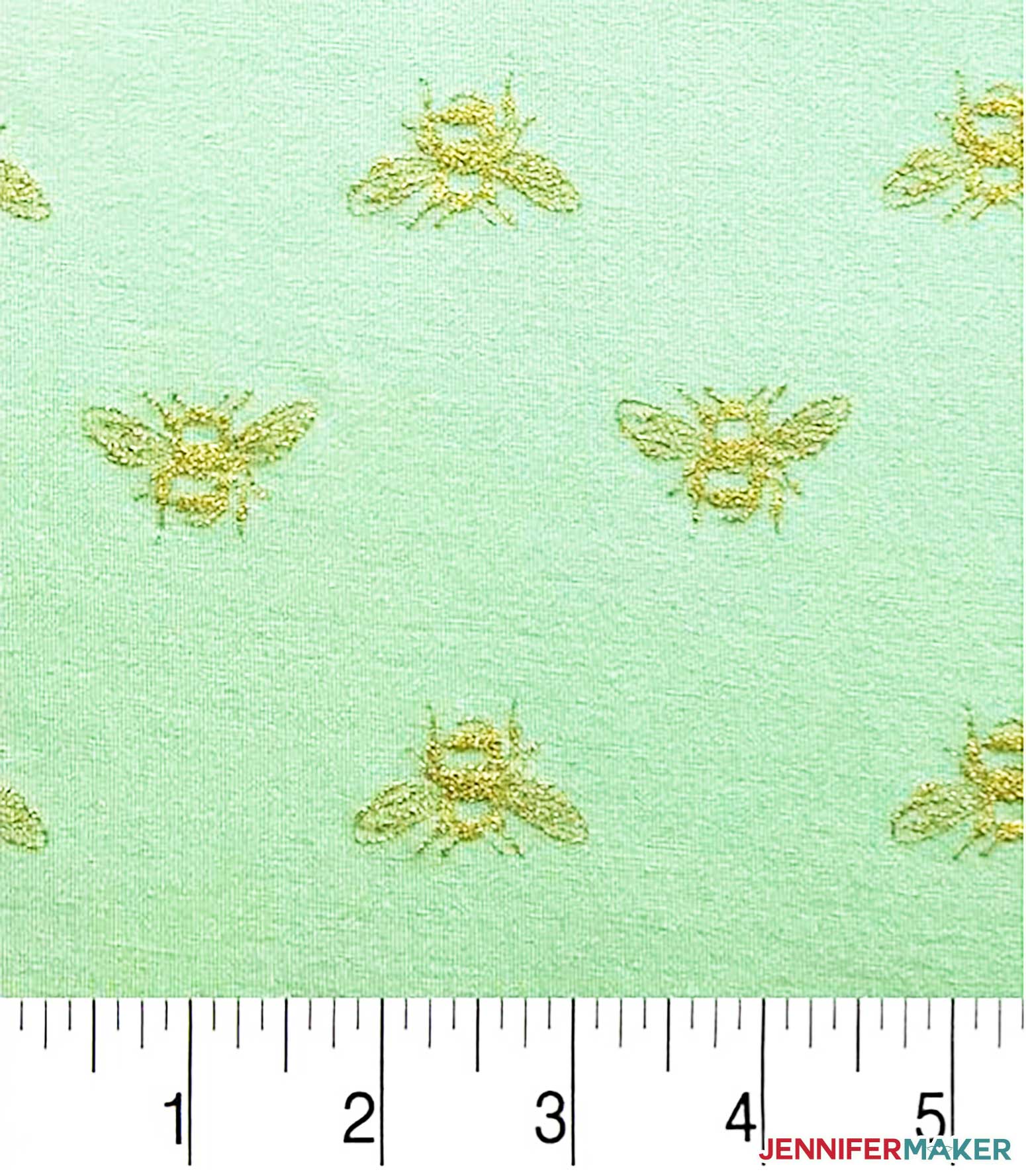 Tip: Pay attention to the fabric grain and pattern direction noted on the printed pattern.
Just print out the printable PDF, tape it together, cut out each pattern piece as directed, and use it to cut your fabric. Note that your fabric is folded in half before cutting each layer.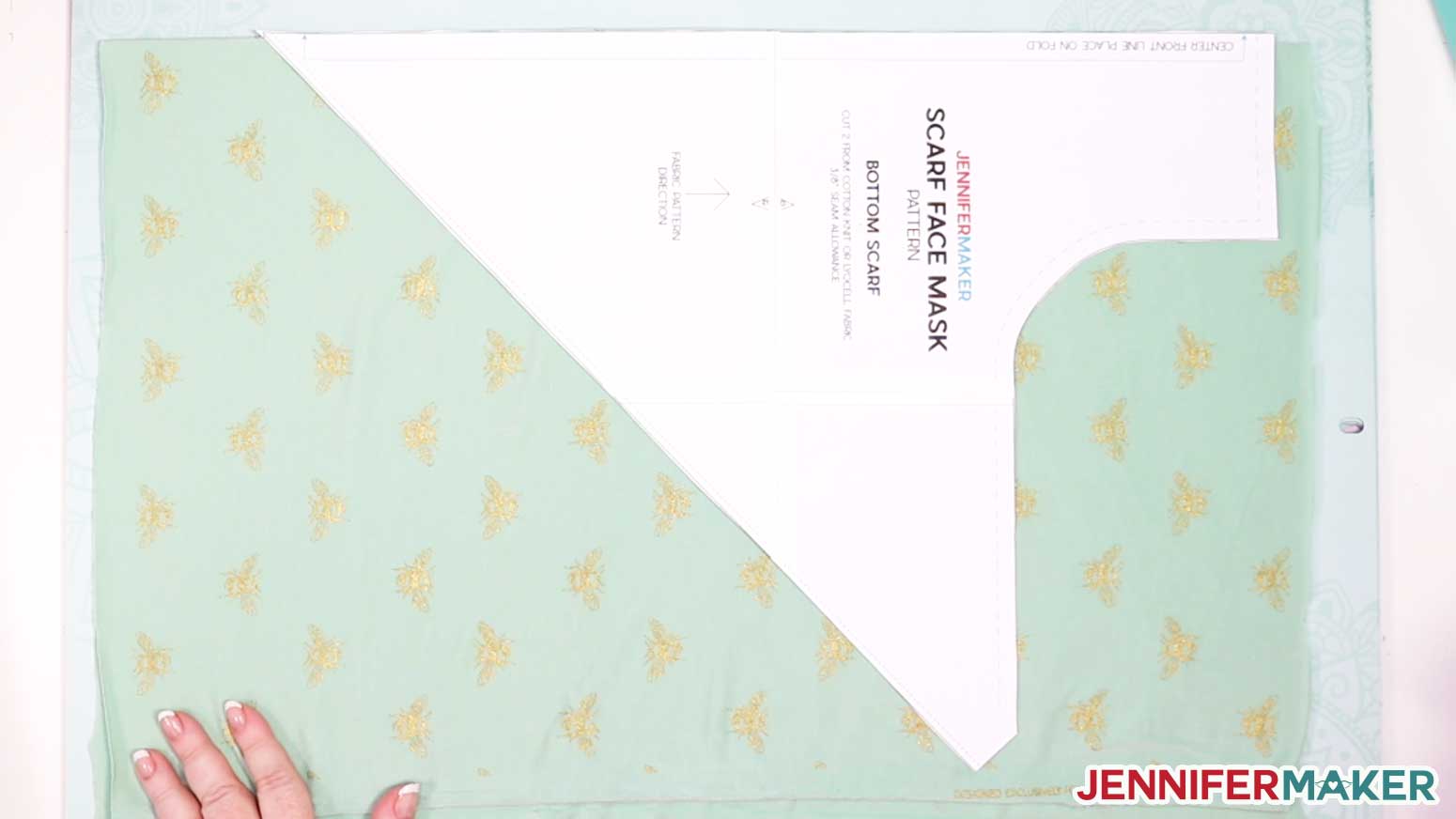 Note: I'm using my DIY pattern weights to hold my pattern in place while I cut my fabric in the below photo.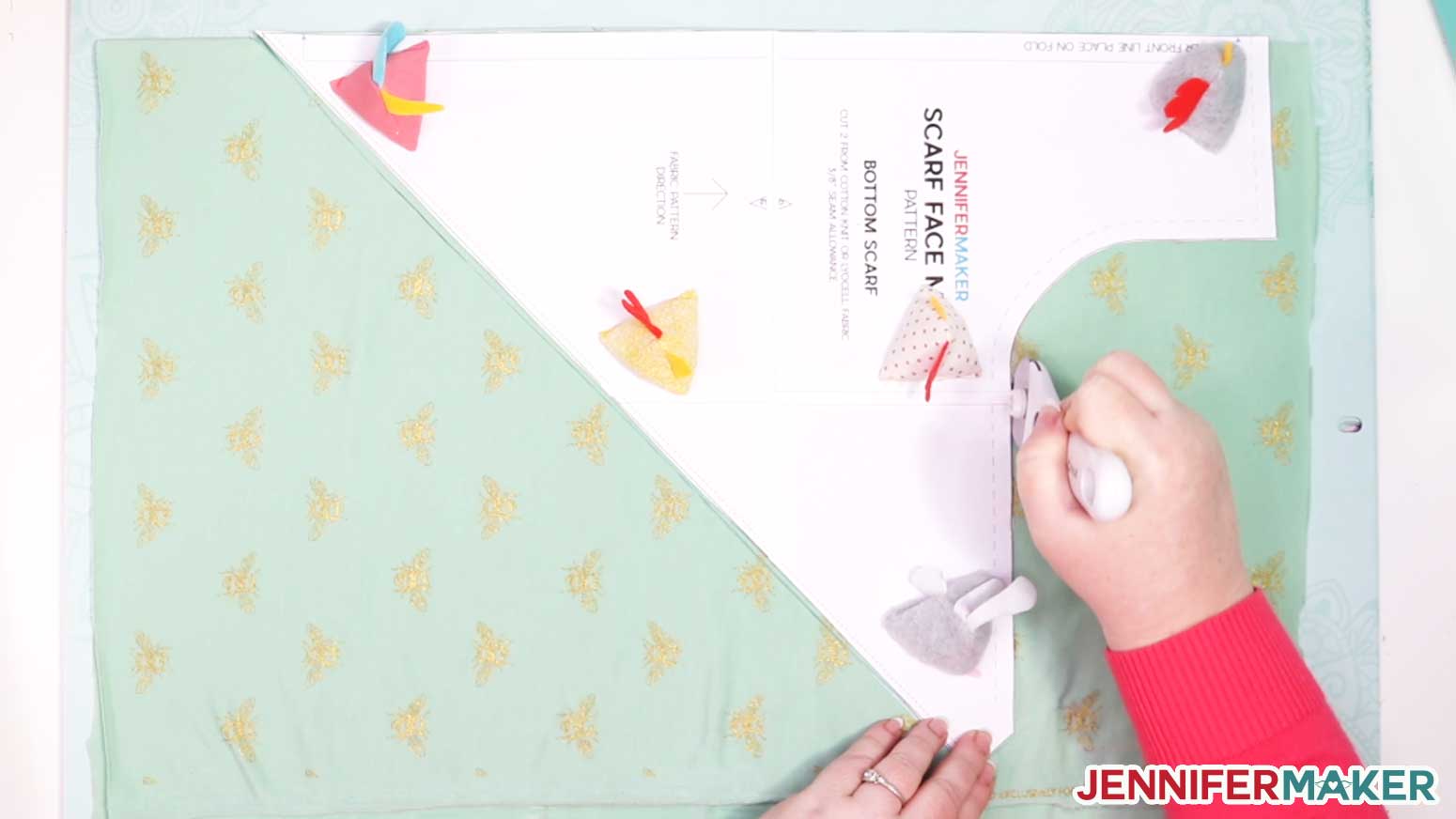 Tip: If you plan to make a LOT of these scarf face masks, print out your patterns on cardstock for tracing!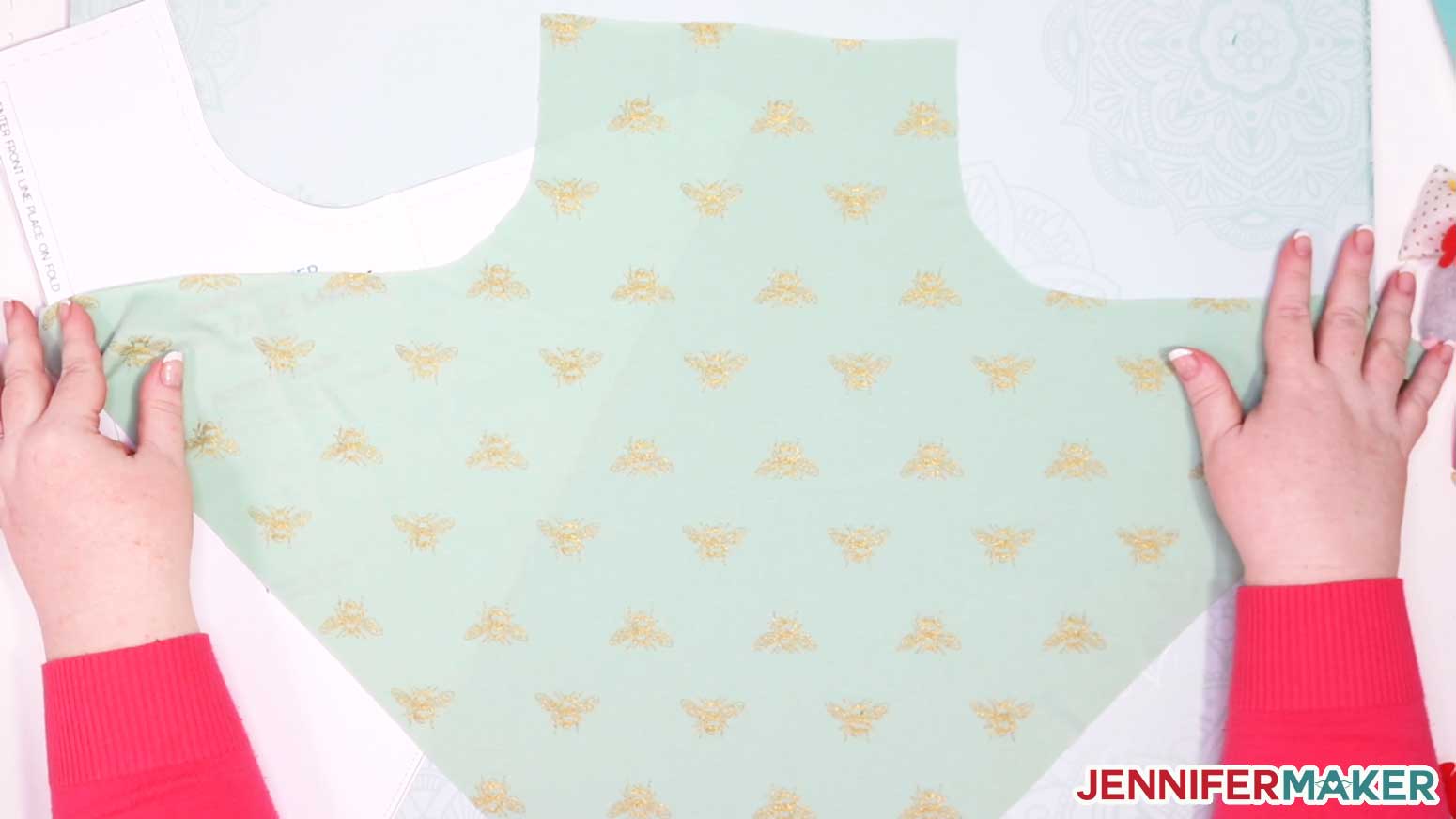 Here are all the pattern pieces cut out from the fabric (note that the two scarf pieces are on top of each other in this photo):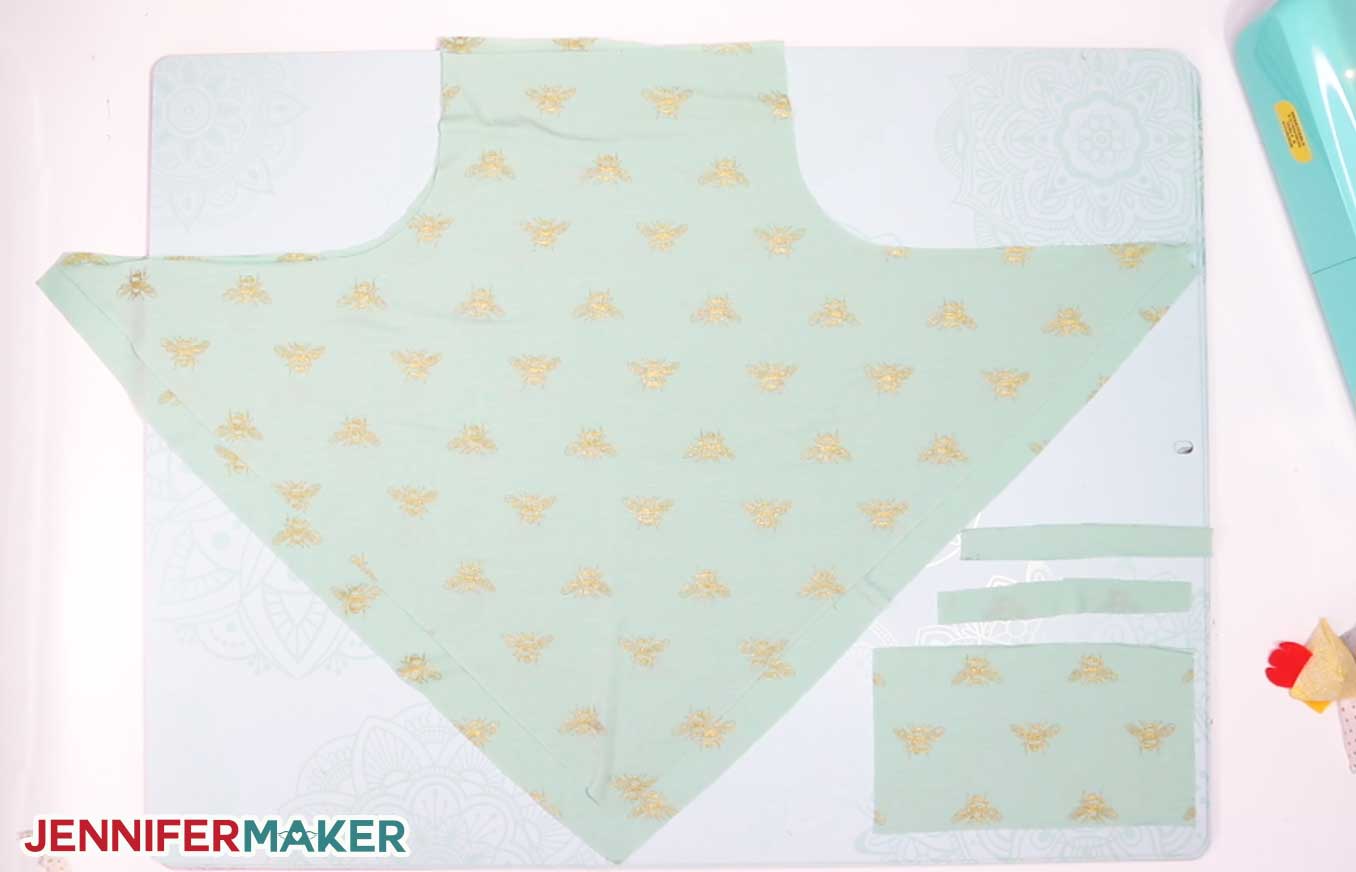 Step 3: (Optional) Make a filter pocket
If you want to add the filter pocket to your scarf face mask, cut out a piece of fabric with the filter pocket pattern.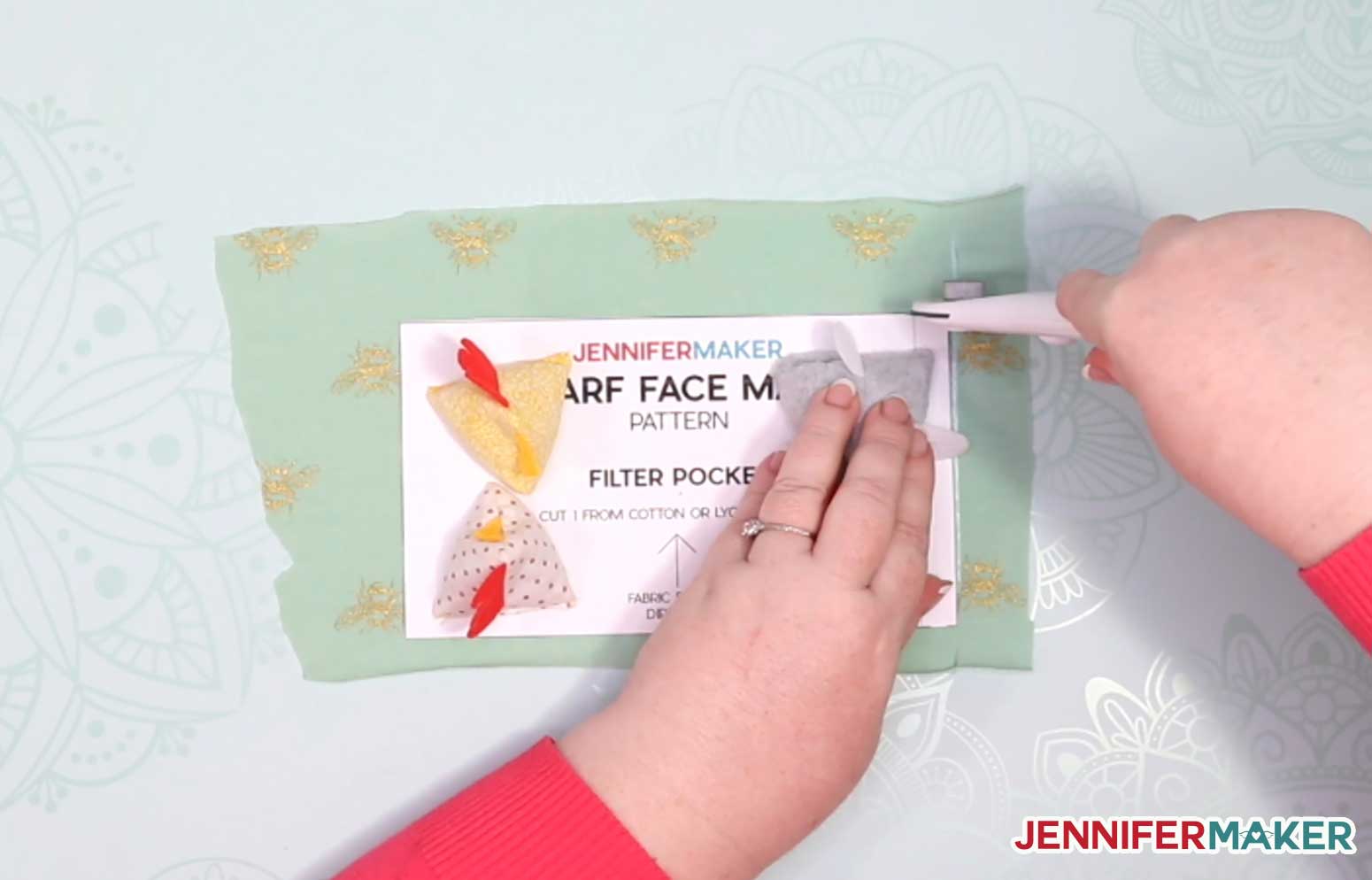 Take the layer of fabric that will be your bottom scarf (inside layer) of your scarf face mask, turn it over so the wrong side is showing, and place your filter pocket piece on top of it, offsetting it one inch down from the top edge. Pin in place.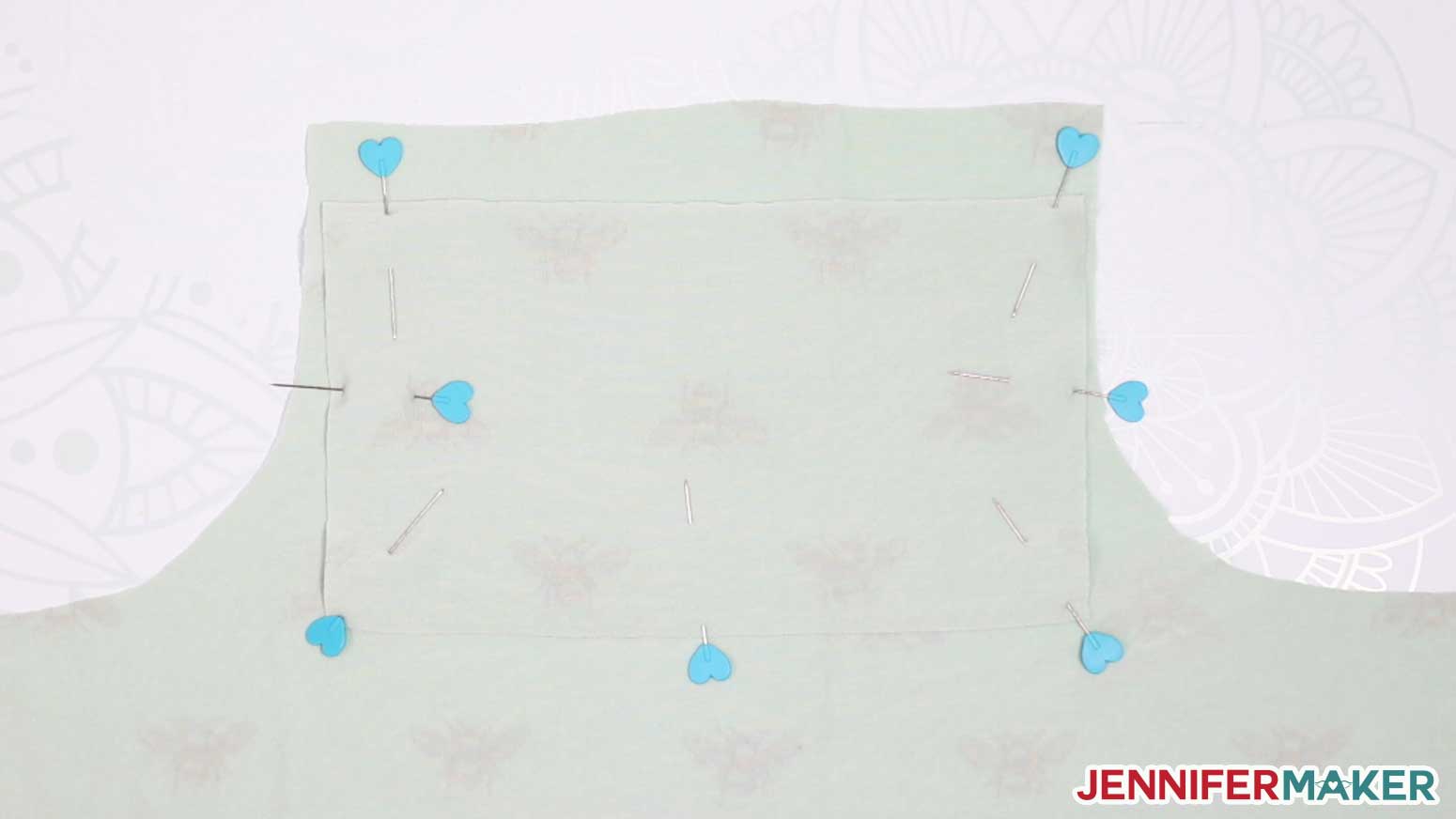 Note: Pay attention to which side of your filter pocket fabric is facing up. If you want to see your pattern, be sure the pattern side is facing up. I chose to put my fabric on facing down because I wanted a smooth surface against my mouth.
Sew the filter pocket to the bottom scarf (inside layer) of the face mask along the two edges and bottom at 1/4″ seam allowance with a long zigzag stitch, leaving the top opening (the side closest to the top edge) open.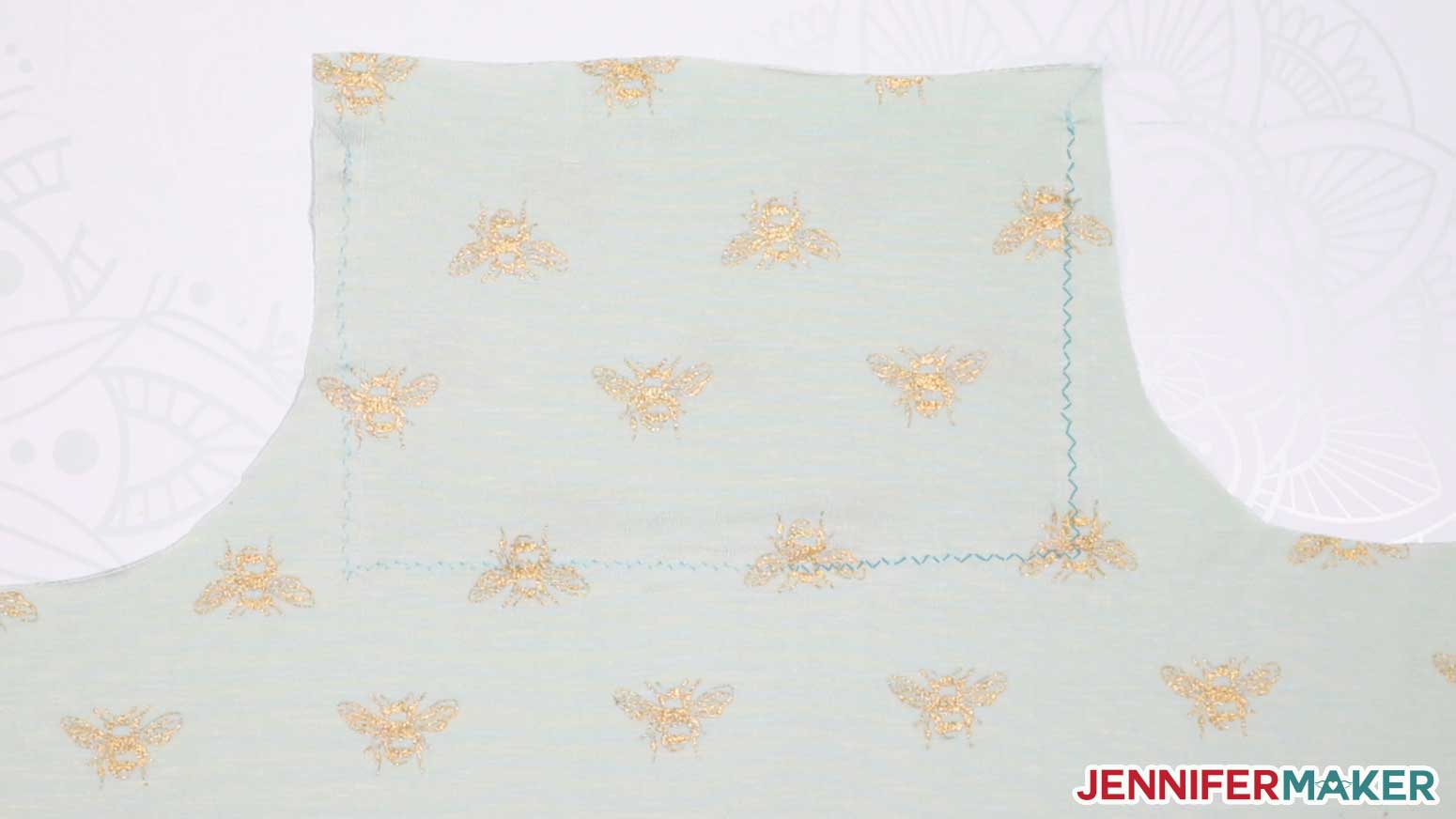 Note: The zigzag stitch is important for allowing your stitches to stretch with the fabric, otherwise your stitches may break as the fabric stretches with use.
Step 4: (Optional) Add trim to scarves
Sew trim along the long straight edges of both the top and bottom scarf. I've marked the places you can add trim with a red dotted line on the pattern.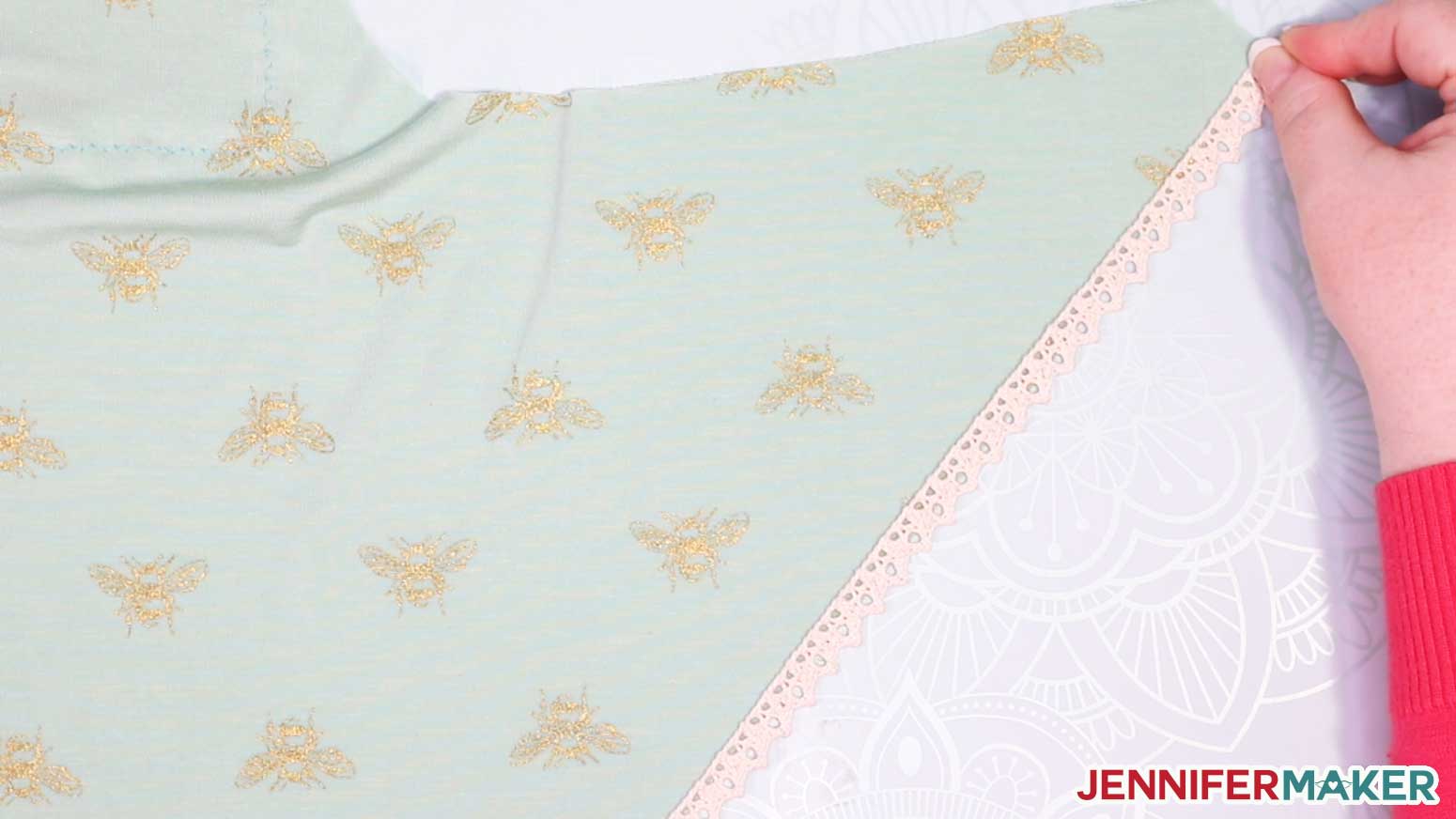 I used the same long zigzag stitch to secure the trim to the scarf as I did in step 3.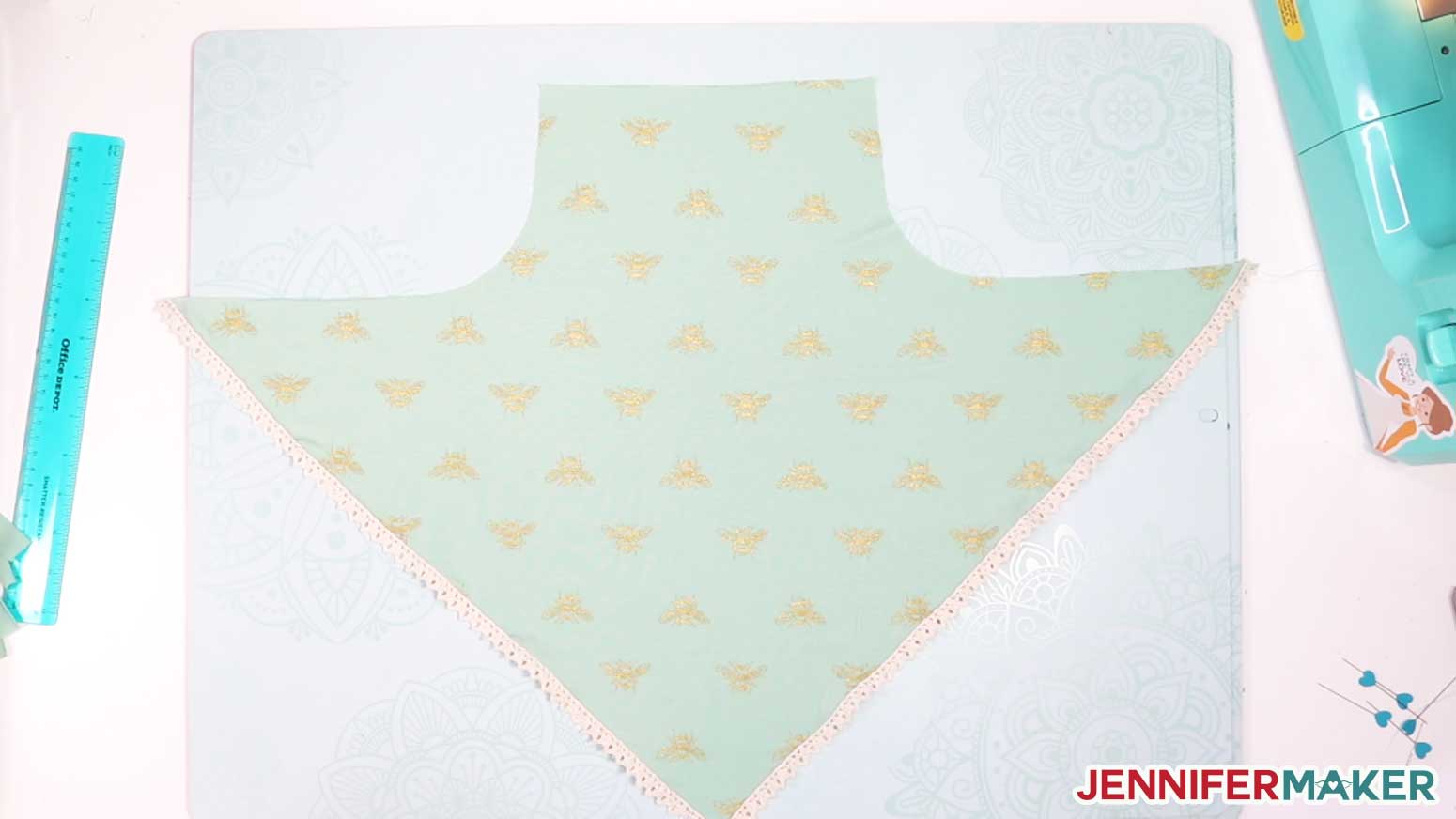 Note: I put trim on both the bottom and top scarf.
Step 5: Add the ear loops to your scarf face mask
Place the wrong side of your BOTTOM scarf on top of the right side of your TOP scarf, lining up the top edges, so that both right sides are visible like this: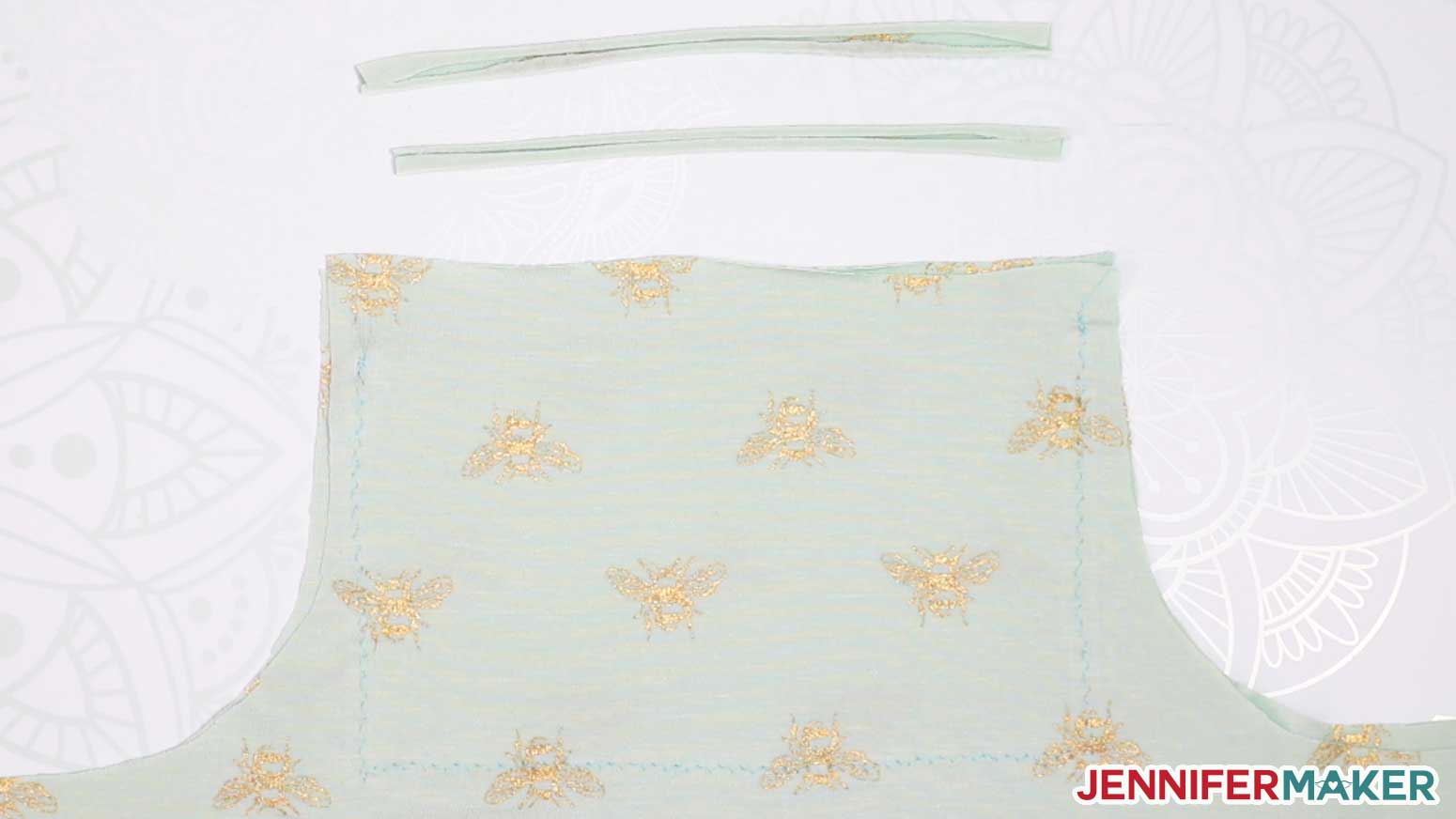 Pin in place.
Cut two ear loops that are 5.5 inches long each. You can cut these from 1/4″ elastic, or just cut a 3/4″ x 5.5″ strip from knit or lyocell. If you stretch knit or Lyocell fabric, it will roll in on itself and form a stretchy band that works like elastic.
Position one end of your ear loop about .5 inch down the side of the top corner of the face mask side. Make sure the ear loop end is mostly flush with the edge of the fabric.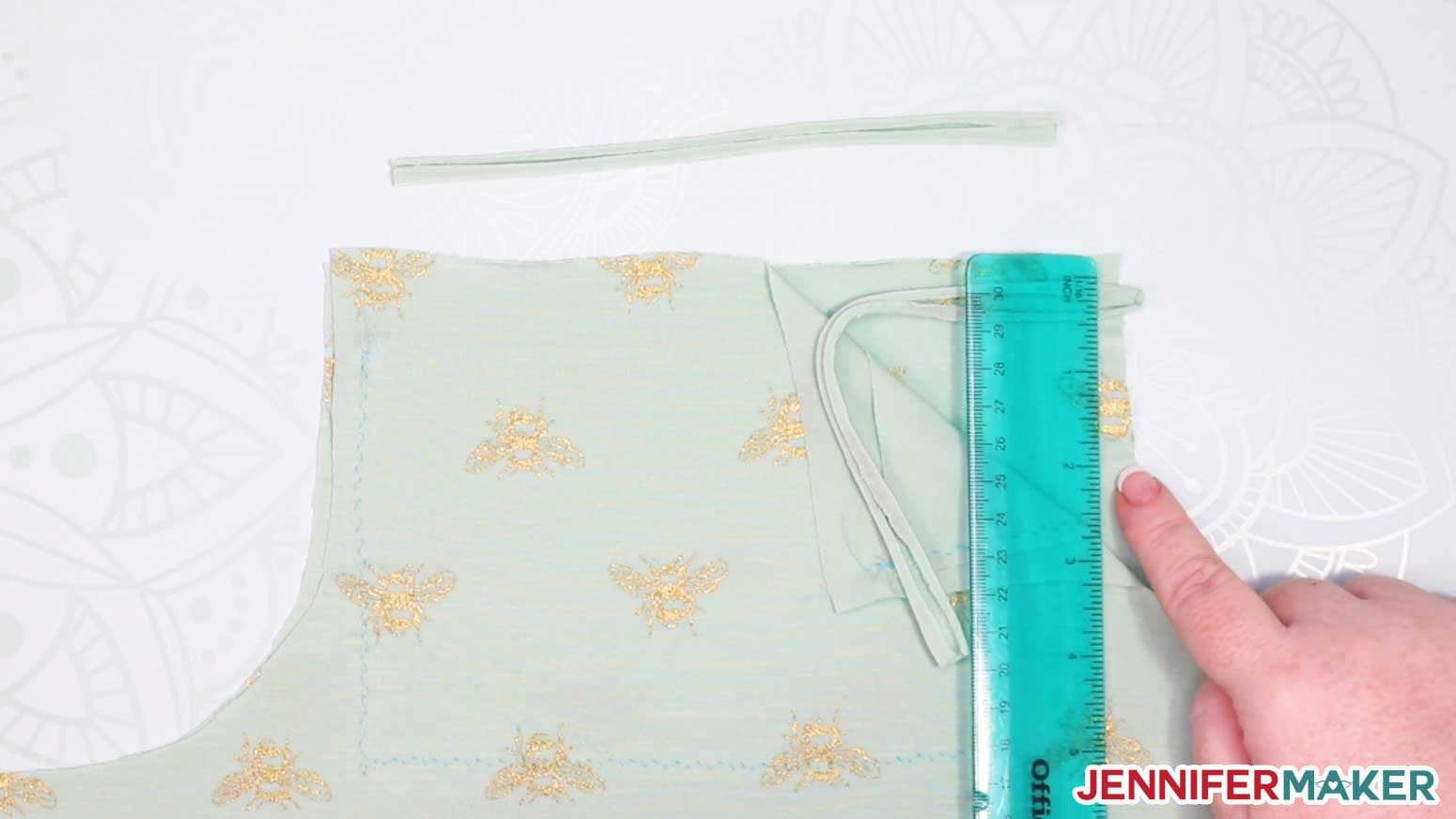 Put the other end of your ear loop about 2.5″ down the side of the veil face mask, also flush with the edge. The ear loop itself should be sandwiched inside your scarf face mask layers.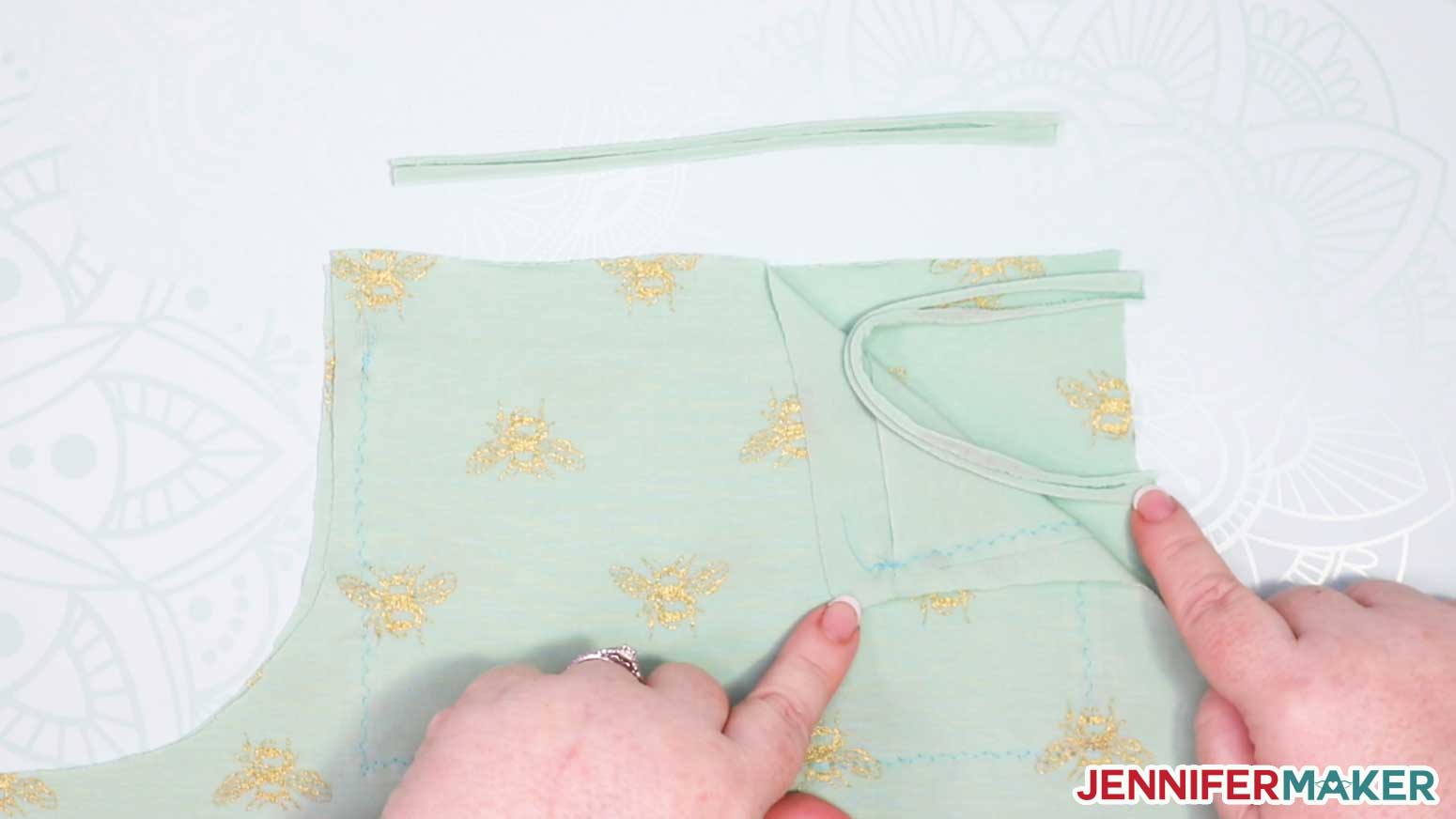 Pin both ends of the earloop in place on your scarf face mask.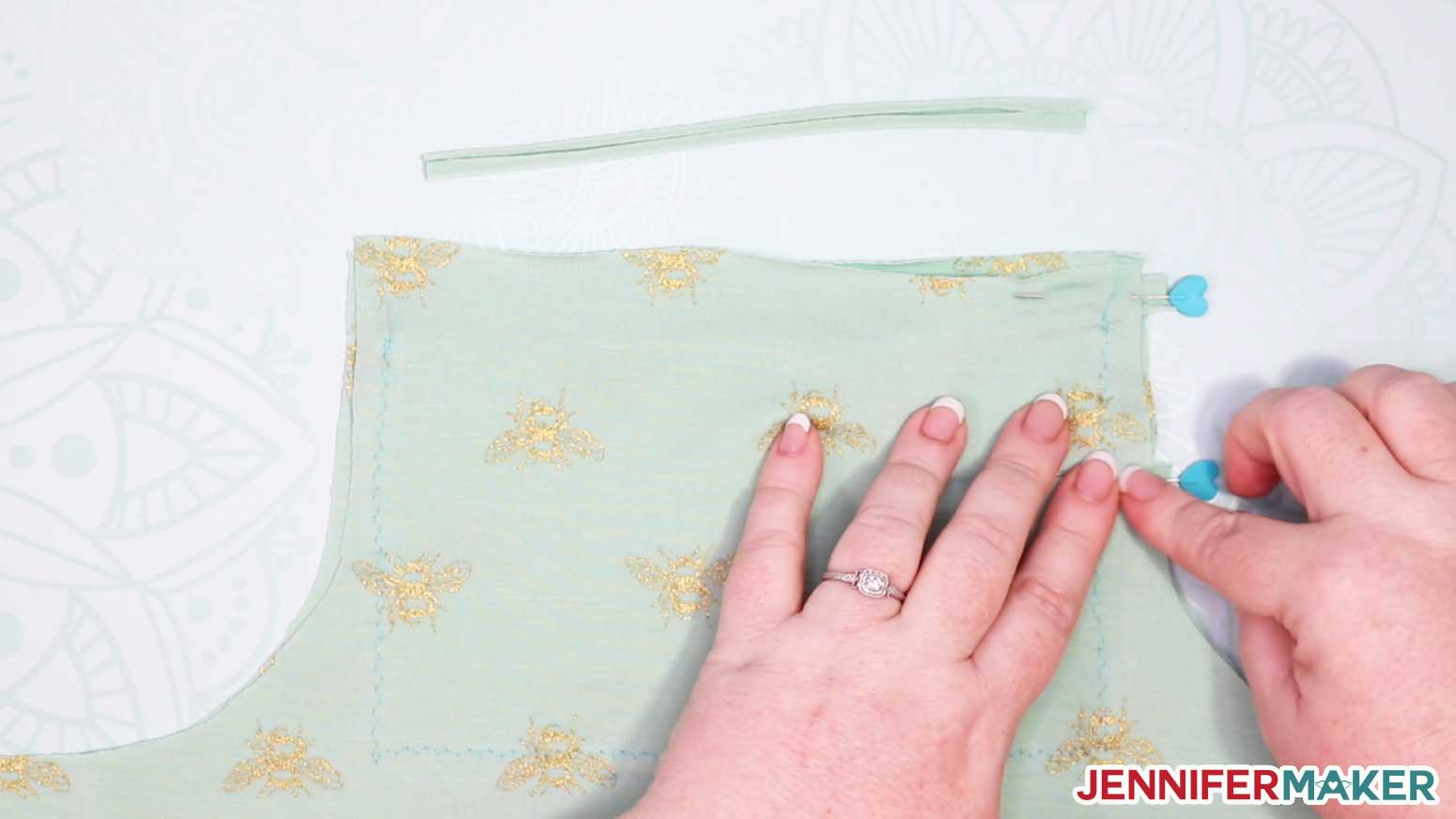 Repeat with the earloop on the other side of the scarf face mask.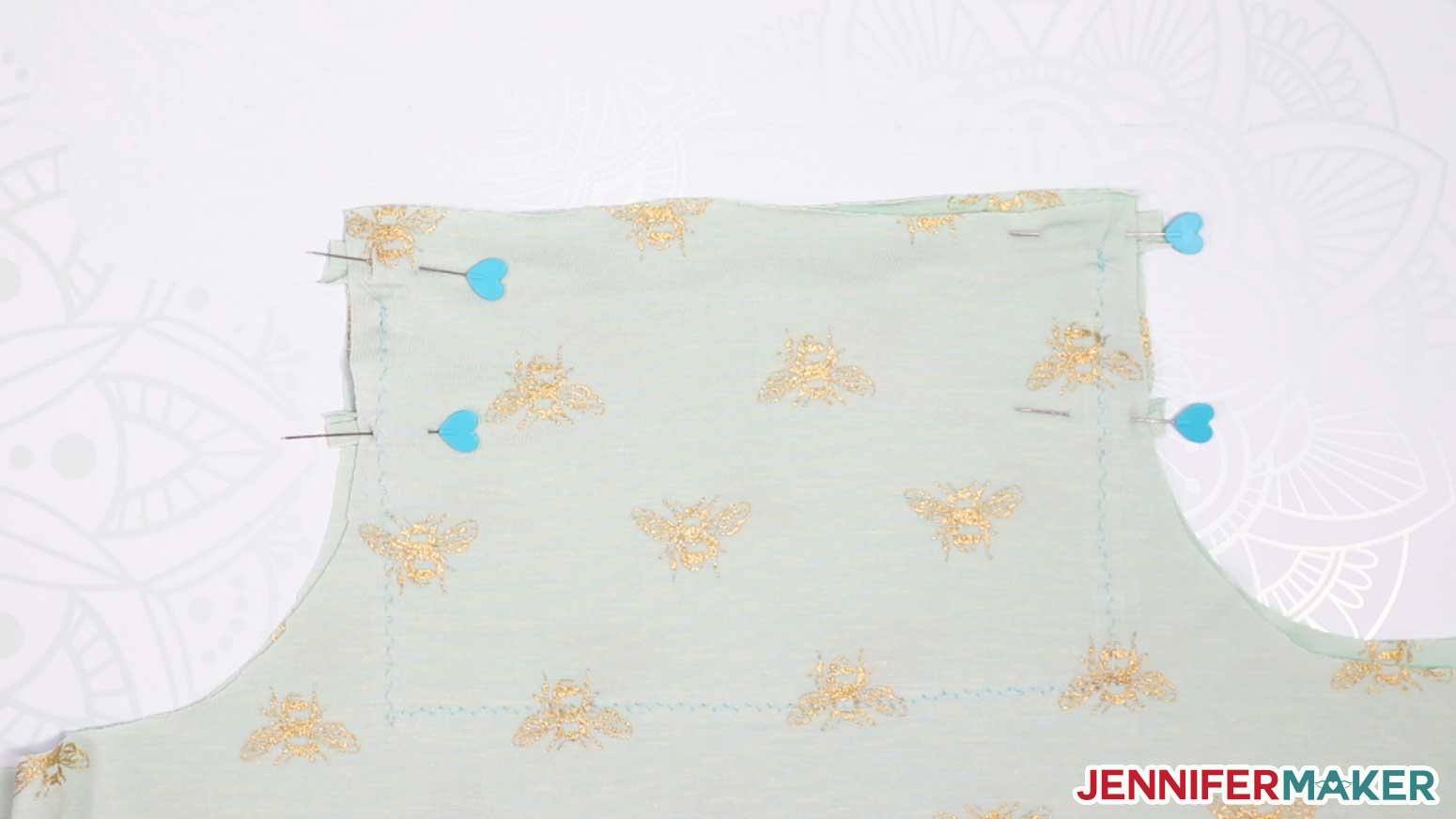 Pin the edges of the layers along the top together, too. It'll make it much easier to sew if it is pinned together!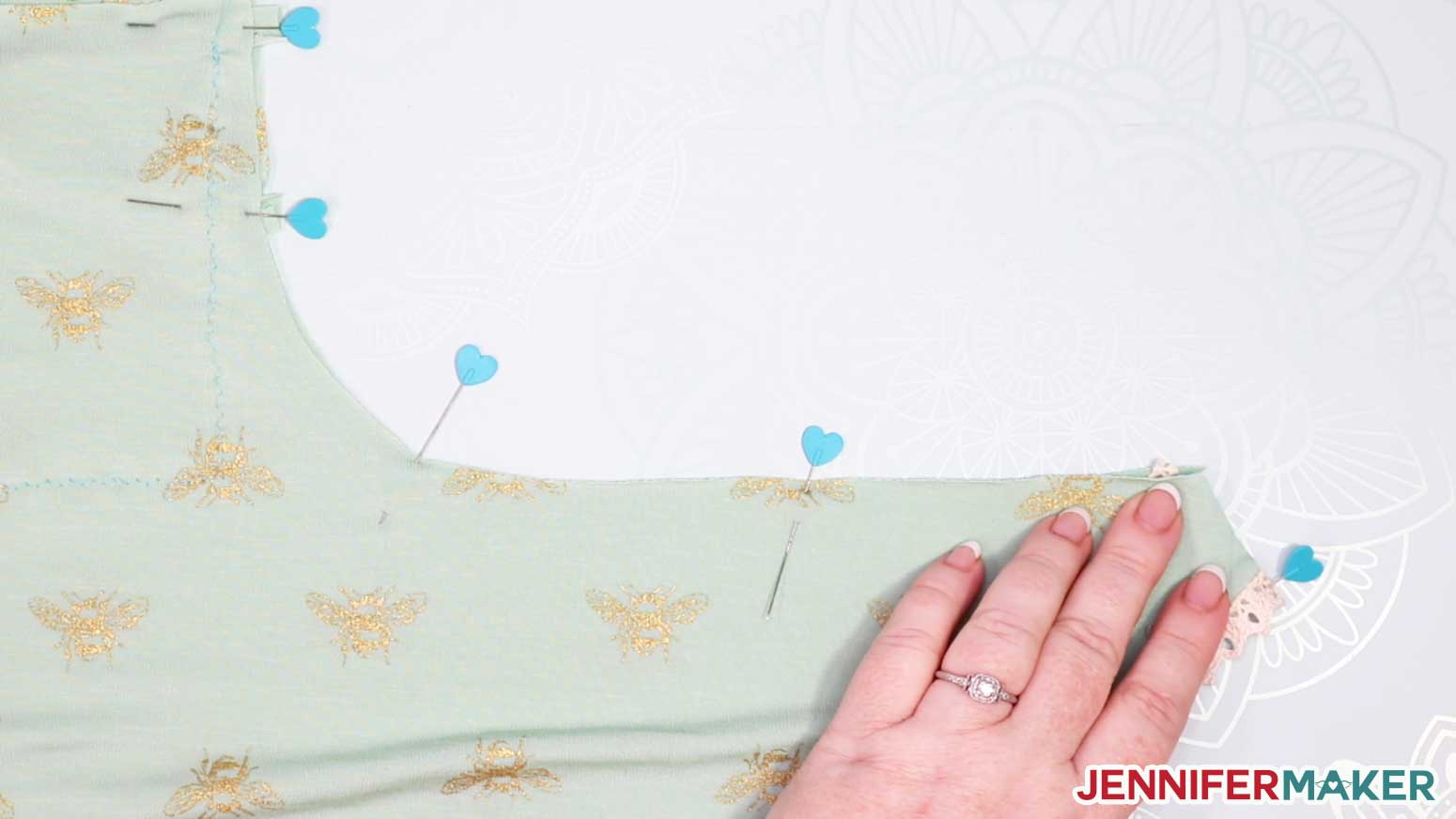 Tip: You can fold over the edge of the wings for a neat look: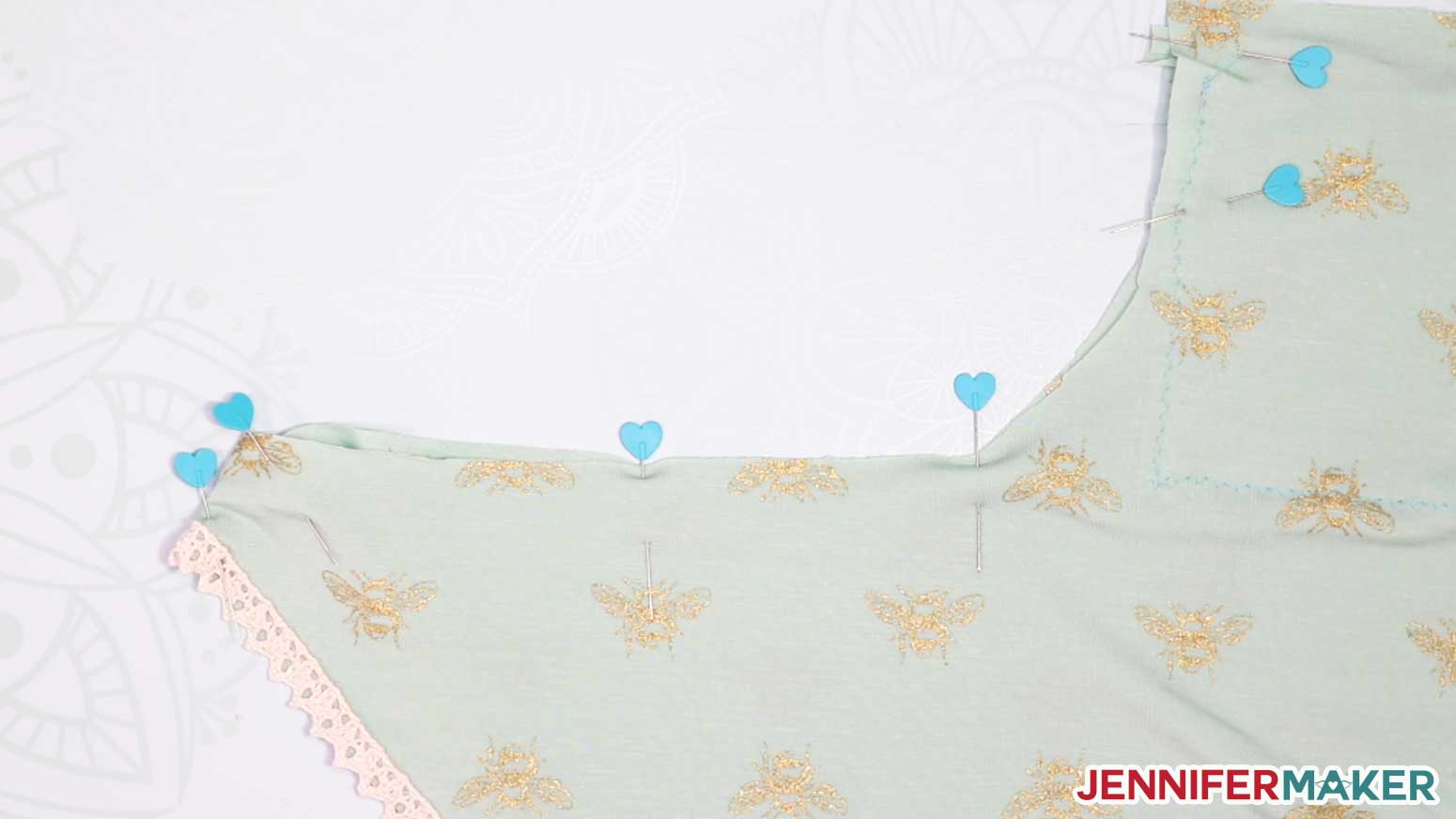 Step 6: Sew your scarf face mask
Now sew all around the curved and top edges of your scarf face mask with your zigzag stitch. Do NOT sew the long straight sides.
Clip the curves for a smoother look. Just be careful not to clip into any stitches. Clipping allows your curved seam to.lie flatter when you turn it right side out.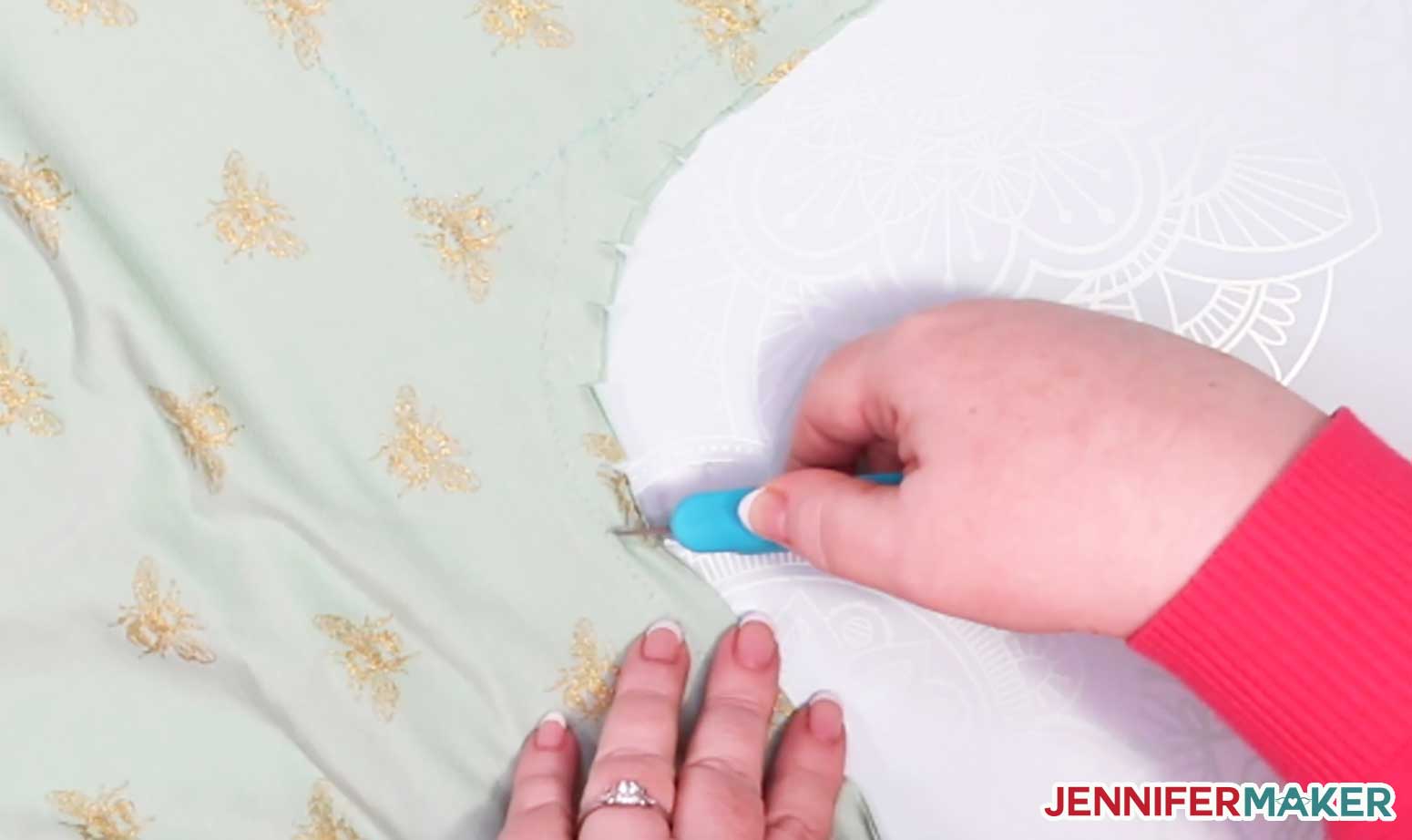 Turn the scarf face mask right side out and press if you like.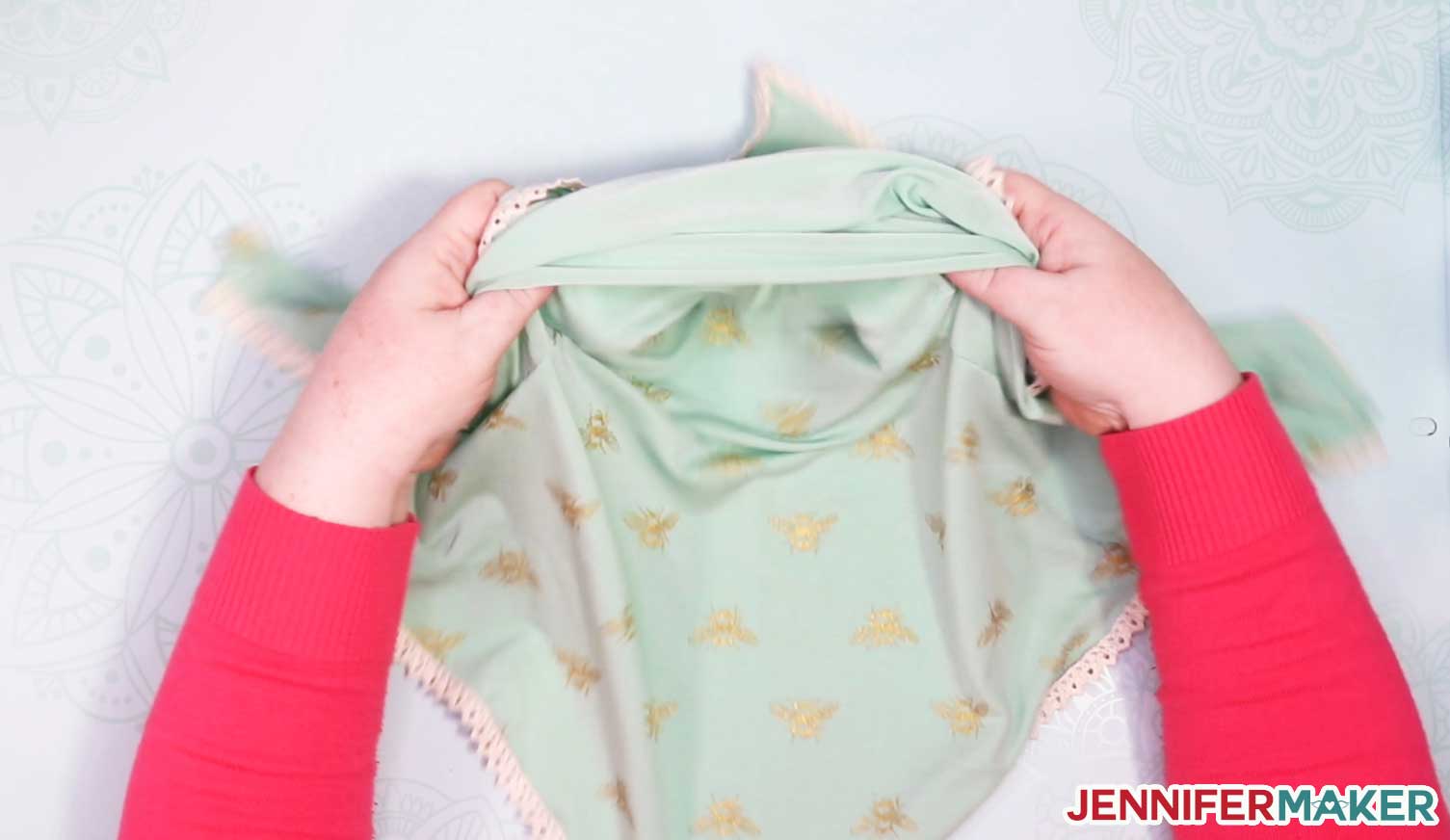 Congratulations! You made a pretty scarf face mask!!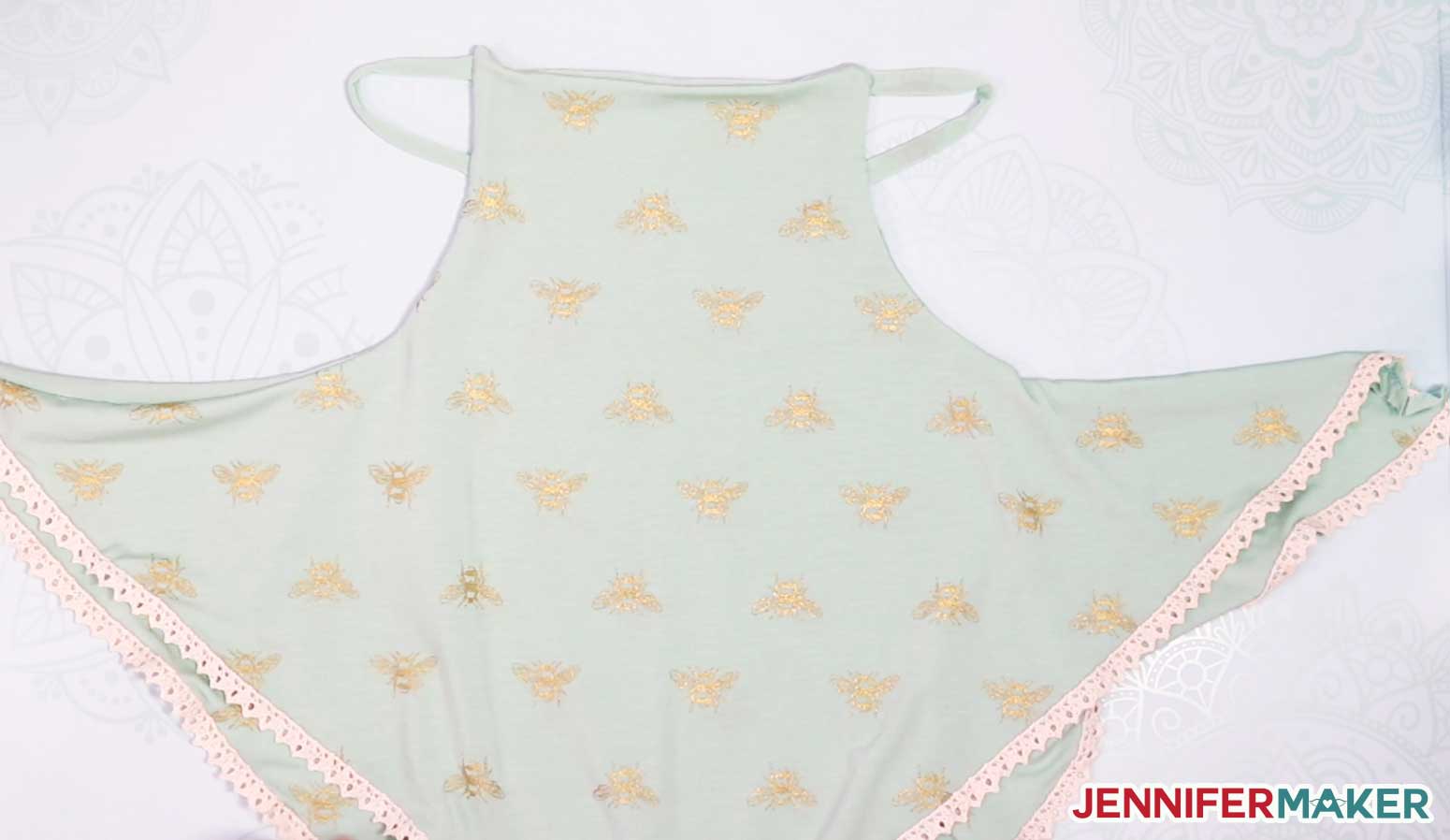 To wear it, put the ear loops over your ears and then tie the scarf behind your neck.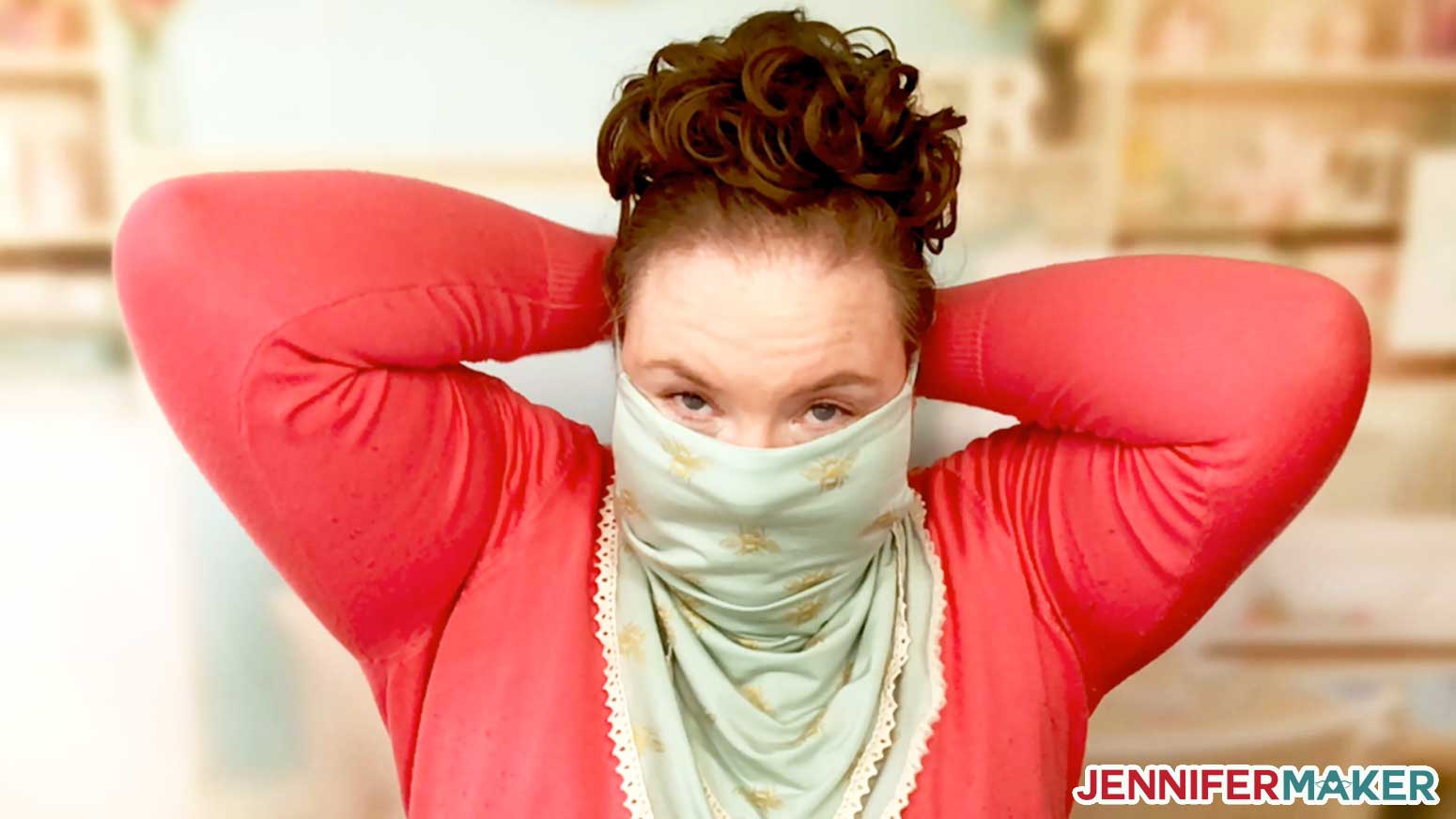 When you don't need to.wear the face mask part, just tuck it under the scarf!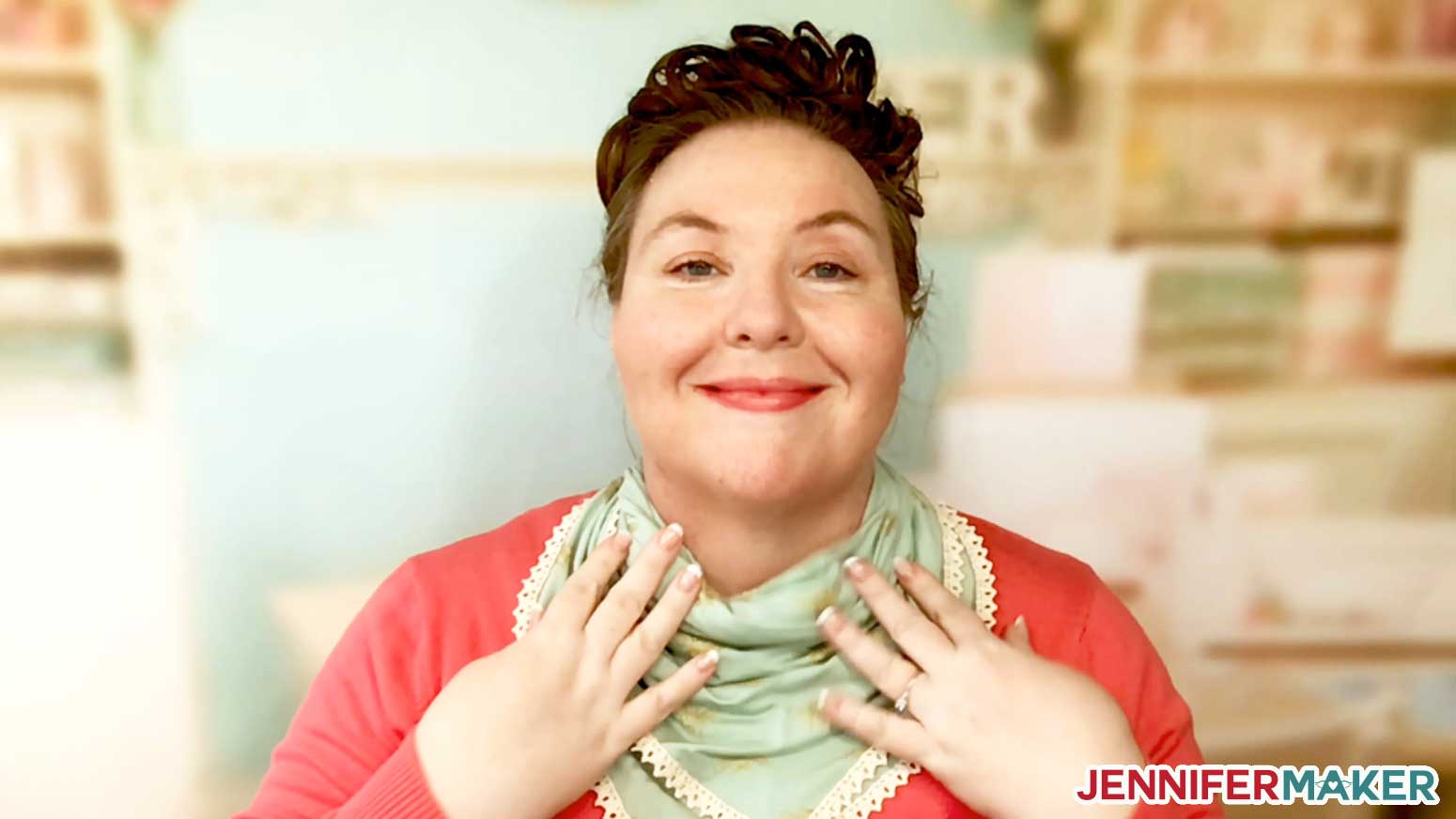 Then go about your day wearing just a pretty scarf!