The 14 Best Valentine's Day Chocolates to Buy 2022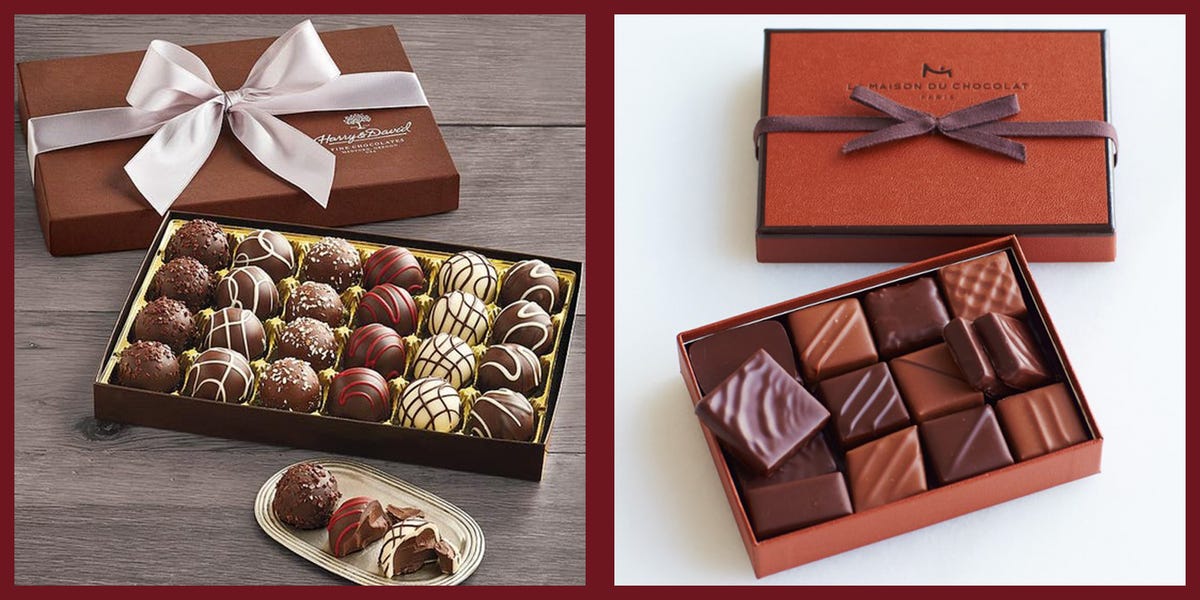 The stereotype so ingrained in our culture, it's become a mandate—chocolates on Valentine's Day. However, just because this tradition is commonplace, doesn't mean it has to be boring. Whether you're buying them for yourself (no shame) or for a loved one, the world of Valentine's Day chocolates has expanded from the Hershey Kisses found in middle school lockers. From creamy French confections worthy of a five-star dinner to elevated standards (chocolate-covered Oreos, anyone?), the creative, chocolatey options are endless. Want extra points? Pair any of these treats with flowers and/or wine for a day to remember. Here, find our favorite Valentine's Day chocolate boxes.
La Maison du Chocolat Chocolate Selection, Set of 14
Perhaps the chicest chocolate box on the market, La Maison du Chocolat is a cult favorite. 
Signature Chocolate Truffles
Belgian Chocolate Covered Berries & Ultimate OREOs
For the ultimate deluxe Valentine's Day treat, get your loved one this package of chocolate covered strawberries and Oreos. 
6-Piece Hand Painted Bonbon Assortment
Try this selection for a unique chocolate box—each of Kate Weiser's bonbons is carefully hand-painted. 
Chocolate Lovers Tackle Box Valentine's Day Edition
This Valentine's specific tackle box from famed candy store Dylan's Candy Bar makes for the ideal compilation of goodies. 
Baby Brownies Sweet 16 Gift Box
Do you know anyone who wouldn't want a box of lush chocolatey brownies for Valentine's Day? We didn't think so.
Sea Salt Caramels Gift Box
This chocolate box consists entirely of sea salt-sprinkled caramels, in both milk and dark chocolate. Who could possibly argue with that?
Wine Pairing Chocolate Bars
These unique chocolate bars recommend complementary wine pairings for their consumption. Naturally, a bottle (or two) of booze should accompany this gift. 
More: The Top Wines for Valentine's Day
Charbonnel et Walker Milk Chocolate Thins with Caramel and Sea Salt
For those who prefer just a bite of something sweet, these decadent, thin wafers of chocolate are just the thing. 
Jacques' Signature Chocolates
Jacques Torres didn't earn the nickname Mr. Chocolate for nothing, and his collection of favorites including classic essentials like hazelnut and raspberry as well as playful finds like the key lime ganache-filled "Love Bug" and red wine filled "Grand Cru" are sure to set a romantic mood. 
Exotic Truffle Collection
Vosges has made a name for themselves with their decadent, uniquely flavored truffles. From chile, to absinthe, to wasabi, to Balsamic vinegar, this collection of dark chocolate treats will take your tastebuds on an adventure.
More: Boxed Chocolates for Every Occasion
Chefs Selection, 24 Piece
Kreuther Handcrafted Chocolate
Like a chef's tasting menu of chocolates, this 24 piece seasonal selection follows the chef's whims, so you can buy one for Valentines's Day, birthdays, Christmas, and everything else worth celebrating and still get unique tastes like gingerbread, salted butter caramel, banana peanut, and French baguette.
Godiva Chocolatier Classic Gold Box, 19 piece
Everyone will love this classic gold box filled with some of this beloved Belgian chocolatier's signature flavors.
Choose Your Own K+M Extravirgin – 6 Pack
Chocolate by Thomas Keller + Armando Manni
Hand-crafted in Napa Valley, these chocolate bars come from acclaimed chef Thomas Keller. The bars are simple and high quality—with dark chocolate, milk chocolate, dark milk, and milk coffee variations.
This content is created and maintained by a third party, and imported onto this page to help users provide their email addresses. You may be able to find more information about this and similar content at piano.io