The 18 Best Bourbon Whiskey Brands to Drink in 2022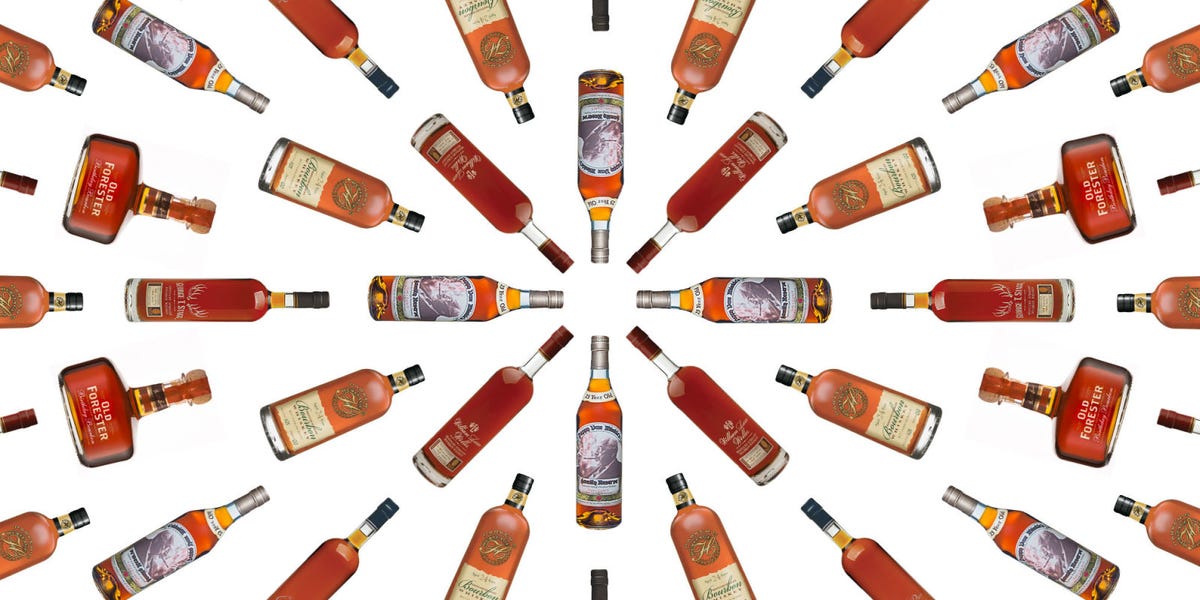 When it comes to luxurious whiskey, scotch has historically gotten the glory; even Pappy Van Winkle, now one of the most sought-after bottles in the spirits world, once sat ignored on shelves. But nowadays we're living in a bourbon renaissance, as sophisticated drinkers have started adding bourbon to their bar cart essentials.
Considered one of the only truly American spirits (it's now produced in almost every state) bourbon has to be distilled according to specific guidelines to earn the name, including being made from a mash of at least 51 percent corn, getting aged in new charred oak barrels, and bottled at no less than 80 proof. And while there are plenty of classics to stock your shelves with, numerous expressions and innovative bottles can make choosing the perfect bourbon for your home bar a touch overwhelming.
Whether you're looking for a truly unique splurge or searching for the perfect bottle to augment all of your favorite whiskey cocktails, we've got the best bourbon options from the classic to the esoteric that deserve a place in your drinking rotation.
Woodford Reserve Bourbon
While Woodford Reserve may be younger than some of the other brands on this list (it was officially founded in 1996) don't mistake youth for lack of experience or quality. The palette blends dried fruit notes with flavors of rich coca, toffee, and baking spice for a complex, round profile. Need more incentive to add it to your collection? How about the fact that this is the official bourbon of the Kentucky Derby? 
Maker's Mark Kentucky Straight Bourbon Whisky
For a truly classic taste, turn to this timeless bottle from the Bourbon Trail. Each bottle is designed not only to maintain the look of the 1953 original bottling (even the labels are printed and cut by hand) but the smooth notes of caramel and soft winter wheat are expertly blended for a traditional taste you can count on for decades to come.
MORE: The Best Bourbon Cocktail Recipes
Hudson Bright Lights, Big Bourbon
This 95% New York-grown corn bourbon holds the distinction of being the first (legal) whiskey produced in the state since Prohibition. It carries a less tannic flavor than some long-aged bourbons and shows of the warm, nutty sweetness of its pure corn mash. 
Michter's US*1 Kentucky Straight Bourbon
They aren't kidding when they call this Kentucky bourbon small batch—each batch creates a maximum of 20 barrels. With that kind of small production size, each batch has to be perfect, which means getting the personal thumbs up from Michter's Master Distiller and a tasting panel for notes of stone fruit, caramel, and a hint of smoke. 
Knob Creek Kentucky Straight Bourbon Whiskey
This full-flavored whiskey packs a punch. Unlike many bourbons which aim for around 90 proof, Knob Creek hits shelves at 100 proof for a full flavor that won't get dulled down in your favorite cocktail (though it's equally delicious sipped neat, especially for those who want to test the waters of the cask-strength trend).  
Four Roses Small Batch Select
A blend of six bourbons each aged for at at least six years, this potent 104 proof sip will warm you up from the inside out with toasty notes of caramelized sugar, pepper, dried fruits, and chocolate. 
Widow Jane 10 Year Old Bourbon
Not all great bourbon comes from Kentucky—take for example this New York based bourbon which uses limestone-rich water (the same type of stone that proponents say gives Kentucky bourbons their distinct flavor) from New York's Rosendale Mines to create a lightly tannic, sweet flavor profile rich in spices. 
Sweetens Cove Tennessee Straight Bourbon Whiskey
This Tennessee bourbon has become a runaway fan-favorite since it debuted in the spring of 2020. While its celebrity cred certainly doesn't hurt (it's backed by sports stars Peyton Manning and Andy Roddick) it's the complex blend of bold coffee and rich toffee brittle notes accented by whispers of dried fruit that master distiller Marianne Eaves produced in the bottle that really keeps fans coming back for more. Their releases tend to sell out fast, so snap up a bottle whenever you can find it. 
Hillrock Solera Aged Bourbon Whiskey
Solera aging—common in fortified wines like sherry and madeira—makes its way to the bourbon world in this award-winning bottle. The process involves moving the whiskey through a series of barrels in a specific patterns so that each barrel is constantly being renewed and enriched with both aged and young spirits, for a complex, nuanced profile. 
Russell's Reserve Single Barrel Bourbon
For those craving a full-flavored bourbon, this gold medal-winning reserve bottling is matured in barrels given a truly intense "alligator" char and bottled at 110 proof so you really get to experience the personality of each barrel. 
Basil Hayden's Kentucky Straight Bourbon Whiskey
For those drawn to the peppery flavors of rye, this high-rye bourbon is sure to please. Made in small batches, the color and weight on the tongue is lighter, with a bright spiciness and a dry finish that will convert any whiskey lover who deems bourbon "too sweet."
Buffalo Trace Bourbon
For an all-around, crowd-pleasing bourbon, it's hard to go wrong with this corn, barley, and rye mash bottle. Notes of stone fruit, brown sugar, and oak and a 90 proof bottling make for a profile that's pleasing on the rocks or mixed into a cocktail. 
Old Forester 1920 Prohibition Style
Unlike virtually every other distillery that was active in the U.S. at the time, Old Forester received a special permit to continue producing bourbon during Prohibition. This potent 115 proof bottle is a reimagining of what that early Prohibition era whiskey would have tasted like, with caramel and malt notes accented by green spices. 
Laws Four Grain Straight Bourbon
The bourbon from this grain-to-bottle Colorado distillery is made from heirloom grains from two family farms fermented in a traditional open air method and aged in white oak barrels for a complex, warm and spicy sip.
Legent Bourbon Whiskey
This one of a kind bottling brings together whiskey legends Fred Noe (the seventh-generation Master Distiller at Jim Beam) and Shinji Fukuyo (Chief Blender at Suntory) for a beautifully balanced, truly unique take on bourbon. 
Bulleit Bourbon
If you're looking for a do-it-all bourbon, this bottle is exactly what your bar cart needs. Its mix of rye, corn, and barley malt make it robust enough to stand up in a cocktail but complex enough to enjoy solo. 
Great Jones Straight Bourbon
For a real tast of New York, try this bottle from the first (legal) whiskey distillery in Manhattan since Prohibition, made with 100% New York-sourced grain. 
Old Rip Van Winkle 25-Year-Old Bourbon
There are 710 bottles of this super-rare, one-time-only release of the oldest Van Winkle bourbon ever bottled. They've mainly been released for charity purposes, and at nearly $2,000 retail were sure to skyrocket after those supplies sold out. You can expect to pay well beyond that if you're trying to buy one from another source, and the few that we've seen left on retail shelves remain there because of heinous mark-up. None of that is to say that this ultimate connoisseur whiskey isn't worth it. In fact, given the prices of 23-year-old Pappy these days, coupled with the fact that we may never see 25-year again, it almost makes sense.
This content is created and maintained by a third party, and imported onto this page to help users provide their email addresses. You may be able to find more information about this and similar content at piano.io