The 18 Classic Chanel Bags That Belong in Every Collection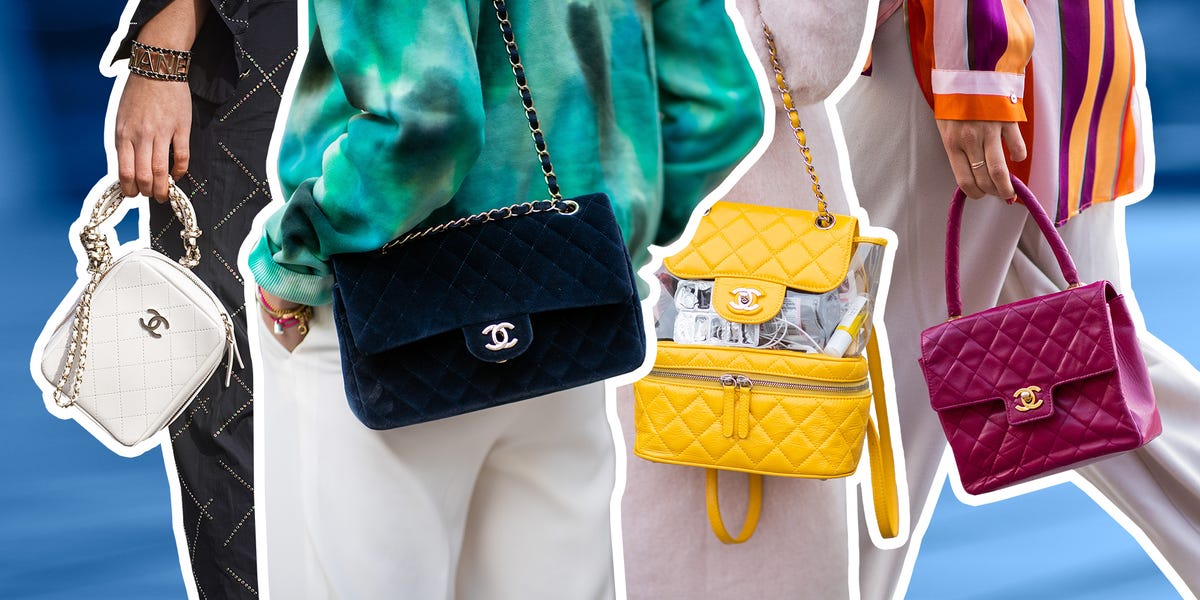 Originally starting her business in 1908 as a millinery shop, Coco Chanel started one of the most powerful luxury fashion labels in history. Today the fashion house offers consumers multiple seasons a year, with everything from ready-to-wear and accessories to haute couture. Emblazoned with their iconic double-C logo, simple yet luxe quilting, and recognizable tweeds, Chanel has grown into an empire.
The eponymous brand is now a household name across the globe and its handbags are coveted among fashion lovers. Chanel handbags are the definition of a classic, whether it is a top handle or a crossbody, tote or an evening clutch. But the most well-known is undoubtedly the Flap Bag, with its wide range of styles and custom options. Much like a trench coat, or a black turtleneck, every wardrobe needs the versatility of a timeless bag from the iconic French label. The hunt for the perfect handbag begins and ends with Chanel; we rounded up a few of our current favorites with tips on how to wear them, below.
Large Flap Bag Lambskin & Gold-Tone Metal Beige
The brand's most iconic design, the Flap Bag, is a wardrobe staple. White leather is great year-round and the large size makes it perfect as your work-week option.
Flap Bag with Top Handle Lambskin & Gold-Tone Metal Pink
A rendition of the Flap Bag, this bright style offers a top handle in addition to the adjustable shoulder/crossbody strap.
Mini Flap Bag Lambskin & Gold-Tone Metal Yellow
The Mini Flap Bag is the cutest way to carry just the essentials. A hands-free crossbody strap makes it ideal for bopping around town.
Mini Flap Bag Sequins, Mixed Fibers, Glass Pearls, Lambskin & Gold-Tone Metal Pink, White, Yellow & Orange
Chanel
If you already have your go-to leather bag, opt for a pop with this Flap Bag adorned with sequins and glass pearls. The mini-size makes it ideal for an evening out and about.
Vanity Case Rattan, Calfskin & Silver-Tone Metal Beige & Black
Chanel
Basket bags are all the rage when warmer temperatures arrive. Invest in one that will never go out of style: the Vanity Case is simple yet beautiful with black leather details.
Drawstring Bag Lambskin & Gold Metal Black
Bucket bags are a sophisticated alternative to totes: they act as a catch all, but they offer a bit more security with the ability to close the top with a drawstring.
Classic Handbag Sequins & Gold-Tone Metal Green & Black
Chanel
Have evening plans but don't know what to wear? Opt for an all-black ensemble and let your bag do the talking. An unexpected green hue is taken to the next level with sequins.
Tweed & Gold-Tone Metal
Even paired with a simple t-shirt and jeans, this pink tweed option will create a playful moment.
Classic Handbag Lambskin & Gold-Tone Metal Black
Snag a pastel version of the classic Flap Bag to pair with all your favorite floral dresses and sandals this upcoming spring.
Flap Bag Lambskin & Gold-Tone Metal Black
Want to liven up your black bag? This Chanel Flap Bag topped with charms goes with virtually any outfit. 
Lambskin & Gold-Tone Metal
Treat a red bag as you would a black bag and wear it with everything. Create more lively outfits or wear as a standalone declaration of color with a simple look. 
Chanel 19 Flap Bag Calfskin, Crochet, Gold-Tone, Silver-Tone & Ruthenium-Finish Metal White & Black
Don't choose between black or white, this dramatic patterned bag boasts both for those whose closets are neutral, but hardly boring. 
Chanel 19 Large Flap Bag
Stand out in a sea of black bags with a tweed option. This choice is a bit softer and lighter than leather and adds depth to a look with its texture.
Vanity Case Lambskin, Shiny Crumpled Calfskin & Gold-Tone Metal Gray
Gray accessories can be hard to style, but they add a wonderful layer to relaxed ensembles, where black and white might steal the spotlight.
Evening Bag Resin & Gold-Tone Metal White & Black
Chanel
Start a conversation at your next event with a clutch shaped after the coveted Chanel No. 5. 
Evening Bag Lambskin, Enamel, Strass & Gold-Tone Metal Gold & Beige
Chanel
Each season Chanel includes pieces with some whimsy, their latest is this birdcage clutch. This can accompany a ruffled, tulle dress for a fantastical look or dress up a favorite blouse and shorts combination.
Small Boy Chanel Handbag
Chanel's Boy Bag is a boxier, edgier rendition of their classic Flap Bag. Featuring a similar top-flap style secured by a twist lock, the structured Boy Bag goes with boots, jeans, and maybe even a leather jacket.
Shopping Bag Shiny Calfskin, Crystal Pearls, Strass, Enamel, Gold-Tone & Ruthenium-Finish Metal Ecru
A good tote can live many lives: as a work or school bag, schlepping your kid's toys or a farmer's market haul. Don't worry about what to wear—this white leather tote is a perfect addition to anything.
This content is created and maintained by a third party, and imported onto this page to help users provide their email addresses. You may be able to find more information about this and similar content at piano.io