Where to Watch 'Downton Abbey' Online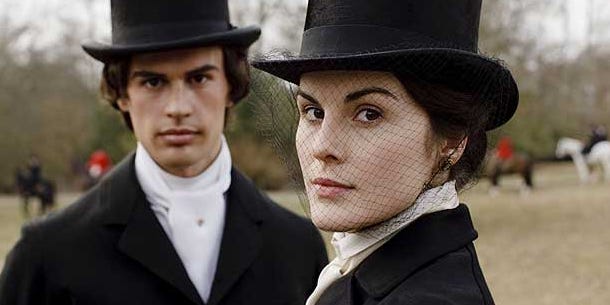 The long-rumored Downton Abbey movie sequel is officially happening, but American fans of the period drama still have a few more months until they can see the Crawley family return to the big screen.
All the better reason to catch up on your favorite episodes between now and Christmas. Here's how to stream the series online:
Sign up for PBS Passport.
All six seasons of Downton Abbey are available on PBS's streaming platform, Passport. Passport, which can be used on the computer as well as smartphones and through TV applications like Roku, Amazon Fire, or Apple TV, is an added benefit for donors to PBS. Each individual station sets the requirements for membership, but according to the national organization, generally speaking, "the PBS Passport member benefit requires a station donation of at least $60 a year, or $5 Sustainer/Ongoing-monthly gifts."
Sign Up.
Don't want to sign up for Passport? Check your local PBS station's programming schedule. Every so often they'll run marathons of the show. That's when you'll want to fill your DVR with Crawley family drama.
Use Amazon Prime.
All six seasons of Downton Abbey are also available to stream on Amazon Prime. If you already have a Prime subscription, just head over to the show's page, and press play. If you haven't signed up for Amazon's membership service, they offer a free, 30-day trial, which is plenty of time to at least start watching the series. Or, Prime costs $12.99 a month, and gives you access to not only Downton Abbey, but tons of other programs such as The Marvelous Mrs. Maisel, and A Very English Scandal.
Plus, you'll get free, two-day shipping on select Amazon orders.
Watch Now.
Amazon also sells DVD box sets of the full series. If you'd like to go that route, shop those below:
Is Downton Abbey on Netflix?
Yes! The series has finally returned to the streaming giant, and all six seasons are included in your subscription.
Watch Now.
What about the first movie?
The first Downton film is available to rent or buy on Amazon Prime, or to stream on HBO Max.
Watch Now.
This content is created and maintained by a third party, and imported onto this page to help users provide their email addresses. You may be able to find more information about this and similar content at piano.io